Regardless of the level of the club that you're managing, scouting is a key component of setting up your club on Football Manager. It's your best bet to get as many options for player signings as possible from all over the world.
On that note, Football Manager 2022 has a few shiny updates from the previous iteration, and one of the major updates is new scouting regions.
At the end of this guide, you will be able to set up assignments for scouting regions that bring the best young players and bargain talents piling through your door.
Let's take a look at the best scouting setup in this FM 22 scouting guide.
Backroom Staff: Scouting Department
After choosing the club you're going to manage, the first thing you want to do is to take a look at your backroom staff and begin improving them. For the purpose of this article, we're focusing on the scouting and transfers team.
Depending on the size and profile of the club, there will be certain restrictions on the number of recruitments you can make to your backroom staff. Chances are, you don't have one of the best youth systems already.
In my save (Paris Saint-Germain — don't hate, it was just the beta), there was a limit of 4 staff members for the role of Recruitment Analyst, 14 staff members for the role of Scout, and 1 staff member for the role of Chief Scout.
Chief Scout
Pay particular attention to your Chief Scout and Scouts here. If you don't have a chief scout, hire one before doing anything else.
You need to have a look at the profile of the chief scout and determine if they're good enough because you will have to delegate some important tasks to them. Of course, this decision will largely be affected by the level of the club you're at, so be gentle!
Your chief scout obviously needs to be a very good judge of talent and potential, but you should also try to find one that has solid attributes for man-management" and motivation.
This is because the Chief Scout will be leading the team of scouts and contributing to setting assignments. They should also have the final say about recommendations for possible signings.
Increasing Number of Scouts Allowed
If the limit set by the board for the number of scouts has not been reached, then you should look to sign more scouts immediately.
The goal is to have at least 20 quality scouts at the club so that you can have one scout assigned to every region (more on this later), so you should constantly be working towards that.
First of all, you need to check the profiles of the scouts that are already at the club and weed out the ones that look subpar for the level that the club is at.
There are four major attributes that you need to look out for in a good scout:
Judging Player Ability
Judging Player Potential
Determination
Adaptability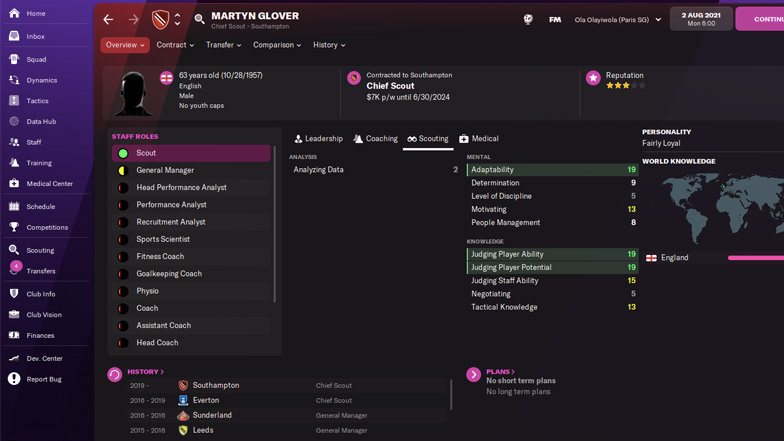 The most important attributes of the four are "judging player ability" and "judging player potential". If a scout looks below standard based on these, you need to look for a replacement to make sure that the recommendations you get from scouting assignments are of good quality.
In some cases, it will be hard to get scouts that excel in both of these areas. What you need to do then is to make sure that the scout is excellent in at least one of the two, and ensure that the assignments set up for that scout maximize that strength.
For instance, if a scout has a rating of 20 for judging player potential, but a rating of 14 for judging player ability, it would be beneficial to restrict the scout's assignments to looking for young players.
On the flip side, if a scout is excellent at judging player ability but average at judging potential, then you can have that scout focus on finding players for the present.
Making Board Requests
Considering the restrictions on the number of staff members allowed on your scouting team, you need to make a habit of checking in to make a board request every couple of months for the maximum number to be increased. This is the only way that you'll be able to get 20+ scouts, so it is a long-term plan.
To make a board request, go to the "Club Vision" tab on the sidebar and search for the rectangular dialog box on the right-hand side of the page.
When making a board request, note that there is one other way to gain some extra scouting knowledge. This is by making a request for an affiliate club. If the board agrees to the request, then your scouting knowledge of your affiliate's country will increase substantially.
Scouting Budget and Costs
You should note that every scouting assignment takes a piece out of your scouting budget for the season. This suggests that there's a finite nature to the extent of your scouting, so you need to keep an eye on that scouting budget each time you set up a new assignment.
If you're managing one of the rich clubs, then you may not notice the difference that this can make.
However, if you're at a club where funds are seriously limited, then you may find yourself having to adjust your transfer budget to give more room for scouting assignments.
Setting Up Scouting Regions
There are 25 FM 22 scouting regions. When you assign a scout to a region, they will work through all the countries that fall within that region for the duration of the assignment.
Region scouting is a better way to assign scouts instead of setting them up to go to different nations – possibly in different regions – within a short period of time. It will save you costs for your scouting budget, and it will be more beneficial for the overall growth of the club's global scouting knowledge.
The top five regions for picking up talent through scouting in FM22 are:
Central Europe
South America (South)
UK and Ireland
North America
Southern Europe
Central Europe
Central Europe is no longer the powerhouse for wonderkids that it used to be in previous versions of FM in terms of young talent. This is mostly due to the breakdown of the region into Western, Eastern, and Southern Europe.
However, it remains a key region with important countries such as Germany, the Netherlands, and Belgium still in there.
These countries have excellent youth systems that consistently produce a wide selection of good players, so some of the best regens in the game will continue to come from there.
South America (South)
South American wonderkids are a big hit among FM fans, and for good reason.
There's a certain satisfaction that comes with scouting young players from the streets of Brazil and bringing them to your club where they develop to become superstars.
On FM22, the Southern part of the South American region has the best talents because it includes heavyweight soccer countries such as Brazil and Argentina.
Sure, you can still pick up a few players good enough for your first team from here, but the wonderkids and regens are undoubtedly the main attraction.
This is also a fantastic region for finding potential world-class talent for affordable prices.
UK & Ireland
England is the main attraction in this scouting region.
Scotland, Ireland, Northern Ireland, and Wales are not particularly breeding grounds for world-class talent – although it really depends on the quality of player that you need. Occasionally these lesser-favored countries can throw out a new Gareth Bale.
The only issue with this region is that wonderkids come at a premium price. You'll likely have to overpay to sign a top prospect from a British club, though sometimes you can get some real value too.
Western Europe
With the breakdown of Central Europe on FM22, countries such as Spain, Portugal, and France have been separated from the region to join Western Europe.
This makes a big difference as some of the best wonderkids on the game come from these three countries.
As expected, the three have a youth rating above 100 which is an indicator of the talent within their youth systems. Keep an eye on the region all year round – wonderkids from these areas tend to get snapped up really quickly!
Eastern Europe
The breakdown of Central Europe in FM22 has also made a positive difference for the youth potential found in Eastern Europe.
In previous versions of FM, this region had a good number of countries within it, but not a lot in terms of highly-rated youth systems.
On FM22, countries such as Russia, Turkey, Ukraine, and Serbia all have very good youth systems, so you're bound to pick up a fair few highly-rated young players if you send your scouts to the area.
These are the top five FM22 scouting regions for finding the best talent the most often. However, choosing a region is just the start and some of the other regions will also occasionally throw up wonderkids for affordable prices.
Setting Up A New Scout Assignment
Creating a scout assignment includes many options and filters that help you to set up more specific directions. You should probably spend a bit of time toggling through all the options and familiarizing yourself with them before starting the assignment.
The filters/additional conditions that you want to pay the most attention to include:
Age (maximum 20 for wonderkids)
Scouted current ability (recommended minimum: very good)
Scouted potential ability (recommended minimum: very good)
Position
For instance, if you wanted to send a scout on a 3-month assignment in North America to look for U21 players with a minimum of "very good" potential, the scout assignment would look something like the graphic below:
There are a few other popular approaches to scouting on FM22:
Scouting Players
Scouting Nations
Scouting Leagues/Competitions
Scouting Players
Here, you assign the scout to search for a specific mold of player. This could be adjusted based on player position, tactical suitability, team role, or specific attributes chosen by you.
You can also select the option to look for a player similar to another, or a player potentially available on loan instead of a full transfer.
Scouting Nations
You may also assign your scout to a particular nation. For better results, you should also apply filters to specify the type of player you want the scout to find in that nation.
Note that it is not advisable to assign a scout to too many nations within a short period of time. Their knowledge of each one will be negatively affected.
It is more beneficial to allow the scout enough time to work through a particular nation and develop their scouting knowledge of that area to a very good level before switching assignments.
Scouting Leagues/Competitions
This method can be particularly beneficial when you're at a club where squad registration rules are restrictive.
It can help to ensure that the options presented to you by your scouts fit within those restrictions and you don't have to sell anyone before successfully registering a new player.
If you scout smaller leagues/competitions, it will also help you keep track of the progress of in-form players that can be snapped up for a bargain fee.
Final Words
Once you've set up these assignments, your scouts can immediately get to work scouring the furthest reaches of the globe for the best players to improve your squad – both for the present and for the future.
You are more likely to find some of the best wonderkids on the game, and you're also more likely to pay less for more value.
Be sure to leave a couple of scouts at the club for other secondary assignments such as player or match reports.
If you're looking to start off with a team that gives you a lot of room to maneuver funds for transfers and scouting assignments, have a look at this list of the biggest transfer budgets in FM22 to get started.