This guide will show you how to set up a Fantasy Draft League in Football Manager 2022, so you can start enjoying this style of play with your friends, or simply against the AI.
The Fantasy Draft was first introduced to Football Manager in the 2016 edition. Compared to the usual style of playing the game, where we take on a managerial role at a real club, build up the best youth systems and compete in the leagues and cups we all know and love, a draft competition is a completely different way to enjoy FM.
Although it still involves recognised players, Fantasy Draft mode exists in an artificially constructed footballing world, where you can test your skills directly against other FM'ers on a relatively level playing field.
It is based on the American-style draft model of taking it in turns to select the players you want in your squad from a pool of available options. The top players will always be selected in the early rounds, as draft members fight to secure the top talent. Then, your newly assembled squads can compete against one another in either a league or cup format (or a combination of the two) to decide who is the best manager once and for all!
But there's more to it than that. You will have to plan ahead and decide on your tactical vision before selecting your squad, to ensure you have the right types and blend of players to execute your plan on the pitch to perfection. Just picking players because they're "good" isn't going to cut it!
However, a strategy for a successful draft is perhaps a topic for another article.
The good news is that setting up a fantasy draft in FM22 is really easy, and is much easier than using the editor to create leagues or add your own players.
Setting Up a Draft
Once you've launched FM22, you will need to 'Start a New Game' and then select the 'Fantasy Draft' option. On the next screen, you can decide whether you want to set up and host a draft yourself, or join one that has already been created.
The 'Quick Start' option will automatically find an existing draft that has been created and is open for players to join, so you can quickly dive into drafting straight away. The 'Join Draft' option will allow you to manually search for a draft, perhaps one that a friend has already created.
However, this guide will describe how you can start your own draft first, so click on 'Create Draft'.
From here, you can select the format of the draft. We're going for a league format, so click on this option. Then give your competition a name and use the slider to determine what budgetary restrictions you'd like to put in place.
The tighter the budget, the more carefully players will have to manage their draft selections to ensure they don't blow it all in the first few rounds and leave nothing to fill out the rest of their squad. If you'd like no such restrictions on the budget, just tick the 'Unlimited' box, but it's more fun if you need to look at the best cheap players in FM22 rather than just being allowed to choose any player you wish.
Next, you must decide on the pool of players that the draft will draw from. The default option is the 'World Pool', which will consist of the most familiar faces in the game from across the globe. Alternatively, you can customize your own pool, based on age, nationality or value criteria, or you can download a custom pool that you like from the Steam Workshop.
In the 'Advanced Settings' menu, you can decide how long each draft member has to build a shortlist of players that they're interested in, once the players in the pool have been revealed, and also how long they have to make their draft selection when their turn comes around.
You can also decide how many times teams will play against each other and whether to include another draft mid-way through the competition. Finally, you can choose whether you would like to make the draft available to just your friends or if you want to leave it open for anyone to join. Once you've made these decisions, you can click 'Next'.
On the following screen, you can impose restrictions on your draft to make it a little more interesting. These can be present for all the rounds, or you can have different restrictions for different stages of the draft. For example, you can decide that you want only English players to be available throughout the draft, by highlighting the 'All Picks' option in the top left, and then selecting 'Add Restriction' > 'Nationality' > 'English'.
Then you can choose to have only players under 25 available to be picked for the first five rounds by highlighting 'Range', then selecting '1st-5th Pick' and adding the restriction in the same way as before. It's entirely up to you how you want the restrictions (if any) to be applied, so play around with it and see what you like! Once you're happy with it, click on 'Create Competition'.
Next you can select your manager profile and create the imaginary club that you want your players to compete for (name, logo, kits and stadium), then click 'Confirm'.
This will take you to the draft lobby, where managers can sign up, based on the choices you made earlier, or you can invite friends to join. If you simply enjoy the draft style of play or you want to practice your drafting skills prior to taking on others, you can also create a lobby of AI mangers to compete against. In the bottom right, select 'Add AI Club' and it will present you with a list of AI managers and their clubs to choose from. Select as many as you would like to participate in your draft, and click 'Confirm'.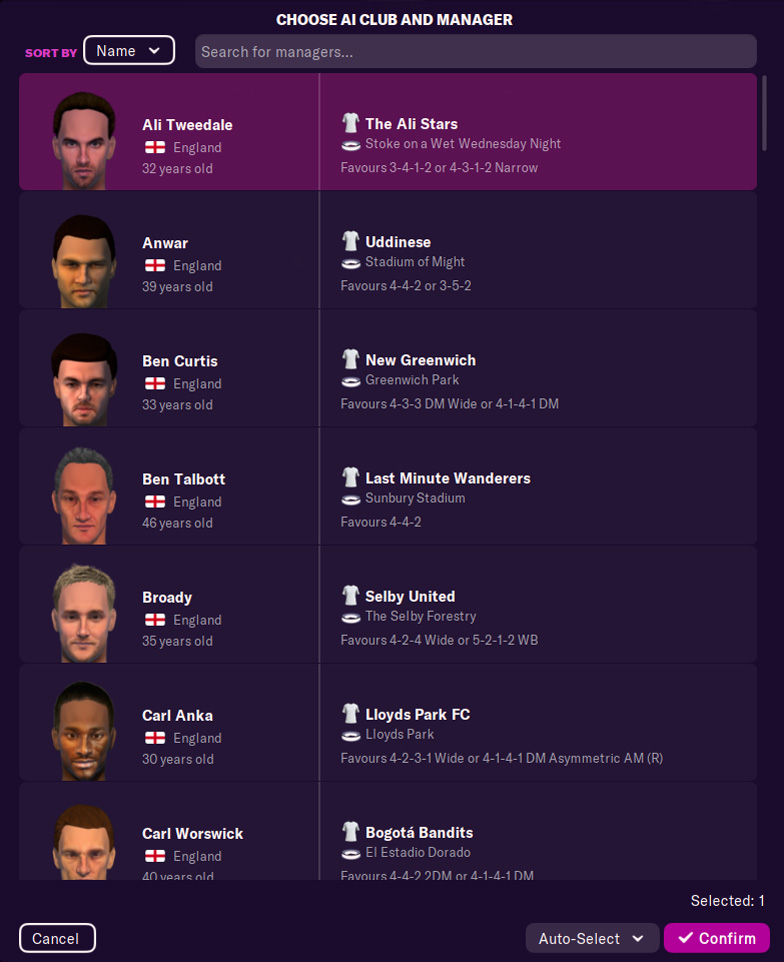 Once your lobby is sufficiently full, you can select the draft order to determine who gets first pick each round, or you can leave it randomised. You also have the option of ticking the 'Reverse Order Each Round' box in the bottom left, which will ensure the player that picked last in one round goes first in the next. When you're happy with everything and ready to start, click 'Begin Draft'.
At this point, the timer will begin on how long each manager has to scout players and shortlist the targets they want to get in their squads.
You can sort the available players by their value, position or footedness, by clicking at the top of that column, or use filters at the top of the screen to narrow your search down to the type of player you're looking for. You can also change the view in order to see (and potentially sort by) key attributes you're interested in, by clicking on 'Overview' at the top left of the player list.
When you identify a player you think you will want to target, use the icon to the right of the player to shortlist them. Once the time runs out, the shortlisting period will be over and the draft will begin. Alternatively, you can select 'Ready' before the time limit is up and, once all players have done the same, the draft will also begin.
Now the real fun begins! In the top left you can see whose turn it is to make their pick, and the time remaining for them to do so. It also shows what round you are in and how much money the current selector has remaining in their budget. Based on the restrictions you chose earlier, only players within those restrictions will be visible to pick during that round.
When it's your pick, you can sort and filter in the same way you did during shortlisting, and you can view your shortlist via the option in the top left. Once you've chosen the player you want to pick during that round, click on the green plus sign to the right of that player to add them to your squad.
Despite the time limit you have imposed on each pick, you have the power to pause the draft at any time if you need to. Just be sure that everyone in the draft is in agreement! At any time, you can also look at the players you've picked, to see what kinds of players you still need, via the 'Current Squad' option also in the top left.
When everyone has made all their picks, the draft will end and the squads will be finalised. Now it's time to formulate your tactics, pick your starting 11 and dive straight into your first match! Unlike a regular game of FM, time will progress as match days, and player injuries will be measured this way too. So rather than being out for a week, an injured player will be listed as missing one or two matches.
From here, it's very simple. Hit 'Continue' and play your matches as they come around in the fixture schedule to see who will be crowned as your Fantasy Draft Champion!