With the Gran Turismo series returning to its roots in Gran Turismo 7 with a bespoke career mode, it is once again time for Gran Turismo 7 players to start their career with an everyday car that has no business being in a racing game.
In this guide, we will be looking at the starter cars that will be available to the player at the start of the game and determine which one is the one that is best to buy to start your Gran Turismo 7 career.
Buying a Starter Car
Upon starting your Gran Turismo 7 journey, you will be given 20,000 Cr. to use in order to buy your first car. The only cars you will be able to afford will be in the Used Car Dealership. 3 cars will always be available when you first enter the Used Car Dealership and they will be displayed at the top of the Used Car Dealership. These cars are as listed:
'11 Toyota Aqua S
'14 Honda Fit Hybrid
'15 Mazda Demio XD Touring
The other cars that will be available in the Used Car Dealership lot will be random but if you are lucky enough, other more affordable cars will appear in the lot along with the 3 default starter cars. These cars are as follows:
'88 Nissan Silvia Q's (S13)
'89 Mazda Eunos Roadster (NA)
'91 Honda Beat
'02 Daihatsu Copen Active Top
'07 Suzuki Swift Sport
It is good to note that the prices of these cars will vary depending on their condition. Cars with higher mileage will naturally sell at a lower price, however, they might need additional maintenance due to their usage which may lead to them being a more expensive car to work on in the end.
You also cannot choose the paint and wheels that they will come in as you are technically buying a used car, therefore it is a "what you see is what you get" basis. Luckily though, you can always visit the GT Auto Shop and customize your car to your liking.
With all the available cars laid out, let us now look at how each car stacks up against the others, beginning with the 3 default starting cars.
The Default Starter Cars
As mentioned above, these cars will always appear in the dealership when you first start the game. They are all FF (front-engine, front-wheel drive) compact cars and roughly weigh the same so the choice might just come to a preference in styling.
We will be going through the 3 of these cars and from there decide which one is the best.
1. '11 Toyota Aqua S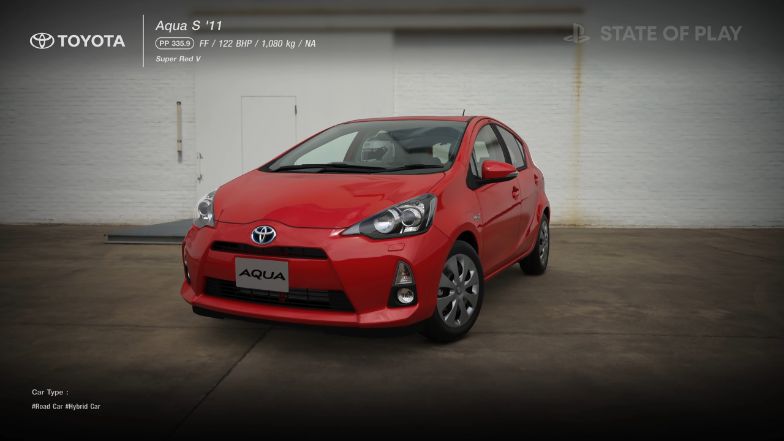 The oldest of the 3 starting cars, the '11 Toyota Aqua is a hybrid car producing 122 BHP and weighs in at 1080kg. Styling-wise this is definitely the tamest among the bunch but it also holds the most PP out of the 3 making it the net best car on paper.
However, it is also the most expensive car out of the 3. Priced at 14,300 Cr., it is 1000 Cr. more expensive than the Honda Fit Hybrid and 1500 Cr. more expensive than the Mazda Demio. This means that if you decide to customize and mod it, you will have less money to do so, allowing for the Honda Fit and the Mazda Demio to have a bit of a power creep.
The hybrid engine also does not lend itself too kindly to tuning mods so it might just end up being less powerful than a non-hybrid car in its class which would be the Mazda Demio.
Oddly enough, despite being the most expensive car, it is not the most powerful in the group. That belongs to the Honda Fit Hybrid as it has 138 BHP stock compared to the 122 BHP of the Toyota Aqua S.
Overall, the Toyota Aqua S would not be my first choice for my starting car as it is the most expensive out of the 3 yet it is not even the most powerful. Top it off with a hybrid powerplant and it just pales in comparison to the 2 other cars in its class.
2. '14 Honda Fit Hybrid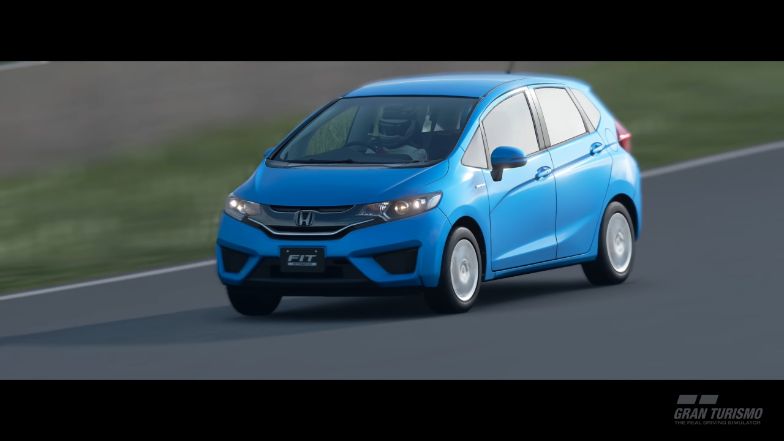 The most powerful car of the bunch, the '14 Honda Fit Hybrid is a hybrid car producing 138 BHP. It weighs in at 1080kg and its PP slots itself in the middle of the bunch.
Priced at 13,000 Cr., it is priced at the middle of the starting 3 making it great value for money compared to the Toyota Aqua S as it lends itself to more customization options because of the cheaper price.
Compared to the Mazda Demio's price, it is not that far off either. Being only 500 Cr. more expensive yet having 35 more BHP, the Honda Fit Hybrid makes its case as one of the better buys from the starting three groups.
The only downside to the Honda Fit Hybrid is that it is a hybrid car which means less tuning potential as a hybrid powerplant does not lend itself too well for modding.
However, its stock BHP makes it a formidable competitor in the earlier championships and races without much modding needed so you might end up saving more money in the long run.
3. '15 Mazda Demio XD Touring
The cheapest and least powerful car in the starting 3 bunch, the '15 Mazda Demio XD Touring produces 103 BHP and weighs in at 1080kg. Its PP is the lowest of the bunch as well.
While it lacks in power and PP, it is the cheapest of the default starting 3. Priced at only 12,500 Cr., it makes itself rife for tuning and customization.
Not only that, but it is also the only car in the starting 3 that is not with a hybrid powerplant making tuning very accessible. It also comes stock with a turbocharger compared to the other 2's naturally aspirated aspiration which gives it even more tuning potential.
So while it may have the lowest BHP, it definitely lends itself to better power gains than the other 2 starting cars potentially making it the best purchase out of the 3.
The Compact Starter Cars Verdict
From the information given above, there really are only 2 options, and that is between the Mazda Demio and the Honda Fit Hybrid. Either of these cars would be great as they are much cheaper than the Toyota Aqua S and offer better potential in the long haul.
It would be a matter of preference whether you would want a hybrid powertrain or a normal combustion engine under the hood.
With the Honda Fit Hybrid sporting much better performance stock, it could be the choice for those just wanting to race immediately and not touch any tuning.
However, if you want to go for a more traditional route and also tinker with your car a bit – with the plethora of tuning options available in Gran Turismo 7 – then the Mazda Demio is the car for you.
That said though, the GT Cafe missions will reward you with the 2 other cars you did not pick rather quickly through the initial Sunday Cups so do not fret if you think you will miss out on them for your collection when the Used Car Dealership rotates cars.
The Special Case Starter Cars
Aside from the default 3 compact cars, there might be a chance for some other cars to make their way on the Used Car Dealership lot that would cost below 20,000 Cr. making them eligible to buy as a starter car as well.
We will be going through each of these cars, their strengths and weaknesses, and finally, decide if going for them is worth it over the default 3 compact cars.
1. '88 Nissan Silvia Q's (S13)
The non-turbo variant of the S13, the '88 Nissan Silvia Q is an old-school Japanese sports car that is best known for its drifting capabilities. It produces 128 BHP and weighs in at 1090kg, so a bit heavier than the 3 compact cars.
A difference from the 3 default compact cars is that its drivetrain is FR (front-engine, rear-wheel drive), meaning it will be more open to oversteer than understeer (a characteristic that is common among FF cars). This lends itself to being a bit more agile and in turn, being a bit faster than the default starter cars.
It is also priced moderately cheaply, at around 13,300 Cr. making it cheaper than the Toyota Aqua S. This makes it so that you can spend more money on mods which would greatly benefit the Nissan Silvia Q's.
This car could also be a great platform for drifting as the S-chassis cars of Nissan are undoubtedly the best in the business when it comes to drifting.
One fault that could be attributed to the Nissan Silvia Q's is that it might need a bit more resources poured into making the car a bit more track-ready because of its age. Chassis rigidity, better tires, and better suspension would definitely help mitigate these flaws.
2. '89 Mazda Eunos Roadster (NA)
Also known as the Mazda MX-5 Miata in other regions, the '89 Mazda Eunos Roadster is a convertible sports car that produces 120 BHP and weighs only 940kg, so it is way lighter than the default starter cars.
Like the Nissan Silvia Q's, this car's drivetrain is also FR which makes it more nimble than FF cars (which the default starter cars are). Combine that with its small body and a rather peppy engine and the Mazda Eunos Roadster is definitely one of the top picks for a starter car.
The only problem the Eunos Roadster has is that it is possibly the most expensive car out of the special case starter cars. Priced at 19,200 Cr., if you pick this car you will definitely be either running it stock for a while or ending up installing only minor upgrades to it.
3. '91 Honda Beat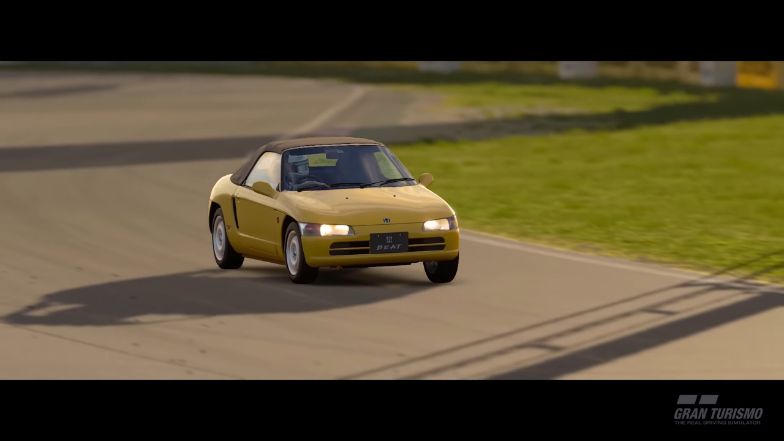 The lightest car that you can get in the whole of Gran Turismo 7, the '91 Honda Beat is what you would call a kei car, which is basically a really small car with a rather tiny engine. It produces a measly 63 BHP but what it lacks in power, it more than makes up for in weight, wherein it only weighs 760kg.
This is also the only car that you buy as a starter car that is with an MR (mid-engine, rear-wheel drive) configuration, making its weight distribution and driving dynamics surprisingly amazing for such an underpowered and tiny car.
Prices for the Honda Beat start at 16,500 Cr., which is rather expensive (it is in fact, the second-most expensive starter car) but still quite a bit of money to buy power upgrades which it so desperately needs.
With that said though, the Honda Beat could possibly be one of the better cars in the lower classes of racing due to its nimbleness and go-kart-like handling.
4. '02 Daihatsu Copen Active Top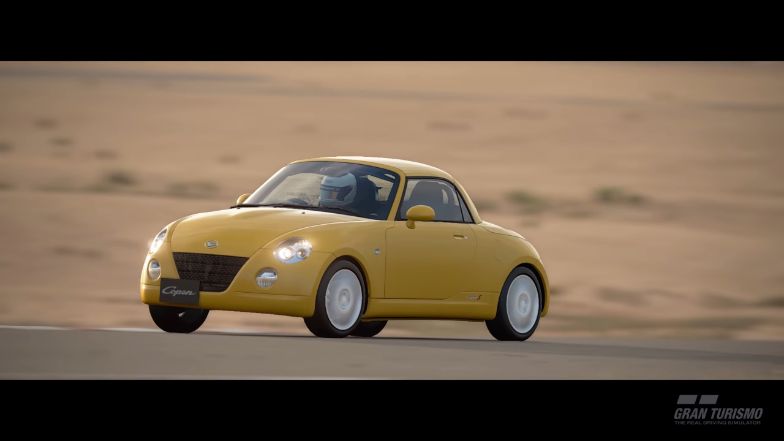 Another kei car, the '02 Daihatsu Copen Active Top is a more modern type of kei car which produces only 62 BHP and weighs 830kg. Although still lighter than most of the cars on this list, its specs pale in comparison to the Honda Beat being overall weaker in terms of power and weighing a whole 70kg more.
Not only that, but it is also sporting an FF drivetrain, which while okay in low-power races, still is not better than the MR configuration of the Honda Beat.
Priced at around 15,000 Cr., it is not much of a bargain either compared to other cars here, making this car a bit of a miss if you find it in your initial Used Car Dealership lot.
5. '07 Suzuki Swift Sport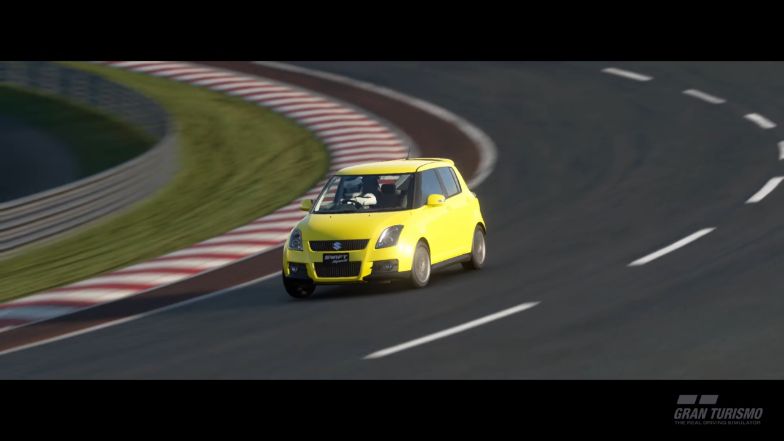 Quite possibly the best car you can find in the initial Used Car Dealership lot, the '07 Suzuki Swift Sport is a rather sporty hatchback that produces 123 BHP and weighs just under the default starter cars at 1060kg.
I say that this is the best as it is a car that is actually tuned from the factory to be as sporty as it can be. Like the default starter cars, the drivetrain layout is also FF which makes it a bit peppy but will definitely be prone to understeer.
Prices for the Suzuki Swift Sport start at around 16,300 Cr., so it is a bit pricey but you are left with enough credits to at least get better tires and a few minor upgrades to bump the power up a bit more.
Is It Worth It Buying These Cars Instead of the Default Starter Cars?
From the list above, the only real car that could be given a pass is the Daihatsu Copen as its performance does not exactly inspire any confidence, and its price is too high for its own good.
The other cars offer quite different driving feels from each other as they're wholly different from each other.
Getting the Honda Beat, for example, would have you driving an effective pocket rocket as its incredibly low weight can offset its power. Compared to getting the Nissan Silvia Q's, which is the heaviest vehicle on this list yet excels in oversteer-heavy maneuvers, you can see how much they can differ.
The Mazda Eunos Roadster (Miata) is also a great choice, just be mindful of its price as it can set you back quite a bit since you will be effectively operating with only pocket change after you get it.
And as previously stated above, the Suzuki Swift Sport lends itself as one of the better cars to get as a starter car as it is cheap enough to get upgrades for yet fast enough to keep up with most of the early competition.
Final Thoughts
Choosing a low-powered econobox as your first car is one of the quintessential experiences you can get from a Gran Turismo game, and Gran Turismo 7 honors that here with the choices they have laid out for you as you start the game.
While other cars may be better out the gate, all of them are viable for the first few races, and with the GT Cafe missions rewarding you with cars, it would be better to get the cheapest cars first so you could theoretically save your money when you actually need to buy cars for a later event or if you need to upgrade your existing cars.
However, if you are having a hard time with the races, you can always get the best-performing car out of the bunch so that you can at least have an easier time going through the first few races of the career mode.
When you have enough credits in your balance, you can switch things up and get some of the more expensive cars in the game. We've got a guide on how to earn money fast which should help with achieving that – check it out!