For racing games, racing against other people has always been the bread and butter for their longevity as it keeps you hooked to the competitive nature of the game as well as the community that you will eventually be a part of as you find yourself creating bonds with your fellow rivals and friends alike.
In Gran Turismo 7, the sense of competition and community is further pushed with the brilliant Sport Mode returning from Gran Turismo Sport as well as the plethora of options for online lobby-making if you want to create something more specific.
2 Player Battles also makes a return, giving you the option to play with a buddy locally, an increasingly rare feature in today's online-centric era.
In this guide, we will be taking a look at how you can play with friends in Gran Turismo 7, the different modes in which you can do so, and the features each mode brings to the table.
How to Unlock Multiplayer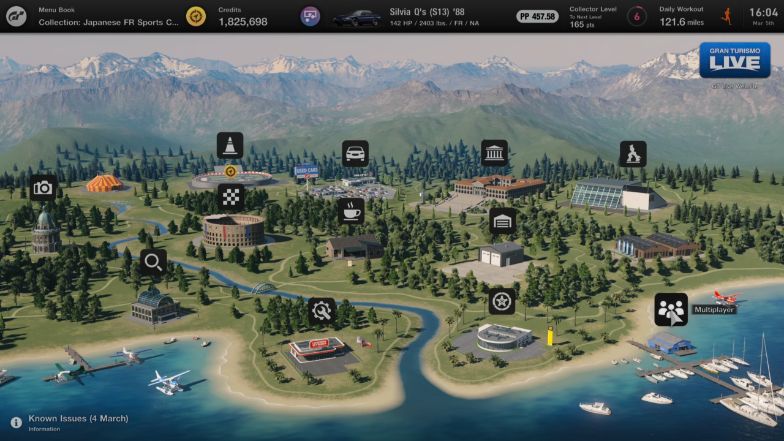 Before we can even touch on the multiplayer modes of Gran Turismo 7, you will have to play the game's single-player mode for a bit as it is locked behind progression. In order to unlock the multiplayer modes, you will have to complete Menu Book No. 9: Championship: Tokyo Highway Parade from the GT Cafe pavilion.
Once you have done that both the Sport Mode pavilion and Multiplayer pavilion will unlock on the main map menu. You are now able to play with friends and rivals alike!
Sport Mode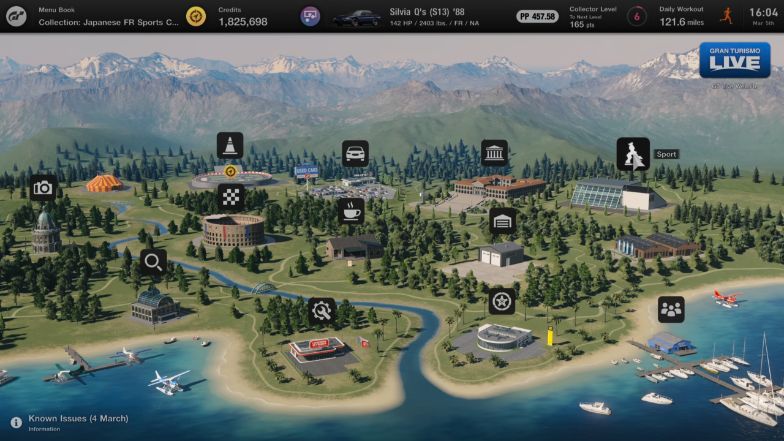 Sport Mode is the competitive multiplayer aspect of Gran Turismo 7, pitting you against drivers with a similar skillset to you from around your account's region. A strictly matchmaking-only mode, it bases its searches around your Sport Mode Ratings which are calculated on how well you do in each race and how cleanly you drive as well.
In the Sport Mode pavilion, you will find the Daily Races, as well as the Championships, catered to those that want to dip their feet into hyper-competitive Gran Turismo races. Both of these race settings are predetermined by the Gran Turismo 7 developers.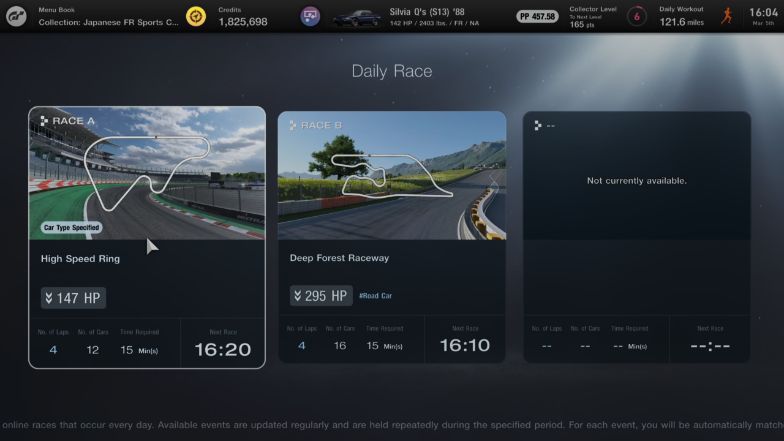 Entry to these races is also done via a timed entry, meaning you can only join these races during a certain time. If you miss the race that is scheduled at 16:20 for example, you will have to wait for the next time slot to open in order to race.
The best way you and your friends can play with each other in this multiplayer mode is if you are all based in the same region (account-wise), have similar Sport Mode Ratings, and have joined the same timeslot for the races. There is no party setting in this mode so you will have to hope that the matchmaking system puts you all in the same race.
Online Multiplayer Lobby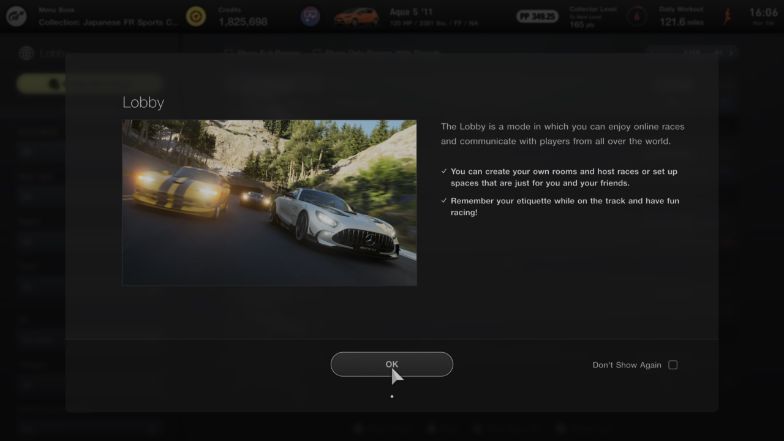 The Online Multiplayer Lobby is where you will find rooms created by fellow Gran Turismo 7 players. These can range from drag racing lobbies to league races that are organized by esports teams. In turn, this is where you can also create your own room and have your friends join in.
How to Join a Friend's Room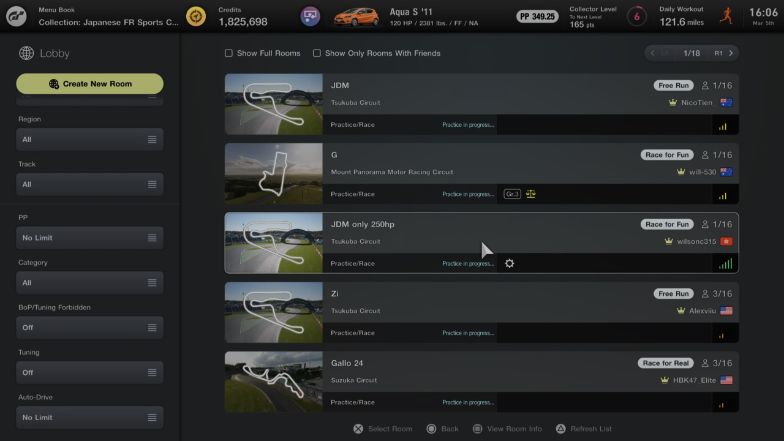 Unfortunately, there is no invite feature for Gran Turismo 7 so you will have to look for your friend's room from the lobby list. The fastest way to do so is ticking the "Show Only Rooms With Friends" checkbox on the top of the lobby list so you can slim down the number of rooms that are being displayed.
Once you have found your friend's room, simply enter the room by selecting it and you will be transported to the waiting room of the lobby. From there, you are free to do whatever you want and have fun with your friends.
Hosting a Room
There are dozens upon dozens of options you can set your room to. Below we will be taking a look at these options and how each option can be used to create a completely catered experience for you and your friends.
Make sure that when setting up a room, all settings are to your liking as once you create the room, you cannot edit any settings anymore. You will have to remake the room if you want to change anything, including the track that you are racing on.
This also means that there are no Championship options when hosting a room so the most you will be doing in a room is one race, and if you want to change track create another room to create some sort of semblance to a Championship mode.
Room Settings
This is pretty much the main information that you will be giving out when creating your room. You can set the Room Name, the Race Type, and the Max Number of Participants under this section. I will also be lumping the Room Mode and Room Privacy in this section.
Room Mode pertains to the kind of racing that will be occurring in the room. There are three modes to this: Free Run, Practice / Race, and Practice / Endurance Race.
Free Run basically makes the room a free-for-all where no real racing is involved. That means that it can be anything, from car meets, to drag or drift lobbies, to just hanging out with friends. Anything can be done in these lobbies, besides racing.
Practice / Race is a mode that you would want to pick if you were going to host a race lobby. These races will have laps as the indicator of the ending.
Practice / Endurance Race is pretty much the same mode as Practice / Race, only this time instead of a lap counter, there will be a set amount of time for players to race around the track.
Room Privacy lets you create either a public or a private, friends-only lobby. As stated above, there is, unfortunately, no invite function in Gran Turismo 7, so use the Friends Only setting here in order to block out random people from entering your room.
Room Name is self-explanatory, you can use this to further differentiate your lobby from others, especially if you want your friends to find your room quickly.
Race Type sets the expectations of everybody in the lobby on what you can expect from it. There are four options under this setting, namely: Race for Fun, Free Run, Drift, and Race for Real.
Lastly, we have the Max Number of Participants. Every lobby has a maximum of 16 players and a minimum of 2.
Track Settings
Under these settings, you can change the track that the lobby will be racing in, the No. of Laps for Race rooms, and the Time Limit for Endurance Race rooms.
The tracks that can be selected are tracks that you have unlocked via the single-player campaign so do not be alarmed if you are missing some tracks, that just means that you need to play more of the career mode in order to unlock all of them.
No. of Laps for races can be set to a minimum of 1 lap to a maximum of 200 laps while the Time Limit for Endurance Races can be set to a minimum of 1 minute to a maximum of 24 hours!
Time / Weather Settings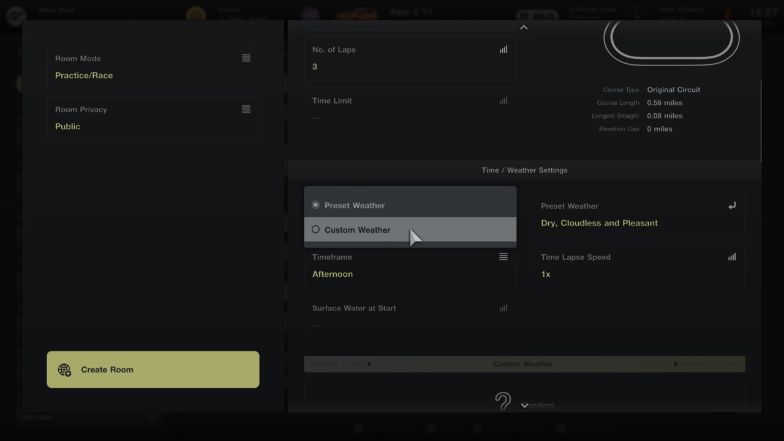 Under these settings, you will be able to change the time and weather conditions of the track you are racing on. You can also set the speed at which the weather changes via the Time Lapse Speed setting. Take note however that the settings here vary per track as only some tracks support rain as well as night racing.
If you wish to race in the rain, these are currently the only tracks that will support that type of weather as the Surface Water at Start option will be available to change:
Autopolis
Circuit de la Sarthe
Circuit de Spa-Francorchamps
Dragon Trail (Gardens)
Fuji International Speedway
High-Speed Ring
Nürburgring
Red Bull Ring
Suzuka Circuit
Tokyo Expressway
Tsukuba Circuit
Likewise, if you want to race at night, these are the only tracks that will support that setting under the Timeframe option:
Blue Moon Bay Speedway
Circuit de la Sarthe
Circuit de Spa-Francorchamps
Colorado Springs
Daytona International Speedway
Mount Panorama Circuit
Northern Isle Speedway
Nürburgring (24h Layout)
Special Stage Route X
Tokyo Expressway
The amount of weather changes via the Custom Weather setting also varies from track to track. Usually, bigger tracks will allow for more weather condition options. For example, the Nurburgring can be set with 5 different weather conditions while the Northern Isle Speedway can only be set with 1.
Race Settings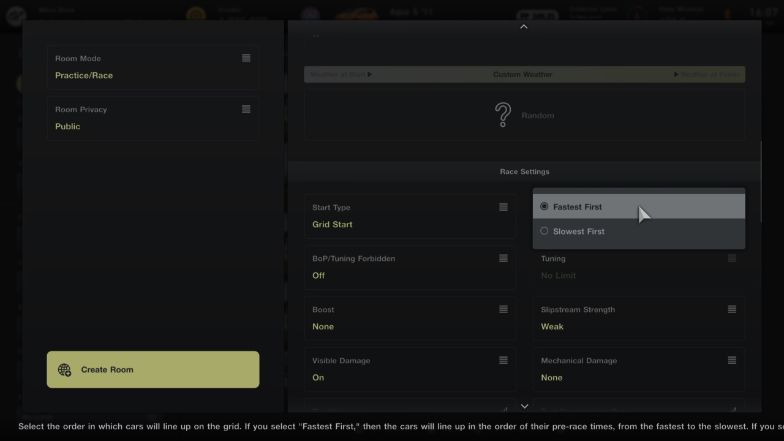 This is where the customization for your racing experience can be changed. There are a ton of options in this section so let us go through them one by one.
Start Type is how you would want the race to start. There are 3 options here, namely Grid Start, Grid Start with False Start Check, and Rolling Start.
Grid Start is your typical Gran Turismo race start wherein everybody is given control of their car after the countdown reaches 0. Throttle control is given emphasis here as going full throttle can lead to wheelspin off the line.
Grid Start with False Start Check tests the reaction time of the drivers as they are given full control to launch their cars off the line. If you launch too early, you are given a penalty that you must serve.
Lastly, Rolling Start is your typical Gran Turismo Sport start wherein all drivers start under rolling grid conditions, giving everyone a fair and equal start.
Grid Order lets you decide which cars will be starting in front of the grid, whether it is the ones that have set the slowest times during qualifying or the ones that set the fastest times.
BoP / Tuning Forbidden is a two-pronged setting when it comes to fairness. For class-specific races, you would want this to be turned off so BoP (Balance of Power) is enabled. However, if doing a one-make race, you would want to turn this on and set the Tuning setting to Prohibited so that every car is truly the same.
Boost pertains to catch-up which has drivers on the lower end of the grid have an advantage in order for them to catch up to the frontrunners. You can set this to Strong, Weak, or None.
Slipstream Strength determines how much of a boost you can get when drafting from another driver. You can set this to Strong, Weak, or Real, with Real being the weakest out of all the options.
Visible Damage pertains to whether or not you would want to display visual damage when drivers have a collision with their cars. If you want this damage to have any meaningful effect, then the Mechanical Damage setting is what you should turn on. This setting can be set to Heavy, Light, or None.
Tire Wear and Fuel Rate Consumption refers to how fast your tires wear throughout the race and how much fuel is burned. These settings can be turned off or can be set to have a 50x effect on cars. Turn these settings higher if you want to have a race with lots of pit stops.
Initial Fuel pertains to how much fuel you will be carrying at the start of the race. This can be set to Default or you can set it manually per liter from 0 liters to a maximum of 100 liters.
Grip Reduction Off Track determines how much grip you lose when you go off the track and into surfaces like grass or gravel. There are 2 settings to this: Low and Real.
If set to Low, then you only lose a bit of grip when leaving the track. Setting it to Real will have a dramatic effect on your grip off the track and will continue to affect you when rejoining the track as it will simulate your tires getting dirty.
Race Finish Delay pertains to the time everyone after the race winner has in order to cross the finish line. If the time runs out, then racers who did not cross the line will be marked as DNF. This can be set from a minimum of 30 seconds to a maximum of 180 seconds.
Finally, we have Nitro/Overtaking System Usage Time Multiplier, which functions just like the Tire Wear and Fuel Rate Consumption settings. Setting this lower will have your charges be used up slower while having this set higher will deplete the meter much quicker. This can be set from x0.1 to a maximum of x10.
Regulation Settings
Under these settings, you can regulate the cars that can race on the track. This is also where you can set things up like multi-class races for Le Mans-style races.
Filter by Category is the setting you would want to set to No Limit if you want to have multi-class races. From there all it takes is cooperation from everyone to choose whether they want to race in a Gr.1 or Gr.3 car for Le Mans-style races or Gr.2 and Gr.3 cars for Super GT-style races.
If you want a single-class race though, then feel free to set it to whichever class you want. If you want to race road cars or anything else other than race cars, then set it to No Limit as well.
PP Limit is where you can sort of set a class system of sort for road cars. This setting goes hand in hand with Max Power Output and Minimum Weight to truly customize how much of a discrepancy you would want the cars racing to have.
Tire Type pertains to the type of tire drivers can use in the race. By selecting an option in this setting, you then unlock both the Useable Tires setting and the Required Tires setting. Useable Tires is pretty much self-explanatory, as it restricts any tire that is not selected.
Required Tires, on the other hand, sets up multi-pitstop races as this option will have drivers be required to pit in order for them to use the Required Tires once during the race. This means that if the Required Tires are set to All, then the driver should need to use the Soft, Medium, and Hard tire at least once during the race.
The Nitro setting simply toggles whether Nitro is allowed in the room or not.
Finally, we have Kart Usage. Only turn this setting on if you want to have a kart race as it will automatically restrict all cars except for the Gran Turismo Racing Kart 125 Shifter to be used.
Penalty Settings
The options under these settings determine how strict you want the penalties to be. For the Shortcut Penalty and Wall Collision Penalty settings, you can choose None, Weak, and Strong.
For the Car Collision Penalty, Pit Lane Line-Cutting Penalty, and Flag Rules, you can choose to either have them on or off only.
As for Ghosting During Race and Correct Vehicle Course After Wall Collision, these are assistive settings that help players that have spun out or have collided with a wall get back on track as quickly and as safely as possible.
Limit Driving Options
The last settings list for hosting a lobby is the Limit Driving Options list. These are basically all the driving assists that can be found in the game and each of them can be prohibited in the lobby settings.
Starting the Lobby
Once you have set up your lobby, you are then transported to the Lobby Menu screen where you can chat, enter the race, enter the course for practice, spectate other drivers, view the settings of the lobby, change your personal settings, and if you are the host, you can start the race for anyone that has entered the race.
You will know a player has entered the race if a car is shown beside their profile on the right side of the screen. If everyone has a car selected, then you can start and race with your friends!
Meeting Places
Meeting Places are a new addition to the Gran Turismo series. These are a lot like the Online Multiplayer Lobbies, except that they are purely for Free Runs, hence the name Meeting Place. They can be found in the World Circuits pavilion.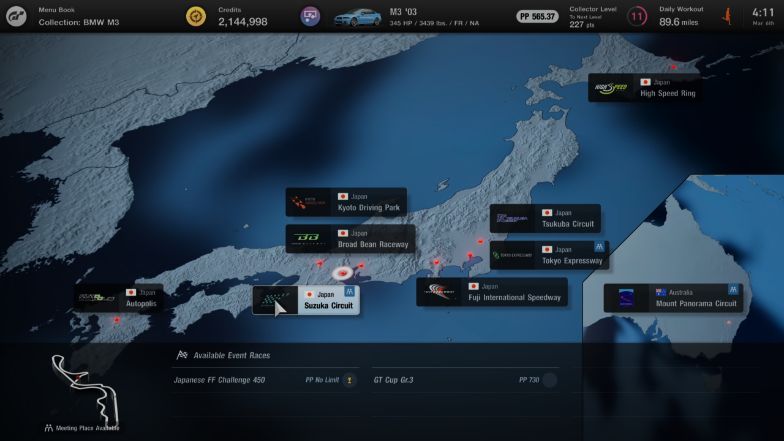 Oddly enough, not all tracks have a Meeting Place. You will know if a track has a Meeting Place available if you see an icon of two people on the top right of its button. These tracks include:
Autodromo Lago Maggiore
Daytona International Speedway
Deep Forest Raceway
Mount Panorama Circuit
Nürburgring
Special Stage Route X
Suzuka Circuit
Tokyo Expressway
Trial Mountain Circuit
WeatherTech Raceway Laguna Seca
How to Join a Meeting Place With Friends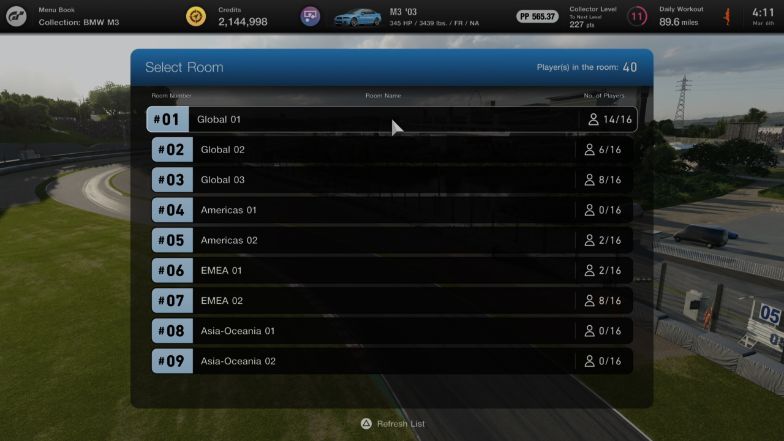 Meeting Places are a more streamlined way for you and your friends to meet. Since the lobbies are already created, you can just go to the track you would want to meet in and agree on a room to meet in. There are 9 rooms per track.
Each room is public and will only host 16 players so make sure to pick a room with the least number of people so that all of you can join in the same room.
2 Player Battle
The last multiplayer option in Gran Turismo 7 is a classic split-screen mode named 2 Player Battle. This option can be found in the Multiplayer pavilion.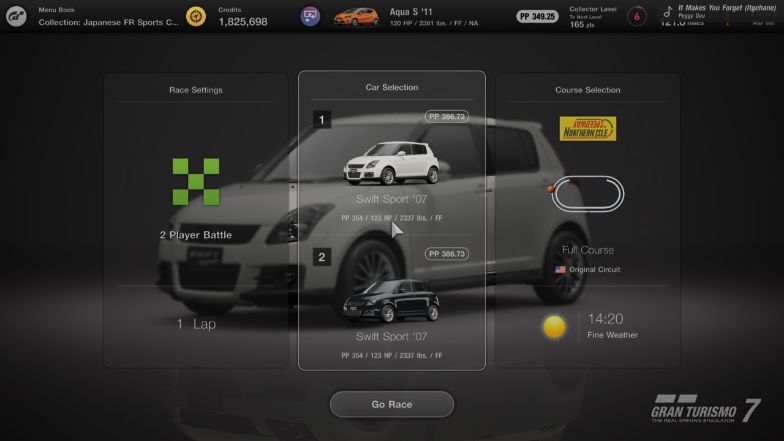 The settings for this mode are pretty sparse compared to the Online Multiplayer Lobbies, only having 3 options, namely: Race Settings, Car Selection, and Course Selection.
For Race Settings, there are only two settings you can choose, the No. of Laps and the Start Type for the race.
As for Car Selection, you can only choose from a predetermined list of cars. You cannot use your career cars in this mode, which is a letdown. You also cannot tune these cars; it very much is an arcade racer in this regard that you just choose and go.
Finally for Course Selection, just like the Online Multiplayer Lobby, you can only choose the tracks that you have unlocked. From there, you can choose the variation of the track and some predetermined weather effects and timeframes.
Once you and your friend have chosen your cars, you can then press the "Go Race" button and the race will immediately start. Now go duke it out and find out who is best between the both of you!
Final Thoughts
Playing with friends in Gran Turismo 7 is a rather arduous process. With no invite functionalities and not being able to change any setting once a lobby is set up, you and your friends will have to do some things manually or go through some hoops in order to get the best experience.
This goes for the local multiplayer as well. Although it is appreciated that there is still a split-screen option, the number of settings in this mode is wholly disappointing, especially the fact that you cannot use your career mode cars. This effectively shoots down the possibility of having a tuning battle between you and your friends.
Speaking of tuning, you should check out our guide on the best tuning setups next. There are a bunch of tips that you'll find very useful.