One of the best parts of any new Madden title is getting to play with the new rookie class. Often exciting physically and packed with loads of potential, it's always fun to find who the best rookie player in Madden is.
The bummer of rookie classes in Madden, however, is that, outside of a few of the best young stars from within Franchise Mode, the rookies are typically low rated, and often take years in offline seasons to get them to their peak potential.
Fortunately for us, Madden Ultimate Team is here to help us experience the true potential of the best rookies in Madden 23, with 'Rookie Premiere' cards!
Rookie Premiere cards are elite-level players (85+ overall) earned through completing sets for Rookie Premiere tokens, which are themselves earned by beating Rookie Premiere challenges and objectives.
There is one Rookie Premiere player for each team (the best rookie of their draft class), and when you earn two tokens you can turn them into a pack. This pack allows you to choose one of the 32 players, but the question still remains: Who is the best Rookie Premiere player in Madden 23 Ultimate Team?
Channing Tindall, Middle Linebacker
It's okay if you've never heard of Channing Tindall before. He wasn't even a starter in college for the historically-dominant Georgia defense. He was taken in the 3rd round by Miami, and the Madden ratings adjuster apparently thinks he should have been a higher pick based on Tindall's ratings on this card.
Channing Tindall's speed rating is tied with Fred Warner's for the highest among all linebackers at the start of the MUT season. Along with that elite speed also comes the ability to utilize it with an 88 pursuit rating and an 87 tackle rating. 
He's tied for being the fastest linebacker in the league and he's in the top 5 of all linebackers in terms of tackling. Those are the 2 most important attributes, and he is at or near the top of the league.
You aren't going to find a linebacker as good as him right now, they just don't exist, if you want an impact player at the position, he's the guy to get.
Kingsley Enagbare, Edge Rusher
Yet another mid-round defensive rookie almost no one has ever heard of, great! Out of South Carolina, Kingsley is not your typical edge rusher – and that's what makes him so special in my eyes.
Unlike most edge rushers that you get for your MUT team, Kingsley has subpar rushing attributes. His value lays almost solely in his other-worldly run-stopping ability. 
His block-shedding, pursuit, and tackling ratings are all over 85 and he's got elite awareness to boot. If you struggle to stop the run, he is the guy to take.
Breece Hall, Running Back
Everybody needs a good running back, but in Madden Ultimate Team it can sometimes be tough to decide between a speedy elusive runner or a hard-hitting power runner. With the Breece Hall Rookie Premiere card, you don't need to decide.
Much like he was in college, Breece Hall in MUT is an absolute beast who can not only outrun defenders with 85 speed but can also run through defenders with a 79 broken tackle rating and 84 stiff arm, Breece Hall can do it all!
Zion Johnson, Offensive Linemen
I normally don't prioritize elite-level offensive linemen, but for Johnson, I'll make an exception. The young Charger has dominant ratings and the versatility to line up anywhere on your offensive line.
Johnson played for Boston College before getting picked 17th overall in the draft, and he should follow in the footsteps of other Boston College linemen with a nice career.
Madden is thinking better than just a 'nice' career, though, they project him being a top lineman in the league before too long based on his monster ratings.
Every blocking grade is above 80 for him, plus a jaw-dropping 90 lead block rating and an 88 impact block rating. This guy is going to be a must-get for any user looking to play a run-heavy offense.
Desmond Ridder, Quarterback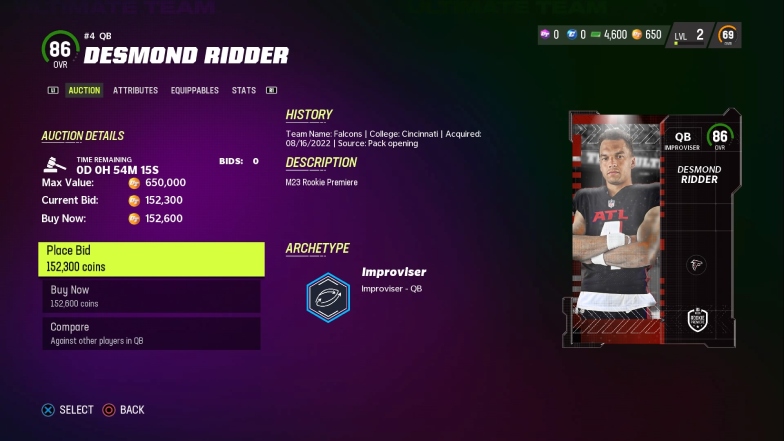 If you need a quarterback, Desmond Ridder is certainly the best Rookie Premiere QB and can be an exciting dual-threat option for teams that run option-heavy offenses.
Ridder was a 3rd round pick but was thought of as a potential 1st round player for most of the draft process, so it is no surprise that the Madden ratings adjuster gave him such good numbers. 
With most of his passing ratings sitting around 85 and his speed at 83, Ridder is a dangerous weapon in the right hands.
Personally, I think of this Ridder card as the expensive version of the Kellen Mond core gold card which is one of the best cheap cards in MUT23.
Danny Gray, Wide Receiver
What is it with Madden and these middle-round draft picks? Danny Gray was a 3rd round selection and he is rated like a top-ten pick. Even with acknowledging that this is supposed to be a beefed-up version of him as an elite player, it still seems like too much of a stretch.
With a special catch rating of a whopping 88, Danny Gray is now one of the best receivers in the entire game, it doesn't make sense to me. He's got a speed rating of 85, as well as all his route running numbers also at 85, Danny Gray is unstoppable. 
This Danny Gray card is one of the best player cards in the early game and Madden users know this.
If you're working with a small budget, you can still get a few budget elite players on the team. Check that guide out for recommendations!