A fairly large part of Madden 23 Ultimate Team is training points and their use in upgrading players. Training points are a currency in Madden 23 used primarily for upgrading player attributes and abilities, but can also be used to buy the best offensive playbooks in the game.
If you want to have success in Madden 23 Ultimate Team, you will have to learn how to get and utilize training points effectively.
Training points can be earned through a few different avenues, but the best and easiest way to earn training points is by quick-selling your existing players.
In previous years of Madden Ultimate Team, you could quick-sell players for coins, but now with the training points system in place, players can be quick-sold for training points. Each player's quick-sell training value is based on their overall rating.
In this guide, I'll show you the conversion rate for every quick-sell training value in Madden 23 Ultimate Team.
Silver Players
Early on when playing Madden 23 Ultimate Team you will be given an entire roster of low overall silver players to start out with. These players will quickly become obsolete as you earn better players by completing challenges and earning rewards for playing the game.
You should always make sure to quick-sell these players for easy training points instead of letting them sit in your item binder collecting dust.
None of these players will sell for very many training points, but if you sell a lot of them at one time, it quickly adds up:
68 OVR = 2 training points
69 OVR = 3 training points
Gold Players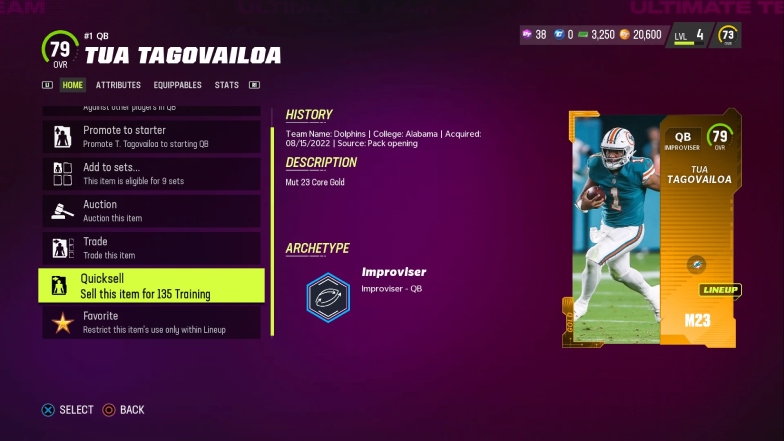 From 70 to 79 overall, gold players are every MUT player's bread and butter for the majority of their time playing the game. A big chunk of your team will be composed of gold players from different programs. Gold players are some of the best cheap players in the game.
Early on in your experience in MUT, you will start earning gold players as rewards for completing missions and leveling up. These gold players are likely to be on your starting team for a little while, but eventually, they too will become obsolete.
You will eventually earn better players, and you can then quick-sell them for training points if they aren't able to be sold at the auction house for quick coins.
Here's how many training points you get for discarding gold players in Madden 23:
70 OVR = 4 training points
71 OVR = 6 training points
72 OVR = 9 training points
73 OVR = 13 training points
74 OVR = 19 training points
75 OVR = 28 training points
76 OVR = 42 training points
77 OVR = 62 training points
78 OVR = 92 training points
79 OVR = 135 training points
Elite Players
Elite players are going to be the cornerstones of your franchise. They will be tough to earn, and you likely have to play hours of the game just to earn one of them (given you don't just buy elite packs with real money) for your team.
Eventually, after playing enough MUT, you should have a team full of elite players.
After a long time of playing, getting coins, and adding cheap elite players to your roster, you may end up getting even higher elite-level players that will turn your current elite players obsolete.
Here is how many training points you get for quick-selling elite players:
80 OVR = 200 training points
81 OVR = 300 training points
82 OVR = 440 training points
83 OVR = 650 training points
84 OVR = 970 training points
85 OVR = 1400 training points
86 OVR = 2100 training points
87 OVR = 3100 training points
88 OVR = 4600 training points
89 OVR = 6800 training points
These figures are correct for all players that weren't gifted to you for pre-ordering the game, or for buying more expensive versions of Madden.
And there you have it! That finishes up our guide to quick-sell training point conversion rates in Madden 23.