Madden 23 Ultimate Team is full of good cheap players to help fill out your lineup, but every team needs a few special players to build around.
In MUT, these special players come in the form of 'Elite' players. Elite players are typically visually distinct from other players due to the red border around the card.
Elite players are typically significantly better than their gold counterparts, but, unfortunately, they are also significantly more expensive, and not everyone has loads of coins to spend. Although you can earn coins fairly quickly, it's still important to budget well.
Luckily there are a few cheap elite gems if you want to build a more budget-friendly MUT team and still win games.
Here are the best cheap elite players in Madden 23 Ultimate Team.
Disclaimer: All values listed are what the players should be listed at given their skill level and other economic factors. Real prices are subject to change due to market fluctuations.
Ryan Tannehill, QB
Tannehill is surprisingly a very fun player to have on your team. His history as a wide receiver means all his athletic ratings are still high despite being 34 years old.
Tannehill is also one of the more consistently accurate quarterbacks with accuracy numbers all over 75 including 77 ratings for both "throw on the run" and "throw under pressure".
Those numbers aren't eye-popping, but they are still very solid, Ryan Tannehill is one of the most well-rounded elite quarterbacks you can get, and the best part is that he is dirt cheap for an elite player.
You should be able to land an Elite Tannehill card for under 10,000 coins in the auction house.
Others to consider:
Mac Jones (7,500-11,000 coins)
Deshaun Watson (7,500-11,000 coins)
Lamar Jackson (15,000-20,000 coins)
Kyler Murray (17,500-22,500 coins)
Joe Mixon, RB
While he isn't the absolute cheapest option on the market, Joe Mixon certainly represents the best value.
With an 80+ rating on all but one rushing-related attribute, Joe Mixon is one of the most well-rounded running backs in all of Madden, making him an absolute steal at his price.
Joe Mixon is someone who you should be able to buy at a price range of around 15,000 coins, which is certainly lower than what his base ratings would suggest.
There are many factors as to why his price is so low, but the main one is that there are just so many other popular running backs more likely to be coveted by players.
Others to consider:
Kareem Hunt (7,500-11,000 coins)
Miles Sanders (9,000-12,000 coins)
Damien Harris (12,500-16,000 coins)
Cordarrelle Patterson (15,000-17,000 coins)
Hunter Renfrow, WR
Hunter Renfrow can catch everything! Whether it's in real life or in Madden, Renfrow's hands are like grips; he doesn't drop anything.
This is represented well by Renfrow's top 5 catch rating of all elite players in MUT 23, as well as his equally impressive catch-in-traffic rating and special catch rating.
Those are great ratings, and what's even better is just how affordable he is due to his relatively poor athleticism numbers. You should be able to get Hunter Renfrow for less than 10,000 coins.
Other players to consider:
Jaylen Waddle (10,000-12,000 coins)
Adam Thielen (14,000-16,000 coins)
Darnell Mooney (9,000-12,000 coins)
D.K. Metcalf (17,000-22,500 coins)
Logan Thomas, TE
Logan Thomas is one of the most interesting players in the NFL today. He went from being a failed scrambling quarterback early in his career, to now being a great tight end as a veteran.
Thomas has the best combination of speed and catching ability of any affordable tight end, he is also a physically intimidating presence on the field, standing at 6ft 6 and weighing 250 pounds.
If you like those numbers, you'll also be pleased to know that he only goes for about 10,000 coins in the auction house.
Other players to consider:
Evan Engram (9,500-11,000 coins)
Hunter Henry (10,500-15,000 coins)
Mike Gesicki (15,000-1,600 coins)
Dallas Goedert (17,500-20,000 coins)
Danielle Hunter, EDGE
My favorite elite budget player in all of Madden 23 is Danielle Hunter, a player who's got a history of racking up huge sack numbers in real life. His Madden numbers suggest he can do the same for your Ultimate Team as well.
With power moves at a 79 rating and his finesse move rating at 83, he can do it all for your team. He is also an incredible athlete with all his athletic ratings above 80, he is perhaps the fastest and most agile elite edge rusher in the whole game.
I am shocked as to why his overall score is only 81 when all his underlying numbers suggest an overall that should be closer to 85. Fortunately for us, this means that his value in the auction house is much lower than it would be if his overall was higher.
Hunter is an incredible bargain elite player, with a value of only around 12,000 coins. That is an insane discount when you consider that there are players with similar attributes selling for four times that amount!
Other players to consider:
Dante Fowler Jr. (8,000-10,000)
Justin Lawler (9,000-12,000 coins)
Greg Rousseau (14,000-17,000 coins)
Arik Armstead (15,000-18,000 coins)
Daquan Jones, DT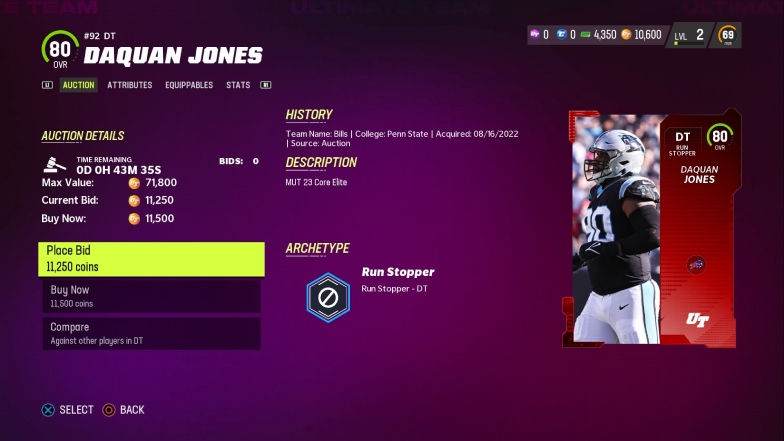 Daquan Jones is one of the cheapest elite players in all of Madden. He is not a well-known player, nor does he have any one stat that makes him particularly attractive.
This doesn't mean he's not valuable, in fact, it actually means the opposite. With his low price, players who otherwise wouldn't have the opportunity to get a player with 80+ run-stopping attributes, now can.
Daquan Jones can be had for as little as 7,000 coins if you act patiently and bid smartly at the auction house.
Other players to consider:
Shy Tuttle (9,000-11,500 coins)
Da'Ron Payne (9,500-11,000 coins)
Ed Oliver (15,500-17,500 coins)
Fletcher Cox (16,000-20,000 coins)
Myles Jack, LB
As I say often, the biggest thing (and perhaps the only thing) to look for in a great linebacker in Madden is speed and tackling.
Myles Jack checks both boxes with an 81 speed rating which is one of the highest of all the linebackers, and an 83 tackling rating that also ranks high among elite linebackers in MUT 23
Jack is relatively affordable, despite the high ratings, possibly due to his abysmal strength rating which sits at only 68. You can land Myles Jack for about 11,000 coins in the auction house.
Other players to consider:
Germaine Pratt (9,000-11,500 coins)
Roquan Smith (9,500-12,000 coins)
Bobby Okereke (14,500-16,500 coins)
Deion Jones (14,500-16,000 coins)
Marlon Humphrey, CB
A bit like Danielle Hunter, I think Marlon Humphrey's overall is too low considering his underlying attributes. That low rating naturally brings his price down in the auction house because a lot of users foolishly buy and sell players by the overall and name recognition alone.
Humphrey has great underlying numbers that are consistently above 80, like his 81 man coverage or his 82 press coverage ratings.
The one thing that might make you think twice about adding Humphrey to your team is his extremely low tackle rating which sits at a laughable 59.
Other than that, he is still very valuable, sitting around 10,000 coins in the auction house at any given time.
Other players to consider:
L'Jarius Sneed (9,500-11,500 coins)
Rasul Douglas (10,000-12,000 coins)
Jaire Alexander (14,500-17,000 coins)
Stephon Gilmore (15,000-18,000 coins)
Marcus Maye, Safety
Marcus Maye is one of my favorite players, but that's not the reason he is on this list. He is on this list because of his really solid ratings.
With an 81 zone coverage rating and 83 speed, he is the textbook definition of a centerfielding safety. Play him deep and let him roam back there in zone, knowing that your opponent won't be hitting any long shots over the middle, so long as Maye is back there.
You should be able to get Maye for less than 10,000 coins in the auction house
Other players to consider:
Jamal Adams (9,000-11,000 coins)
Budda Baker (9,500-10,500 coins)
Adrian Amos (14,000-16,000 coins)
Minkah Fitzpatrick (15,500-20,000 coins)
Now that you've got a few good budget options for elite players, I also recommend checking out the best rookie premiere players in MUT as well.