To keep DiamondLobby free to read, this post may contain affiliate links. Learn more
Fnatic's gaming gear is nothing short of what you'd expect from an esports brand. They know what gamers need, so they can cut the gimmicks and focus on the features that are really important.
Personally, I've used some of their gear and have been pleasantly surprised by the quality on offer, such as in my recent Streak65 LP keyboard review, and the Fnatic Dash mousepad review that followed.
For this review, Fnatic sent me their much-anticipated Bolt gaming mouse.
Admittedly, I've been a fan of what they've done so far, but I intend to say it exactly as it is here – just like I always do. My opinions of the mouse will be presented solely on my experience while testing it, and the fact they sent it out to me free-of-charge is not enough to sway my opinions one way or the other.
This isn't Fnatic's first rodeo in the gaming mice category. The Fnatic Clutch 2 was well-received when it was released, so it should be interesting to see if this one gets the same, better, or worse reception.
Without further ado, let's get into my full and honest Fnatic Bolt Mouse review.
Specs
There are a few extras in the package apart from the mouse itself. You get a paracord cable (it's type-C!), a USB dongle, a type C dongle adapter, and some extra mouse feet. Good first impression, in my opinion.
The key specs of the mouse itself are as follows:
| Size (mm) | Weight | Sensor | DPI | Cable Type | Port Type |
| --- | --- | --- | --- | --- | --- |
| 120.89 × 55.44 × 38.53 | 69 grams | Pixart 3370 | up to 19000 | Paracord | USB-C |
The mouse is available in two colors – white or black. The black variant is two grams lighter than the white, which I thought was a bit strange.
Fnatic's explanation is that the coating on the white mouse is heavier to reduce the chances of the mouse getting shiny or going yellow.
My review unit was the white one, but I believe that weight and color are the only differences between the two.
Design
Shape
Personally, the shape of the mouse is not quite the best for my palm grip. It's still good, but I think the claw grippers would enjoy it more. Also, if you tend to hold your mouse really tight when you're using it, then this might feel a bit small for you.
If you've used the Viper Mini, then you have a good idea of how the Fnatic Bolt feels to hold. Both mice have a similar physical footprint, so it's a close comparison.
Coating
Fnatic used a coarse coating that's quite similar to what Razer has been doing for years. Think Basilisk X Hyperspeed, but a less visually striking version.
Smooth coating is the safe option that we see many manufacturers use, but I think, when done properly, a coarse coating is more beneficial for gamers. It gives the mouse more grip, doesn't get sticky as easily as smoother coating, and it just feels like better quality overall.
Since the coating on the black mouse is not as heavy as the white one that I'm reviewing, there is a chance that it might feel slightly different from what I've described here – just something to note.
Buttons and Switches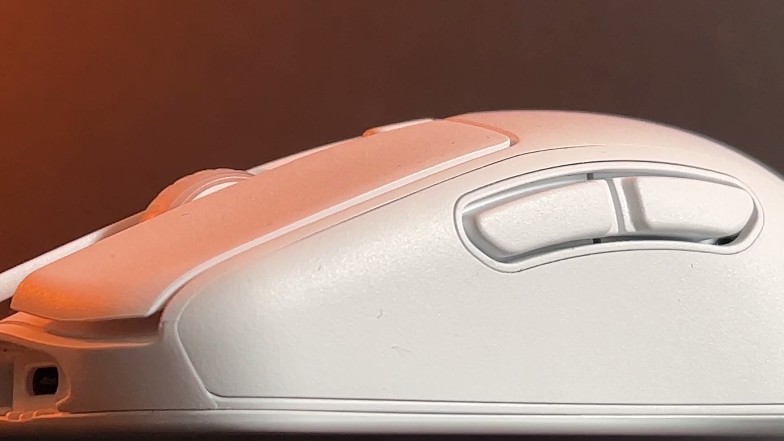 The mouse one and two buttons are using the popular Kailh GM 8.0s. There's a reason it's so popular, and that is the fact that it has proven to be reliable and durable.
This one is rated for 80 million clicks, and it feels pretty nice to click. There's zero pre or post-travel, but I wouldn't expect any less.
As is customary when building side buttons into gaming mice, the ones here are in a good position that makes them easy to reach with a roll of the thumb. They're just the right size (at least, for me), but there is quite a large gap surrounding them that could become a dirt trap.
When I first noticed this, I instinctively rolled the mouse about in my hand to see if there were any more dirt traps, but it looks like Fnatic made a real effort to keep the gaps as minimal as possible.
Thankfully, they've also made a good scroll wheel here. As you may already know, my biggest pet peeve with gaming mice is a scroll wheel that looks and feels like an afterthought (I'm looking at you, Zowie!).
This one has solid notches and a crisp, consistent button. It is a bit small for my liking, and its placing further down in the shell does not help the situation. Apart from that tiny little detail, the buttons and switches are great overall.
Feet
If you go on Fnatic's website listing of the Fnatic Bolt mouse, you'll see that one of the key features advertised is the 100% Virgin PTFE feet that sit at the top and bottom of the mouse.
There are ridges that make the feet curl in slightly, and I think that'll help for durability because lifting would be reduced. I would've liked to see a sensor ring here, but there's none.
Performance
While testing in-game performance, I used various mousepads, including the G-SR, the G604, the Fnatic Dash, and the MPC-450.
The Fnatic Bolt felt great to use on every one of them, and the relatively light weight of the mouse really comes to the fore in terms of how it makes it feel like an extension of my arm instead of a separate piece of equipment.
The performance of the wireless connection is no less than I expected – stellar. That 3370 sensor remains one of the most reliable options on the market, and we've seen it used by many high-tier wireless mice to excellent effect.
Battery
There are no flashy, battery-draining features here, so I came into this review fully expecting excellent battery life. The advertised figure is 110 hours, which is more than enough in my opinion.
I imagine that figure would be significantly lower if the Fnatic Bolt had the raging RGB lights of the XTRFY M4 which only promises 75 hours of battery life, but I'll take longer battery life over extravagant RGB any day of the week.
Software
Something else I'm not a fan of when it comes to gaming mice generally is software. More often than not, I think we're better off without them, but maybe that's just my unadventurous self speaking.
Anyway, the software on the Fnatic Bolt mouse reminds me that my feelings are valid.
First of all, it took several tries to get the mouse to update so I was already put off. Then, the user experience of making changes to DPI, the lift-off distance, debounce time, etc. was not as straightforward as I believe it could've been.
In the software, you can also make adjustments to Fnatic's tame execution of RGB lighting. It only changes the scroll wheel light, but at least you're not completely cut off from your supply if you're an RGB head.
Cost
If you want quality, you've got to pay for it. That's clearly the case here with the Fnatic Bolt mouse. It costs around £80 or €90 at the time of writing. It's still pretty good value at that price as this is aimed as a top-tier, esports-ready mouse.
Verdict
If I was trying to make a decision to buy this mouse for myself, the only thing that might make me stop to consider is that it's not the best option for my palm grip. I'd still buy it anyway because there's so much other good stuff on offer.
However, there are loads of people out there that don't use the palm grip or won't feel that it matters much if they do. That said, I'd easily recommend the Fnatic Bolt mouse to most gamers.
It's very well-built, uses a top-tier sensor, has durable PTFE feet, and just generally appears faultless. I'm especially impressed because Fnatic is not exactly one of the most experienced manufacturers in the game when it comes to gaming hardware, but they've really paid a lot of attention to detail here.
The one downside is that it's just not quite as good as market-leading alternatives. This is demonstrated most clearly with the fact that none of the Fnatic Valorant team uses a Fnatic mouse.
Fnatic Bolt
Fnatic's gaming gear is nothing short of what you'd expect from an esports brand. They know what gamers need, so they can cut the gimmicks and focus on the features that are really important.
Pros
Good for claw and fingertip grip
Top-tier sensor
Durable PTFE feet
Good value for money
Cons
Slightly behind market-leading alternatives