To keep DiamondLobby free to read, this post may contain affiliate links. Learn more
HyperX released a larger model of this keyboard back in 2019 – the HyperX Alloy Origins. It was slightly more expensive but featured many of the same strengths that this 40-percent smaller version has.
Apart from the smaller physical footprint, and the fact that this version has 61 keys, there's not too much separating the HyperX Alloy Origins 60 keyboard from its larger predecessor. At first glance, it is a simple mechanical gaming keyboard that feels well-built.
I paid for this review unit from my pocket, and as usual, I've gone through the rigorous process of testing out all the key features and in-game performance of the unit to help you decide if it is worth your time.
Build Quality
First impressions are everything, and the first impression I got from the build quality of the HyperX Alloy Origins 60 keyboard is as good as it gets.
The keyboard feels extremely solid and compact, and its aluminum chassis and base plate are extremely solid with zero wobbling from any internal or external pieces.
The frame and keys feel premium and durable too – much better than some keyboards that I've tried at the same price point.
The base plate of the keyboard is designed with a smooth matte black finish, and the keycaps are not fingerprint magnets, which is nice.
Design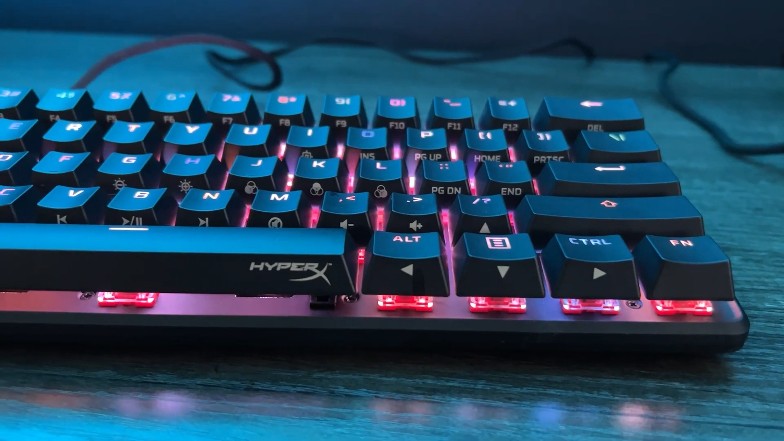 There's only one color option here, and it's black. If you're going to play it safe, then you go for black – HyperX obviously agrees.
Compared to the full-size version of this keyboard, you're getting a much more compact experience, at least in terms of the desk space that you have to use at a time.
The body of the keyboard is aircraft-grade aluminum. It sounds like overkill, but I'm not complaining. I mean, it's probably a marketing gimmick anyway.
That material gives the keyboard some heft though. It weighs 781.5 grams, which is over 300 grams heavier than the Fnatic Streak65 LP keyboard that I reviewed not too long ago. Considering the fact that this is a compact version of a larger-sized model, I wonder how much that one weighs.
There are two ways to look at this. You can fuss and complain that the keyboard feels like a slab (it really doesn't), or you can appreciate the fact that its weight means it won't be moving all over the place while in use.
Speaking of making the keyboard more compact, I was really curious to see how HyperX managed to make it smaller, and if any major sacrifices have been made with the selection of keys.
Interestingly, the keys are the same size as a standard keyboard, and they're not squeezed together so much that typing feels unnatural. They're still nicely spaced out, so you're not missing anything major.
What HyperX has done is stripe away the row of F-keys that's usually at the top of the keyboard, the command keys, and the arrows.
Instead, those F-keys, alongside media controls, onboard profile selection, delete, and other keys are now available as alternate inputs on the keyboard that can be triggered by using the dedicated FN key.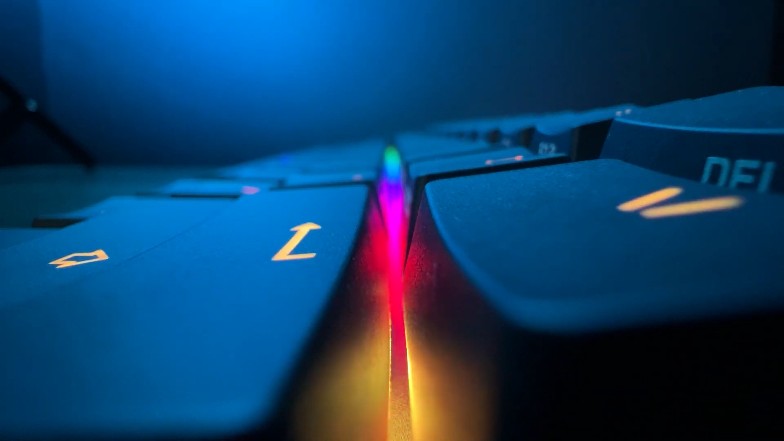 I like the RGB lighting here too. You get extensive key customization with it, so you can make the lighting effect as elaborate as you want and really make the keyboard match whatever else is on your desk.
When you set that up, you can save the profile to one of three existing presets. That allows you to switch quickly between customized RGB profiles with keyboard shortcuts whenever you want.
Keys and Switches
The keycaps are a standard doubleshot PBT, and they feel well-built and durable. All of them are macro-programmable, and as I mentioned earlier, some have secondary functions printed on due to the lack of an F-key row at the top.
Each key is also individually lit with RGB backlighting, and the colors can be customized with HyperX's NGENUITY software (more on that later).
The HyperX Alloy Origins 60 keyboard uses the manufacturer's own switches. They have a 45g actuation force, 1.8mm actuation point, a total travel distance of 3.8mm, and a lifespan of around 80 million presses.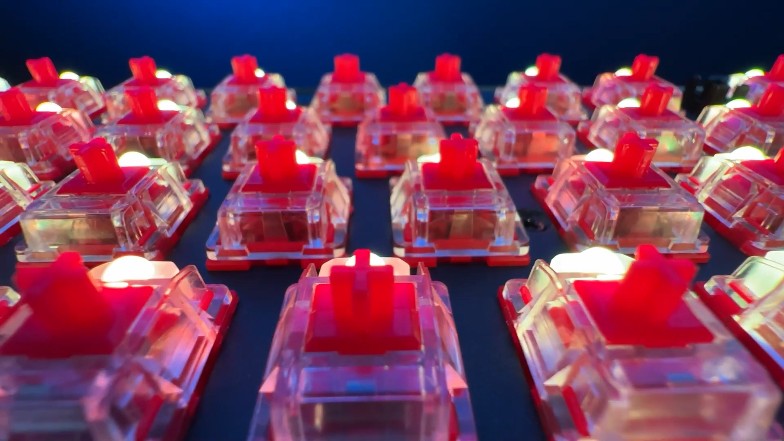 These HyperX Red switches are quite light and responsive. Since they're linear, they don't give any tactile feedback. Based on my experience with other keyboards with linear switches, this set requires less force to actuate.
Performance
Using this keyboard for gaming was pretty nice. Despite the compact layout, hitting the keys felt solid and consistent.
I even tested it for regular typing and it feels great in that area too.
However, I imagine that it would take some getting used to for people that are accustomed to typing on other keyboards with linear switches since this one requires less actuation force. Your speed may reduce initially, but you should adjust fairly quickly.
Software
If you know me, then you know that I'm not a big fan of tweaking settings in the software provided for gaming mice, keyboards, or any other thing really.
However, there are some pretty cool options in the "NGENUITY" software available for the HyperX alloy Origins 60 keyboard, and it helps that it's easy to navigate the UI.
There are options for customizing the RGB lighting and layering them. RGB customization can be done without the software if you prefer, but the keypress alternative does not provide as many options.
You can also add your own secondary function key commands, and save any changes to one of three available profiles. It would be nice to have more than three, but that's all we get.
Maintenance
Cleaning the HyperX Alloy Origins 60 keyboard shouldn't be a major hassle, but there are a couple of hiding spots for dirt and dust.
First is the bezel around the keyboard that could make it harder to blow dust out with compressed air. Then, there's also some space on either side of the spacebar that I expect would gather dirt after a while.
A simple wipedown may not be enough to clean this one out.
Cost
At the time of writing, this HyperX Alloy Origins 60 Keyboard will make your wallet $79.99, £58.89, or €70.30 leaner, depending on your location and where you're buying from.
Verdict
This is a genuinely great keyboard overall. It is not without its flaws, but there's nothing that should be a real dealbreaker.
The build quality is superb, and I really like the feeling that I can just forget that it's there when muscle memory kicks in. The RGB lighting effects are not unnecessarily flashy, and the allowance for some customization is a nice little touch.
It's not the cheapest option on the market, and it's not the best mechanical option keyboard either.
However, for its price, you won't find many better alternatives to the HyperX Alloy Origins 60 keyboard.
HyperX Alloy Origins 60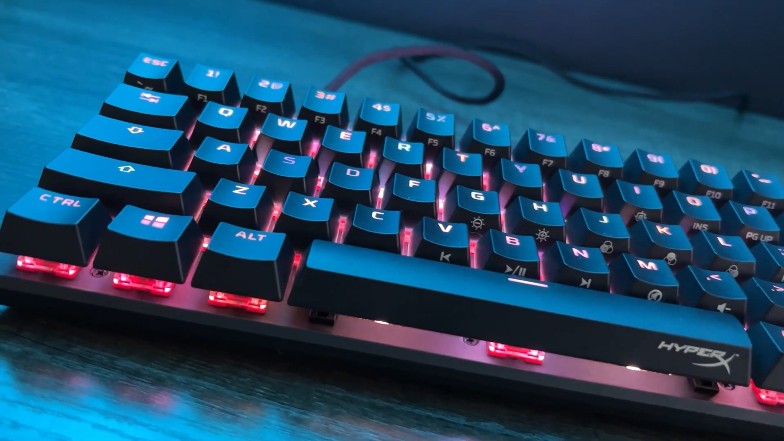 The HyperX Alloy Origins 60 is a fantastic keyboard with just a couple of small flaws.
Pros
High build quality
Simple design
Responsive keys and switches
Good customization options
Great value for money