To keep DiamondLobby free to read, this post may contain affiliate links. Learn more
Corsair is largely a computer hardware company, but they also have a pretty big hand dipped into the gaming hardware industry. They've produced gaming keyboards, headsets, monitors, PCs, chairs, mice, mousepads – all the good stuff.
I recently had a chance to test one of their gaming mice – you can read all about it in my Corsair Sabre Pro Champion Series review. It was a simple but very efficient product, and I had my fingers crossed that Corsair would stick to that pattern going forward.
This time, I've managed to get my hands on a gaming keyboard from the manufacturer. According to them, this keyboard was "built for champions" – hence the name.
It takes a lot more than names to earn that "champion" status though, and at the moment, I'm the judge and jury that'll determine if Corsair is really on to something here.
By the end of this Corsair K70 TKL Champion Series keyboard review, you should have all the important information needed to help you make a purchase, or not.
Build Quality
Straight out the bat, I'll be honest about the fact that build quality here is…meh. I mean, it's not bad at all, but it's not impressive either. I think the fact that the backboard is plastic has a lot to do with the overall mediocre appearance and feel of it, but it still shines in other areas, to be fair.
The media keys for instance feel very nice and high quality. In contrast to the plastic backboard, it gives the overall build a certain premium, durable feel. These controls are rarely seen on TKLs, so hats off to Corsair for making it work here.
There was some rattling and hollowness to the keys, which really bothered me as mechanical keyboards are typically very firm in that regard.
Overall, the build has a couple of nice additions, including a great aluminum frame, but question marks linger over the quality of the materials used to piece it all together.
Design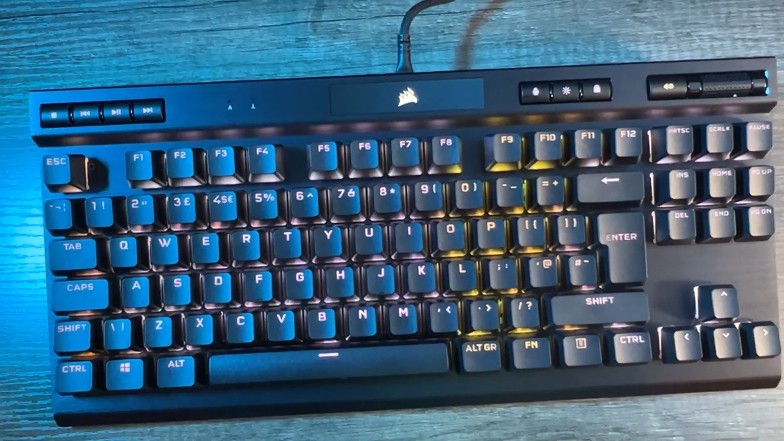 Put simply, the K70 TKL Champion Series keyboard is a big boy. It weighs 900 grams, which is more than two times the heft of the Fnatic Streak65 LP keyboard. Admittedly, a compact form factor was one of the key ideas behind the Streak65, but that difference is still A LOT.
Don't get me wrong, it still looks good despite all of this. It's a similar design concept to the Corsair K70 RGB Mk.2, which looked decent in my opinion.
It's big and black, and a quick first glance may be reminiscent of the beginning of the era of gaming keyboards. That RGB lighting adds a bit of flair and modernness to it though. There are up to 16.8 million colors that you can combine and create effects with, so it's all good fun.
There's a black-brushed metal-ish chassis – similar to the full-size model, elevated keycaps with RGB lighting on each key, and a ridge that stands out on the top.
It's tenkeyless, so technically it should still have a smaller form factor than what you'll get on full-sized keyboards, but the extra media keys and buttons at the top somewhat take away the point of that design.
Speaking of those media keys, there's a mute button and a textured aluminum volume dial on the upper right side of the keyboard, but the play/pause, fast-forward and rewind buttons are all the way on the other side. It's the only way Corsair could've added the controls with the smaller real estate of the keyboard.
Features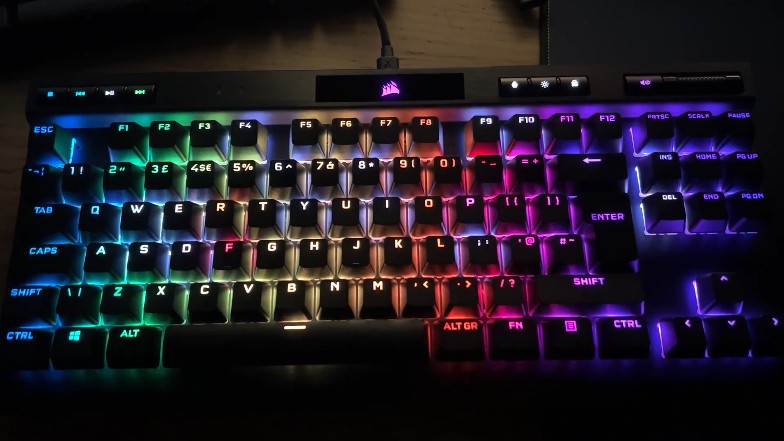 I already talked about the media controls, but there's some other fun stuff packed into the K70 TKL Champion Series keyboard.
Personally, I'll never complain about the addition of features that are very much relevant in real-life application, but I don't fancy the idea of adding a gimmicky feature just for the sake of marketing propaganda.
That said, there's a tournament switch next to the USB-C cable entry port that you can flick to solidify all the lights on the keyboard and cut out the macros. It's supposed to help you "focus" on the game, but I'm not really sure anybody was crying out for that one.
You can also adjust the polling rates on the keyboard. You can increase it all the way up to a massive 8000Hz.
It looks like this is a pattern with Corsair gaming gear because they had the same high polling rate limit on the Sabre Pro mouse that I mentioned earlier. Like that one, I imagine you may not be able to enjoy the full extent of the maximum 8000Hz limit if your PC does not meet the minimum spec requirements.
Keys and Switches
The keycaps are standard doubleshot PBT. They're solid, durable, and it looks like the lettering on them should last a long time without fading off. Your RGB lighting also shines through these keys, which is great news for gamers that like all the flash.
The switches are linear Cherry MX Reds, and they're very silent when triggered which I like. They have a 45g actuation force, 2mm actuation distance, and a total travel time of 4mm.
For the average gamer, these switches are just fine. For the enthusiasts, I've heard that the Cherry MX Reds are falling out of favor so I imagine you won't be too pleased that Corasiar has stuck with them here.
During my tests with the keys, I noticed the rattling sound that I previously mentioned. It happened more frequently with the bigger keys, and the bottoming out has a plastic ring to it.
For an otherwise premium-feeling keyboard, it's a bit of a disappointment that Corsair has released this to the market as it is. If you're the type to hit the keys on your keyboard with force, then you'll find that this one gets a bit noisy.
Software
Here, you can play with all those lighting features and effects that I mentioned. You can disable the Windows key and other popular combos such as alt-tab, shift-tab, and windows tab. It reduces the chances of hitting those combos by mistake mid-game, so I like that addition.
If you want to adjust the polling rate to try that 8000Hz beauty for yourself, this is where you do that too. I doubt you'll find a huge difference through casual gaming though, unless you're coming from a pre-historic setup.
Performance
I can't get over the rattling sound that the keys make when I hit them – especially the "enter" and "backspace" buttons. For me, it negatively impacts the overall experience of my session.
Apart from that, I think you'll struggle with this one if you're accustomed to simpler keyboards with fewer customization options. The size of it doesn't help, and portability is a key factor for some.
Overall, I'd say performance is just okay.
Maintenance
There aren't many dirt traps with this keyboard. The incline at the top will probably be the hardest to clean, especially if you're only using compressed air.
However, there's a key removal tool included that makes your life easier if you need to clean out a particular key. I imagine this would be a long process if you tried to clean out all the keys individually though.
Cost
At $140, £140, or €160, I believe that the price of the Corsair K70 TKL Champion Series keyboard at the time of writing may not be the best value for a mechanical keyboard on the market.
If you're lucky, you'll find occasional discounts on third-party listings on Amazon, and less often on the official Corsair website.
Verdict
There are two pertinent questions here. The first is the question of recommending the Corsair K70 TKL Champion Series keyboard solely based on what it offers. If you're the type of person that loves having many features in your gear regardless of how useful they'll be in reality, then you won't mind this keyboard.
The second question refers to recommending this keyboard based on its overall value, considering the price. In that regard, it is much harder for me to recommend it as there are simply better options that will give you more value for your money.
Summarily, it's a decent keyboard, but its overall aesthetics are dated, and the price is too steep for what it offers.
Corsair K70 TKL Champion Series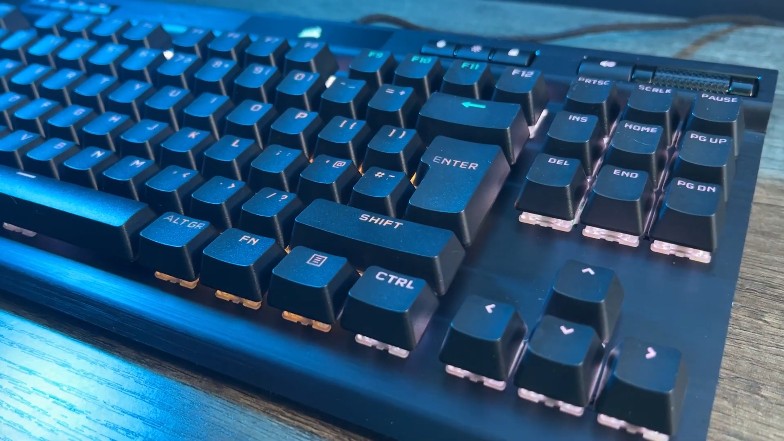 The Corsair K70 TKL Champion Series keyboard doesn't offer great value, with outdated aesthetics and rattling keys.
Cons
Rattles when pressing keys
Not highly portable
Outdated aesthetics
High price