To keep DiamondLobby free to read, this post may contain affiliate links. Learn more
If there's one thing that I really liked about my old Das Keyboard 4 Ultimate keyboard, it was the blacked-out buttons. I like to practice my already-excellent (if I do say so myself) touch-typing skills, even though no one really gets to see it.
However, when it came to functionality and the overall experience of using the keyboard, especially for gaming, it just wasn't doing it for me. The keys were just…bad, and they would squeak so loudly that I often got very irritated.
Anyway, I'm not here to moan about the Das Keyboard, just setting the context for what comes next.
I had to go on and look for a replacement that would serve me well for gaming, work, and general use. That hunt led me to my purchase of the Logitech G915 Lightspeed TKL keyboard.
At the time of writing this, that decision is four months old. I've obviously had the keyboard for a while now, using it for work and gaming. So, I thought I'd share my thoughts and let you know if this was another ill-advised purchase or the opposite.
While this is my personal Logitech G915 Lightspeed TKL keyboard review, I'll try to be as objective as possible.
Build Quality
According to Logitech, this tenkeyless keyboard is made of "aircraft-grade aluminum metal alloy". I'm not completely sure what that means but if you ask me, it sounds like bringing a gun to a knife fight.
I understand the argument for durability, but I'm not sure what the deal is with manufacturers using military-grade material for gaming gear. It was the case with my Endgame Cordura MPC450 Mousepad, and Logitech seems to be toeing the same line here.
Surely, gamers are not that careless or rough with their gear? Okay, maybe I see it now.
Anyway, what you really want to know is if the build quality here is solid, and it is. It feels very high-quality, and the keys feel every bit as premium as you'd expect. I'd say that the "aircraft-grade" material is not just marketing.
Tenkeyless keyboards are generally smaller than regular keyboards due to the absence of the Numpad, but that does not really help the fact that the Logitech G915 keyboard is a bit on the heavy side.
It weighs 810 grams, which is 90 less than the Corsair K70 TKL Champion Series keyboard but is still slightly heavy nonetheless.
The top, bottom, and back of the keyboard are plastic, but not the low-quality type. The rubber grips at the base help to keep it in place so it doesn't move around too much when placed on the desk. In fact, it does not move at all.
Finally, the buttons in the top row also have a rubberized coating. They feel nice but not as nice as the rest of the keys.
Design
There's quite a bit to unpack with the design here, despite the relatively muted style. It's a black keyboard with RGB at first glance, but there are bits and pieces of intentional production that went into the overall design.
As is expected of a tenkeyless keyboard, the Logitech G915 Lightspeed keyboard has a compact design. It is 368mm wide and quite low profile.
I should mention that you can set up to 3 onboard profiles for customization, and programmable macros are also allowed if that's your kind of thing.
The tenkeyless nature of the keyboard may be a dealbreaker for some, especially since you'll be missing some keys that one may find very important for some types of work.
Personally, even though I also wanted the keyboard for work too, I was more particular about its gamer-friendly features, so I didn't mind so much. However, there's a non-tenkeyless Logitech G915 Lightspeed keyboard that should be a fine alternative if it's a dealbreaker for you.
Behind the keys, you'll appreciate the brushed, slate-colored metal casing that wraps onto the sides of the keyboard. It adds to the premium look and feel of the product, and I imagine it's good for durability too.
As you must've noticed from the pictures, there's RGB lighting here and I think it's very well done. Some manufacturers go the "flashy" route when it comes to RGB lighting, which is fine for people that prefer that, but I appreciate the fact that Logitech has not gone overboard with it here.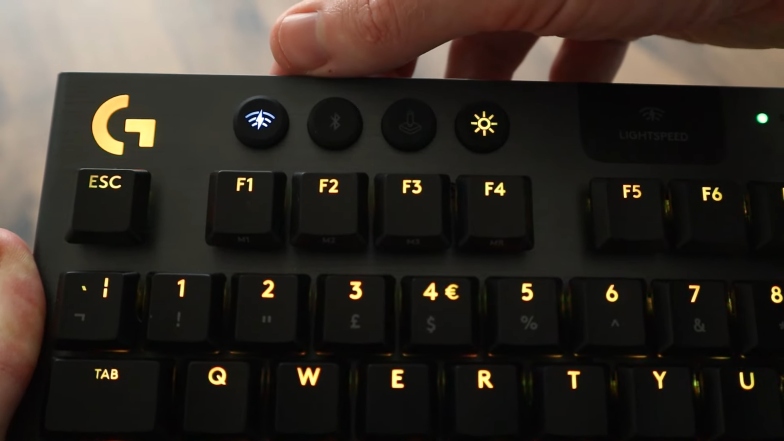 The Logitech "G" logo is illuminated in the top left corner, and it's just the right size so that it stays out of the way but still looks nice when the colors pulsate.
The Wi-Fi button right beside the logo always stays white when illuminated, but the rest of the keys change color when they light up.
Keys and Switches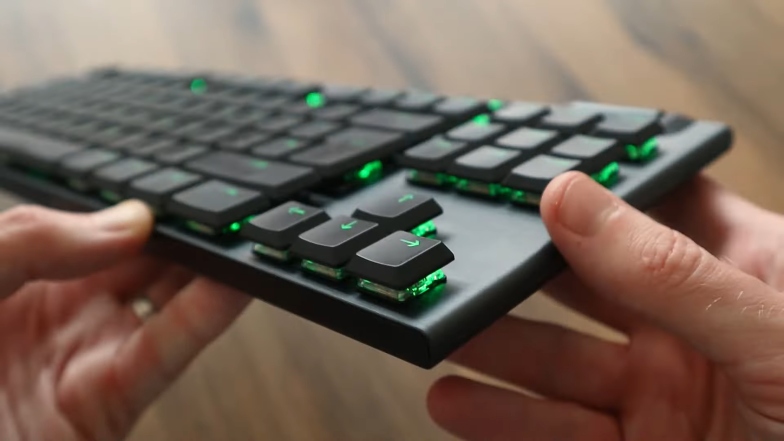 Moving on to more performance-focused features, let's talk about the keys and switches of the Logitech G915 Lightspeed keyboard. Be warned, there are a lot of figures involved, so brace yourself if you hate numbers.
The low-profile keys and tactile switches have an actuation distance of 1.5mm, which is 25% lower than the Cherry MX switches on my old Das Keyboard. They also have an actuation force of 51 gram force, compared to 56 on the Cherry MX browns.
Put simply, these numbers suggest that the Logitech G915 Lightspeed keyboard is about 10% easier to press and requires a 25% lower distance to press in compared to my Das keyboard.
I've tested both, so I can confirm that what the numbers suggest translates into reality – the Logitech keyboard feels easier to press.
"Easier to press" is not always a positive, though. The Fnatic Streak65 LP keyboard has a 1mm actuation distance and a 45-gram force actuation force, but that does not make the key pressing on it a better experience than on the Logitech G915 Lightspeed.
In Chris's Fnatic Streak65 LP review, he mentioned that the keys were too easy to press and he'd occasionally trigger them when he was just resting his fingers across them sometimes.
However, the Logitech G915 Lightspeed's keys find the middle ground between ease of use and avoiding accidental presses.
Price
I paid around $200 (£159.99) for the G915 in order to review it. However, it's often available for less than that on Amazon.
You can also pick this up on the official Logitech store, though you'll likely be paying the RRP more often than not.
Performance
Typing on this keyboard felt really good. I managed to hit 140 words per minute which is my best ever score as far as I remember.
Again, unlike the Das keyboard (I know I'm really ripping into it here), the Logitech G915 Lightspeed keyboard does not make annoying sounds when in use. You can hear the clicks, but it's more of a satisfying thud that's just the right volume than the squeakiness of the Das.
Battery
As a wireless keyboard, battery life is obviously an important factor. Thankfully, the Logitech G915 Lightspeed delivers in that department too.
The advertised battery life is 40 hours, but in my experience, the keyboard lasts even longer than that. I work over 40 hours per week, and I also spend time playing PC games and streaming content. Yet, I only charge the keyboard every 3 to 4 weeks – it's REALLY good.
It obviously helps that it charges while it's on and plugged in with the USB cable, but those are really good numbers nonetheless.
Speaking of the USB cable, I was a bit disappointed to see that Logitech used a miro-USB here rather than the more advanced USB-C. However, the micro-USB still charged the keyboard to full capacity within 3 hours according to the manufacturer.
Verdict
The Logitech G915 Lightspeed keyboard has quite a number of good things going for it.
It feels great to type on, it looks and feels really premium and durable, and it has fantastic battery life.
I haven't used many tenkeyless gaming keyboards in my time, but I can't imagine that there will be too many that put this one to shame. If you know another excellent tenkeyless keyboard that you would highly recommend, leave a comment and let me know which one it is – maybe I'll do a review.
Despite its many positives, I'll admit the price for the Logitech G915 Lightspeed keyboard is a little bit on the high side. It does offer good value for the money, but it might still be out of reach for people that are on a strict budget.
That said, if you consider the fact that this is a keyboard that should last you for a couple of years, then it really puts the value it offers into more context.
Whatever your decision is, this should always be on the list of options if you're looking to purchase a gaming keyboard that can also serve other purposes well.
Logitech G915 Lightspeed TKL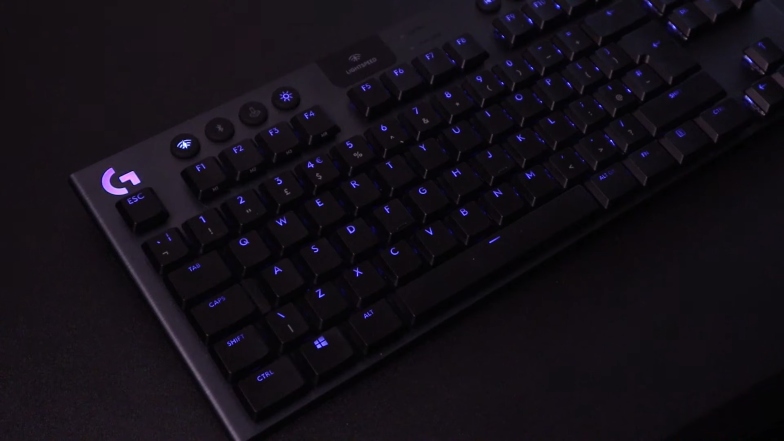 The Logitech G915 Lightspeed TKL feels amazing to type on with responsive, low profile tactile keys. However, it's not without its issues - price being the main one.
Pros
Lovely to type on
Responsive
Premium look
Cons
Rattles when shaken
Slightly overpriced at RRP