To keep DiamondLobby free to read, this post may contain affiliate links. Learn more
I love trying new things, and it's even more fun when that new thing is something that nobody has ever seen before. So, when we got the call from Azeron that they were sending their new Cyborg keypad over to us to test, I was super excited.
The name alone is exciting. "Cyborg" sounds ominous, in a good way.
But, what it does – or at least what it is advertised to do – is even more so. I know I'm being very mysterious right now, so I'll just cut to the chase.
All the way from Latvia into my hands, I've been handed the opportunity to write this Azeron Cyborg keypad review.
The product was intended to take your gaming experience to the next level, so I'll share my thoughts about how well that's been achieved. Everything from details about the build quality to my realistic opinion about the usability of the product is discussed, so let's get right into it!
Cost
At the time of writing, the Azeron Cyborg Keypad costs around €165.00 or $177, although that price varies according to the custom specifications that you want.
You can try the manufacturer's official website for a custom build.
You get to choose from a number of colorful options, and there are even other models such as the Cyborg Compact, the Classic, and the Compact. Speaking of custom specs, when you try to make an order, you can choose a specific color, hand size, palm rest, position, and custom nameplate.
Design
Imagine you're a cyborg and picture what your hand would look like from the wrist downward. That's basically what this contraption looks like.
This is an intricately built piece of gaming gear. Azeron has paid a lot of attention to detail here, and the best thing about the design is how adjustable it is.
Considering the fact that there are a ton of possible measurements for hand sizes, they've done very well to have as many screws as possible in various key contact areas so you can adjust all these to your comfort. A screwdriver is included in the package to help with that.
From the design, it's immediately clear how Azeron hopes to present the key selling point of the Cyborg Keypad. A regular keyboard typically requires quite a bit of movement of the fingers across the available real estate, but the Azeron Cyborg Keypad attempts to bring all those buttons together into one compact palm, so every button is very closely within reach.
Every finger has at least five usable functions which you can adjust in the provided software (more on that later), and there are between 24 to 29 programmable buttons in total.
Build Quality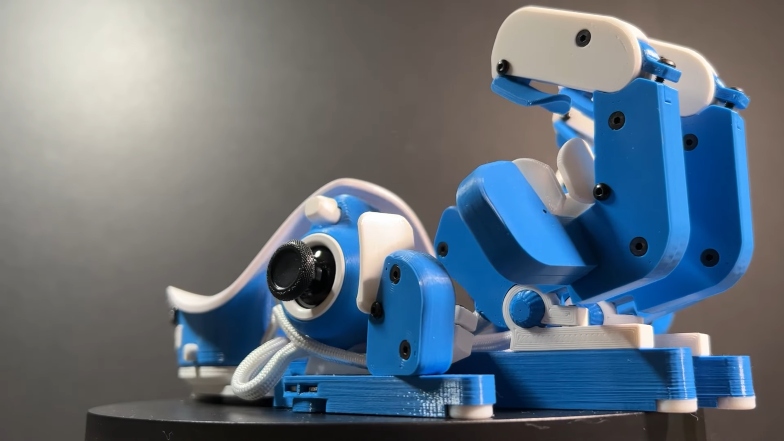 Overall, the build quality is alright. I did have a few concerns, mainly with the 3D printed nameplate and the joystick.
The nameplate looks a bit like cake frosting, which is basically a cheapish appearance, and the joystick feels fragile when you apply some force to it.
Additionally, I did not like the fact that the USB port is only a mini-USB one. This is supposed to be an innovative product so that just doesn't go very well with the theme. It's also a bit hard to plug in and out at times. It feels like when I try to pull the cable, all the guts of the keypad would come spilling out.
Aside from these issues, everything else feels well built. There are a lot of moving parts though so I still have questions about long-term durability – that's just the price you pay for customization, I guess.
If parts actually start to fail or spoil, there are a bunch of spares available on Amazon and the manufacturer's website, and you probably won't break the bank to get them. Some free ones actually come with the package too, so there's that.
Buttons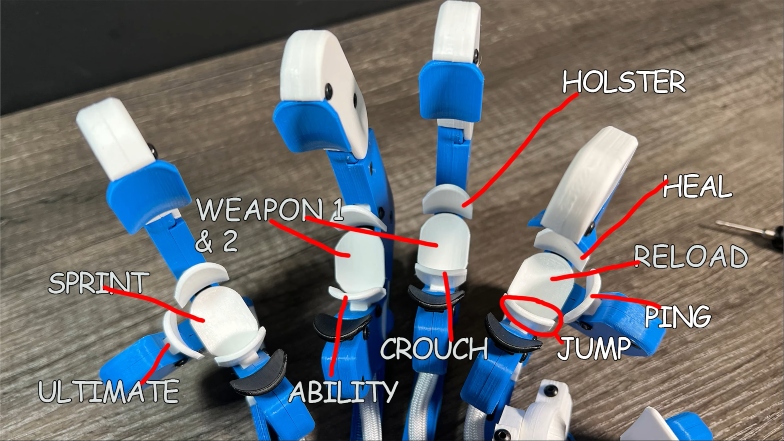 Now on to the buttons. As I said, you get between 24 to 29 programmable buttons on the Azeron Cyborg keypad. The attached picture shows how I set up some of these controls with my unit when playing Apex, but you can adjust them however you like.
Most of these buttons are controlled by the flaps which are using Omron switches. The switches are rated for 20 million clicks – not the greatest, but not shabby. Again, spares are available if you ever need them.
Software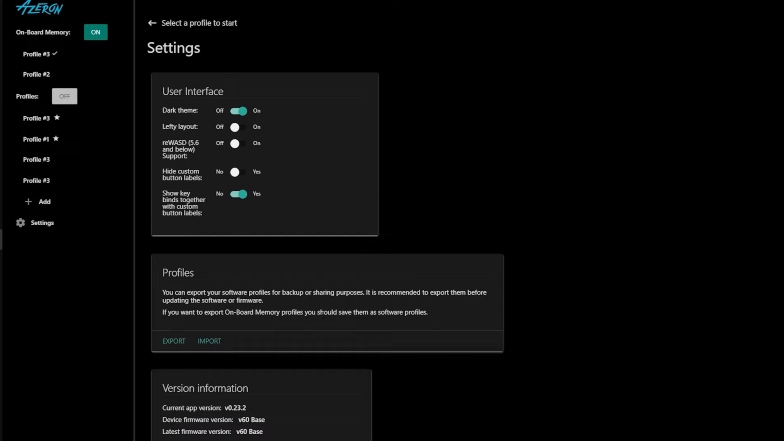 The included software has a ton of settings that you can play with. Personally, I left most of them well alone because I was worried that I might mess with something that I shouldn't, but if you're savvy with that stuff, you'll probably enjoy messing around with it more.
In the binds section, you can change button bindings as discussed previously. All you have to do is click on the button you want to change and press the key on your keyboard. It's a bit more convoluted than that but once you get it right, it should be all good.
Initially, I set up buttons to function as the WASD keys as it would be on a regular keyboard, but it didn't really work out well so I ended up just using the joystick instead.
You may have more joy fixing the keypad up the way you want in settings, but I struggled a bit with it.
Performance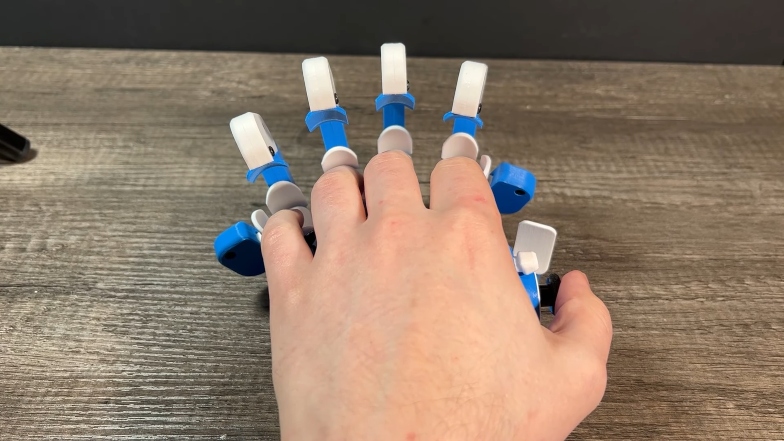 Now for the most important part – performance. I have mixed feelings, and I'll start with the process of actually wearing the Azeron Cyborg keypad.
So, your hand is supposed to go in the palm rest, with each finger extending to its designated area. Your thumb ends up on the side next to the thumbstick, which brings everything together into close proximity and reduces the need to move your hand around to complete various actions.
That reduced travel distance is a huge selling point of the Azeron Cyborg keypad. It's supposed to help you react faster to real-time events in-game, and stuff like reloading and utility usage should be faster too.
I imagine that if one actually became so accustomed to the keypad that you could interact with all the buttons without conscious effort, it would actually increase efficiency and speed. However, I never really got to that stage, so the theory of that perk was some distance from reality for me.
Using the layout that I set up for Apex, I tried to work out the positioning of the "claw" fit into the keypad. I sort of separated everything, moving the sections at the top that were not bound to any function so they wouldn't be in the way. This was probably one of the more successful bits of adjustment that I tried to do with the product.
Then, I gave it a test run by running around in the firing range to get a feel of the movement and the commands that I had assigned to the paddles. At that point, it was beginning to get a bit overwhelming, and if you're struggling to follow what I'm trying to explain, then perhaps you have a sense of how I struggled using it too.
I would occasionally forget some of the key commands and have to refer to my second monitor to refresh my memory. In games where certain actions are very uncommon, it is easy to forget what commands you've set to execute those actions. Again, this is probably a problem that will go away if you get a lot of practice, but it is worth mentioning nonetheless.
Also, using the joystick for movement meant that I lost controller aim. If you play Apex, then you know how important that is.
When I moved on from Apex and tried playing other games, it got even… worse. I constantly mispressed buttons, and it was a real hassle trying to get my fingers to fight off the muscle memory that I had gained from years of FPS games.
Verdict
I like Azeron's bold attempt to do something different. As far as I know, this is their first attempt and you can expect it will only get better.
That said, this product is hard to recommend. It is a HUGE difference from what I, and I imagine most gamers, am used to, and I simply don't have the patience to suffer through the learning process.
There is a huge amount of trial and error which is to be expected with a product like this, but you have to be ready to spend more time trying to fix stuff than actually enjoying your game. The controls are too contextual as it is, so you're unlikely to find one setting profile that works very well across board.
However, if you have a lot of time on your hands and a lot of patience to go with it, then you probably would have been a better recipient of this test unit than I am. I did spend a lot of time trying to get used to it, but I simply couldn't justify using this over a keyboard, and that put me off spending even more time with it.
So, this one is personally not for me, but it might be for you.