To keep DiamondLobby free to read, this post may contain affiliate links. Learn more
We've been hands on with numerous Secretlab chairs in order to crown one as the best for comfort, quality & value for money.
As Secretlab sponsor a large number of streamers and creators, it can be hard for many to judge whether they actually create products worth purchasing or if they're only recommended due to sponsorship obligations.
Well, we've reviewed a number of Secretlab gaming chairs and we can confidently say they are some of the best and highest quality chairs you can get.
This is true even for office use, making them a solid option for gaming, streaming and working.
In this Secretlab chair review, we're going to list our top 5 favorite chairs from the brand and determine which one is best.
Did you know? To get the lowest prices on Secretlab chairs you need to buy from their official store.
Trusting This Review
Firstly, you can trust our opinion because we've been hands on with all products that we list in our top 5 below. You can check out our Secretlab TITAN Evo review, for one example, to see us hands on with that product in both written and video form.
We also have separate written reviews of the Secretlab OMEGA and the older TITAN 2020 model, and we've tried and tested other models that don't yet have a write up.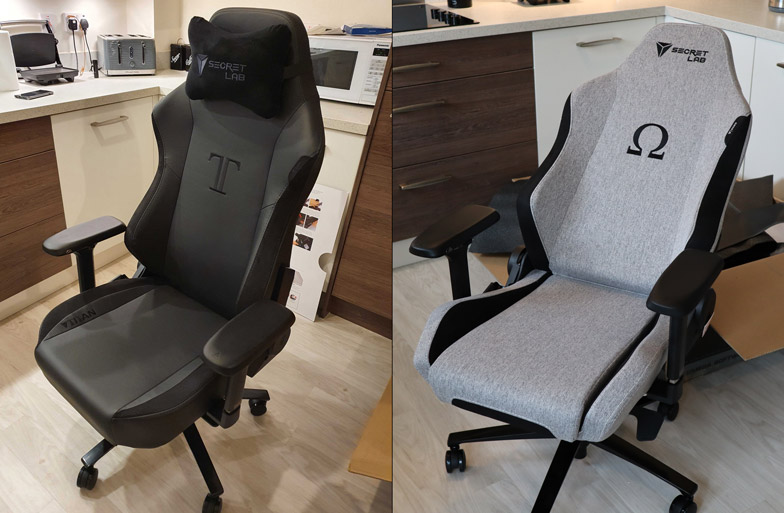 Secondly, the majority of DiamondLobby staff use a Secretlab chair every day to work and game from. We haven't just tested these – we've lived in them – and we can offer expert opinions as a result.
Finally, we also researched community opinions on these products to help reduce our personal biases and to offer the most reliable, objective information possible.
The chairs below have been ranked on three main factors; comfort, value for money and style.
Here are our top 5 picks for the best Secretlab chair, ordered in terms of value for money:
The Top 5 Secretlab Chairs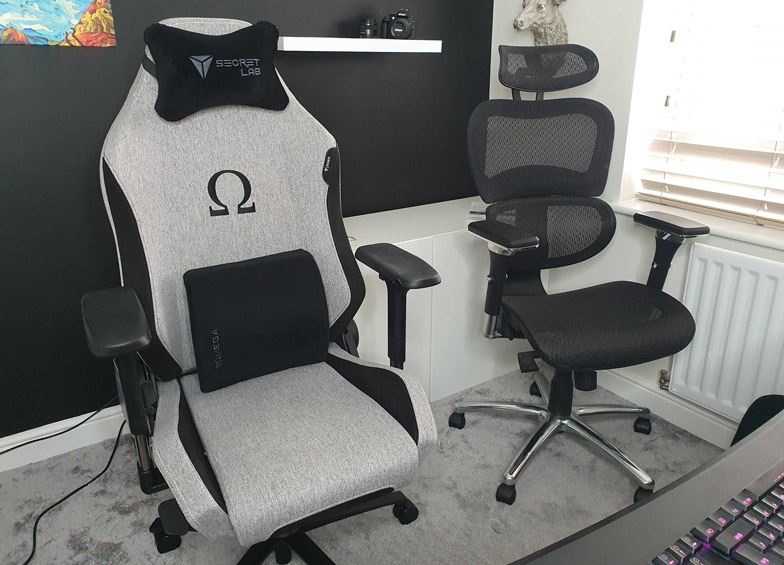 The OMEGA 2020 comes in fifth on our shortlist of the best Secretlab chairs due to its value-for-money and style.
If you're looking for the cheapest Secret Lab chair then the OMEGA 2020 will probably be your best bet, and opting for SoftWeave won't hit your bank account too hard.
As a bonus, SoftWeave is one of Secretlab's vegan-friendly materials (along with PRIME 2.0 PU leather).
The SoftWeave OMEGA 2020 is available in a variety of colors and special editions, though the majority of customization options – such as game-specific designs or esport team colors – come with the PRIME 2.0 PU leather material version.
The PRIME 2.0 PU leather OMEGA option is fine, but you can get similar chairs from other brands for a lower price (though not always to the Secretlab standard). It's the SoftWeave where the OMEGA starts to shine.
If you live in a particularly hot climate, or if you get extra sweaty when working or gaming, then the SoftWeave may not be for you as it can get a bit damp and smelly as a result of the material soaking up moisture.
Fortunately the OMEGA is available in a variety of materials. You can read our full OMEGA 2020 review here.
Whilst the OMEGA 2020 is a very reliable chair, we ranked this fifth because it's extremely firm and some may find it uncomfortable if you're lacking natural padding.
Check the latest price of the OMEGA 2020 here.
The TITAN is a slightly more comfortable chair than the OMEGA in our opinion, and the TITAN Evo 2022 in SoftWeave Plus is a massive step up on the previously-listed OMEGA 2020.
The seat's base is a much more comfortable shape than the snug-fit seat on the OMEGA 2020, and the SoftWeave Plus is 3.5x more durable than the regular SoftWeave on the older model.
It's still on the firm side – don't let its soft appearance fool you – and the SoftWeave Plus does still struggle compared to leather or leatherette in certain environments, but this might come down to preference. Many people love fabric chairs.
If you're looking for a fabric chair for streaming or gaming and you have the money to spend, this is the one to go for.
Check the latest price of the TITAN EVO 2022 here.
I'm sitting on my PRIME 2.0 PU Leather TITAN 2020 as I write this review. Don't believe me? Here's picture proof: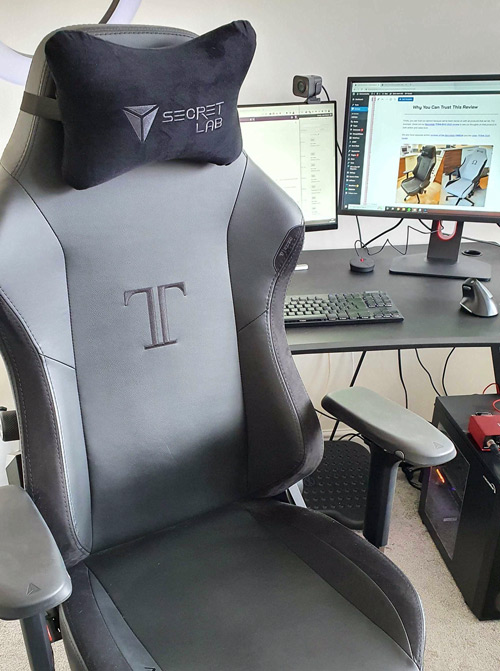 I've been using this Secretlab chair for almost a year at the time of first publishing this.
As you can see from the image above, the chair is still in pristine condition despite the fact I've sat in this chair for around 3,000 hours (I did the math) and it's endured many sweaty gaming sessions, as well as the freezing cold and surprisingly hot temperatures that British weather can throw your way.
The TITAN 2020 is a step up from the OMEGA 2020 thanks to the additional comfort it provides and the fact it is a little easier to wipe down for cleaning.
The built-in adjustable lumbar support is a total chef's kiss and this is our highest-rated vegan Secretlab chair.
Why is this older model so highly rated? Because it's still such a good product and comes in a little cheaper than the 2022 models (albeit with a little less functionality), offering exceptional bang for your buck.
I think the 2020 chair isn't as good as the 2022 model, but it's not lacking so far behind that it's worth it to pay for the upgrade now that I already own this one.
Check the latest price of the TITAN 2020 here.
What separates the 2020 and 2022 TITAN models apart? Well, quite a few things, actually. And this NAPA leather version is the pièce de résistance in Secretlab's collection.
With unrivaled quality in this premium, genuine leather chair, the NAPA version of the TITAN 2022 provides style and comfort whilst oozing quality.
Why did we only rate it at number 2 in this list if it's the best of the best? Well, that simply came down to value for money.
We think this chair is awesome, and if you have the budget for it then you should go for it, but not everyone has close to $1,000 to splash out on a chair – that is a lot of money – so we think this is the best option for those with a big wallet, but not the best for your everyday gamer.
Check the latest price of the TITAN 2022 NAPA here.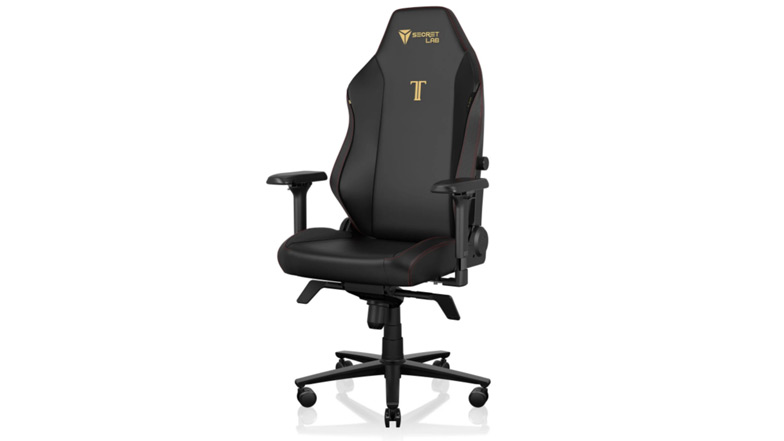 Our top pick for the best Secret Lab chair is the Secretlab TITAN 2022 in 'NEO Hybrid' leatherette. For style, comfort and value, this version of the TITAN Evo 2022 ticks all the boxes.
The 2022 model improves on the 2020 edition in many ways. Its NEO Hybrid leatherette is 4x more durable than the PRIME PU leather used on its predecessor – though unfortunately it does lose its vegan-friendliness in the process.
The 2022 TITAN opts to blend the OMEGA and TITAN shapes together to create a 'pebble seat base' for a more comfortable sitting position.
It also has a 4-way built-in adjustable lumbar support system, improving on the already impressive 2-way support from the previous model.
The tops of the 4D armrests are swappable thanks to magnets, and the head pillow is now also magnetic, meaning it ditches the slightly ugly strap.
You can also get small, regular and XL versions of this chair as opposed to just the regular and XL sizing in the older model.
This is the best Secretlab chair for anyone that's between 5'0″ and 6'9″ and looking to work, study, game or stream in.
Check the latest price of the TITAN EVO 2022 NEO Hybrid here.
Bonus Picks
We decided to include a couple of additional Secretlab chairs that we haven't personally tested here. This is based on our positive reviews of the products we have tested and the fact they're very similar to what we've seen and used in the flesh.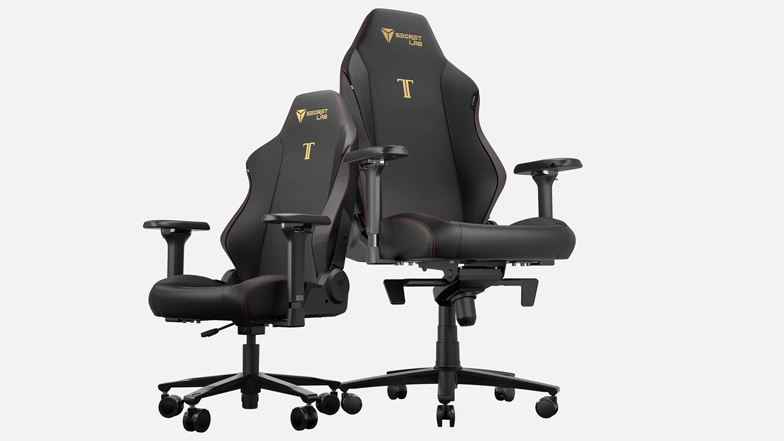 Looking for a quality gaming chair for short people? The TITAN Extra Extra Small will likely be the best of the bunch.
Copying the exact build from its full-size counterpart, this XXS chair is a 1:2 replica of the larger build – making it 67% the size of the regular version – perfect for anyone up to a maximum height of 160cm (5′ 2″) and a maximum weight of 70kg (154lbs).
Available in NEO Hybrid Leatherette and SoftWeave Plus in Stealth black, Plush Pink and Frost Blue, this is an ideal luxury gaming chair for kids or anyone that's simply on the shorter and lighter side of the scales.
Check the latest price of the TITAN Extra Extra Small here.
On the opposite side of the spectrum we have the TITAN XL 2020, which is likely to be an extremely solid selection if you're looking for a gaming chair as a taller or heavier person.
This chair is best suited for those that are between 5ft 11 and 6ft 10, weighing up to 390lbs (177kg).
Whilst the TITAN 2022 is available in XL by default, the 2020 version is separately listed on their site – but it is cheaper than the newer model, so you won't want to miss this if you love the TITAN model but just want to save a little bit of cash.