To keep DiamondLobby free to read, this post may contain affiliate links. Learn more
I was fortunate enough to be sent the Phantom 3 gaming chair by Andaseat for the purpose of reviewing it. As is always the case with our product reviews, we won't let free products influence our opinions in any way. This post does not include affiliate links and is not an advert.
The Phantom 3 is listed as a hybrid between an office chair and a gaming chair, with a strong emphasis clearly being placed on the practicality of the product.
But can a chair really be ideal for both work and play?
I was determined to put it through its paces and determine how it holds up during rigorous everyday use. I've been using it during work hours and through some pretty grueling gaming sessions for a few weeks now.
So how did it perform? Let's find out in this AndaSeat Phantom 3 review.
Assembly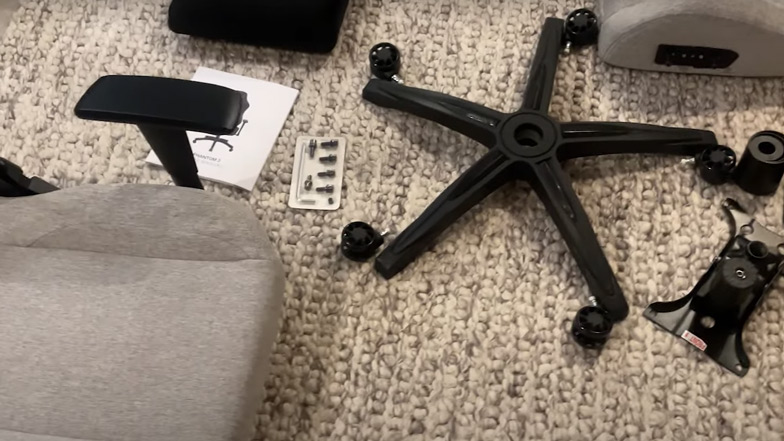 Upon receiving the Phantom 3, I immediately noticed how well packaged it was. As soon as you open the box, everything is securely fitted in with no chance of it being damaged in transit.
One thing that stood out to me whilst unpacking the product was how few parts there were to it.
I had to double check they hadn't forgotten anything as it was literally just the seat, the back of the chair and the wheels. The only other items in there were some screws and the tilt contraption that secures the wheels to the chair.
As well as this, they provided an extremely in-depth user manual that had clear and concise instructions, along with real images of the assembly process, so at no point was I confused during the build.
The wheels popped straight onto the base, which was probably the most satisfying part of the assembly.
From there it was a bit of a struggle to attach the back rest to the seat, as the screws provided didn't seem to fit correctly. It was all clear and easy to follow the steps, but they just didn't seem to want to tighten. I'm not sure whether this was just a problem for myself, but unfortunately it did slow down the assembling process a fair bit and was quite frustrating.
Aside from that, the rest of the assembly process was extremely straightforward.
One other thing that I really liked was the magnetic safety covers to go over the screws that attach the backrest to the seat. They snapped on really easily and can be removed in seconds if you need to access that section again to tighten or loosen any screws.
Once the chair was built, all the mechanisms worked perfectly and it all felt solid. I'd say it took around 30 to 45 minutes in total to put together, but that's including the struggle I had attaching the backrest, so if you don't encounter that issue, I'd say you could have it built in 20 minutes.
In terms of rating, the Phantom 3 gets a 3 out of 5 for assembly, which could be higher if you don't face the same issues I did.
Comfort
One of my favorite things about this chair is how comfortable it is. You could easily sit in it all day if you really wanted to. The shape of the seat is perfect and has soft padding.
Both the main seat and the backrest seem to mold to your body when you're sitting down and have an extremely solid feel to them. They're also both pretty wide, which allows for a variety of different body shapes and sizes, and that's definitely a big positive of the Phantom 3.
The comfort when sitting is definitely where you'll notice the quality of the product, thanks to the materials, shape, and sturdiness. The fabric is premium and you feel extremely well supported.
One thing I don't particularly like is how rigid the backrest is.
This is a chair that is supposed to improve posture, meaning it sits firmly upright, but sometimes I just want to lie back and chill out, which isn't the easiest thing to do with the Phantom 3.
To alter the angle of the backrest you need to pull a lever up at the side and adjust manually, but once you've done that, the back is stuck in that position, meaning you have to have a few tries at adjusting it before you can get it feeling right. This may be a personal preference, but I like to be able to lean back on my chair and have the backrest move back with me should I want to, which isn't possible with this model.
It makes for a brilliant work chair, especially if you need your posture corrected and maintained during long hours (like most of us do), but it does mean that it isn't the most relaxing chair to sit in as it doesn't have that flexibility.
The included lumbar support pillow and head rest are very comfortable. The materials used feel premium and soft, whilst being sturdy enough to keep everything in line.
The headrest straps to the top of the chair and is adjustable to fit to your required height, however the lumbar support isn't.
Unfortunately this is just a back pillow which you have to manually align every time you sit down. In terms of comfort, the pillow is actually great. It offers a good amount of support and molds to your back perfectly. It's just a little frustrating having to pick it up and adjust it yourself every time you sit down, but overall it's not really too much of a negative.
The wheels and armrests are just that – wheels and armrests. There's nothing inherently wrong with them but they certainly don't feel as high quality as the seat itself.
For the price of the chair it would have been nice to have more adjustable options for the armrests as they have a pretty limited range of heights.
Overall, this chair is extremely comfortable.
I had a fairly standard office chair before, which was okay but quickly became uncomfortable after an hour or so. The step up from that to the Phantom 3 was immediately noticeable and I've thoroughly enjoyed using it over the last few weeks.
I'd give the AndaSeat Phantom 3 a very solid 4 out of 5 for comfort.
Aesthetics
Depending on what you're looking for in a gaming chair, the aesthetics may or may not be a priority for you. For me, one of the first things I noticed was just how good this chair looked right out of the box.
I could easily see this being in any environment you could think of, whether it be an office or at home.
I received the linen fabric model, which looks similar to the Secretlab Omega and comes decked out with a lovely grey exterior that's subtle and modern – it really would look good in any setting.
The other option you can buy is the premium PVC leather model, which comes in black, white and pink. If you're looking for an extremely subtle look that is even more professional, the Stormy Black option definitely provides that. Similarly, if you want more of a 'gaming' vibe, you could opt for white or pink.
This makes the chair extremely versatile from a design perspective, which, for its price, is certainly important. With the huge surge in jobs allowing staff to work from home, it's really important to have a nice chair that's going to support your back and also stay comfortable for prolonged periods of time. For me, the Andaseat Phantom 3 ticks all of those boxes.
It's an ideal gaming chair for office work due to the almost enforced posture it puts on you, and the subtle and professional look go a long way to getting me in the right mindset to be productive.
If you're someone that works from home and needs a new desk chair, it's well worth considering the Phantom 3.
Due to all of those reasons, I'm gonna give the Andaseat Phantom 3 a 5 out of 5 for aesthetics, I wouldn't want anything more from the way it looks; it's likely to be my office chair for many years to come.
Price
At full retail price you'll be paying around $450 for this chair, but I've been tracking the site for a while and there are often discounts for it that save you around $50. The product is available on the AndaSeat site here.
Even with the discount, the price is still pretty high.
It's difficult to say whether the price is worth it as everyone's priorities and situations are different, but from my experience, you're buying a quality product that will help your physical health whilst you're stagnant. That in itself is worth a lot, along with the fact that it looks great and is extremely robust.
If you're considering a new chair and are willing to spend upwards of $200 then I'd definitely recommend spending that extra money to guarantee a good experience for years to come. It also comes with a 2 year warranty that covers missing parts, product defects, and other things like that.
You can be assured that you'll be receiving a quality product for at least 2 years, but of course it still depends on what your budget is.
The price is fairly in line with other gaming chairs of its quality such as Secretlab, but is still pretty steep.
I'm going to give the Phantom 3 a 4 out of 5 for value-for-money. It's expensive, but similar products from other brands tend to retail around the same pricepoint.
Summary
If you're looking for back support, sturdiness, and a clean and subtle look, the AndaSeat Phantom 3 could be a chair worth considering.
However, if you're wanting a more casual chair that you can chill in and feel comfortable sitting in whichever way you like, this might not be the chair for you.
Overall, our AndaSeat Phantom 3 review ends with an extremely respectable overall rating of 4 out of 5.
AndaSeat Phantom 3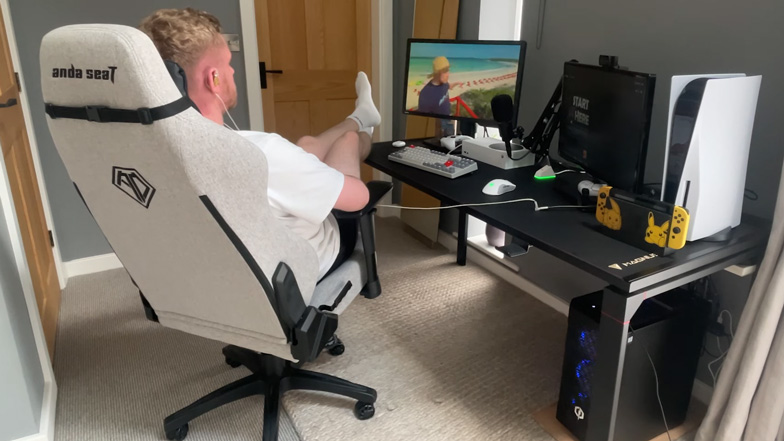 The AndaSeat Phantom 3 is a sleek and comfortable chair for work and gaming.
Pros
Comfortable shape and padding
Encourages proper sitting posture
Straightforward and easy assembly
Headrest and lumbar support included
Cons
Rigid backrest can make for difficulty in adjusting seat
Premium price