To keep DiamondLobby free to read, this post may contain affiliate links. Learn more
With the release of newer product lines from gaming chair giant Secretlab, we were tasked with finding out whether the older '2020 Series' was still worth your money.
After all, you can still buy the older models — and at a lower cost than the newer ones — so how well does the 2020 Series stack up today?
We managed to get our hands on a couple of Secretlab gaming chairs for review purposes, and this is our official, unbiased and honest Secretlab TITAN 2020 review.
Secretlab chairs are always cheapest when buying directly with them. You can check out the latest price of the TITAN 2020 here).
We'll start by talking through the unboxing and assembly process, followed by my thoughts on the design and comfort of the chair whilst gaming and working in it over the course of a few weeks.
And just like I showed in my Secretlab OMEGA 2020 review, here's the TITAN 2020 assembled in my kitchen to show that I genuinely own and have tested this product: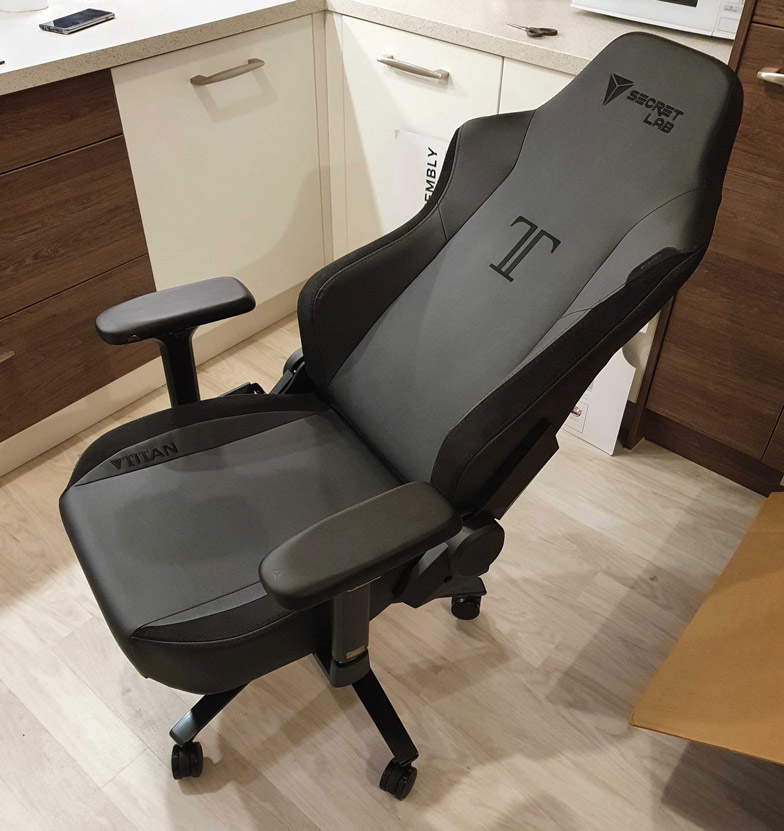 Note: we've now also compiled a Secretlab Titan 2022 review — this is an updated design of the chair with new features.
Full Disclosure
This post contains affiliate links. If you were to purchase after clicking on one of our links then we may earn a commission (at no additional cost to you).
The TITAN 2020 that we reviewed for this article was provided to us free-of-charge by Secretlab. We explained to the company upfront that we would be happy to receive and review their product, but that our opinions and criticisms would be 100% honest regardless of their free product offering. We did not receive any financial payment, and this review is non-promotional.
Here's how my email thread with Thomas, from Secretlab's marketing team, unfolded:
Me: Hi Thomas, we'd love to review the chairs! I should state: we don't guarantee good reviews (though of course, if it's a good product, we will be open in saying that).
Thomas: Hey Luke, stay that way! Please don't write good reviews unless it's a truly good product. After all, readers rely on your opinions. But I have full confidence in our chairs and the reviews (so far) are really encouraging.
Any positive points we make about the chair are our own genuine opinions and any criticisms we have will all be revealed too.
Buying Experience
I went through all of this in my OMEGA review, so do check that one out if you want to see the buying process in more detail, but I wanted to touch upon the website experience with Secretlab again here because I thought it was great.
On their site, you'll input your height and weight and it will suggest chairs that are most suitable for you. At 5ft 10in, it recommended that I went with the TITAN 2020 in size 'Regular'.
I then selected this chair and customized the material and design, eventually opting to go with the Prime 2.0 PU Leather chair in black. At the time of the 'purchase', my variant cost $399 in the US and £349 in the UK. You'll find the latest prices in your country on their store.
Despite being overseas, the product was delivered to my door in just a few days and I had no issues with tracking or shipping.
Assembling the TITAN 2020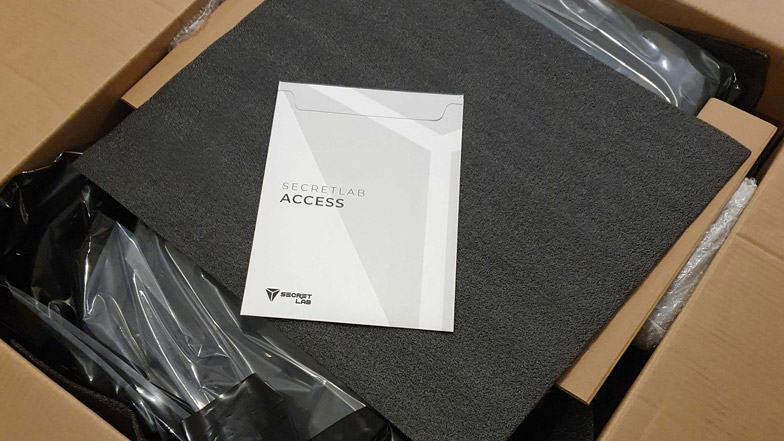 As this was the second Secretlab chair that I'd built in quick succession, and because chairs in general are quite similar to put together, I was always going to find this quite easy to put together.
That said, last time out I put the chair together on my own. This time I had my wife assist in the process. Lesson learned: having someone there to help makes building the chair so much easier.
The instructions in the TITAN are very helpful, though they do have one step that's a little unclear (step 9) which tells you to make sure you've got the item the right way around, but there's no indication anywhere as to which way the correct way is — you just have to figure it out for yourself by looking closely at the other pictures of the chair.
There's also another step (7) that tells you to use the supplied Philipps screwdriver head to remove a red screw, but you actually need the supplied Allen key.
Asides from these minor gripes, building the chair is straightforward and the tools that Secretlab provide are really cool and genuinely useful. Seriously, I'm in love with this little toolkit:
Having someone to help me build the chair meant I could put it together in around 10 minutes from unboxing to completion. On my own, first time around, it took took around 20 minutes.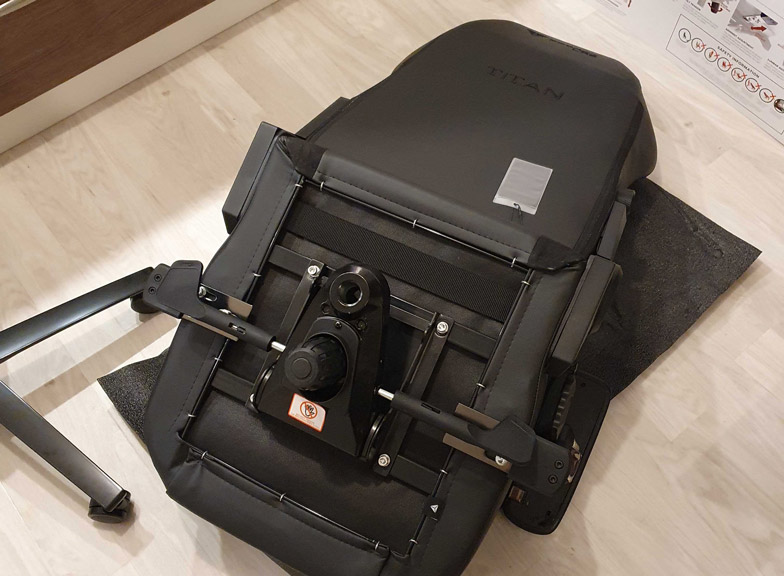 All parts feel extremely secure both on their own and as part of the assembled unit, and I was generally pleased with every aspect of the product on first impressions.
How Comfy is the Secretlab TITAN?
I can't say this for certain as I've only reviewed the Prime 2.0 PU Leather version of the chair, but I imagine there may be subtle differences in comfort levels depending on the material you opt for. That said, I was very impressed with the comfort of this pleather chair.
In my OMEGA review, my first sentence when describing the comfort said it "was extremely uncomfortable". With the TITAN, I felt the total opposite. I was pleasantly surprised by just how comfortable the TITAN 2020 was — and still am as I sit here writing this review from the chair.
In addition to these Secretlab chairs, I also have an ergonomic mesh chair. Out of the three, the TITAN is now my favorite for comfort.
I would definitely describe the TITAN as a firm chair, but unlike the OMEGA it doesn't leave my butt crying out for a little extra padding. It has just the right amount of padding for me to feel like I sink into it comfortably, but it's firm enough to keep me upright and with a good posture for hours on end, without getting uncomfortable.
The TITAN has a rotating wheel on its right side which connects to a built-in lumbar support. After adjusting this several times, I found that I was most comfortable with this lumbar support at its default level, though there were times during long gaming sessions where I opted to increase or decrease based on how I felt my posture was at the time, and whether I needed more or less lower back support. Overall, I loved this feature.
I also found the standard height that the TITAN comes in to be the most comfortable, though I did have to raise it to fit my gaming desk (which is a little on the tall side).
Overall, when it comes to comfort, I only have positive things to say.
Design & Build Quality
My first impressions of the design and build quality of the TITAN 2020 were also, honestly, very good.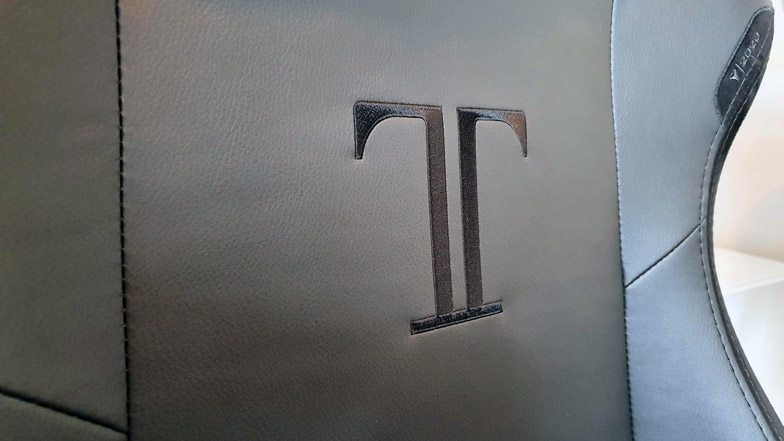 My wife thought we'd received the NAPA leather version of the chair, which is twice the price of the PU leather option, by mistake.
I'm sure a leather aficionado would easily spot the difference, but the quality of this chair, for me, is extremely high. In fact, it's so high that I'd say it's probably the highest quality 'fake leather' product I've ever owned — and there have been many, I'm a man that likes to live on a budget, OK?
This isn't just an opinion that I have, either. The Secretlab website boasts that the TITAN's Prime 2.0 PU Leather is 4-times more durable than regular PU leathers when it comes to sweat, humidity, flexing and abrasion.
The embroidered logos fit into the chair perfectly and the suede-style edges add a brilliantly-subtle finish.
Also delivered with the chair is Secretlab's memory foam headrest, and I'm still impressed with this cushion despite generally disliking memory foam products due to the heat.
Secretlab TITAN vs OMEGA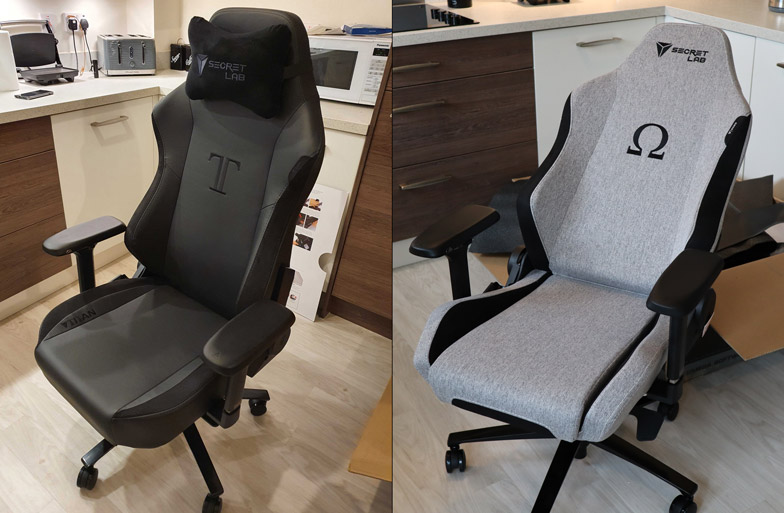 Now that I've managed to complete a Secretlab TITAN vs Secretab OMEGA comparison, for me there is a clear winner: the TITAN.
My first impressions of both chairs were very good and I cannot fault the quality of the materials or the finish of either chair.
However, when it comes to the main thing that's important with a chair — how comfortable it is to sit in — the TITAN wins out for me by a long way.
The subtle softness of the TITAN allows for immediate comfort when sitting in it, but its general firmness allows to retain a great posture whilst remaining comfortable even when working or gaming for hours (and I've racked up many, many hours in this chair already).
With the OMEGA, I never came close to these comfort levels.
The OMEGA comes with a separate memory foam lumbar support which is very comfortable, but it moves around when you move around because it's a cushion. You can place it in the perfect position but it doesn't last there for long.
The TITAN's built-in lumbar support is genius. I have the perfect amount of support in my lower back at all times because I'm able to adjust it via the wheel on the side of the chair, and it remains in exactly the same position permanently.
Whilst this is an individual preference, I would also say that I personally preferred Secretlab's PU Leather material rather than their SoftWeave Fabric, though I was blown away with the quality of both.
Would I Recommend the Secretlab TITAN 2020 in 2023?
Yes. Absolutely yes.
I don't need to mince my words here, this is such a comfortable chair. It's not like technology that becomes outdated, a comfy chair is a comfy chair.
I haven't managed to test the newer versions of the TITAN but I can see that they're slightly more expensive. Would I pay that extra money for an updated TITAN model? Well, honestly, maybe I would. I'm so happy with the TITAN 2020 that I think I'd trust Secretlab to deliver a better product if they say it's a newer, better product, which presumably they are doing.
If you didn't want to spend any more than the price of the 2020 Series TITAN — after all, these are expensive products — I'd absolutely recommend going for it.
The refund policy is generous and the warranty period is substantial (up to 5 years), so I'd put my reputation on vouching for the TITAN 2020.
To give an arbitrary rating to the TITAN 2020 Series, I'd award it a full 5 out of 5. The OMEGA was rated 4 out of 5.
If you want to check out the latest price of the TITAN collection, you can find the lowest prices only by shopping directly with Secretlab on their website here.
Secretlab TITAN 2020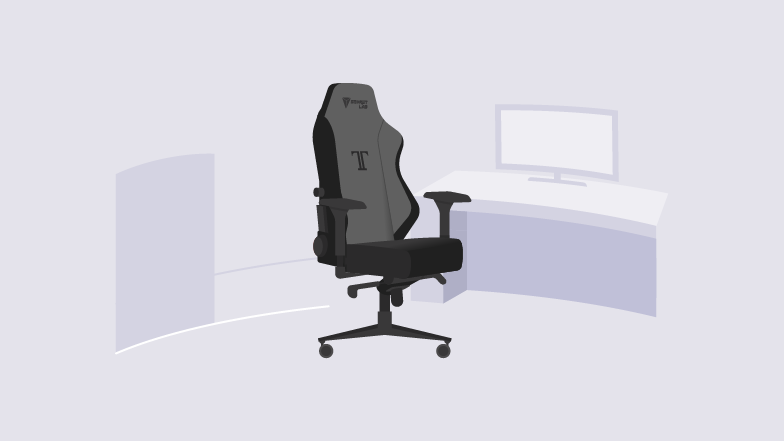 The Secretlab TITAN 2020 is a fantastic chair when opting for leather and leatherette styles, perhaps only beaten by Secretlab's newer models.
Pros
Great for long sessions
Comfortable add-ons
Long-term warranty
Easy to assemble
Cons
Slightly firm
A little bit expensive