Leveling up in Rocket League does not make your car better. Still, gathering experience in the game does all you to earn new titles and avatar borders at different milestone levels.
To level up, players must collect experience points at the end of a completed match.
Although it might take a while to level up your account, there are ways to speed it up. Players can also earn bonus experience through bonuses granted by not quitting a game early, playing consecutive matches, filling in for someone in a casual game, and more. 
In this guide, we're going to look at all the ways you can level up fast in Rocket League. These tips work across platforms, even if you're running the game on a potato PC!
Be a Good Team Player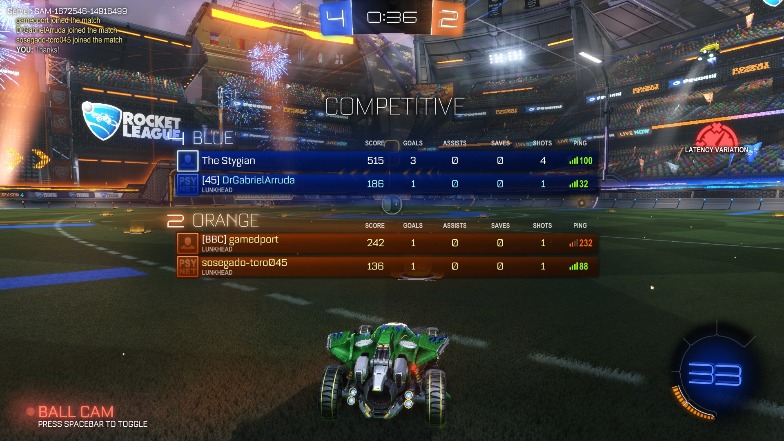 You do not need to be the one scoring all the goals. If you're not that good at it, maybe stay on defense, pass the ball to other players, and do your best to help the team in whatever way you can.
The amount of experience points earned at the end of a match depends on multiple factors. Being a good team member is a great way to ensure that extra experience.
Stay behind when there is nobody else watching the goal.
Do not try to take the ball from your teammates if they are in a good position.
Just seeing yourself as a team player and behaving accordingly will make you gain more experience points.
Always try to have good communication and understand how to chat in Rocket League effectively.
Don't Quit Matches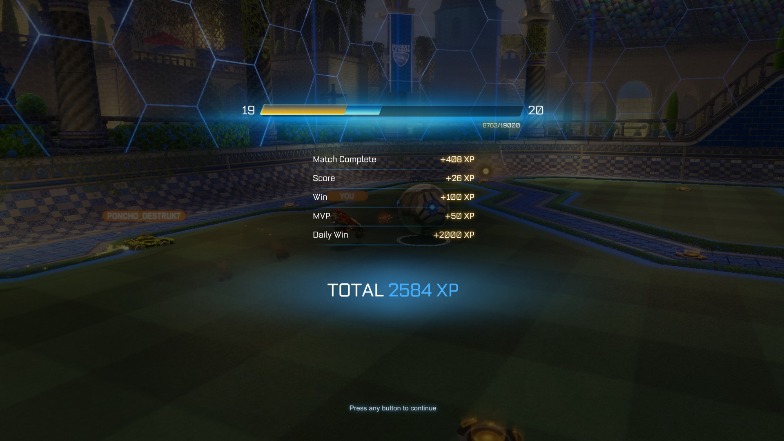 You must be playing the game to earn experience. In fact, there is even a bonus for staying until the end of the matches.
It is not unusual to have teammates quitting on you in Rocket League. Consequently, the game makes it safe for you to leave a game once someone else has left, and therefore many people will do so as soon as someone quits.
Many players don't know that Rocket League rewards those who stay until the end of a match with an experience bonus. Waiting until the end of a match ensures that you will get the extra experience you need to level up faster and more efficiently.
Fill in for Others in Casual Matches
Casual games also provide experience points.
However, it is not unusual to see players quitting unranked matches. As a solution, Psyonix rewards those who participate in a casual match if they're filling in for someone who has abandoned their team.
There is also a 200XP reward for playing (and completing) consecutive casual matches.
On top of that, you might gain experience points from your good plays and for waiting until the end of the match, making casual games an excellent way to level up.
Weekly Win Bonus
When you have an available Weekly Win Bonus, you get extra 2500 experience points for winning a match. That amount can be increased by Double XP weekends and Rocket Pass multipliers.
Note that you only get up to 21 bonuses per week. So although these extra points do help, they are not something you will be able to consistently count on throughout the whole week.
Weekly Challenges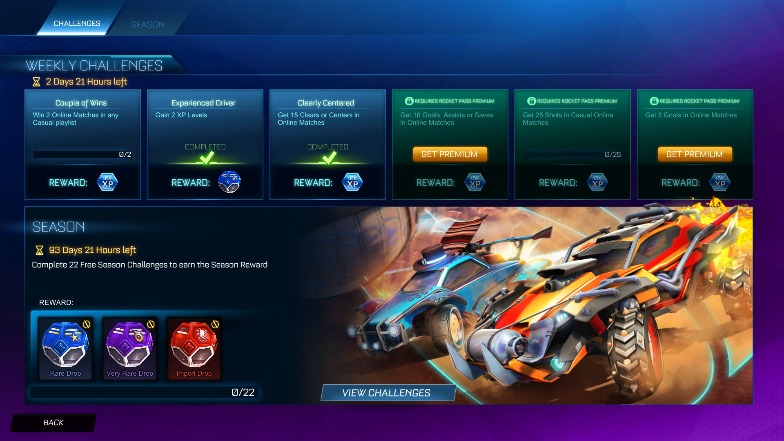 Ever since challenges were added to Rocket League, they became a significant source of experience points.
A Weekly Challenge awards 10000 to 15000 XP when completed. Players will have three of those to complete per week. However, Rocket Pass Premium players get twice as many challenges.
Rocket League also has Season Challenges, and they also award a lot of experience points. Completing a challenge will grant you 10000, 15000, or 20000 experience points.
Double XP Weekends
You will have to count on Psyonix for this one, but from time to time, they might have a double XP weekend, and those are the days to farm. Combining the Double XP days with all the other tips provided above, you will reach a high level much quicker than usual.
So there we have it, a variety of ways to rank up faster in Rocket League — now go put our tips to good use and start unlocking some crates.