Questioning the worth of in-game cosmetics is always puzzling to some. In Valorant, tons of cosmetics are available, such as weapon skins, cards, and buddies.
These skins can be a bit pricy, especially for those not accustomed to playing games.
Valorant is a free-to-play game, meaning they must profit somewhere else, right?
The topic is highly subjective, but here is my take on the game's skins or cosmetics.
Types of In-Game Currencies
Valorant has two different in-game currencies: Radianite Points and Valorant Points.
Valorant skin prices use the Valorant Points currency, while Radianite Points unlock different variants or styles for specific skins.
Some skins also have VFXs, and finisher animations unlocked with Radianite Points.
Radianite Points
To get Radianite Points, you must grind out games and finish the Valorant agent tiers in their contract. All Valorant agent contracts have Radianite Points to unlock and can be quite long and tedious to farm.
The Valorant Battle Pass is another way to grind out Radianite Points. Whether with the free or the premium story contract, both will have unlockable Radianite Points at certain tiers.
You can also purchase Radianite Points with Valorant Points. The exchange rate for these are the following:
20 Radianite Points for 1600 Valorant Points
40 Radianite Points for 2800 Valorant Points
80 Radianite Points for 4800 Valorant Points
As always, the last tier in every currency shop will have the 'most value' and the most expensive one. It would be wise to do so if you plan on buying future skins that have not yet been released.
Valorant Points Pricing
Valorant Points are the more premium currency used to buy the actual weapon skins in the store. The only way to get Valorant Points is through real money. The prices will vary depending on the region your account is based in. The prices for the US store are as follows:
475 Valorant Points for $4.99.
1000 Valorant Points for $9.99.
2050 Valorant Points for $19.99.
3650 Valorant Points for $34.99.
5350 Valorant Points for $49.99.
11000 Valorant Points for $99.99.
Again, you can get more extra Valorant Points if you purchase the most expensive one. Purchase it only if you are also looking to buy more skins in the future.
How to Buy Valorant Skins?
To buy Valorant skins, you should open the game first. The main menu will have a 'Store' tab on the top of your screen. Once you click the store, there will only be five things to purchase.
The first one is featured and will most likely be a bundle. These featured items or collections usually last for more than a week.
To purchase skins separately from the bundle, click the collection first and navigate through the items. When selected, they will all have separate prices and cost more if bought individually.
You can select all the skins you want to purchase, and if it goes below the bundled cost, you can buy them individually.
How Much Are Skins?
The Elderflame collection costs around 9,900 Valorant Points. Most bundled collections cost the same and require you to purchase the 11,000 Valorant Points for $99.99.
Some of them even cost more!
This will not allow you to purchase Radianite Points to unlock some of its features, such as VFX, styles, and finishers, as the cheapest Radianite Points costs 1,600 Valorant Points.
By purchasing them separately from the bundle, the skins in the collection are bought at 2,475 Valorant Points for each weapon skin except for the knife.
You can choose the skins you want from the collection and purchase the corresponding Valorant Points needed.
Do not worry about missing out on some items in the bundles, as the skins can still go through the specific weapon offers that refreshes daily.
These cost the same unless Riot chooses to give discounts in the future.
Night Market
The night market is a seasonal 'event,' where you will have a randomized skin collection sold in your account. These are different per Valorant account, so everyone has a chance to find the skin they are looking for.
Not only do you get to buy old skins, but also they'll have a randomized discounted price too. Skins the show up on the night market will never show skins you have already purchased.
It is a good way to get some skins for your account if you have been thinking of making your first purchase.
Are Skins Worth It?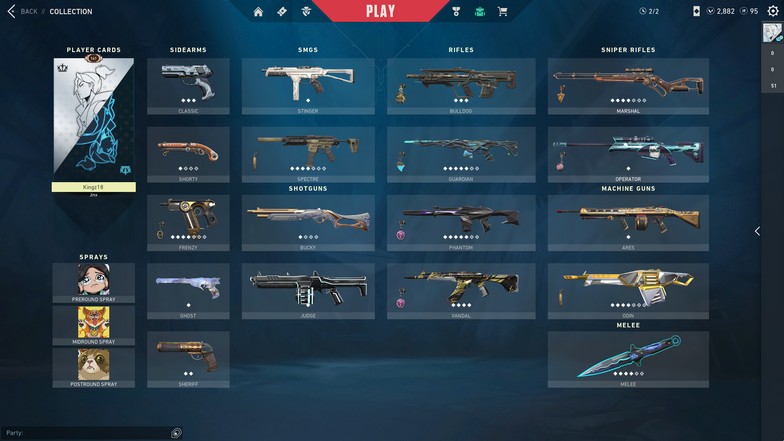 Purchasing Valorant skins are one way to support the developers for their good job with the game. Valorant is a free game, after all.
If you are happy with the game and feel like you would play this game for a long time, these skins are definitely worth it. The number of skins you purchase will depend on what your wallet can handle.
If you only have a limited amount of money to spend, I suggest buying a gun you frequently use, as other weapon skins are pointless if you do not really use them.
The skins that have more value will be the pistols that you use, the Phantom or the Vandal, the Operator and the knife. These are the most used weapons in the game and you should take this into account when buying weapon skins.
You cannot sell these skins after purchasing them. Selling accounts with skins is against Riot's Terms of Service. You can get banned from both selling and buying accounts.