Hundreds or even thousands of Discord servers are solely for Valorant.
It might be hard to decide which server to join, which depends on what you are looking for in a Discord server.
Is it to find a fun and friendly community to play with? Is it a more serious one that is more dedicated to competitive play?
We'll list unique Discord servers catering to all regions and playstyles for you to join.
The Official Discord Channel
Let's start of with the official Valorant Discord server by Riot Games.
This server is also the most active one and boasts upwards of 800,000 members. There are multiple channels to join, and they are all divided into which type of match you are looking for.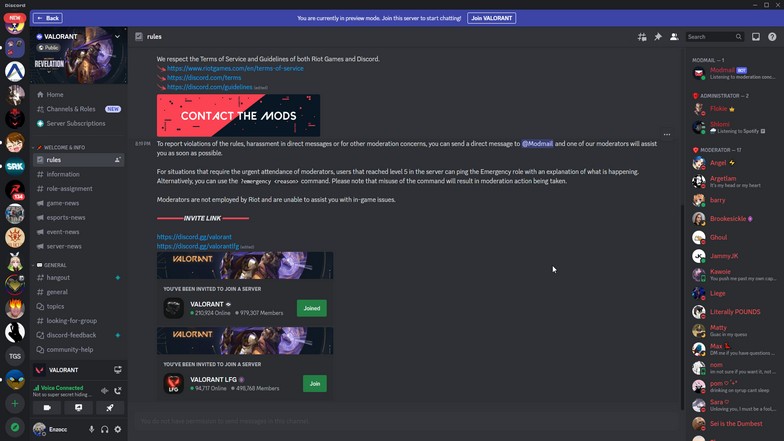 This is open to all players across the world. Ithas a dedicated channel to members looking for other players to play with that are on the same region as them.
This makes it possible to find players in your region quicker.
The main language used is also English. That is not a rule. But if you are able to find players speaking your native language, you can hop on an empty channel and talk there.
Make sure you are reading the rules and guidelines after joining.
They also have their own community content channels for people who are passionate about the game. This includes works of art and cosplays.
You can also find submitted video clips posted by the community. Streamers are also welcome to share their links to a dedicated channel.
Discord bots are also present in the server. They are mainly for announcing news and updates about the game.
This is great for people who do not have that much time to play and is still interested in following the game.
Members are automatically tagged on the announcement posts to get notified in real time. You can easily disable this if you do not want that much notifications on your Discord.
Region-Based Servers
These Valorant LFG Discord servers are much more specific and are mostly exclusive to people within the corresponding region.
Suppose you are curious about where people from the North American region play, they typically use the official Discord server for Valorant.
They are the most extremely active ones in the Discord Server mentioned above.
Valorant Server for OCE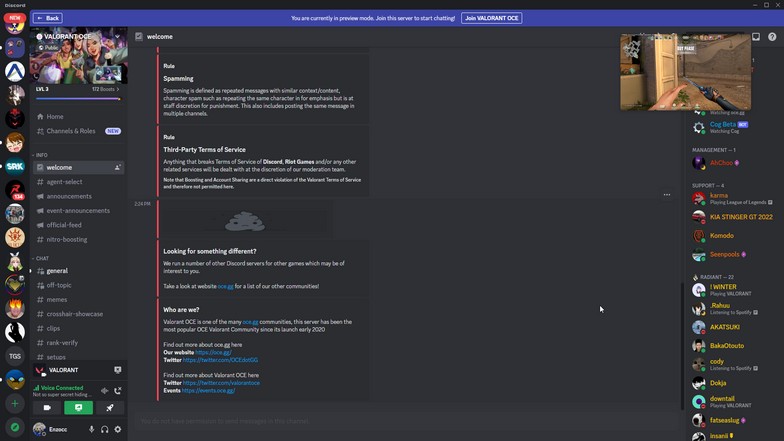 The Oceania Valorant server has the typical channels that separate the players from what kind of mode they want to play.
They also have bots and dedicated channels for news and updates.
The unique thing about this server, aside from being exclusive to the Oceanic region, is that they offer channels for scrims.
Valorant Server for EU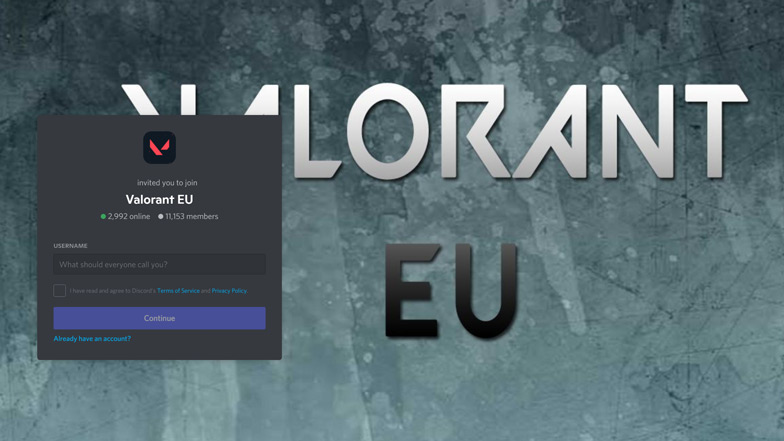 This is a Discord server exclusive for people in Europe. They have a large community compared to the other regional servers. They have a few bots in the server and all the dedicated channels for games.
Valorant Servers for Asia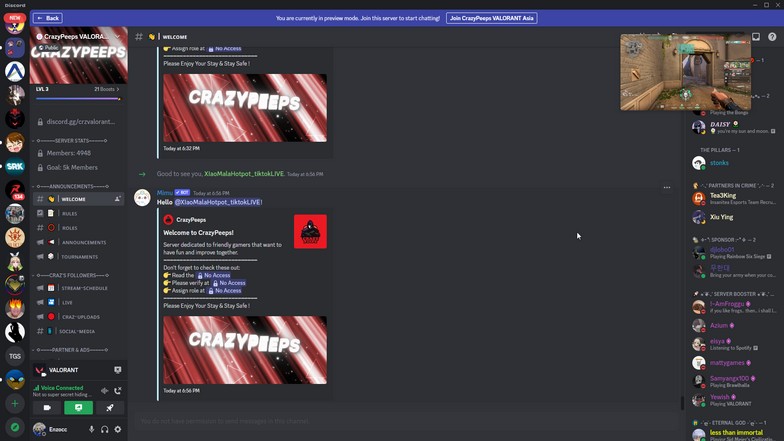 There used to be a Valorant Discord server for users located across all of South-East Asia, but it appears that it's now been disbanded or is no longer available on the public server list.
Regardless of where you're based in Asia, your best chances now are to search the Discord public server list for 'Valorant' + your country name. There appear to be many country-specific Asian servers that you can join with the click of a button.
Other Servers
These are servers that are more general for users and are more focused on an objective. It can be esports, fun content or a more serious competitive play.
Valorant LFG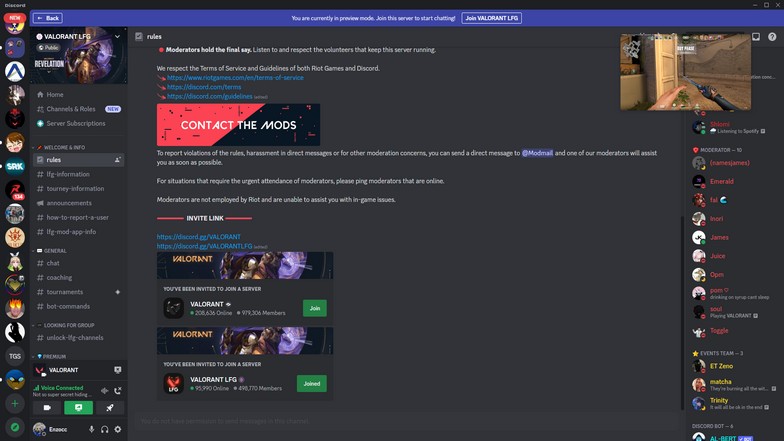 Valorant LFG is probably the second biggest Valo server in Discord. The server combines everyone from all regions in most of their channels.
They also have different regional channels within the server to help players find other players in their region.
ValorantPro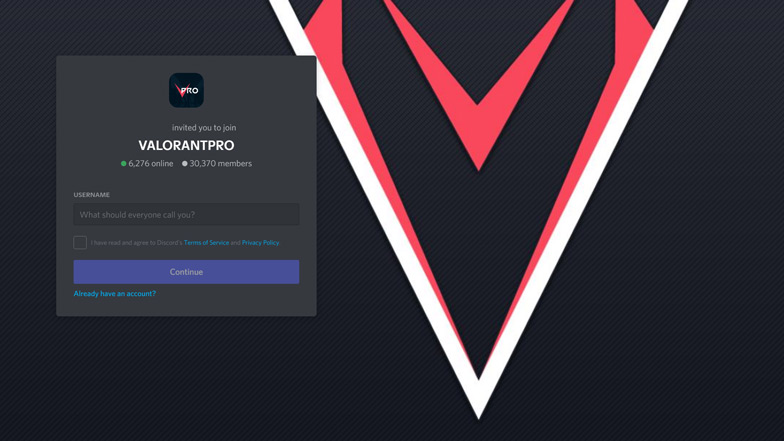 ValorantPro is a Valorant Discord server with a greater emphasis in highly competitive play. Aside from the normal competitive ranking system in Valorant, you can play on FACEIT servers for a more unique and competitive experience.
Players you encounter will show much more gravity with their ranks and elevates communication with team. The ranks on FACEIT are separate from your Valorant rank and for some players, they value this more than their rank in-game.
They also host tournaments from time to time and recruits staffs from the community to support them.
Valorant Ascent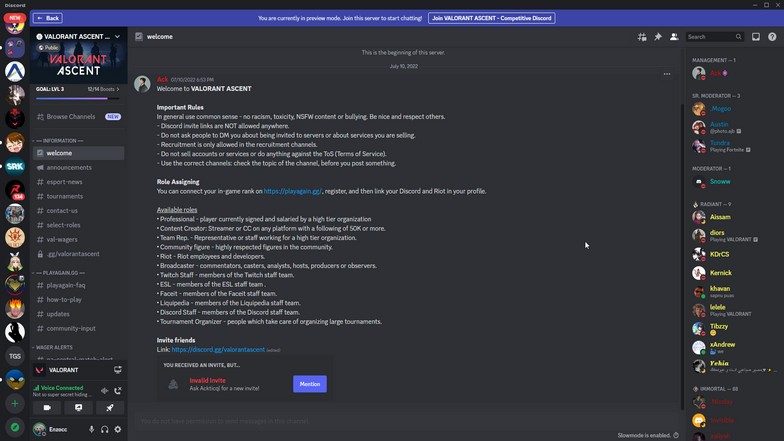 The Valorant Ascent Discord server combines both casual players along with highly competitive players. They have upwards of 30,000 members and is quite active at peak times. They also host some small tournaments with miniature prize pools that is open for everyone.
Their channels have more specificity when it comes to LFGs ('Looking For Groups') and recruitment. They use regions to separate the channels so it would be easier to filter out when there are teams and groups forming.
People usually seek Discord servers to find other players to play with. In my opinion, this is mandatory when trying to win at Valorant more often and climbing ranks such as Diamond, Immortal and Radiant.
People going the extra mile to find a Discord server and look for other players will usually lead to them being an active communicator in a team. This is absolutely necessary when playing a highly competitive team-based game.
It is also great to commit to a Discord server for the community. You will learn so much and get updated in real time with all the features such as announcement bots. It will be like a new home for you if you do decide to make Valorant your favorite game.