Jurgen Klopp is famous for his gengenpress style of play, but the German manager's preferred tactics have evolved in his time as the manager of Liverpool Football Club.
The evolution has seen the team adopt a more patient, less gung-ho style of play while still retaining elements of the press that made them so devastatingly effective in the past.
If you're looking to replicate Klopp's current Liverpool team's style of play in your FC 24 Kick-Off or Career Mode game, then this guide is for you.
Squad
There are two things to consider when choosing the right players to fit this system.
The first is that you need players who are good ball passers across the board, especially for long passes because Liverpool often tries to play long balls behind the opponent's defense for the winger to chase.
Apart from the passing stats of the players, you need to pay attention to passing-related playstyles. A fullback, for instance, would benefit from having the "Whipped Pass" playstyle or playstyle+.
The second important thing is having fast wingers. This is one aspect of Liverpool's game in real life that has been consistent throughout Klopp's time as the manager.
The team often plays passes behind the line, so you need fast wingers who can beat the offside trap and get to those passes.
We have a guide to the best teams to manage in this game, so you can look at the squads of those teams and see if any one of them would be a good option for this tactic project.
Formation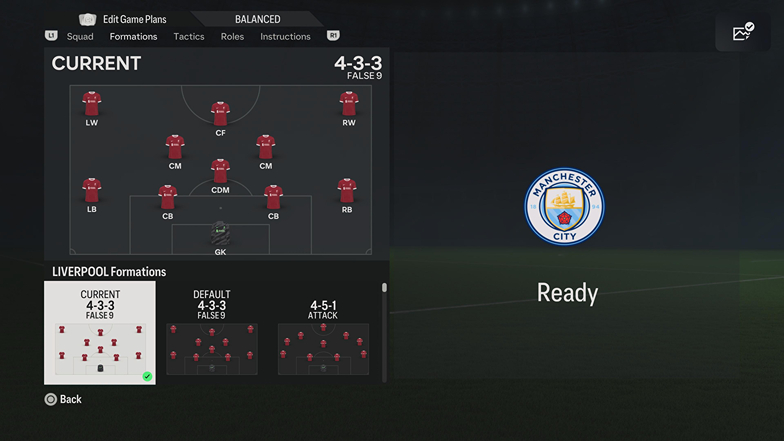 The starting formation that we're going with is a 4-3-3 with a center-forward instead of a striker. In real life, Liverpool can set up in two different ways depending on who's playing as a striker.
When they start with Gakpo, his role is more of a false nine and when they start with Darwin Nunez, he plays the role of a more traditional number 9. For this guide, we're going with the Gakpo role.
The formation changes when the team is in or out of possession, so this starting formation is really only useful for setting the player instructions.
Tactics
Defense and Offense tactics in this section impact how the players defend and attack as a unit. It is the first step of adjusting the AI to suit the tactics that we're trying to replicate before we go into deeper customization with player instructions.
Defense
Liverpool is well-known to be a pressing team, and they generally look to win back possession as soon as it is lost.
To replicate this, set the defensive style in this section to "Press After Possession Loss". It drains stamina a bit faster than a balanced defensive style, and it is a high-risk high-reward system because it leaves gaps that can be exposed if you fail to win back possession.
The team width is set to 60 because the defense line is usually stretched out. This is due to the use of an inverted fullback at right-back, but we'll get to more details about that.
Depth is set to 70 because Liverpool plays a high line. This high line is a major part of what makes the press so effective because there is an increased chance of winning the ball back further up the pitch in a dangerous position.
Offense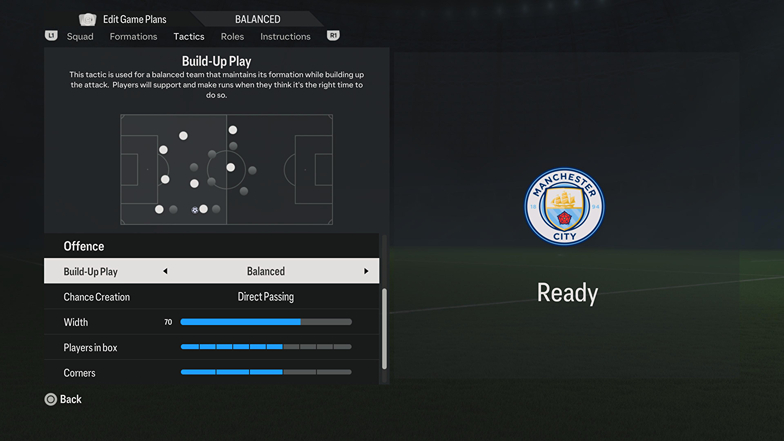 For offense, Liverpool can mix it up so we've gone with "Balanced" Build-Up Play. This allows you to also mix it up with possession, counter-attacking, or long ball depending on the opponent and attacking opportunity.
For Chance Creation, set "Direct Passing". It's a conservative way to ensure that the attacking AI triggers forward runs, but not so much that you're often left exposed because the team maintains its formation instead of constantly overloading.
Set players in the box to 6. It's not particularly anything to do with what Liverpool does in real life, but I have found that it is the most balanced option in this game for attacking football.
Player Instructions
These player instructions will further adjust the defensive and attacking AI of the players on an individual level. I will suggest playstyles that can help to carry out the instructions more easily, so pay attention to that as well.
Goalkeeper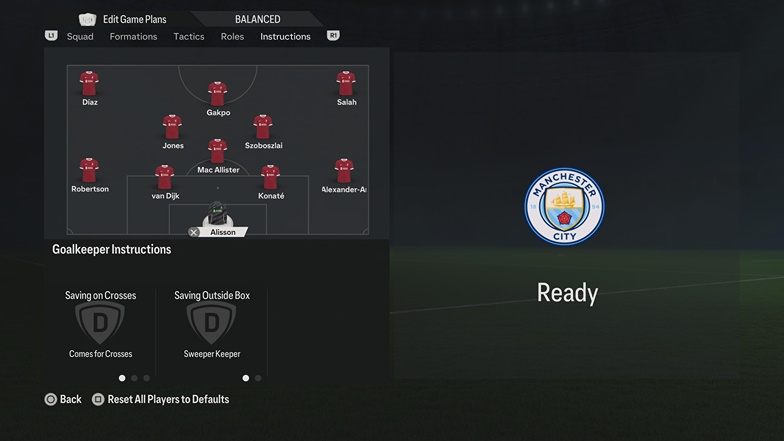 The "Alisson riole" requires a sweeper keeper. Set the player instructions to "comes for crosses" and "sweeper keeper. More pace is nice to have, but you can do without it.
In terms of playstyles, "Footwork", "Cross Claimer" and "Rush Out" are all useful for this role.
Left-back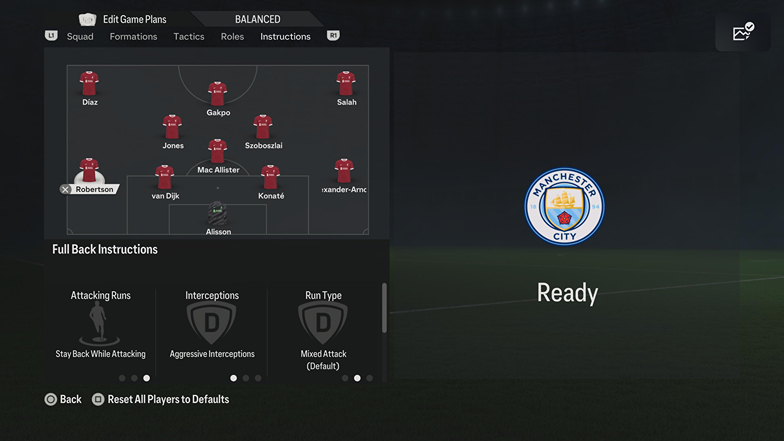 The left-back in this tactic functions more like a left centreback. If you're trying to replicate the way Robertson interprets this role in real life, set the player instructions to "Stay back while attacking", "Aggressive interceptions", and "Step up".
The "Relentless" playstyle will be useful for this role.
Centerbacks
Leave the instructions here on default. Look to use centerbacks that have the "Aerial" and "Bruiser" playstyles. "Block" is very nice to have as well.
Right-back
The right-back is inverted in this tactic to play as part of a defensive double pivot in midfield when the team is in possession.
This "Trent role" requires changing the instructions to "Inverted" and "Join the Attack". Passing playstyles are very useful for the role, alongside the 'Intercept" defending playstyle.
Defensive Midfielder
Liverpool does not have a traditional defensive midfielder in their starting eleven, so you can use a central midfielder who has some decent defensive stats. This player will drop into the double pivot role with the right back when the team is in possession.
Set the instructions to "Cover center", "Deep-lying playmaker", "Cut passing lanes", and "Stay back while attacking".
"Press Proven", "Long Ball Pass, "Anticipate", and "Intercept" are all very useful playstyles for this role.
Left Central Midfielder
This position requires a midfielder who's expected to do everything, so we're leaving all the instructions on default except for the defensive position – change that to "Cover Centre".
It is the one position where you have a good amount of freedom to customize as you please and use any type of player that you want.
Right Central Midfielder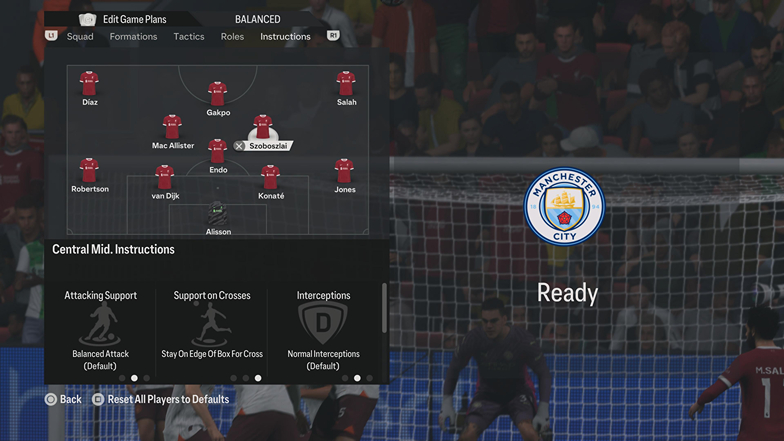 This position also features an all-action midfielder, but you need to follow specific instructions.
Firstly, it will be beneficial to use a player that has high/high work rates. This will balance their defensive and attacking efforts even without the custom instructions.
With the inverted right-back, the right cm should drift out wide to accommodate the fullback's central movement.
The right central midfielder will also cover for the right-back when the team loses possession by getting back quickly to support in defense. They will also support the attack on the other end of the pitch by combining with the right-winger to overload the opponent's full-back.
Change the instructions to "Drift Wide", "Cover Wing", and "Stay on Edge of Box for Cross". That last instruction will be extra effective if you're using a player that has good shooting and long shots. The "Power Shot" playstyle will certainly help with that.
Wingers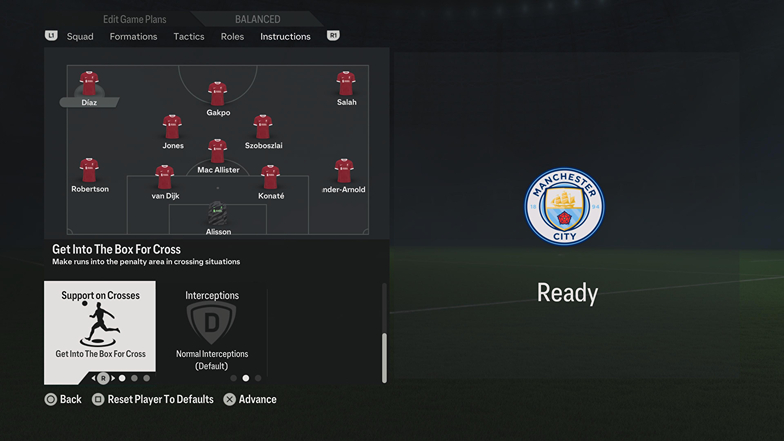 The instructions for both wingers are fairly straightforward. Have them both "Cut inside", "Get in Behind", and "Get into the box for cross".
The Finesse Shot playstyle+ seems to be overpowered this year, and it'll be very effective for these roles. The Trivela, Rapid, Technical, Trickster, and Quick Step playstyles are all effective as well.
In real life, it helps that Liverpool has a player like Mohamed Salah who is one of the world's best players and highest-rated players in the game, but you have a ton of alternatives as long as the player is fast, agile, and can finish.
Centre Forward
The "Gakpo role" in this tactic requires you to change the custom instructions to "False 9", "Aggressive Interceptions", and "Come Back on Defence". This will have the player often dropping deep and picking up positions across the attack whenever the wingers cut inside.
Ideally, you want a technical player that also has some physicality to them for hold-up plays. Speed is not crucial, but they should be quick enough. The First Touch and Technical playstyles can be particularly useful for the role.
However, if you prefer the traditional number 9 role, just set the custom instructions to "Stay Central" and "Get in Behind", Leave everything else on default and use the standard 4-3-3 formation.
If you're interested in more real-life manager tactics for FC 24, check out our guide to Mikel Arteta's Arsenal tactics next.