Give Me Five is the first SBC in the Hybrid Leagues SBC group in FC 24 Ultimate Team. The reward for completing this SBC is an untradeable Premium Gold Players Pack.
The Premium Gold Players Pack in FC 24 contains 12 gold players, 3 of which are rare.
This guide shows a working solution that you can copy for the SBC, and it also discusses how you can use your own untradable items within the club to complete if you don't have enough coins.
If you've already completed the SBCs in the Hybrid Nations group, such as the Around the World SBC, then getting this group done will be easier.
Requirements
Exactly 5 leagues in the squad
Maximum of 4 players from the same league
Maximum of 4 players from the same club
Minimum 6 rare players
Minimum team rating of 69
Minimum 15 squad chemistry
The low minimum team rating means that we should be able to complete this SBC on the cheap. In fact, we can get away with three gold cards and eight high-rated bronze cards.
To meet the other requirements, the most straightforward approach would be to add four players from the same country and club for 12 chemistry, and two more players from that country (but a different league) for more chemistry to meet the minimum chemistry requirement.
This will leave us with five empty slots to fill with players from three new leagues to meet the "exactly 5 leagues" requirement. While doing all of this, we also need to ensure that at least 6 players in the team are rare (could be bronze, silver, or gold rare).
These details should help if you want to complete the SBC with untradable players in your club instead of the players we're about to recommend.
Solution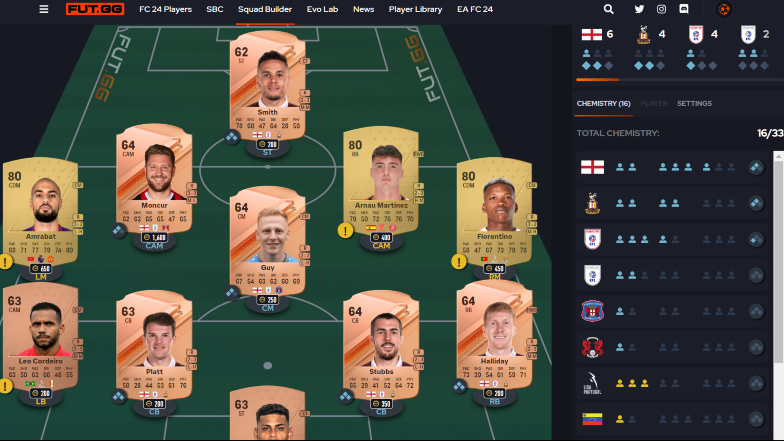 GK: Jeriel De Santis (Boavista)
LB: Leo Cordeiro (Estrela Amadora)
CB: Matthew Platt (Bradford City)
CB: Sam Stubbs (Bradford City)
RB: Bradley Halliday (Bradford City)
CM: Callum Guy (Carlisle United)
LM: Sofyan Amrabat (Manchester United)
RM: Florentino (Benfica)
CAM: Arnau Martinez (Girona)
CAM: George Moncur (Leyton Orient)
ST: Tyler Smith (Bradford City)
In line with the requirements, there are five leagues represented in this squad. It's the trickiest one of the requirements to take note of, so be sure to pay extra attention if you're swapping out any of the recommended players for alternatives that you have in your club.
Speaking of alternatives, let's talk some more about how you can complete this SBC from scratch on your own in case you can't get the recommended players for any reason.
Alternative Solution
I'll break this down into search filters. Use these filters to choose the players to add to the SBC squad, whether you're signing them or bringing them in from your club.
The first search filter for the first four players is "bronze rare, English, any English league, and any club within that league". This will get you 12 chemistry points without exceeding the "max 4 players from one league/club" requirement.
The second search filter for the next two players is "bronze rare, English, another English league". This will get your chemistry up to a minimum of 16, which is more than you need for the chemistry requirement.
The third search filter for the next three players is "common gold, 80+ rating, three different leagues" to fulfill the "Exactly 5 leagues" requirement.
Finally, you need any two bronze common players from the same league as any of the common gold players you selected. This will complete the starting eleven and tick all the SBC requirements.
Once the team is assembled, you can submit and claim the SBC reward. You can then move on to the next SBC in the group, called "Seven-League Boots".