Excellent center backs are usually a premium in the first few years of career mode. This fact holds especially true if you're not managing one of the best clubs but are trying to compete with them.
The solution is to sign the best young talents in that position and develop them for yourself. Then, you can either build a team that can challenge properly with these superstars or sell them for a tidy profit.
This guide will help you get started on that journey as we discuss the best young center backs in FC 24.
All these players are 22 and under at the start of the game. Let's get into it!
William Saliba
Age: 22
Club: Arsenal
Country: France
Following back-to-back seasons out on loan to clubs in the Ligue 1, Saliba finally returned to Arsenal and cemented his place as a first-choice center back in the 2022/23 Premier League season.
He was one of the best CBs in the league and deservedly got a small bump to his stats for FC 24. He is now an 83-rated CB with 82 pace, 84 defending, and 82 physical for face card stats.
This guy is already good enough to start for some of the best teams in career mode, but at 22, there is still a lot of room for further development. He'll cost a lot if you're not managing Arsenal at the start, but you won't find better talent in that age bracket for his position.
Josko Gvardiol
Age: 21
Club: Manchester City
Country: Croatia
Josko Gvardiol has been playing regular first-team football since he turned 18, so it is no surprise that he has consistently been among the best young players in career mode for a while now.
Now at Manchester City at the age of 21, he's been handed an 82-rated card in FC 24. His key face card stats are 78 pace, 82 defending, and 83 physical.
Like Saliba, he's a well-rounded center back that's strong enough to bully attackers, but also technical enough to play out from the back if that's what you need.
He's also good enough to start for any top team, although that depends on the players you already have in his position. Regardless, he's a top talent and definitely one of the best young CBs in the game.
Antonio Silva
Age: 19
Club: Benfica
Country: Portugal
Antonio Silva is another name that will be familiar to FIFA career-mode managers. He was one of the best young CBs in FIFA 23, and he has since gone on to become even more important for Benfica's first team in real life.
If Saliba and Gvardiol are too pricey for you, Silva offers a fairly more modest alternative. If you're managing one of the best teams in the game, he might not be as ready as those two to be a regular starter, but give it a couple of years.
Jurrien Timber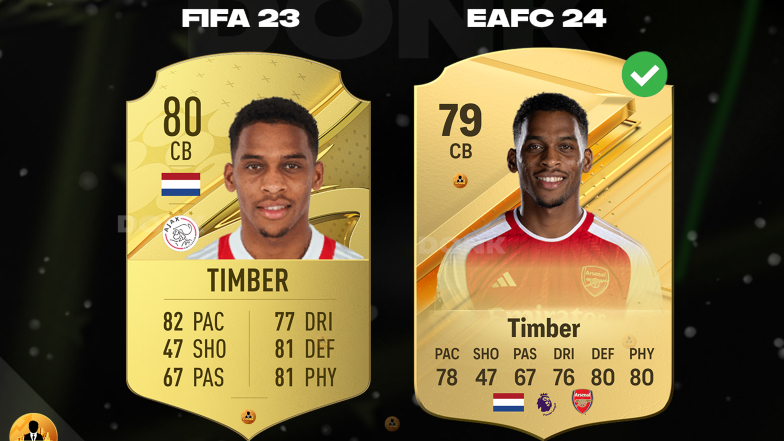 Age: 22
Club: Arsenal
Country: Netherlands
Jurrien Timber has only just completed a transfer from Ajax to Arsenal, so you might be unable to buy him at the start of your career mode in FC 24.
However, he remains a top talent in his position and he's definitely one to keep an eye on and add to your scouting reports.
His relatively low starting OVR rating of 79 in the new game might make it a bit easier to buy him, especially if a few transfer windows see Arsenal sign better center backs in your save.
His key face card stats are 78 pace, 80 defending, and 80 physical. He does not quite possess the physical presence of alternatives such as Saliba and Gvardiol, but he is more versatile as he can slot in that right-back spot if you need him to.
The caveat here is that, at 22 years of age, if you do sign him, you need to play him regularly to fulfill his potential due to that slightly low OVR rating.
Piero Hincapie
Age: 21
Club: Bayer Leverkusen
Country: Ecuador
Speaking of versatile center backs, Hincapie can offer on the left what Timber can on the right. The left-footed center back is a first-team regular at Bayer, but it shouldn't be too difficult to convince them to sell.
He's not quite as nimble on the ball as Timber, but what he lacks in that area he makes up for with a stronger physical presence.
That versatility should help with giving him as many minutes as possible to help him fulfill his potential. He's only 21, but game time is always great for faster player growth in career mode.
Goncalo Inacio
Age: 21
Club: Sporting CP
Country: Portugal
Inacio is to Sporting what Antonio Silva is to Benfica. Both players are the future of Portugal in central defense, and you can begin that partnership in FC 24.
Now 21, the Sporting youth product has been playing regular first-team football for three years already. He's a well-rounded center back with good physical and technical ability who can fight for a place in any team in the world with a couple of years of development under his belt.
As far as signing him goes, I'd say he's a medium-budget option.
Giorgio Scalvini
Age: 19
Club: Atalanta
Country: Italy
This list would not be complete without an Italian defender. Italy is well known for regularly churning out top defensive talent, and Scalvini is one of the latest center backs in that long line of history.
Scalvini played more first-team minutes for Atalanta in the 2022/23 season than any other season in his career so far. He was already one of the top CB talents in FIFA 23, so he's only going to be better in FC 24.
One of his biggest strengths is his aerial presence. He may not be as silky on the ball as some other options on this list, but you can count on him to perform his actual defensive duties excellently.
He's only still a teenager as well, so lots of room to grow and become one of the highest-rated players in the game.
Wesley Fofana
Age: 21
Club: Chelsea
Country: France
Fofana hasn't had the best of starts to his Chelsea career, but he's still one of the best young CBs in FC 24. The injuries that are holding him back from achieving his full potential in real life should be easier to manage in FC 24, so you have little to worry about.
He's been given a 79-rated card in FC 24, with 73 pace, 80 defending, and 76 physical. It's not the most exciting selection of stats that you'll see but as I said, you can easily manage his stunted growth and help him improve quickly in this game.
He has a great body type for a center back and with the large pool of players that Chelsea has brought on to its books in recent years (including a couple of new faces at CB), it shouldn't be too difficult to convince them to cash in on Wesley.
Levi Colwill
Age: 20
Club: Chelsea
Country: England
Colwill is one of the players offering competition at center back with Chelsea as a successful loan spell with Brighton earned him a 74-rated card in FC 24.
His key face card stats are 72 pace, 74 defending, and 74 physical.
It's hardly starting eleven material for top teams, but he can do a job at many smaller clubs if you can afford him. He's already 20 so he needs the quick OVR boost with proper training and game time, but he can develop into one of the best CBs in the game if managed properly.
He's also one of the cheapest options on this list, and he offers some versatility with his ability to fill in at left-back as well. A smart pickup by all standards.
Castello Lukeba
Age: 20
Club: RB Leipzig
Country: France
Lukeba is the third French player on this list, but he's also the only one who does not play in England. He's a new player at RB Leipzig in Germany, joining from Olympique Lyon in the Ligue 1.
This already bodes well for your chances of signing him as these clubs generally do not charge as much as clubs like Arsenal and Chelsea in the Premier League. However, you might not be able to sign him at the start of your save due to the fact that he's only just joined a new club.
Like Colwill and Hincapie, Lukeba is a left-footed option for that LCB role in your squad. He's not the tallest center back you'll find, but he's physical enough and starts out with a decent OVR rating to get him enough game time with most clubs in the game.
If you were wondering what's changed in Career Mode this year, we have an article that discusses that, so you should check it out next!