Six of the Best is the second of four SBCs in the "Hybrid Nations" SBC group in FC 24. The reward for completing this SBC is an untradeable Small Prime Gold Players pack.
A Small Prime Gold Players pack in FC 24 contains 6 Gold players including 3 Rares including one 80+ OVR Rare player guaranteed.
Below are two working solutions for completing this SBC. If you've completed The Final Four SBC before it, understanding the requirements should be a breeze.
Requirements
Exactly 6 nationalities in the squad
Maximum of 3 players from the same nation
Maximum of 3 players from the same club
A minimum team rating of 75
A minimum of 18 squad chemistry
With the chemistry requirements, an easy approach is to try and get six players on full chemistry (3 chemistry points each).
We also have club and nation restrictions, so we'll aim for a league that contains multiple players from various nationalities. The English Premier League and the Spanish La Liga are always great options.
We'll also make sure that every player is rated 75 or higher. The requirement only actually asks for an average of 75 taking the team as a whole, but using 75+ players in all positions just completely removes the need to think about it.
Solution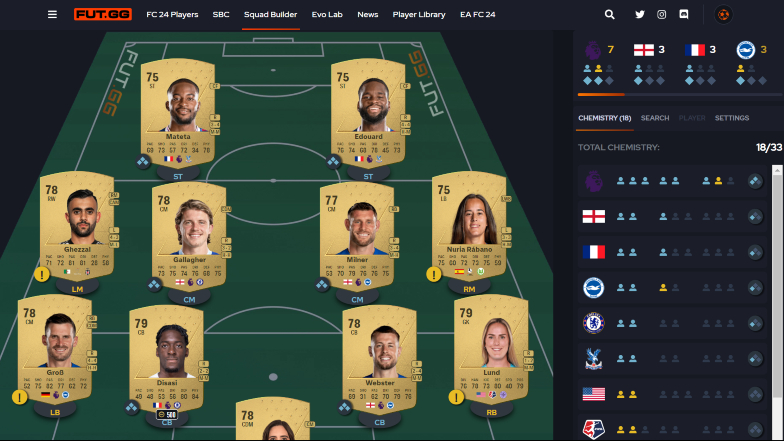 GK: any 75+ rated player from the U.S.A
LB: any 75+ rated player from Germany
CB: Axel Disasi (Chelsea)
CB: Adam Webster (Brighton)
RB: any 75+ rated player from U.S.A
LM: any 75+ rated player from Algeria
CM: Conor Gallagher (Chelsea)
CM: James Milner (Brighton)
RM: any 75+ rated player from Spain
ST: Jean-Philippe Mateta (Crystal Palace)
ST: Odsonne Edouard (Crystal Palace)
Depending on the players you have in your club, every spot in this team that does not include a specifically named player (five in total) can be replaced by someone else.
However, you must make sure that those five spots are filled by five players from four different countries (excluding France and Spain because they're already there) to fulfill the requirement.
Apart from the players that were specifically named, you don't have to worry about adding the rest of the team into their natural positions. The six named players provide enough chemistry points to cover the SBC requirement.
Alternative Solution
This alternative has multiple blank slots that you can fill in if you have the required types of players in your club. I have only recommended exactly what you need for the chemistry and rare players requirements.
The players that need to be added to this team are:
two 75+ rated players from one nation (excluding Spain and France)
three 75+ rated players, each from a different nation (excluding Spain, France, and the nation of the two players you added previously)
Once this is done, you can submit and move on to the next SBC in the "Hybrid Nations" group – the Elite Eight SBC.