Knuckleballs are truly a piece of art. The reason being is because the knuckleball is typically the most difficult type of freekick that you can possibly attempt to score. There are multiple reasons for this. Some of them include:
Your best free kick taker to strike the ball with the right power.
Your free-kick taker needs to strike the ball at the right place.
The set-piece needs to be from further out in the field, which will only make the shot more difficult to be scored.
But, if you have already mastered the average free-kicks and want to go up a level and make your set-piece finishing that much more beautiful and satisfying to watch, then please continue reading as in this how-to article, I will show you exactly how to score knuckleballs in FIFA 21.
The Perfect Distance for a Knuckleball Freekick
Before you can even start to think about scoring a knuckleball, you need to realize that this free-kick is mainly best to be taken from a certain position on the field. I have found that the ideal distance is between 33 and 40 yards out. If you are any closer than that, it would be really hard for you to score because the ball won't have enough travel distance to do the left-right movement and dip/curl towards the opponent's net.
In other words, if you have a free-kick opportunity from 25 yards out, don't attempt a knuckleball as the ball will either just go out of play or the goalkeeper will catch it. In terms of angle, it is best for you to be aiming directly at the goal or be in the middle of the field. The closer your set-piece is to the touchline, the angle to score the goal and the margin for error becomes even smaller.
And no, I am not saying that it is completely impossible to score from such an angle. In fact, I have scored one of the most beautiful knuckleballs I have ever attempted from such a position. Unfortunately, I wasn't recording at the time and cannot show you, but the point is that if you do everything I am going to tell you in the paragraphs below, you can score outstanding goals too.
Setting up Your Player for a Knuckleball Freekick
When it comes to free-kicks in FIFA 21, there are three free-kick positions that you can tell your player to take. In terms of regular free-kicks and best play positioning, it really depends on the player that you are using, their free-kick technique in real life, and the distance of the ball from the goal line. Take a look below at the three different free-kick player positions in FIFA 21.
This is great positioning for a "ball over the wall" type free-kick. As you can see from the image, it might not be the most ideal position unless you have a player with a really strong and powerful curl kick such as Lionel Messi. Back in the day, players such as Steven Gerrard and David Beckham were truly exceptional with this kind of free-kick positioning. It works the best in close-range anywhere from 20 to 30 yards out. It is, however, not suitable for knuckleball free-kicks.
Players like Lionel Messi are truly exceptional in scoring free-kicks from such a position. Unlike the first positioning, this one is only a little to the left (in this case) of the ball. Perfect for curl free-kicks from a longer distance, however, not suitable (by all means, not impossible to score) for attempting knuckleball free-kicks.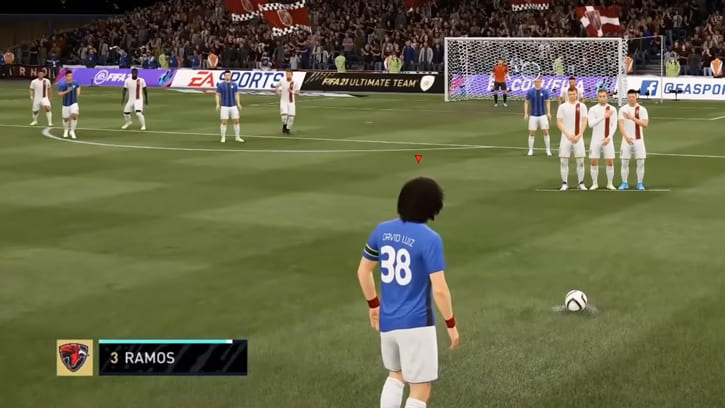 And finally, directly above the ball. This allows your free-kick taker to strike the ball directly with immense power that will drive the ball over the wall from a long distance and dip it into the opponent's net very quickly (provided you have followed the controls guidance below). Players in the names of Cristiano Ronaldo, David Luiz, and Roberto Carlos are truly exceptional long-distance, knuckleball free-kick takers. This is the position that you want to put your chosen player into before you take the free-kick.
Knuckleball Controls
The knuckleball free-kick is quite difficult to achieve because there are a few things that you need to do in a very small time window. But, don't worry. As long as you are playing with a controller, I will show you everything you need to know in terms of controls right now.
First and foremost, you need to aim in the right place. You can do that with the left analog stick. Keep in mind that it is a super-sensitive process so make sure you don't get the circle out of the goal. What I have found is that aiming directly for the close corner of the net is the best strategy. Since knuckleballs are difficult to execute anyway, you might as well not give the goalkeeper a chance to even touch the ball if it goes in right?
Tip: What you will find is that some players will move their goalkeeper left and right. So, if that happens, you really need to play mind games with your opponent and send their keeper in the wrong direction. Luckily, with how knuckleballs are, that won't be too difficult.
After you aim for the top corner, immediately press the shoot button (O for Playstation or B for Xbox) and hold it for about 3 bars. The actual power that you need depends on factors such as the distance from the ball to the net and the players shooting power. So, when I say 3 bars, that is a standard. So, make sure that you perfect it in the practice arena.
After you press the shooting button, your player will begin to run up towards the ball. In that 1 to 2-second time frame, you need to flick your right analog stick down > up > down and hold the analog stick down until your player kicks the ball.
Once you do that, take a look at the circle (which should be in the corner of the net) and it should have a "+" in the middle of it. If it shows that, this means that you have done everything right and all is left is to hope for a beautiful goal.
Best Free-Kick Takers for Knuckleballs
There are many great players on FIFA 21 that you can use to help you score incredible knuckleball free-kicks. Unfortunately to say, if you don't have deep pockets yet, you will need to settle for less expensive names, unless you are willing to learn how to get coins on FIFA 21 or how to trade players for profit on Ultimate Team.
If you don't have a lot of coins to spend on your very own knuckleball taker, don't worry, the list that I have given you below has a great range of players across all price brackets.
| | | | |
| --- | --- | --- | --- |
| Player | Position | Team | Cost on FUT |
| Enis Bardhi | Attacking Midfielder | Levante UD | 1,000 |
| Gareth Bale | Forward | Tottenham Hotspur F.C. | 65,000 |
| Bruno Fernandes | CAM | Manchester United | 150,000 |
| Cristiano Ronaldo | Striker | Juventus | 1,500,000 |
| Ruslan Malinovskyi | CM | Atalanta | 850 |
Not satisfied with what's on the list? If you want to go and find a player that better suits your team, here are a few qualities that a great knuckleball free-kick taker must possess.
Freekick Accuracy
Ideally, you should look for a player with a freekick accuracy of above 87. The higher it is, the more accurate your knuckleballs will be. This also means that if your player has 91 accuracy, he has a much better chance of scoring knuckleballs from smaller angles where every accuracy point is crucial.
Shot Power
Freekick accuracy is practically useless if there is no power in the shot (specifically for knuckleballs). Your player needs to have at least 80 to 85 shot power in order for them to produce great strikes. Else, the keeper is likely to catch or save the ball every time.
Final Thoughts
Scoring knuckleball free-kicks is truly an art that is very difficult to achieve. However, by having the right technique, player, and patience, in time, you will begin to score screamers that will leave your opponent speechless.
Note: Rather than waiting for suitable free-kick chances in actual games, I'd recommend you to go and practice them in the arena with the player that you will be taking knuckleballs with. This will help you learn how to use the player properly and increase your chances of converting such opportunities in a great fashion.