One of my favorite things to do in Football Manager is make bargain signings.
Regardless of the level of the club that I'm managing, there's just something satisfying about getting a player for less money than their ability should command.
Bargain signings are a great way to improve the level of your team for cheap, and they're pretty useful for making a profit down the line too.
If you have a look at the best wonderkids in FM23, you'll find some bargains there. But, there are levels to what is considered a bargain in this game.
In this guide, I have compiled a list containing twenty-five of the best cheap signings to make on FM23.
I have applied a £10M limit to keep the options pretty reasonable, but you should even be able to sign a good number of them for even less with some negotiation. No need to increase your transfer budget.
Samir Handanovič
I know Handanovic is 37 years old in FM23, but these stats are just too good to pass up.
I think you can still get at least two really good years of service from him (provided he doesn't retire out of the blue), so it's really your decision to make if the risk is worth taking.
His estimated value falls within a pretty wide range of £1.1M to £9.2M, and if you can negotiate a deal at the lower end of that range, I would say this is a no-brainer cheap FM23 signing for a top-level, international 'keeper.
Altay Bayındır
On the other end of the age scale is Fenerbahce's Altay Bayindir, who is still very much in the earlier stages of his career compared to Handanovic.
The Turkish goalkeeper is 24 years old, and he's ready to go straight into the team as a first-choice option or backup, depending on the level of the club you're managing.
He will cost closer to the £10M mark than his Slovenian counterpart, but that's what you have to pay for the potentially longer period you can use him for. There's even a chance to make a profit by selling him further down the line.
Guglielmo Vicario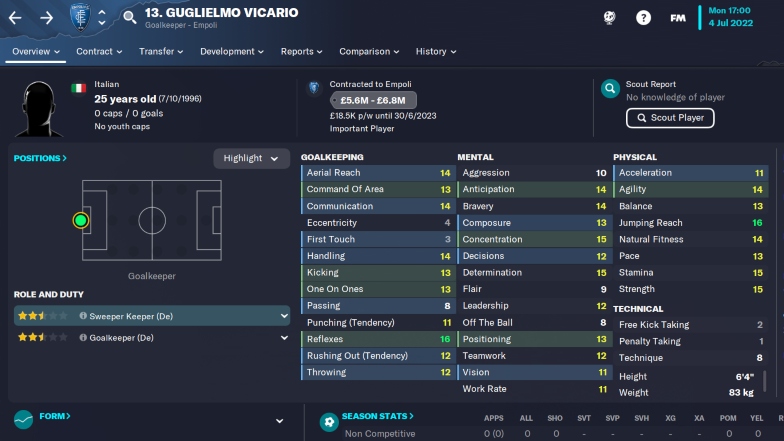 If Bayindir costs just a little too much than you can afford to splash for a 'keeper, then Empoli's Vicario is another option between the sticks that is worth considering.
He's not as good as either one of the options I've already discussed, but he's still pretty good value for his estimated cost of £5.6M to £6.8M.
He's still only 25 years old too, which is fairly young for a goalkeeper. His key strengths are jumping reach and reflexes, and he should be solid overall in a traditional goalkeeper role.
Nordi Mukiele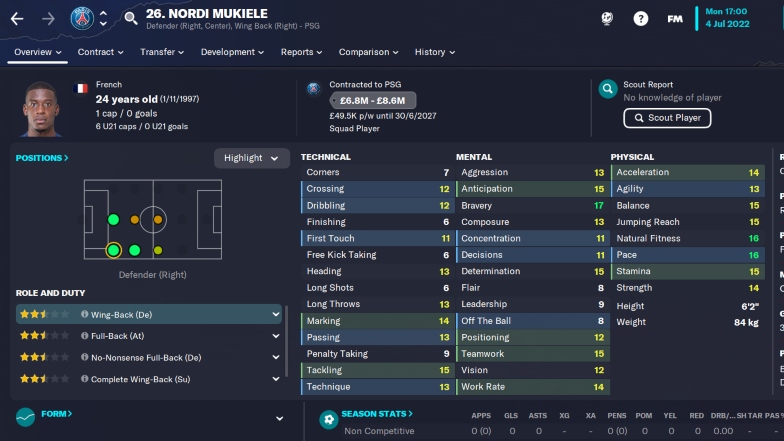 Mukiele has only just joined PSG from RB Leipzig at the start of the game, so I'm not entirely sure about the possibility of signing him immediately.
However, with the amount of talent within the PSG squad, I can't imagine they would be too reluctant to let him go on a loan deal with an option/obligation to buy for his estimated value of £6.8M to £8.6M.
Mukiele offers some versatility in defense as he can play center-back and right-back, and his pace certainly helps in both positions.
Micky van de Ven
Speaking of versatility, a different player that offers something similar to what Mukiele offers is Wolfsburg's Micky Van de Ven.
He is left-footed, so his key positions are center-back and left-back rather than right, but he's a similar mould of player in the sense that pace is his strongest attribute.
Van de Ven is only 21, so you have some time to shape him into the sort of player that you want. Personally, I would focus on developing him as a left-back to take full advantage of that pace, considering the fact that his defensive stats are not exactly fantastic.
He does not have a single obvious weakness physically or mentally, so you should still be good if you choose a different path and develop his center-back attributes instead.
Ramiro Funes Mori
Former Everton player, Funes Mori, is playing in Mexico nowadays, but he is still a pretty solid player by FM standards.
At center-back, Funes Mori has all the basics covered with good strength, bravery, marking, tackling, jumping, and heading stats. He is described as a "Powerful center-back" for good reason.
He's not the quickest off the mark, and some of his mental attributes leave a lot to be desired. However, his defensive abilities should not be ignored. Besides, that asking price is ridiculously low and you can probably afford to gamble with it.
Germán Pezzella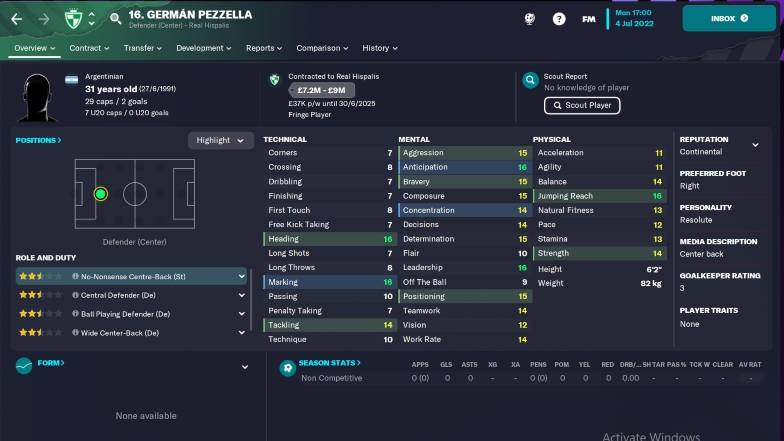 Another Argentinian center-back is up next, but this one plays in Spanish La Liga. Due to issues with licensing, we still don't get most of the real names in the league, so Real Betis is known as Real Hispalis in FM23.
Pezzella is, in my opinion, a better alternative to Funes Mori despite being a similar type of player going by his stats alone.
He is also not quick, and his strongest attributes are in the core defensive areas. However, he has much better composure and decision-making than Funes Mori. This can be crucial in your defense line, especially if you play out from the back.
Omar Alderete
Omar Alderete starts out on loan at Getafe from Hertha Berlin, so he won't be able to join your team immediately.
If you can afford to, it might be worth agreeing to a transfer that will be completed when his loan deal ends. If not, you can just add him to a shortlist and hope that his value does not increase by the end of the season.
At 25 years old, Alderete is a younger alternative in that center-back spot.
He's not a technical player by any means, despite that 13-passing stat. However, if you're looking for a no-nonsense, traditional defender, you can't go wrong here.
Pavel Kadeřábek
While the likes of Mukiele might struggle to produce similar quality at center-back and right-back, you might benefit from signing a right-back that doesn't struggle with the weight of that type of versatility.
Hoffenheim's Kadeřábek fits the description of a modern full-back. His mindset is "attack first", and his pace and crossing stats definitely help that mentality. It would be nice if his passing stats were better, but you can't ask for too much if you're looking for cheap signings.
Kadeřábek's player trait of knocking the ball past the opponent is certainly useful along that right flank. If you train him to also get forward whenever possible, he could prove to be a fantastic creator.
Christian Günter
On the other flank, we have an equally good option in Freiburg's Chrisitan Günter.
The German left-back is 29 years old, so there's not a lot of room for improvement. However, his current ability definitely looks like it's worth the £6.4M to £7.8M valuation.
Günter is quick, and he has a good cross in him. Those stats, paired with 16 work rate and 15 stamina offer a perfect recipe for a tireless flank player that can consistently deliver quality crosses into the box.
He does not have any preferred traits, so that might be something you want to change immediately after you sign him. In the meantime, specific player instructions should do the trick.
Matías Vecino
I'm a tad surprised about Vecino's valuation in FM23, to be honest. Sure, he's getting on in age, but he's still a pretty solid midfielder.
Those mental attributes alone are enough reason for him to be priced higher than he is, but no bother, more cheap signings are always a good thing.
If you want a midfielder with a physical presence, Vecino offers that. He's good in the air, moves around the park intelligently, and he's a great team player. For less than £8M, what more could you ask for?
Roberto Gagliardini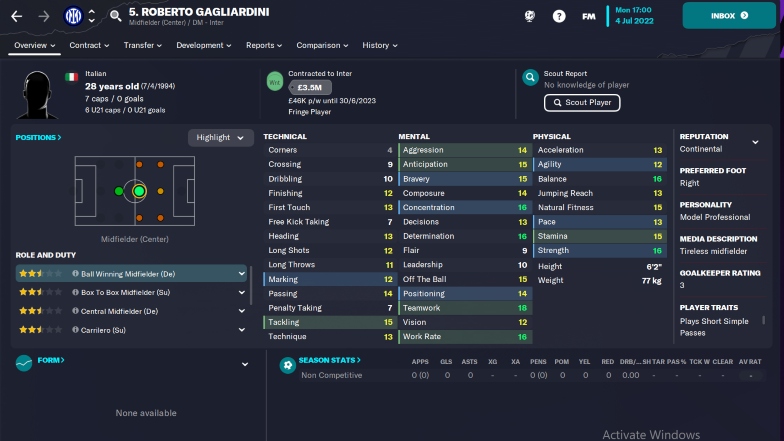 Here's another physically imposing midfielder, and this one is almost three years younger.
Like Vecino, Galigardini also has pretty solid mental attributes to go with his physical footprint, and his "Model Professional" personality is one of the very best you could ask for in FM.
Gagliardini is a tireless worker, so you can expect him to cover a lot of ground in every game.
If you play a system where a player or two in the defensive or midfield positions are relieved of significant defensive duties, then you need a player like Gagliardini to cover for them, possibly in a ball-winning role.
For £3.5M, he's a steal.
Fede San Emeterio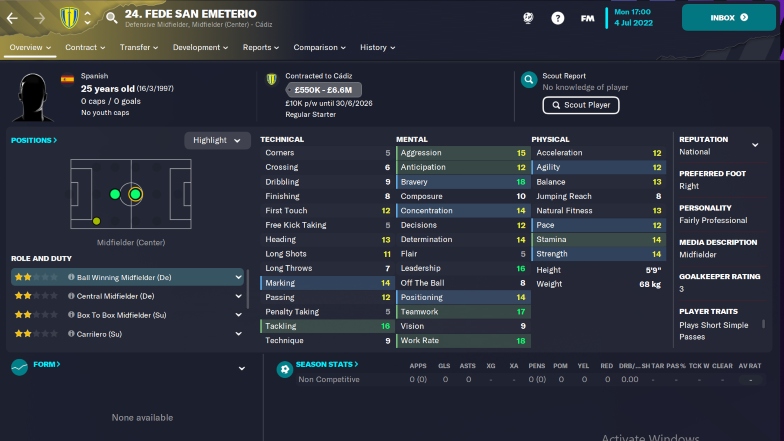 Hardworking midfielders seem to be fairly popular in FM23.
Emeterio is not as popular as the previous two, and he's not even as physically imposing. However, he is arguably better at active defending, evidenced by his marking and tackling stats.
With 15 aggression and 18 Bravery, you can expect this guy to commit to every challenge like his life depends on it. He's a good leader too, and that can be important for the balance in the dressing room.
His estimated value goes as low as £550K. Need I say more?
Fran Beltrán
We've seen a few greens for each player so far, so just the one for passing here might not seem so impressive at first glance. At least, until you consider the fact that this guy is just 23.
My Liverpool scouts gave him a B quality rating which is fantastic considering the level that the Liverpool squad is at. For context, I had players such as Bellingham, Fabinho, and Thiago in that midfield.
He already looks like a well-rounded player mentally, and his good passing stat works well with his player trait of "dictating tempo". Beltrán can be a good option in midfield if you're looking for someone that can control the zone and find players in the attack with consistent frequency.
João Gomes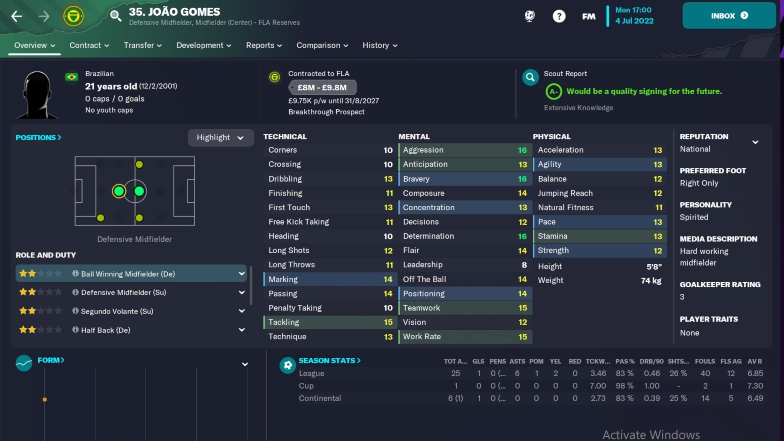 An even younger and more impressive alternative is Flamengo's João Gomes. He's only 21 years old and already looks the part physically and mentally.
His technical attributes are solid in the important areas too, with 14 marking and passing combined with 15 tackling.
My scouts handed out an A- for this report which is fantastic for a relatively unknown player in Brazil.
Gomes can be more than just a ball-winning midfielder. With the right training program and regular game time, he can develop to be pretty versatile in terms of what he can do in the middle of the park, whether it is related to creating chances of denying them.
Rodrigo Villagra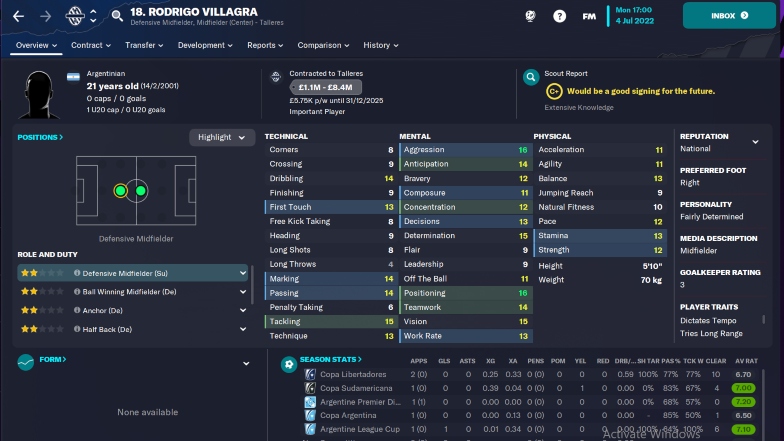 The previous two young midfielders cost closer to that £10M than might be comfortable for some managers so here's yet another alternative.
Villagra's estimated value can go as low as £1.1M, which is pretty cheap even by budget standards. Now, you'll have to sacrifice some quality compared to the other options, but he is still pretty decent.
His passing, marking, tackling, positioning, and vision stats all range from solid to pretty good, which suggests that this guy can also be more than just a ball winner.
Dani Ceballos
Ceballos is one of two players on this list who can only play in one position. He is competent in attacking midfield positions, but you'd have to train him if you want a second accomplished position.
Even if you don't do that, those technical attributes and his low estimated value should be convincing enough to take a punt.
He looks like he could be a really good playmaker in the middle of the park, and you can mitigate his weaknesses by surrounding him with players that make up for them.
He's only 25 too, so you can get a good number of years of service for your money.
Houssem Aouar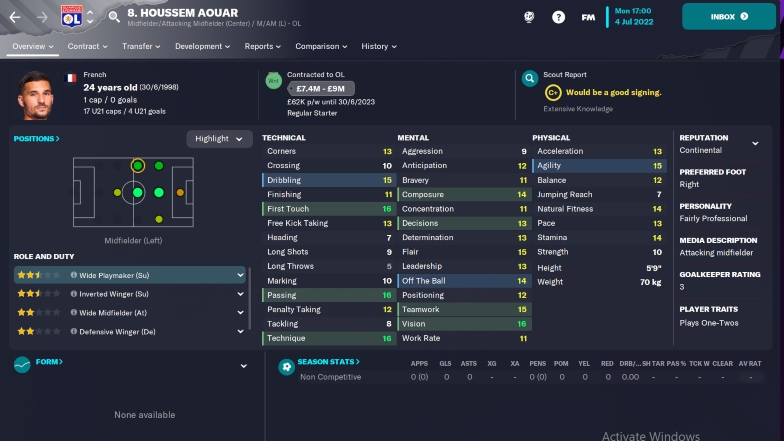 Speaking of playmakers, another relatively young option is Lyon's Houssem Aouar.
Unlike Ceballos, Aouar offers some versatility across those attacking midfield positions. He can play as a wide playmaker on the left side of the midfield in a flat 442 or the left wing in a 433, and he can also play in the hole just behind the striker.
His first touch, passing, vision, and technique stats are great, and he's fairly composed on the ball. £7.4M to £9M is on the higher end of the limit for this guide, but it is pretty good value for Aouar nonetheless.
Carles Aleñá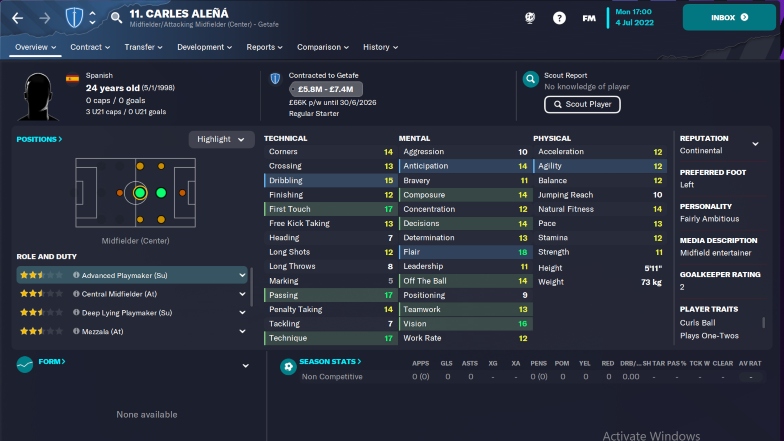 We're firmly in the territory of advanced midfielders and forwards now.
Ex-Barcelona star, Aleñá, belongs to the former category and like Aouar, he's still only 24. They are quite similar players, although Aouar might be more suited to that central attacking midfield role than Aleñá.
With 18 flair, Aleñá is described as a "midfield entertainer". He's good a great touch, passing, and technique, and he also has the vision to pick out a pass for runners ahead of him.
He can potentially play in more positions with some training, but I don't think it would be worth the hassle. His best work will be done in the middle of the park.
Florian Thauvin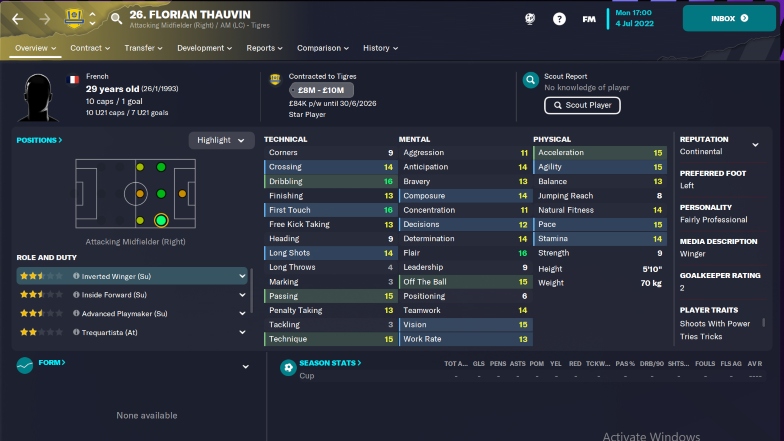 Florian Thauvin's move to Tigres was a bit of a strange one as the French winger clearly still has a lot of quality to offer at the highest levels of football.
He's a left-footed player who likes to come in from the right wing to pick out a teammate or go for a goal himself, and he certainly has the attributes to do either very effectively.
Thauvin has good stats across board for a winger, with the most notable being his first touch and dribbling.
He can play as a central attacking midfielder or a left winger, but I think he is best suited for the right wing in an inverted winger or inside forward role.
His move to Tigres might be strange, but it's a major reason that he's one of the best cheap signings on FM23, so I'm not complaining.
Marcus Thuram
Initially, I looked at Thuram's position, looked at his crossing stat, and was going to ignore him until I saw his estimated value.
If you manage to sign this guy for anything close to £750K, it would be a massive coup.
Thuram is a fully capped international player that is still not at the peak of his powers. He's 24, and his speed and dribbling stats alone make him a reasonable option for a role on the left flank.
If you'd rather use him as a striker, those stats will still come in handy. Combined with his physical footprint, he can be a decent option if you need a strong player that can hold up the ball.
I probably still wouldn't recommend him if you're looking for a first-team player at a relatively big club, but this signing certainly looks like one that can be profitable even if you don't need the player. You can just sell him for a profit after a year.
Andreas Schjelderup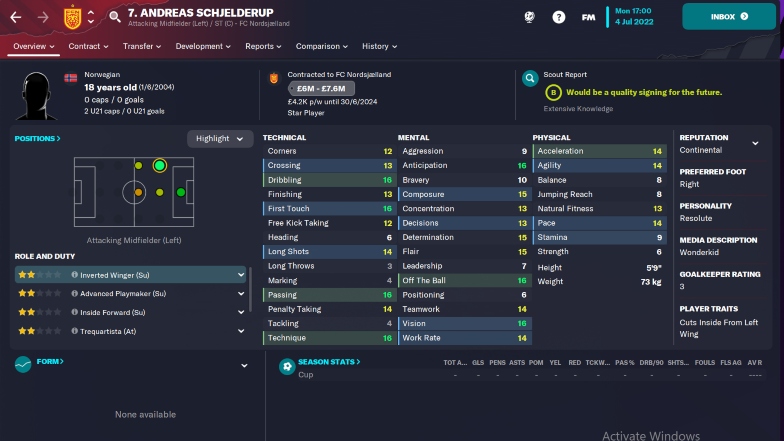 On paper, this is one of the best deals in this guide – top two, at least.
As you'll see from the attached screenshot, Schjelderup is already a wonderkid from the start of the game.
It's obvious enough from all the green in his stats, but that "wonderkid" status seals the fact that with his current ability, he can compete at the highest level of football, and there is still room for some growth.
For a meager estimated value of £6M to £7.6M, you get great dribbling, first touch, passing, vision, technique, and off-the-ball movement. Give it a couple of years and I can see those speed numbers going into the greens too!
I can't imagine that the estimated value will remain that way for long, so you should move very quickly if you want this guy.
Facundo Farías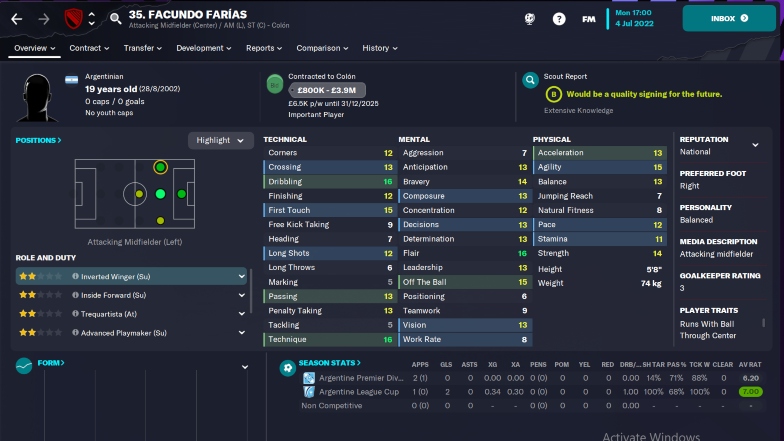 Farías looks like another really good option in attacking midfield. I'm not sure how much you can improve his finishing, but it's the main reason why I wouldn't recommend using him as a striker.
He's not quick either, and in my experience with FM, a striker should either be fast or be a really good finisher.
In the central attacking midfield role, you can set heavy training schedules to boost his passing stat. His dribbling, first touch, technique, and off-the-ball movement look good already, and that would be the final piece.
He's only 19, and £800K to £3.9M is really good value for the package on offer here.
Joaquín Correa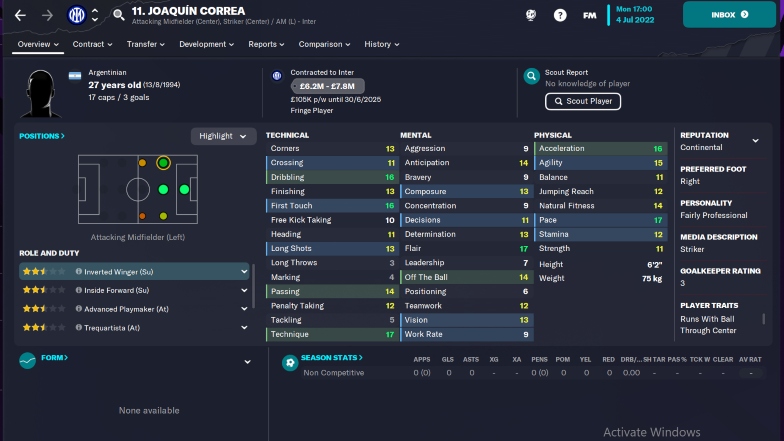 Correa is quite similar to Farías on paper. They even share the "runs with ball through center" trait.
He's also not a great finisher, but at least he's quick, and that's why I think you could get away with playing him in an advanced forward role as a striker.
He's 27, so there's not much room for improvement to boost his passing or other stats. What you see is pretty much what you get, but for £6.2M to £7.8M, what you get is not bad at all.
Bamba Dieng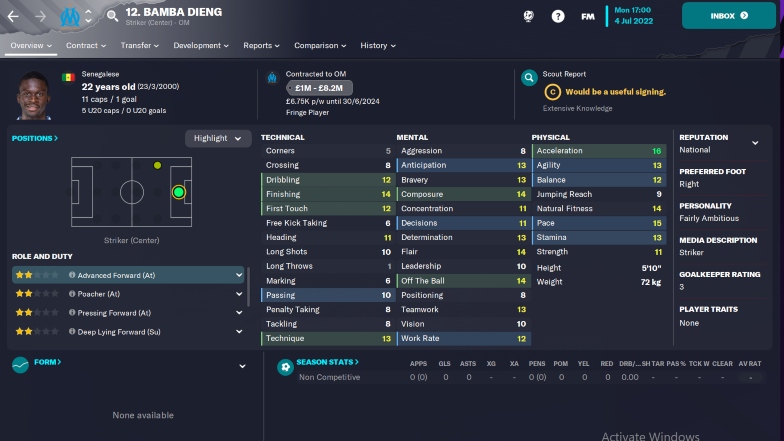 If hybrid strikers are not to your taste, a more traditional alternative such as Bamba Dieng might suit you better.
As you'll see from his technical stats, this guy is all about the goals and pretty much nothing else,
He's not going to hold up play, create chances, or do any fancy footwork. His job is to get on the end of chances, and you can get him to do that consistently.
The first thing that you need to do is improve his finishing. 14 is not terrible, especially when his composure is also decent, but it could be better.
He is already fairly quick, but I expect him to get even quicker with time. The same applies to his off-the-ball movement.
Dieng is far from the finished product, but he's only 22, and there's a chance you can get him for as low as £1M. That's a solid bargain in my books.
FM23 Cheap Signings List
| | | | | |
| --- | --- | --- | --- | --- |
| Name | Age | Position(s) | Estimated Value | Current Club |
| Samir Handanovič | 37 | GK | £1.1M – £9.2M | Inter |
| Altay Bayındır | 24 | GK | £8.2M – £9.8M | Fenerbahçe A.Ş. |
| Guglielmo Vicario | 25 | GK | £5.6M – £6.8M | Empoli |
| Nordi Mukiele | 24 | D (RC), WB (R) | £6.8M – £8.6M | PSG |
| Micky van de Ven | 21 | D (LC), WB (L) | £6.4M – £7.8M | Wolfsburg |
| Ramiro Funes Mori | 31 | DC | £26K – £4.4M | Cruz Azul |
| Germán Pezzella | 31 | DC | £7.2M – £9M | Real Hispalis |
| Omar Alderete | 25 | DC | £7.6M – £9.2M | Getafe/Hertha Berlin |
| Pavel Kadeřábek | 30 | D/WB (R) / M/AM (R) | £950K – £4.8M | Hoffenheim |
| Christian Günter | 29 | D/WB (L) / M/AM (L) | £6.4M – £7.8M | SC Freiburg |
| Matías Vecino | 30 | M (C) / DM | £4.8M – £7.4M | Lazio |
| Roberto Gagliardini | 28 | M (C) / DM | £3.5M | Inter |
| Fede San Emeterio | 25 | DM, M (C) | £550K – £6.6M | Cádiz |
| Fran Beltrán | 23 | DM, M (C) | £7.4M – £9M | Vigo |
| João Gomes | 21 | DM, M (C) | £8M – £9.8M | FLA (Brazil) |
| Rodrigo Villagra | 21 | DM, M (C) | £1.1M – £8.4M | Talleres |
| Dani Ceballos | 25 | M (C) | £1.2M – £8M | Real Madrid |
| Houssem Aouar | 24 | M/AM (C) / M/AM (L) | £7.4M – £9M | Lyon |
| Carles Aleñá | 24 | M/AM (C) | £5.8M – £7.4M | Getafe |
| Florian Thauvin | 29 | AM (R) / AM (LC) | £8M – £10M | Tigres |
| Marcus Thuram | 24 | AM (L), ST (C) | £750K – £4.4M | Borussia Mönchengladbach |
| Andreas Schjelderup | 18 | AM (L) / ST (C) | £6M – £7.6M | FC Nordsjælland |
| Facundo Farías | 19 | AM (C) / AM (L), ST (C) | £800K – £3.9M | Colón |
| Joaquín Correa | 27 | AM (C), ST (C) / AM (L) | £6.2M – £7.8M | Inter |
| Bamba Dieng | 22 | ST (C) | £1M – £8.2M | Marseille |
Final Words
Making bargain signings is always a good idea regardless of the team you're managing. They can be particularly useful if you're doing an FM23 challenge save that puts a restriction on how you can spend your transfer and wage budget.
This guide to the best cheap signings has you covered for the earlier stages of playing the game.
If you would like to continue finding cheap bargains long-term, then you'll have to get familiar with the best scouting practices on the game.
On that note, I recommend checking out this FM23 scouting guide next. From that guide, you can learn how to hire the right type of scouts for your team and consistently unearth hidden games and bargain signings in the transfer window throughout your manager career.