Football Manager is the most popular football management simulation game out there, and it is also arguably the most realistic.
Apart from the impressive levels of detail in the game, there is a clear effort by the developers to try and replicate real-life possibilities and events as much as possible. Each year, these efforts present at least one new exciting feature or detail to make FM more realistic and engaging.
FM23, for instance, comes with licenses for the UEFA Champions League. These new licenses allowed Sports Interactive to use real fonts, colors, and other assets for in-game UCL matches to replicate how the competition is broadcast on TV in real life.
On the surface, things like that seem of little consequence, but it definitely adds to the immersive appeal of the game. Those little details also made me wonder how one can make FM23 even more realistic than it already is by default, and that's what led to this guide.
The guide discusses a few changes you can make to your brand-new save to increase realism in Football Manager 2023. Hopefully, you find a couple of ideas interesting enough to try!
Downloadable Content
The most effective way of increasing realism in FM23 and even older versions of the game is to use the plethora of downloadable content scattered all over the internet.
This content can significantly alter the game experience, either visually or with the information contained within your save. I'll discuss a few examples of FM23 DLCs next.
Customized Databases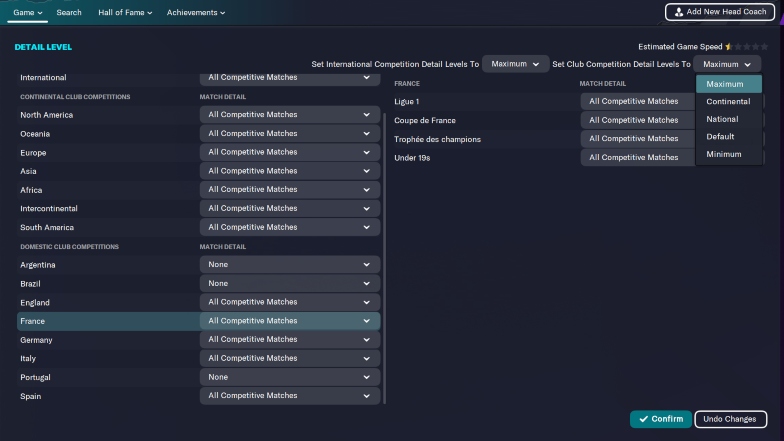 Customized databases give you the option to play with A TON of changes in Football Manager.
Every bit of information in the default database such as player/staff names and attributes, league/cup rules and awards, derbies, wonderkids, player values, club information, etc. can be altered in a custom database.
If you download such a database and use it to begin a new FM23 save, you'll get a different experience from when you play with the default database.
If you're particular about increasing realism in the game, then you obviously need to be deliberate about the type of custom database that you download.
For instance, for all the information that it contains, Football Manager still has missing pieces when it comes to representation for certain leagues in less popular countries all over the world.
A custom database that includes more obscure leagues and players can make things feel more realistic, especially if you're from any of those countries.
Improved Graphics and Audio
One of the areas of Football Manager that's felt very familiar for years is graphics. Forget the same-y match engine, even the skins are quite bland.
For enhanced realism, you can download custom graphics that enhance the textures of the pitch, skins that make the menus come to life, and even audio commentary painstakingly compiled from real-life clips from famous commentators such as Peter Drury.
Personally, I don't even watch FM games in 3D – I prefer the 2D buttons. Despite that, there's a telling difference in the experience of playing FM when I use the custom audio commentary.
Logos, Badges, and Facepacks
Due to a lack of proper licenses (and probably a bit of laziness?) on the part of Sports Interactive, we've had to work with several bland club logos, badges, and pretty unnerving regen faces over the years.
Thankfully, the people that create custom logos, badges, and facepacks don't have to worry so much about getting sued by football clubs, and it's pretty easy to get your hands on these packs. I highly recommend doing so to enhance realism.
The custom regen faces in particular were a game-changer for me when I discovered them for the first time. There are regen facepacks that use actual human faces, and there are enough faces in each pack to ensure that you don't come across the same one for multiple players in a save.
Real Names Fix
This is, again, a licensing issue where certain clubs, former players, and staff are added to the game under fake names. Manchester United, for instance, is referred to as "Man UFC" in FM23.
A simple search for "FM23 real names fix" will lead you to the solution to this problem, and you can start your game with real names across board.
Advanced Setup Options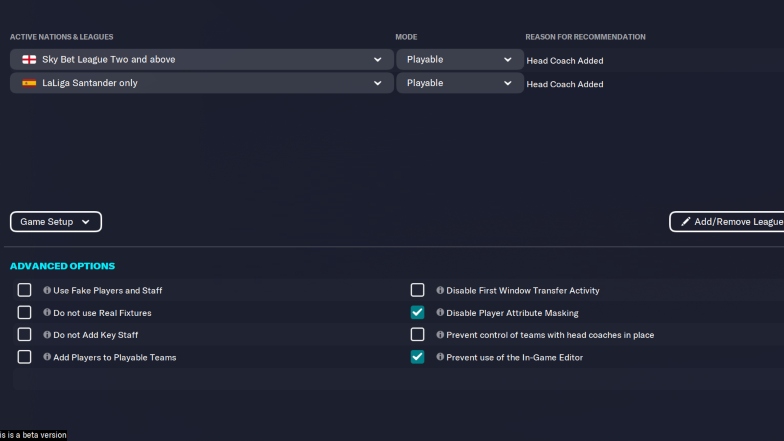 When you're setting up a new game in FM23, you have the option to make a quick start with default options and settings or go into advanced setup.
If you want to increase realism in the game, then you should be going into the advanced setup. In there, you'll find certain options that can help to achieve your goal.
Player Attribute Masking
Turn on the player attribute masking option. This will hide the attributes of most of the players in the game, and you'll have to scout them to reveal that information.
In real life, nobody gets handed a "profile of attributes" for any player before they've actually ever seen them play. Players have to be scouted before information about their strengths and weaknesses are revealed, and enabling player attribute masking is the best way to replicate that in FM.
Obviously, this makes scouting even more important than it already is in the game, so you may need a detailed FM23 scouting guide to help you along the way, especially if you're new to FM.
In-game Editor
You also want to make sure that the option to use the in-game editor is disabled.
Don't get me wrong, there will undoubtedly be situations where the game seems to unrealistically mess you up and make you fail (such as incredibly unlucky injury spells) and you might wish, in those situations, that you could undo the harm with a few clicks in the in-game editor.
But, if you're trying to achieve more realism, then you should also consider the fact that real life can be very unpredictable and very unlucky, and there's no "editor" to help real football managers in those situations.
Treat bad luck as character development, maybe that'll get you through it.
Active Leagues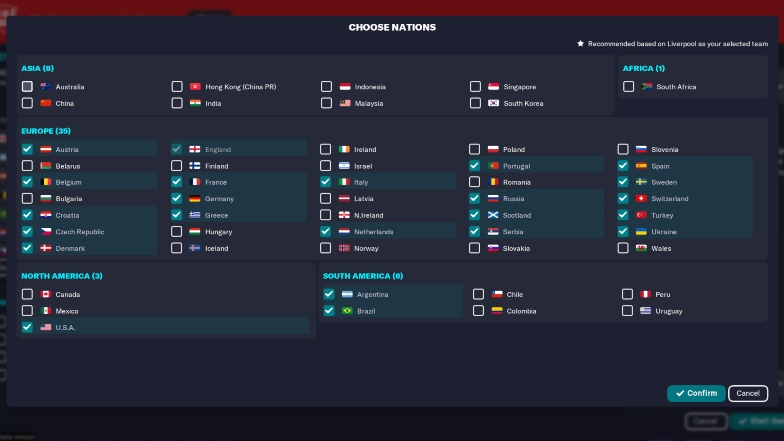 When selecting active leagues in the database, it is important to understand the difference between "view-only" and "playable".
If you want realistic, simulated information for data such as results and transfer activity from any league, then you must choose the "playable" option. If you choose the "view-only" option, the chances of unrealistic results, tables, and transfer activity is significantly increased.
Challenge Saves
If there is a particular real-life football scenario that you're trying to recreate with Football Manager 2023, a challenge save is the way to go about it.
There are several FM23 challenge save ideas that you can try if you don't have one in mind.
For instance, one of the most popular football stories is that of how Jose Mourinho won the UEFA Champions League with underdogs FC Porto.
You can try to recreate the achievement on FM23, making sure to keep the circumstances within your control as close to real events as possible. That can be done with one of the custom databases discussed earlier.
Start Unemployed
When you're setting up a new game on Football Manager, you have the option to begin your career with any club in the game, provided you've selected the appropriate country when choosing playable leagues in the initial setup.
However, if realism is what you're after, then you'll agree that managers don't just pop up at big clubs from nowhere. There is a process that typically begins with getting your coaching badges and slowly building your reputation before you begin to apply for top jobs.
Now, you can't start that process from the very beginning on Football Manager, but you can start the game unemployed and patiently apply for jobs.
It can make things more exciting when you finally land your dream job after working your way up from smaller clubs, and it's certainly more realistic than handpicking wherever you want to begin your career as a coach with no experience,
Adjust Staff Responsibilities
The level of detail in Football Manager is a big part of why the game is so immersive and realistic, but it can also be very overwhelming, especially for new players.
Sports Interactive is obviously sensitive to this fact, and that is why you always have the option to assign a large number of tasks to members of your backroom staff.
There are several things that a manager would typically do that you can simply assign to someone else if you can't be bothered. This includes setting up training schedules and arranging/taking charge of friendly matches, among other day-to-day activities.
To make things more realistic, you should try to handle as much of it as you can. Having near-complete control is a lot more tasking, but it is also the best way to make sure that your success is almost entirely dependent on your ability as a football manager.
For many hardcore FMers, that test is why we play the game, isn't it?