One of the best things about Football Manager is the vast number of options available to players when they begin their managerial journeys.
I'm sure many of us choose to start at one of our favorite clubs playing in the leagues we are most familiar with, whether that be a top club with the biggest transfer budgets or a lower league team with the intention of rising through the divisions.
For some, this may be enough for a hugely enjoyable FM career. Others however, may have a yearning to be more adventurous with their saves, throwing themselves into a lesser-known league or a part of the world that is completely foreign to them.
Doing so opens up a huge number of new and interesting competition structures and player registration rules.
Join us as we take a trip around the world to take a look at some of the most interesting leagues from each continent. Football is a global game, so let's find out how it is played on a global level.
Europe
European football is often considered to be the pinnacle of club competition, where the majority of the world's richest and most well-known clubs battle for the biggest prizes. So this is where we will start.
European leagues all share similar competition structures, and most countries also have well-established systems for bringing new players through their youth systems. Therefore, the biggest factor in deciding where to start an FM save is perhaps how player registration restrictions vary between these leagues.
The most significant obstacle to overcome in terms of player registration is the requirement for squads to primarily contain homegrown players and those of EU nationality. These requirements can contrast widely between leagues, making it more difficult to recruit non-EU nationals in some country's leagues than others.
Italy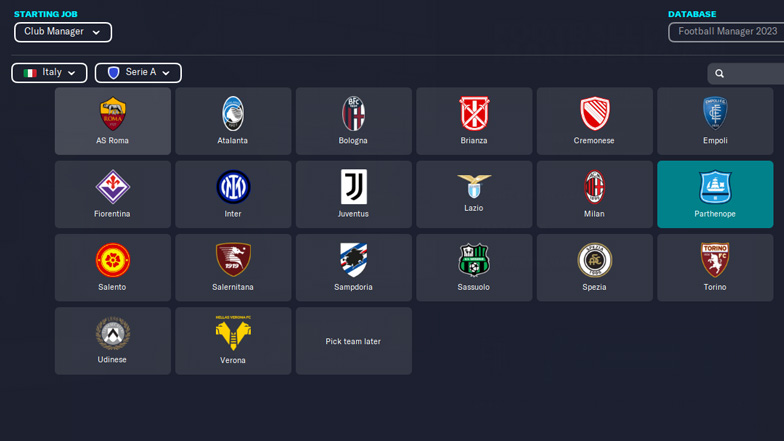 In Italy for example, there are strict rules around how many non-EU players can be registered in the squad. Specifically, each team are only allowed to register one new non-EU player arriving from outside Italy per season (two if a current one moves to a club outside Italy).
Combined with home-grown player requirements and a limited overall squad size, this makes managing in Italy a challenging prospect, where squad building is a gradual process when looking to bring in talent from outside the EU.
Serie A is however full of clubs with rich histories in European football, making it an attractive option for an FM save. It's also a very competitive league with no single dominant team since Juventus' run of titles was ended by Inter Milan in the 20-21 season.
As well as Inter, last year's champions AC Milan, Napoli, Lazio, a rejuvenated Roma under Jose Mourinho's stewardship, and up-and-coming Atalanta are all now genuine contenders for the crown that Juventus held on to throughout the 2010's.
Other leagues where similar restrictions apply include France's Ligue 1, Spain's La Liga and the Super League in Greece.
In the case of Ligue 1, the overwhelming reason to take over at one of their clubs may be purely for the challenge of beating PSG. The Parisian giants are so much wealthier than their counterparts that they will regularly score over 100 points in a single campaign.
It will require a near perfect season to topple them from their throne, but boy will it be satisfying!
England
In the UK, the picture has changed dramatically recently, after the country's decision to withdraw from the EU in 2016.
Signing EU citizens for English clubs was usually relatively straight forward, but the Premier League has always had rules in place to restrict non-EU players, requiring them to obtain a work permit based on age (no under 18s and limited under 21s), national team appearances and the footballing strength of the country of origin.
Since Brexit, they have lost the right to have players moving freely from other EU countries, meaning they too must apply for a work permit. This makes signing top young prospects from the continent next to impossible (unless you have an affiliate club where you can send them on loan until they qualify!).
Managing in the UK leagues is therefore less suitable if you're looking to build your success on foreign youth recruitment.
One of the best things about managing in England is how far down the football pyramid you can go, allowing you to take a club to glory from an extremely low position.
Germany, Austria and Switzerland
In contrast, the German Bundesliga is much more liberal with its player restrictions. In fact, there is no limit to how many non-EU players can be registered. However, matchday squads are limited to five.
Equally, although there are still requirements for a certain number of home-grown players to be registered, the maximum permitted squad size is so big that meeting this quota is effectively trivial.
If you're looking for a similarly relaxed set of rules but prefer to build up a club from a smaller league, both the Swiss and Austrian leagues are relatively free of player restrictions, allowing the possibility to turn Basel or Rapid Wien into Champions League challengers by plundering South America for the best young talents. Brazilian wonderkids anyone?
Portugal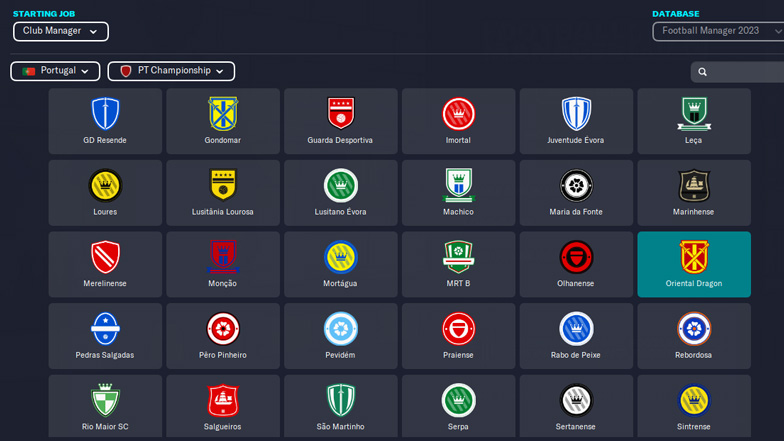 Given all of the above, many FMers will tell you that the best European league to manage in is in fact, Portugal! This is because it offers an appealing blend of player registration freedom, a demanding and competitive league and strong youth academies, while still being possible (but tough) to challenge for the Champions League trophy.
If you take over at one of the big three of Porto, Sporting or Benfica, you will have to see off the other two to win the league. If you prefer to start with a smaller club, breaking the dominance of this triumvirate will be a difficult but achievable target.
You can do so both via the impressive conveyor belt of young, Portuguese talent or by tempting South America's next generation of stars to begin their European quest to the top in Portugal, as so many have done before.
The presence of only 18 teams in The Primeira Liga also keeps fixture congestion down, making it that little bit easier to perform strongly in the European competitions.
An honourable mention also goes to the Dutch Eredivisie for all the same reasons that make a Portuguese save so attractive. Well-known, but not elite clubs within a competitive and open league, prolific youth production and the possibility to still bring players in from around the world.
South America
The second biggest hotbed of footballing talent and competition is undeniably South America, where Brazil and Argentina can lay claim to some of the biggest, most successful clubs on the continent. The sheer quantity of world class talents that have originated not only from these two countries, but also the likes of Colombia, Uruguay and Chile, is staggering.
However, South American clubs are unable to compete financially with Europe's big boys, and often have to sell their brightest stars in order to balance the books. This can make for some brilliantly fun FM saves where you are constantly fighting off advances from Europe for your best players, while staying in the black, and remaining competitive domestically as well as on the continental stage.
Competition structures are also quite varied and unique, which is sure to raise a few eyebrows if you're used to the standard systems employed around Europe.
Brazil & Argentina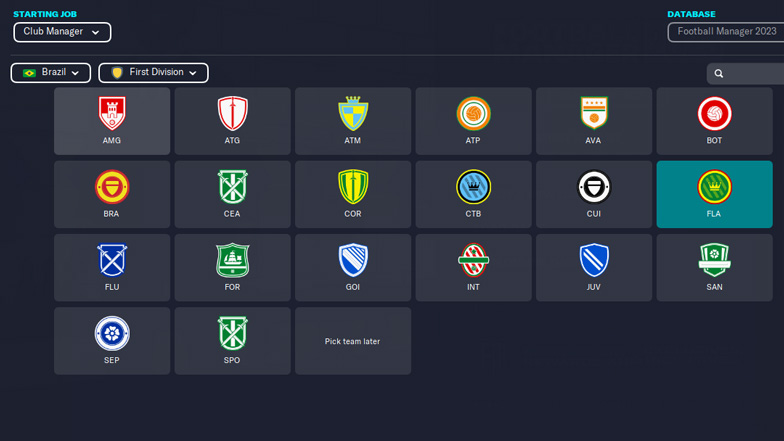 In Brazil for example, the season is split into two separate, independently run competitions. Starting in January each year, the first of these is the state competition, consisting of multiple divisions which vary in structure between each state.
Based on how a club performs during the state competition, they will then be entered into one of 4 divisions for the national competition, which runs throughout the second half of the season, starting in May and finishing in December. In Brazil there is basically no off-season!
Within the season, space in the calendar must also be found to play Copa do Brasil matches and, if you're managing one of the bigger teams, the Copa Libertadores too. Managing your squad depth is therefore particularly important in a Brazilian FM save.
Clubs are allowed to name up to five foreign nationals within their squad, but such is the quality and quantity of players constantly emerging from Brazilian youth systems, only the best players from abroad will actually improve your team (if they haven't been lured to Europe already).
The Argentine system is more straight forward, with a single footballing pyramid, much like the European structure. As in Brazil, Argentina produces a large number of quality young players, the best of whom will inevitably leave for the riches and prestige of Europe. There's much less need therefore to rely on talent from abroad to compete at the top of the divisions.
The ultimate aim of any South American save will be to lift the Copa Libertadores. Brazilian and Argentinian teams perennially compete for the trophy and have developed some fierce rivalries as a result.
The likes of River Plate and Boca Juniors from Argentina, and Palmeiras, Flamengo and Santos from Brazil will all be incredibly tough to beat if FMers choose to manage a smaller team, where financial pressures will be a constant challenge until success on the continental stage is achieved.
Uruguay, Colombia & Paraguay
Other South American leagues that make for an interesting FM experience include Uruguay, Colombia and Paraguay, all of which split the season into two separate competitions. The Apertura is played in the first half of the season, before a second competition, the Clausura, plays out in the second.
Separate winners are declared for each, as well as an overall winner based on aggregate standings. What's more, relegation can be decided by the average points attained over the last two seasons!
North America
Football in the US appears to be finally gaining a significant fanbase after several failed attempts in the past. Meanwhile, Canadian football has recently been on the up too, with several top players now featuring among Europe's elite, and the national team qualifying for the World Cup for the first time since Mexico 1986.
Typically of US sports, they prefer to do things their own way, and the MLS is no different. It has adopted many of the ideas that have proved successful in their other high-profile sports organisations, the NFL, NBA, MLB and NHL.
If you start an MLS save, be prepared to learn a whole new set of rules, regulations, transfer systems and player registration restrictions. It's a complicated system and previous versions of FM haven't always managed to capture every aspect of it effectively. We hope that FM23 will be the edition to finally crack America!
MLS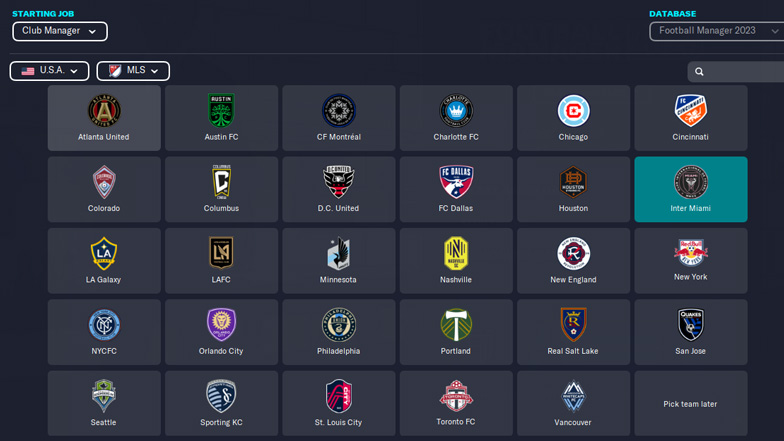 The most obvious feature of an MLS save is going to be the unique way players move between and initially join franchises, via trades and drafts. Every year, the SuperDraft allows managers the chance to pick from the best young talent emerging from the US collegiate system, while a second draft is arranged for out-of-contract players to find new franchises to join.
Your final position in last year's competition will determine your draft position, with the lowest clubs benefitting from the first picks and the highest finishers getting the last. The result is a great leveller that ensures no single franchise is able to establish a dominant position, with past successes hampering future recruitment opportunities.
The second feature to help create a level playing field is the wage cap system, and this is where things become further complicated. Reserve and youth players don't count towards the wage cap, while each franchise is permitted to sign up to 3 players whose transfer fees and salaries also don't count. These "designated players" are nearly always foreign stars that are paid over and above their peers.
Initially introduced to bring David Beckham to the MLS, this system allows a little bit of star quality to be added to the league without bestowing a significant advantage on a single team. Those franchises that spend the biggest may benefit from their outlay, but no to the extent that they are able to dominate others.
Come the end of the season, prizes are also awarded in typically US fashion, via a playoff format with Eastern and Western Conference champions eventually fighting it out for the MLS Cup in a Super Bowl-style grand finale.
Perhaps though the biggest challenge of an MLS save is to challenge for North & Central America's equivalent of the Champions League. This is a tournament that has been absolutely dominated by Mexican teams, until last year when Seattle Sounders became the first MLS team to win the competition.
An FM save in the MLS is sure to be a whole new experience for anyone more familiar with the European or South American formats. Even if you can get to grips with the competition's unique structure and rules and lift the MLS Cup, you'll always be operating at a disadvantage to the Mexican clubs, making a COCACAF Champions League win a truly impressive achievement.
Asia & Africa
Teams in Asia and Africa have the potential for enormous followings, given the populations of countries like China, India, Indonesia and Nigeria to name a few. Participation is also incredibly high, particularly in African countries where it is the most popular sport by far.
However, lack of investment and the popularity the world's biggest teams eating into their market share means the quality of football on display in these countries is not as high as in Europe or South America.
Nonetheless, there are still a number leagues that can make for a fun and interesting FM save.
Australia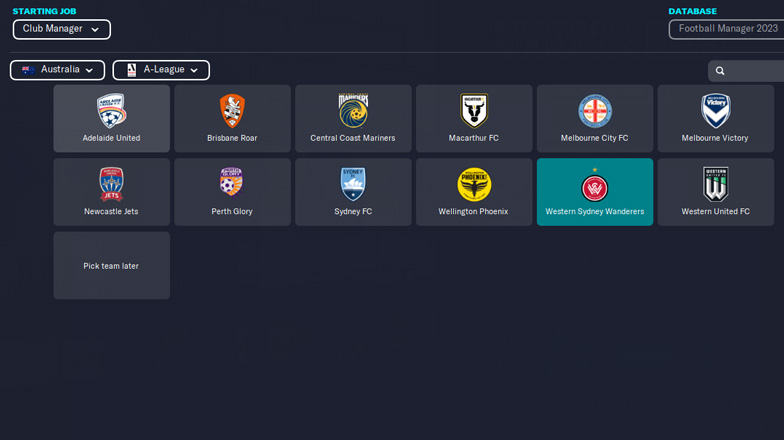 In Australia, as in the MLS, they have a wage cap that makes it difficult to hang on to your best players when offers from abroad come in, forcing managers to focus on developing a steady stream of youth players to step up and fill the void.
China
China's Super League has received significant investment and has tempted some high profile names from the European game to join their ranks. This creates a notable gulf in quality on the pitch between these star players and those coming through the Chinese system, which could make for interesting tactical approaches focused on building the team around one or two superstars.
South Korea
Managing in South Korea means tackling the country's military service requirements, where your players will temporarily leave the club and return 18 months later!
South Africa
Unfortunately, FM23 only allows you to manage one African nation's league without adding mods, that of South Africa. The competition here runs on a similar structure and calendar to Europe, with the top two teams qualifying for the CAF Champions League.
The most obvious challenge for a South African FM save is undoubtedly to unseat the dominant Mamelodi Sundowns, who have lifted the trophy for the last five seasons. In total, they have been crowned champions on twelve occasions with their nearest rivals, Orlando Pirates, languishing far behind on four.
Any one of these leagues could be a great place to start a Pentagon Challenge save, building up your reputation, becoming continental champions, then moving on to the next challenge in one of the bigger leagues.