Every successful club has backroom staff working tirelessly behind the scenes to make sure that processes are managed appropriately. This rule applies just as much in Football Manager as it does in real life, especially with certain categories of staff.
In my opinion, scouts don't get as much praise as they deserve. They fly to different countries throughout the year, watching several players and deciding if they're good enough to recommend to the club manager.
In FM23, scouts are just as important as they've always been. If you hope to get a lot of quality, accurate player recommendations to improve your squad, you need to make sure that you have the right personnel in those roles.
That said, there's more to finding the best wonderkids or bargain signings on FM23 than simply hiring the best scouts. Having the right personnel is the first step, but you must also know how to use them to maximum effect.
How do you set up a scouting network? How do you assign scouts to assignments? This Football Manager 2023 scouting guide answers those questions and a few more.
Managing Your Scouting Department
When you start a new game in FM23, the first scout-related move that you need to make is to manage the scouting department. This involves conducting a full review of the staff.
Backroom Staff
When you navigate to the "Staff" section, you will see a full list of the backroom staff at your club. For this guide, we're only concerned about the scouts.
The best indicators of a good scout are the ratings that they have in two areas – judging player ability and judging player potential. The names are self-explanatory.
You may have to adjust your expectations of how good you want your scouts to be depending on the level of your club. However, a score of 16 and above in each category is generally good enough.
If you review your scouting team and decide that you need upgrades, you can go on to search for new scouts. I included a list of the best free scouts in FM23 a bit further down in this section.
Each club has a minimum and/or a maximum number of scouts allowed by the board so sometimes, you have to let a scout go before you can sign another.
That decision may also become necessary as a result of financial restrictions. If your wage budget is not large enough to allow a new scout signing, you may have to let someone go
A possible solution to these two problems is to make a board request. You can ask the board to increase the wage budget for scouts or to increase the number of scouts allowed in the club at a time. However, these requests could go either way.
Chief Scout
While you're hiring and/or firing scouts, bear in mind that you need a chief scout that oversees all scouting assignments.
Considering the fact that he's the leader of the team, I would recommend assigning this role to the scout with the best ratings in the relevant areas. You should also check for good man-management skills as it's often a good indicator of a strong leader.
The Best Free Scouts in FM23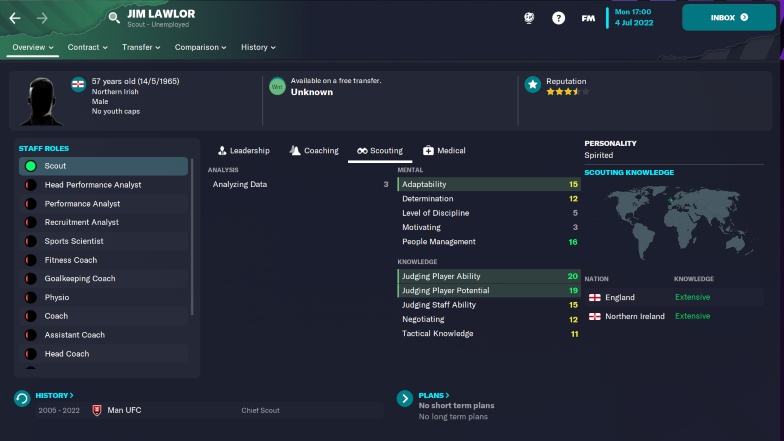 The table below shows the best free scouts in FM23. I have set a limit of at least a 17 rating in Judging Player Ability and Player Potential for these scouts.
You don't have to worry about compensation fees, but you should still try to negotiate wage structures that are favorable for your club's financial standing. If a scout seems to be asking for a lot of money and won't budge, move on to an alternative.
| | | | |
| --- | --- | --- | --- |
| Name | Age | Judging Ability | Judging Potential |
| Simone Roia | 50 | 17 | 17 |
| Domenico Donvito | 36 | 17 | 17 |
| Gabriel Wainer | 56 | 17 | 17 |
| Scott MacLachlan | 53 | 17 | 17 |
| Tommy Miller | 76 | 17 | 17 |
| Alexandre Ceolin | 59 | 17 | 18 |
| Radu Baicu | 42 | 17 | 18 |
| Lluís González | 52 | 17 | 18 |
| Lorenzo Farris | 46 | 17 | 18 |
| Bojan Krkic | 59 | 17 | 18 |
| William Santos | 36 | 17 | 19 |
| Antonio Mur | 58 | 18 | 18 |
| Yilmaz Burul | 63 | 18 | 19 |
| Francis Cagigao | 53 | 18 | 19 |
| Jorge Gomes | 65 | 19 | 19 |
| David Trezeguet | 44 | 19 | 20 |
| Wolfgang Grobe | 66 | 19 | 20 |
| Jim Lawlor | 56 | 20 | 20 |
Managing Your Scouting Budget
As much as you might want to broaden your club's overall knowledge of the players in world football, you must approach it patiently.
If you send too many scouts on too many assignments to distant places within a short period of time, your scouting budget will drain very quickly.
You can mitigate costs by reallocating funds from your transfer budget to the scouting budget, or you can make a board request.
However, even the teams with the biggest transfer budgets in FM23 can run out of transfer funds, so the most efficient way to manage your scouting budget is to plan better.
Recruitment Focus
In the scouting overview section, there's a sub-section for recruitment focus. If you select the sub-section, you'll see an option to create a new recruitment focus. Click on that and a pop-up menu should come up.
This pop-up menu allows you to assign a scout and analyst to compile reports on players that fit a very specific set of categories determined by you.
The filters allow you to specify the position, role, current ability, potential ability, transfer type, age, priority, etc. that you want, and you have the option to assign any scout and analyst or choose specific staff.
Scouting Recommendations
As the reports for your recruitment focus come in, you can view them all in one place on that same sub-section page, or under "Scouting Recommendations" on the Scouting Overview page.
There's an "RF Matches" tab for the players that shows how many recruitment focus metrics each player matches with. The higher the number, the better the chances that the player is a fit for your team.
When a player's full report is ready, they'll also have an overall scout recommendation score, graded from A to F.
Managing Shortlists
Shortlists are a great way to group scouted players into as many categories as you want. That way, it is very easy to find these players when you're ready to bid.
Obviously, scouting recommendations already group players according to the recruitment focuses that are set, but you won't automatically get information about these players in your inbox unless they're on a shortlist.
Also, since scouting recommendations will just keep increasing until you stop the assignment, the lists might become too long to go through after a while.
If you'd like to know when a player that you're interested in throws a tantrum, requests a transfer, signs a new contract, or does anything that could have an impact on your interest, adding them to a shortlist is the best way.
You can manage these lists in the "Shortlists" tab of the Scouting section. If you're starting a new game in FM23, it might be worth creating shortlists for free agents, wonderkids, and cheap signings for a start.
Scouting Assignments
When you're ready to set up a scouting assignment, there are a bunch of options available to you. You can send your scout/s to watch and report on a particular player, team, league, nation, or region.
The duration and costs associated with each one of these assignment types vary according to several factors, so you should pay attention to the costs attached when you're setting up any new assignment.
Scouting Players
If you've started the game with player attribute masking on, you're going to be doing a lot of scouting.
If you've turned the setting off, then you can see the attributes of all the players in-game just by visiting their profile. However, you will still need to scout them to get detailed reports on their ability, potential, and how they could fit into your team.
If you'd like to scout a player, visit their profile and select the "Scout Player" option. Depending on the workload of the scout that you've assigned, you should get feedback within a few days.
Scouting Teams
Scouting teams can be really useful when your team is coming up against them soon. You can get a full report of the team's lineup, formation, style of play, form, strengths, and weaknesses.
This information is crucial for preparing your team to play against them. You can set up tactical instructions that protect you from the opposition's strengths, and you can also try to exploit their weaknesses.
Scouting Leagues & Nations
If you don't have a specific player in mind, you can send your scouts to some of the leagues that are well-known for generating quality talent.
Apart from the obvious top leagues, your scouts can dig up some hidden gems and bargain signings from leagues in smaller European nations and South American nations such as Brazil and Argentina.
You could also scout entire nations instead of specific leagues within them. Each nation typically includes multiple leagues, which gives your scouts a wider pool of talent to choose recommendations from.
Scouting Regions
There are six main scouting regions in FM23, and each one of these regions is further broken down into sub-regions. South America, for instance, is divided into South America (South) and South America (North).
The other main regions include Africa, Oceania, Asia, Europe, and North America.
Familiarizing yourself with these regions and the ones most likely to produce the best wonderkids in FM23 will go a long way in making sure that you're one of the first to know when a high-potential regen pops up somewhere.
Most wonderkids usually come from Europe and South America, but you'll have even more success if you narrow your scouting down to the sub-regions that contain the most productive nations.
In no particular order, some of the best sub-regions to scout in FM23 are:
Central Europe
Eastern Europe
Western Europe
UK & Ireland
South America (South)
Scouting Coverage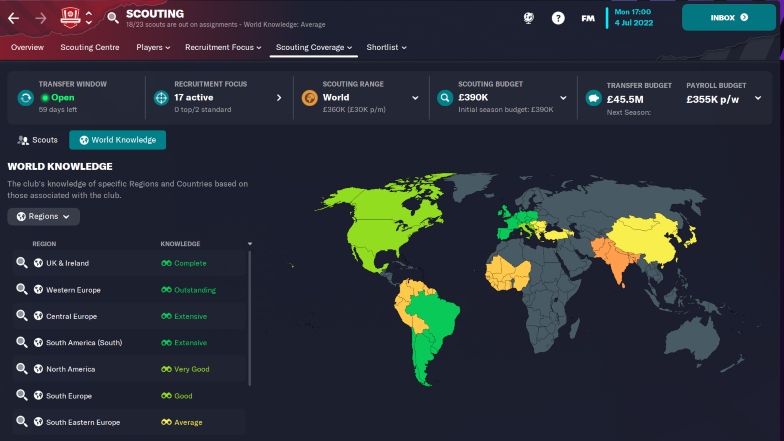 As your scouts scour the leagues, nations, and regions that you've assigned them to, the club's overall knowledge of players worldwide will continue to grow.
If you'd like to see how much general information your scouts have about players all over the world, go into the "Scouting Coverage" section. There, you'll find an illustration of the globe, color-coded according to how much data you have on each region.
Green indicates complete, extensive, or outstanding knowledge about an area while light green indicates a good/very good amount of knowledge. Anything less than that suggests that you still have some work to do in that area.
Final Words
There are three main takeaways from this FM23 scouting guide – sign quality scouts, be intentional with scouting assignments, and always make sure that your staff is not overworked.
If you can follow these fairly simple rules, it won't be long before there's a consistent stream of quality talent coming through the door at your club.