Are you looking for an interesting or fun team to manage in Football Manager 2023?
Whether it's a short-term save or a more long-term challenge save commitment, we've got plenty of ideas to get you started on your FM23 journey.
Here are some of the best teams to manage in FM23.
Teams with Player Restrictions
If you're looking to switch things up from your usual journeyman or park-to-prem save this year, taking over a team that imposes restrictions on their playing staff can really up the level of difficulty. To succeed at one of these clubs, you will have excelled in the scouting and recruitment side of the game.
Here we introduce a few options for you, starting with perhaps the least strict of them, Chivas.
Chivas
Chivas Locas was actually the nickname given to Club Deportivo Guadalajara, a Mexican club based in the city of the same name, known for its Mariachi music and tequila. Despite initially being intended as an insult (meaning 'Crazy Goats'), the name stuck and was adopted by fans, before being shortened to Chivas.
The club has a number of noteworthy players among its alumni, including former Manchester United striker Javier Hernandez. But there's one thing you may notice about both their past and present players: They are all Mexican. And it's not by chance.
Since 1943, the club has been firm in its commitment to only signing players born in Mexico.
However, despite their self-imposed restrictions, Chivas is one of the biggest clubs in Mexico, both in terms of popularity and success on the pitch. They have won Liga MX on no less than 12 occasions, most recently in 2017.
At the start of FM23, they are considered to be 5th favorites for the title, so there is still work to be done to crown them champions once more. They are also saddled with an eye-watering €140m of debt to repay.
Athletic Bilbao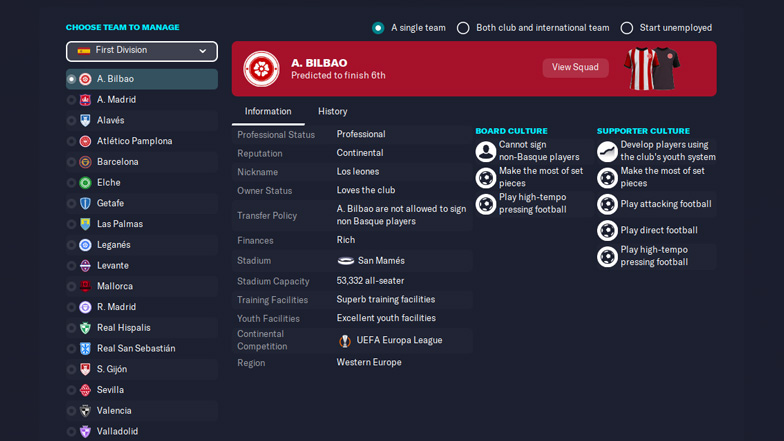 Looking for a real challenge? Okay, we started with an easy one. Let's up the difficulty. How about we reduce the pool of eligible players from an entire nation of 125 million people to a single region of merely 2 million?
Situated in northeastern Spain, the Basque Country is a fiercely proud autonomy, with a history of fighting for its independence. Unsurprisingly then, its most famous football club, Athletic Club Bilbao, is equally proud of its adherence to fielding teams made up solely of Basque players.
Given this strict policy, it is perhaps even more impressive that Athletic have maintained their status in La Liga, one of Europe's strongest domestic leagues, throughout its almost 100-year history. The club was even crowned champions as recently as 1984 and won the title 7 times prior to that.
However, since those glory days, Spanish football has been dominated by the undisputed giants of the league, Real Madrid and Barcelona.
Transforming this historic club into genuine title contenders again will require an unswerving commitment to developing young Basque talent, as well as tactical genius to bring out the best in your players.
Chertanovo Moscow
Still too easy? Okay, we're almost out of ideas, but we have one more team that will challenge even the most hard-core of FM veterans.
This one will require editing the game's database or awaiting their promotion to include them, but buried in the third tier of the Russian footballing pyramid lies the little-known team FC Chertanovo Moscow.
Despite being less reputable than their big city neighbors in Spartak and Dynamo, "Cherti" is infamous for one reason: All their players are direct products of the club's youth academy. That's right, if you join this club, you'll be making no signings whatsoever!
This save will test your tactical know-how to the limit, in order to get the absolute best out of your players (at least until you can garner some income, develop your academy and start producing top talent.
For a similar challenge, other clubs that employ restrictions on their playing staff include Singaporean team Nigata Unicorn (Japanese players only), Altinordu (Turkish players only), and Indian Arrows (Indian players only).
Rebuilding Finances
Professional football is often a sport of haves and have-nots, where the fierce level of competition among clubs can sometimes lead to some rash financial decision-making.
For every wealthy, state-backed club, where the biggest monetary challenge is how best to circumvent financial fair play rules, there's another side teetering on the brink of ruin. The recent impact of a certain pandemic has made survival even more of a challenge
When it comes to Football Manager, every club going through adversity is a rebuilding challenge waiting to be overcome. Here are some options if you think you've got the skills to excel on a shoestring budget.
Bordeaux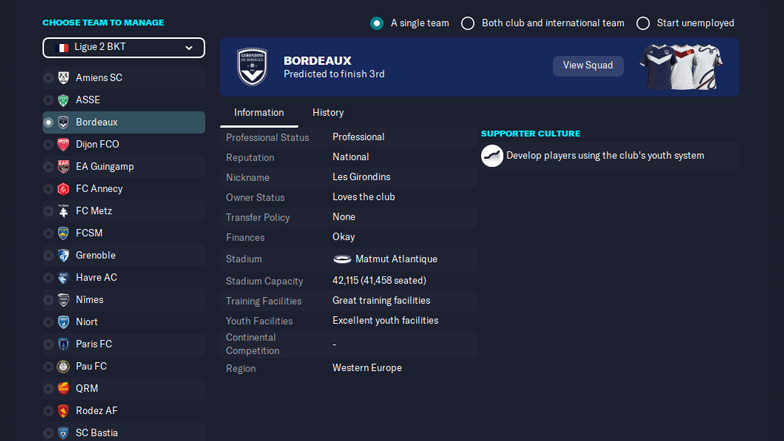 First up is the French club, FC Girondins de Bordeaux, where legendary playmaker Zinedine Zidane made a name for himself in the early 90s.
Former Ligue 1 winners on six occasions, Les Girondins have endured a severe financial crisis in the last few years, resulting in the sale of the club after its backers effectively abandoned it.
Unsurprisingly, their off-field problems were translated onto the pitch and they finished dead last in the 21-22 season, thereby suffering relegation to Ligue 2 for the first time in 30 years.
In fact, it could have been much worse for the club if the initial decision to demote the club to the third tier of French football had been upheld.
Fortunately for Les Girondins (but perhaps not for the hard-core FM challenge seekers), they begin FM23 in Ligue 2 as one of the bigger clubs in the division, boasting a 42,000-seater stadium and €12.5m in the bank. Although they are also weighed down with almost €50m of debt to repay.
With St Etienne as their only serious league rivals, re-establishing Bordeaux in Ligue 1 shouldn't be too taxing, but balancing the books and transforming them back into legitimate title challengers will not be so straightforward.
However, the irony of bringing them back from financial ruin to usurp PSG, the most infamous money-bags club of them all, maybe too satisfying a reward to pass up.
Derby County
If you're looking for a slightly longer, more challenging rebuild, then look no further than the English team, Derby County.
After a period of heavy spending, but ultimately failing to reach the Premier League, the club went through a protracted saga of attempted sales, before finally entering administration in September 2021.
A popular save in last year's game was to take on the challenge of avoiding relegation from the English Championship, despite a transfer embargo and a 12-point deduction before the season had even started.
Well, in the real world, the club ultimately failed in their attempt at the challenge, seeing them relegated to League One.
Now, a new challenge is born – to overcome their ongoing financial difficulties and return the club to the Championship.
Having eventually gained new owners prior to starting their current campaign, Derby begins the season in FM23 with their debts cleared, but absolutely nothing in the transfer budget.
You'll have to either focus on free transfers or make some significant player sales before you can consider a major squad rebuild.
Nonetheless, the foundations are now there for potential managers to take the club back up the divisions and into the Premier League. Just be sure not to repeat the mistakes of the previous owners, by putting the club's financial future at risk in an attempt to regain its former glory.
Scarborough Athletic
Unfortunately, some clubs facing financial hardship fail in their fight to survive. This was the case for Bury FC, who were expelled from the English football league in 2019, after being liquidated.
Although still officially in existence, the club has no players, no competition to play in, and no tangible assets. Their Supporters' Trust is currently looking to rebuild the club's future from scratch, so this is one rebuild too far for FM managers.
However, another English club that experienced a similar fate to Bury was able to be reborn under a new guise. Following the winding up of Scarborough FC in 2007, the club's supporters' trust re-launched the club under the name, Scarborough Athletic.
Now, after 15 years in the making, the club has finally made its way back up the divisions and began the 22-23 season in the National League North. That means one thing. They're available to play in FM23!
This one could be a classic, long-term rags to riches save if you chose to re-establish the proud name of Scarborough in English football.
They may still be semi-professional, but they start with a respectable £100k in the bank, and who wouldn't want to play their matches at Flamingo Land Stadium?
Fallen Giants
Deportivo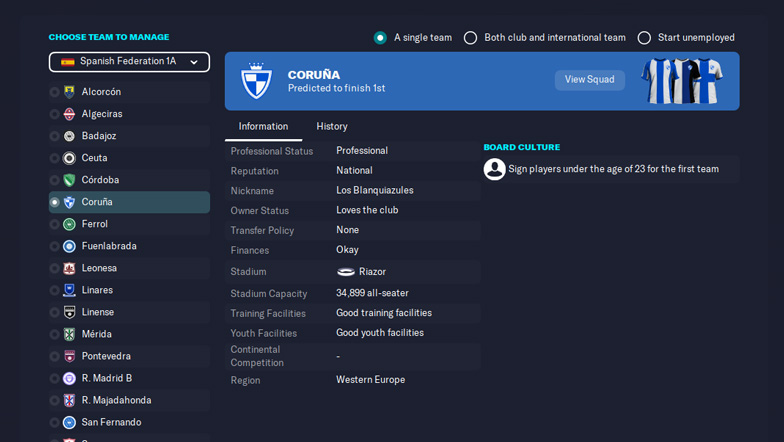 In some cases, the reasons for a club's fall from grace aren't quite so obvious as financial turmoil.
As recently as the 03-04 season, Spanish club Deportivo La Coruna was feasting at the highest table of European football, narrowly missing out on a Champions League final to Jose Mourinho's all-conquering Porto side.
A few years prior to this, they had been crowned La Liga champions for the first time, as well as lifted the Copa del Rey trophy twice during this period.
Fast forward to the present day and Deportivo finds itself firmly entrenched in the Spanish third tier, having experienced a significant downturn in its fortunes.
After spending several seasons yoyo-ing between La Liga and the Segunda Division, the club experienced a double relegation, falling into Segunda Division B following the 20-21 season.
Thanks to its glittering past, Deportivo continues to benefit from a strong fan base, a 35,000-seater stadium, and a good set of training and youth facilities.
As a result, they begin FM23 in a strong position to dominate their less glamorous division rivals, climb the divisions once more and perhaps even reclaim their former glory as one of Europe's elite clubs.
In FM23, Deportivo are simply called 'Coruna'.
Kaiserslautern
A similar fate to Deportivo's has befallen the German club, Kaiserslautern. They too have an equally impressive (albeit less recent) history as national champions, having won the Bundesliga during both the 90-91 and 97-98 seasons.
Since their last triumph however, Die Roten Teufel has twice fallen into Bundesliga 2, before suffering the humiliation of a further relegation down to the third tier of German football after the 18-19 season.
Last year, they were able to finally secure promotion and started their 22-23 season back in Bundesliga 2. This is where FM23 managers would begin, making it a slightly less challenging save than taking over at Deportivo.
Kaiserslautern is also in rude financial health, with €7.5m in the bank, no significant debt to speak of, a 50,000 seater stadium, and some great training facilities to work with. This is a fallen giant save with a substantial springboard to future success.
A couple of other options for a "fallen giants" save include Italian side Parma, who after a history of successes and bankruptcies now find themselves residing in Serie B, and Swindon Town, the former Premier League club that has since fallen into League Two.
Wonderkid Generators
Envigado
Given the FM community's well-known love affair with unearthing wonderkids, what better way to end this article than with a save suggestion built around this very subject? And what better place to go for such a save than the spiritual home of the FM wonderkid, South America?
Colombian club Envigado FC certainly isn't the biggest club in the country, regularly finishing outside the major honors.
They do however boast one of the most prestigious and prolific youth academies on the continent, with their most recent star graduate, James Rodriguez, lighting up the 2014 World Cup for the Colombian national team.
This proud tradition of developing young talent is reflected in FM23. The club is blessed with great training and youth facilities, and exceptional youth recruitment, meaning their yearly academy intake is likely to be bursting with top-class potential.
They don't have a big bank balance, nor a sizeable stadium to showpiece their next generation of stars, so pre-season predictions have them dead last in the table.
Any managers looking to bring trophies to Envigado will have to make full use of the club's facilities to nurture their young talent and turn a tidy profit when they eventually fledge the nest.
If you're looking to get started with a team that offers a lot of help in the transfer market right from the start of the game, then you're better off checking out the biggest transfer budget teams in FM23.