Hoping to get the next Erling Haaland from your youth ranks? Of course, you are.
Haaland is one of the best wonderkids in FM23, but chances are you'll be unable to afford him unless you're managing a rich club. So, you may have to rely on your club's youth intakes to produce the next Haaland.
While you're waiting for one of the most exciting emails in your FM inbox – the annual youth intake report – this FM23 youth intake guide will provide every important bit of information that you need to produce the next home-grown superstar.
Let's get right into it!
What is Home-Grown Talent?
"Home-grown talent" is used to describe a football player who has come all the way through your youth ranks or any player that has been at a domestic team for a specified amount of time from a young age.
Many leagues have squad registration rules that require you to have a certain number of home-grown players, so this can be an extremely important thing to stay on top of.
You need to either be signing young talent or bringing them through your academy, and the latter is the cheaper option.
This all starts from your youth intake email which is separated into four sections; elite, top, good, and decent talents.
The dream is for a 'golden generation' of youth and, even better than that, a player that "could possibly emerge as one of the best players of his generation."
Spoiler alert – you won't always get good players.
Factors That Affect Youth Intake Quality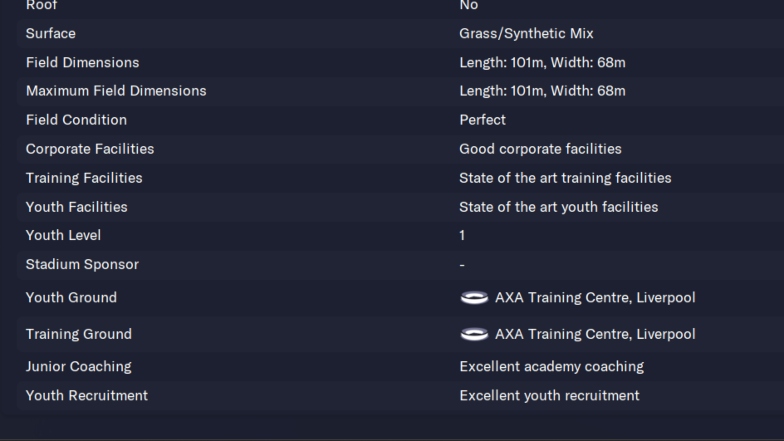 When it comes to the quality of youth players that come through the system each year, some of the processes behind the scenes are left to chance.
The known determining factors for how good youth intakes turn out to be are your club's ratings in categories such as Youth Recruitment, Junior Coaching, and Youth Facilities.
These are all rated from 1-20 and the higher your rating is, the more likely you will find talent that has the potential to be a superstar at your club. The best youth systems in FM23 all have excellent ratings in the aforementioned areas.
Superstars don't walk in the door every day though, so you need to manage your expectations.
Youth Recruitment
Youth Recruitment will decide your range for recruiting the stars of the future, the higher the recruitment rating – the further scouting range your staff will have to scout regionally, domestically, and internationally.
Junior Coaching
Junior Coaching affects the development of your youth intake before they actually join the team as Youth Candidates. The better the rating of the club and the quality of the youth staff, the higher your chances are of getting a good crop of players.
Youth Facilities
Youth Facilities are also a huge factor for youth intake in Football Manager 2023.
These facilities are essentially the training center for those in the academy, so it helps to improve the current ability of your youth intakes. Teams that have 'State of the Art' facilities are also more likely to poach youth players from other teams.
How To Improve Youth Intake Quality in FM23
To improve the year-on-year quality of your club's youth intake in FM23, there are a couple of things you can do.
Make Board Requests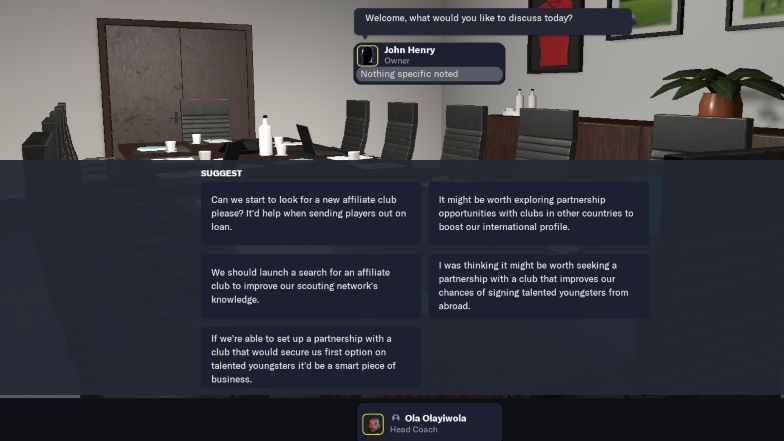 The best way to see if you can gain a few extra points for your youth academy is by approaching the board and asking them to make a few adjustments to your ratings in the important areas that were previously mentioned.
If you already have a good reputation with your club's hierarchy and this is replicated in other areas of the club, they are more likely to accept your proposal. The reverse will be the case if funds are tight and money needs to be invested elsewhere
Making a board request to improve Youth Recruitment will help to expand the pool of players that your backroom staff can choose from. A wider selection pool increases your chances of landing better players.
If you improve Junior Coaching, you can expect to get youth intakes that have a good chance of reaching their potential. Poor junior coaching can lead to very low current ability ratings, which makes it hard for some talented prospects to reach their potential.
If you improve your Youth Facilities, you have a better chance of keeping your best youth prospects before youth intake day.
This is especially important for smaller clubs. Sometimes, you land a really good player, but then you get a message that says the player is poached by a bigger club before you can do anything about it.
On the flip side, excellent youth facilities will also help to improve the current ability of your crop of youth players, and it will also improve your chances of poaching a player from another club.
Sign Quality Backroom Staff
The quality of your youth coaches also affects the quality of your youth intakes.
Starting from the top with the Head of Youth Development, you have to make sure that this guy is a quality option.
The most important attributes to look out for include "Judging Player Ability", "Judging Player Potential", and "Working With Youngsters". However, there are other bits of information that could prove to be important as well.
Take, for instance, the preferred formation of your HoYD. He is more likely to bring in youth intakes that fit into his preferred formation, which can be a problem for you if you play a completely different formation.
You can retrain the positions of players if it comes down to it, but it's much better if you work with a HoYD that shares similar tactical ideologies as you.
The personality of the HoYD also matters. You want to make sure that you sign someone with one of the best personality types in FM23, as their personality will also be reflected in the personalities of the youth players that they bring in.
A HoYD with very low determination may bring in players of the same nature, and these types of players are unlikely to fulfill their potential.
To give you a decent headstart, I have selected a couple of excellent options for the HoYD role. Four of them are free transfers so you'll only have to worry about wages, but the absolute best one, Paolo Morganti, is already at Juventus.
He only earns 850 quid per week there though, so you should look to snatch him up if you can afford to.
All five options are in the table below.
| | | | |
| --- | --- | --- | --- |
| Name | Nationality | Age | Club |
| Hermann Gerland | German | 68 | Unattached |
| Michael Tarnat | German | 52 | Unattached |
| Edd Vahid | English | 41 | Unattached |
| Helmut Jungheim | German | 61 | Unattached |
| Paolo Morganti | Italian | 42 | Juventus |
If none of these options suits your needs, you can simply filter a staff search with your preferences to find the one you want.
Alternatively, you could also place an advert in the job center for the position, although this is unlikely to be as effective as a filtered search as anybody can apply.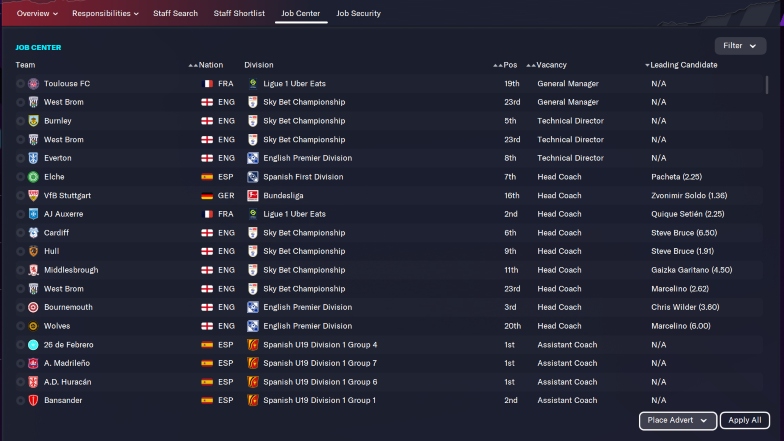 The Head of Youth Development might be the most important staff member for youth intakes, but you should also make sure that the other youth coaches are quality options too. They will be involved day-to-day with the players on the training ground.
Youth Intake Day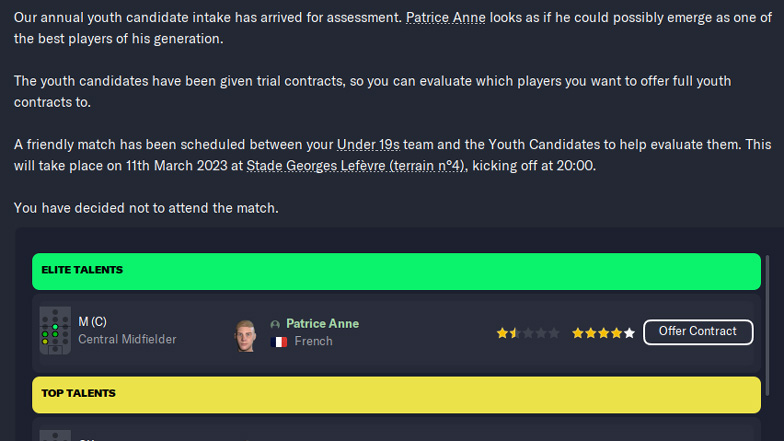 A day celebrated by many – especially if you are looking to complete The Home-Grown Challenge or one of the many favorite other Football Manager 2023 Challenges.
In FM23, you typically receive new youth intakes between March and April when playing in major European leagues.
I simulated multiple seasons with a variety of clubs in different European leagues and these were the dates that the youth intake emails came in:
PSG (Ligue 1) – March 10th
Aston Villa (EPL) – March 19th
Real Madrid (La Liga) – March 30th
There isn't a set date per club, so your dates may not align with the above even if you're playing with the same team. All you need to know is that March is the time to start getting excited about your potential academy prospects.
If you're playing outside of the major European footballing calendar, your youth intake dates will be adjusted accordingly.
For example, the youth intake email arrived in September when I played through with Flamengo, in Brazil.
The email contains a notification about local and/or foreign talent that has been discovered by your scouts and Head of Youth Development.
These players are regenerated individuals that play in a variety of positions and carry their own identities and other personal information.
Evaluating Youth Candidates in FM23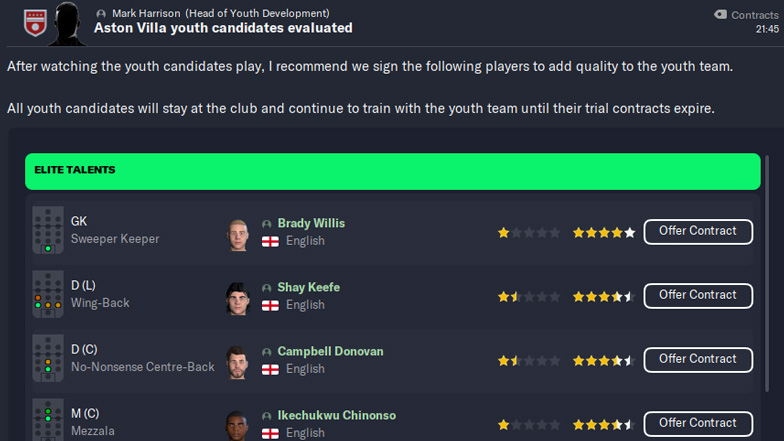 Pre-intake
Weeks before the actual date of your youth intake, your HoYD will leave a message in your inbox to give you an idea of the quality that you can expect from the incoming players.
The message will discuss the positions where the group has the most quality and the positions where there are barely any quality options. Your HoYD will grade each position with a score between A to F.
Personally, I would take this bit of information with a pinch of salt. In my experience, it is still too early to make telling judgments about the youth intake at that stage.
You can expect the information about the positions of the players to be accurate, but their quality could still change before the day.
Post-intake
Now, your new youth recruits have been added to your development team, and you have to decide which players are worth keeping.
As I said, I usually sign them all and make that decision much later when I've been able to look at each player more closely.
This is because making a judgment based on the star quality recommendation from your HoYD can be a mistake, even if he is excellent at his job. I'll give an example.
I once got a youth player that got a 2-star rating from my HoYD. He was a central midfielder with really poor stats for his position, so the rating was understandable.
However, he had really good potential attributes for a striker, so I kept him anyway and retrained him into that position. He grew really well and became a 4-and-a-half-star potential starter for my Premier League team by the age of 21. Moral lesson? Be patient and inventive.
After the announcement of the intakes, you will also receive an invitation to attend a game between the Youth Candidates vs the U18s at the training ground.
Just like any normal match day, you are able to watch the whole 90 minutes, watch highlights, or watch key events. Alternatively, like me, you can just skip that process and sign them all.
Straight after the game, you will receive an email from your Head of Youth Development with a list of players who conducted themselves well in the game and get the opportunity to sign them.
From the announcement of the youth intakes, it is only a matter of days before you can induct them into your U18 squad and get them involved in matches.
If you'd like to see how a youth candidate is developing, all you have to do is click on their profile. There, you'll see how they have been performing in regular training sessions and matches.
You will also be able to track any increases or decreases in all three attribute sections (Technical, Mental, and Physical) for each player and decide if you need to increase the training intensity for specific attributes to speed up development.
Final Words
You can prepare all you want to give yourself the best chance of producing excellent youth intakes, but you need to prepare to be disappointed as well.
Sometimes, as I already suggested, many things are left to chance and you still get mediocre players.
However, a surefire way of consistently getting access to the best wonderkids in FM23 – both existing and regenerated – is to invest in the scouting department.
On that note, I recommend checking out these scouting tips for FM23 and combining the knowledge you've gained from this guide with that one. Then, you can say for sure that you're ready to dominate.