Gifting items, especially in multiplayer games, has been a staple feature in games to either trade with other people, help other people who are struggling with the game, or just serve as an avenue to be a generous person towards the community.
So, it is a bit of a shocker that a Forza Horizon 5 gift cars solution wasn't introduced until now. For the first time ever in Forza Horizon history, you will now be able to gift cars off to people instead of just selling them or getting rid of them in general with the new Gift Drops system.
So, can you gift cars in FH5? Yes, yes you can.
In this guide, we will be teaching you how to gift cars in Forza Horizon 5 via the Gift Drop system, as well as showing you the configurations you could choose in order to make that gift just a little bit more special for your recipient.
How Do You Gift a Car?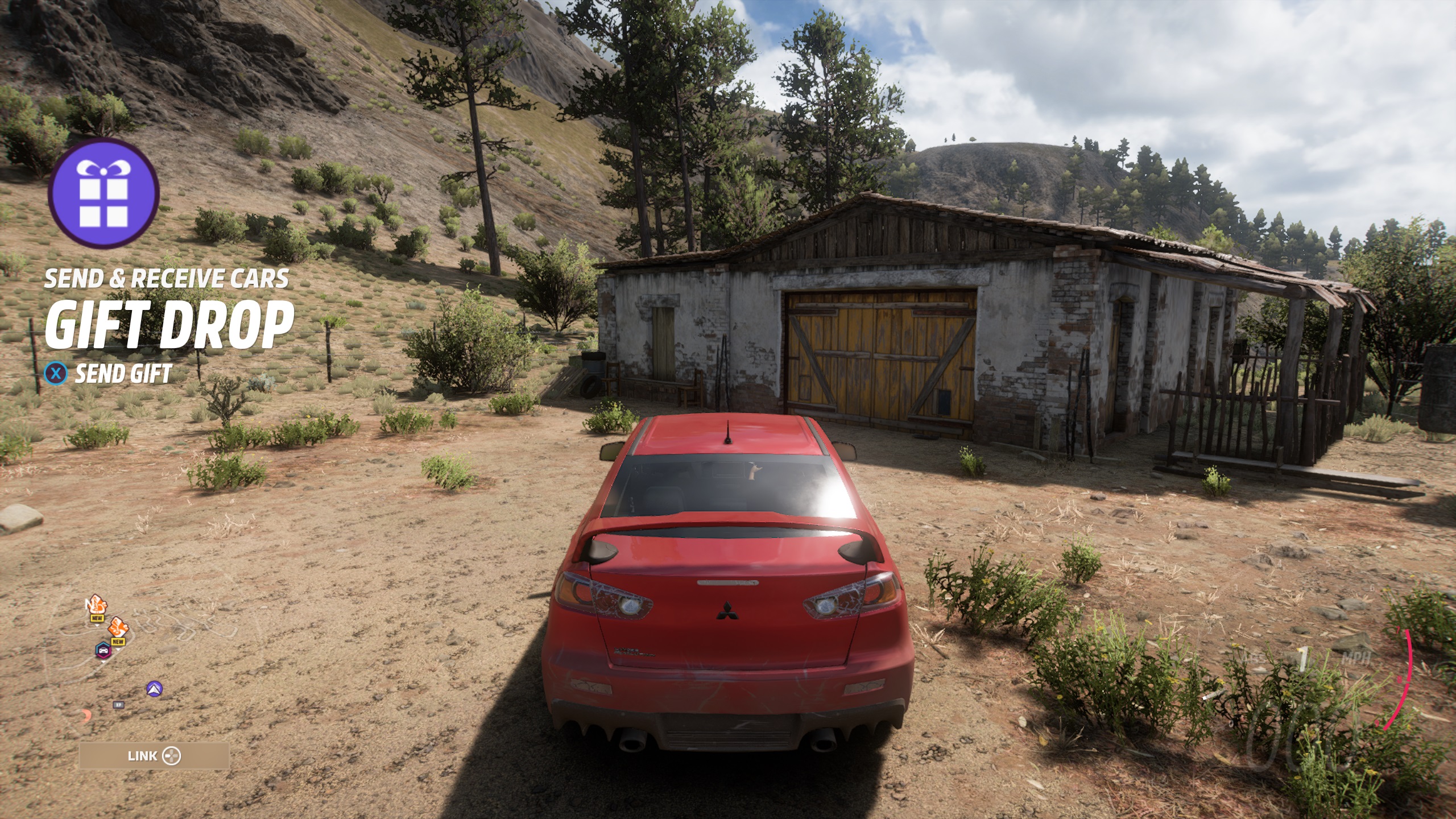 First things first, you must have a car to gift so in order to do this, you must have a minimum of 2 cars in your garage as you cannot gift the car you are already driving.
Next, you would want to make your way to the My Horizon menu which you can access in the pause menu, and select the Gift Drop option. From here you can choose which car you would want to gift.
Alternatively, you can also go to a barn find that you have already discovered and then place a car in there for other people to find. This method is definitely the more immersive one of the two.
It is important to note that the cars you will be gifting will retain the modifications, upgrades, tunes, and paint jobs that you have assigned and equipped to the car. This gives you freedom in whether you want to gift a stock car away or create something that will own the streets with your own signature choices plastered onto the car.
Choosing the Recipient of Your Gift Drop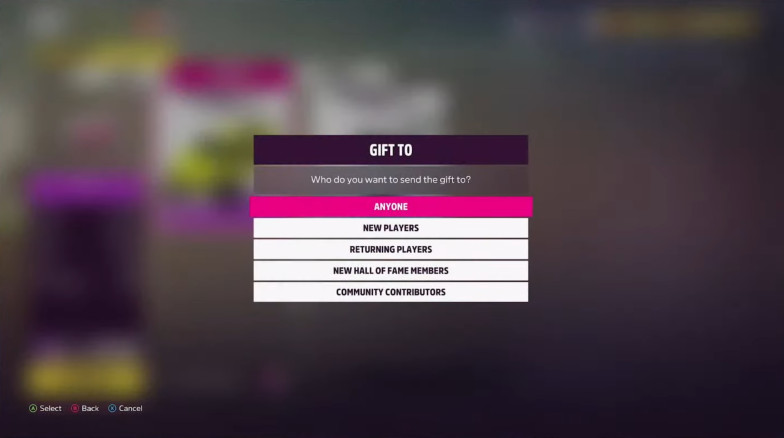 Once you have chosen which car you will want to give away, you can now choose who to gift the car to. In Forza Horizon 5, you are given a preset group of players for you to randomly give your car away to.
You can pick from 5 groups of players, which are as follows:
Anyone – Selecting this literally bypasses all filters for selection and selects a random player to get your gift. Do this if you just feel like giving away a car without any players in mind.
New Players – Selecting this will gift it to players who are new to the game. Any player below a certain level threshold will be eligible to receive your gift. Do this if you want to help people new to the game by giving them a head start with a fast or rare car.
Returning Players – Selecting this option will gift your car to a person who has not logged in to their Forza Horizon 5 game in a set amount of time. Do this if you want to encourage people to prolong their stay, racing around Horizon 5's Mexico Festival.
New Hall of Fame Members – Selecting this option will gift your car to a person who has recently been inducted into the Forza Horizon 5 Hall of Fame. Do this if you want to send your congratulations to these people and further reward their excellence.
Community Contributors – Selecting this option will gift your car to people who are awarded tons of Kudos for their contributions to the community, either through tunes they have shared or through tracks that they have made. Do this if you want to send further thanks to these trailblazers of the Forza Horizon community and encourage them to create more things for players to interact with.
Can I Gift a Car to My Friend?
Unfortunately, the Gift Drop system will not let you send gifts to a specific person whether they are on your friend list or not. This is a deliberate decision by the developers to deter real-money trading within the game.
Choosing a Message for the Gift Drop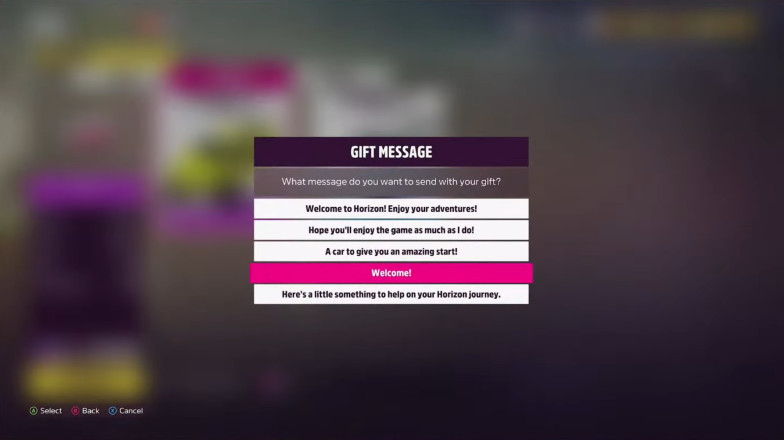 After choosing the group of players that you want your gift to drop to, you can now choose a message to accompany the gift. Each group of players will have 5 different pre-made gift messages so pick the most appropriate one you think would best fit your intention.
Can I Make My Own Message for the Gift Drop?
Unfortunately, you cannot customize or make your own message for the gift drops. Since this system relies on being random, the developers decided not to have this feature in order to avoid any unnecessary harm through verbal abuse or hate to their community.
Signing the Gift Drop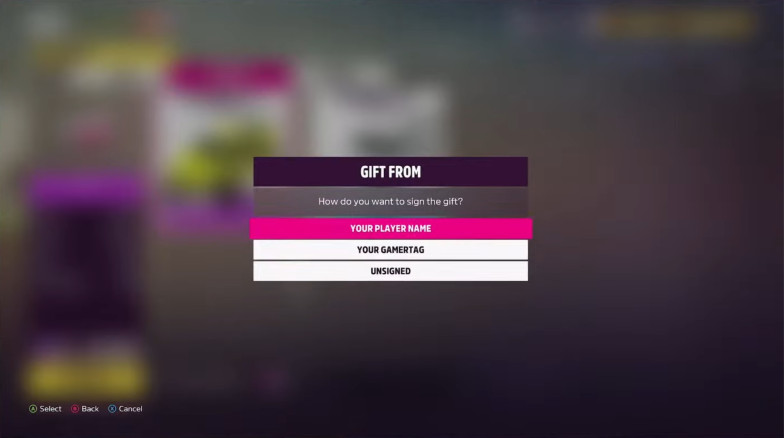 The final step in sending out your gift is to pick out the signature that will appear on the gift. This will basically let whoever receives your gift know who sent it.
There are 3 options to choose from, which are as follows:
Your Player Name – Selecting this option signs the gift as your in-game player name. This is the name (or nickname) that you choose at the start of the game. Do this if you want to be relatively anonymous but still quite a bit personable to the person receiving the gift
Your Gamertag – Selecting this option signs the gift with your Gamertag or Steam Name. Do this if you want your gift to be truly personalized and have the world know your name.
Unsigned – Selecting this option will leave the signature space blank. Do this if you want to remain completely anonymous and just surprise someone without expecting anything in return.
Sending Out the Gift Drop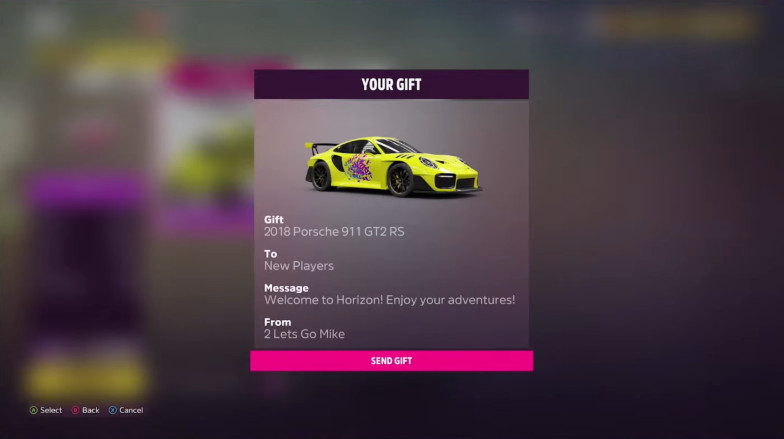 With all your options chosen and sorted out, it is time to send out your gift. A summary of your choices, from car to your signature will be displayed for you to peruse and check. Once you are sure of your selections, simply confirm the sending of the gift and make someone's day whole!
Again, as a reminder, the car that you will be sending out will be removed from your garage forever, so make sure that you are sending out the right car before confirming.
How Will I Know When a Player Receives My Gift Drop?
You will know if a player has received and opened your Gift Drop when you receive a message yourself that the gift has been opened. From there, hopefully, your car lands in good hands and it should see many more miles and action.
Final Thoughts
It is quite a surprise that a social game like Forza Horizon 5 has only just implemented a system such as this, but I guess it is never too late to get it started. With the Gift Drop system, players both new and old will have something to look forward to when they login to their game.
Though the system itself is a bit restrictive to prevent any unwarranted abuse, it is a system that works and will bring joy to players receiving as well as giving away their prized possessions.
If you're trying to decide which car/s to gift, our guide to the best drift cars in the game should be a good place to start.