Customizing your car is one of the most important aspects when it comes to car culture as it makes your car uniquely yours. One way to customize your car is by marking it with your own signature, and what better way to do that than customizing your license plate?
If you don't know how to change your Forza Horizon 5 license plate, in this FH5 guide, we'll show you just that.
Changing Your License Plate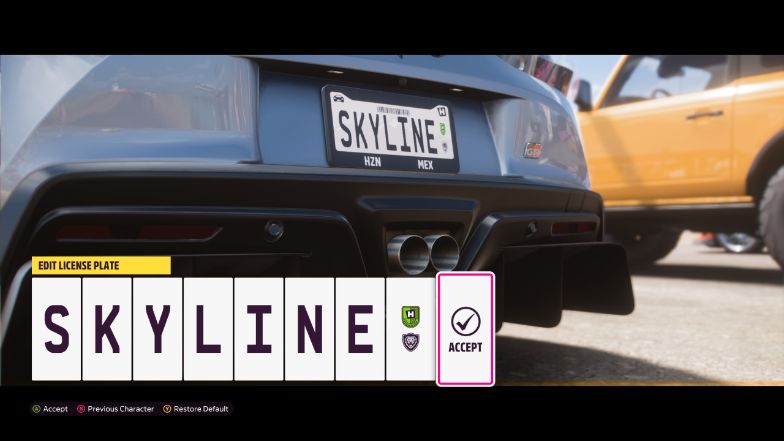 The earliest possible time you can change your license plate is right after the intro with the Mercedes-AMG ONE. Once Ramiro talks to you and introduces you to Mexico, Haley comes in and shows your three cars to choose from.
Upon picking your car of choice, you will automatically be given the chance to change your license plate to your very own.
You can put a total of 8 characters on the license plate, ranging from letters, numbers, 3 special license symbols (one of which you can see in the screenshot above), and a blank space.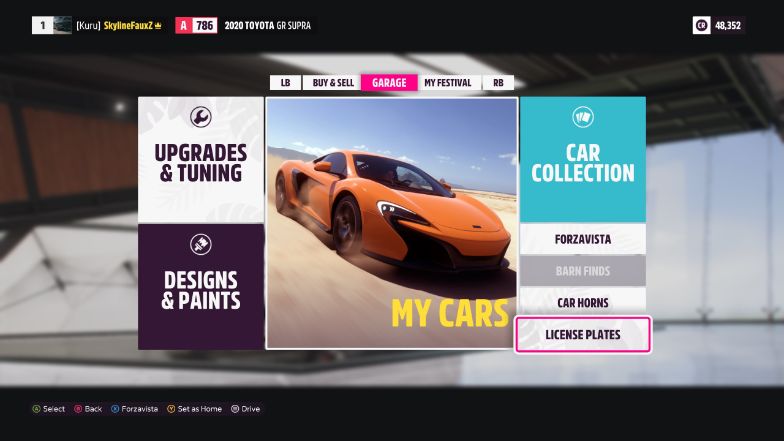 After this section of the game, the only way you can change your license plate to something different is through the Garage menu where you will find the "License Plates" option. Simply select that and you will be able to change your license plate again.
Removing Your License Plate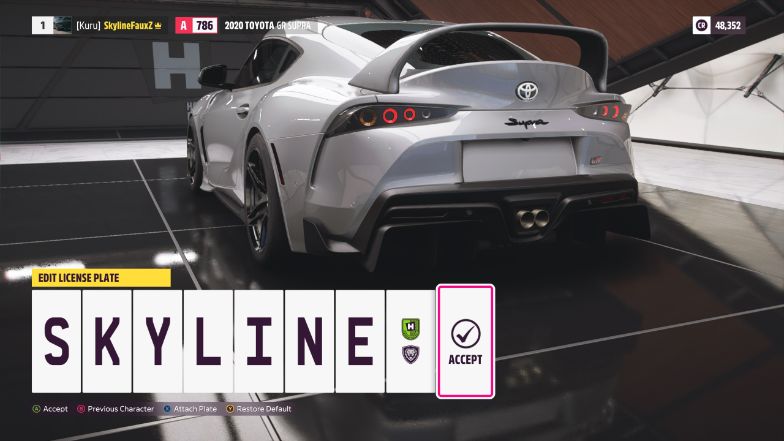 Maybe you want a cleaner look for the rear of your car, or maybe you just want to be a bit more anonymous when it comes to other racers. Fear not, as there is also an option to remove the license plate.
You can do this by going to the License Plates option found under the Garage menu. From there, simply press the button corresponding to "Remove License Plate" on the bottom left of the screen (in this case, square on a PlayStation controller or X on an Xbox controller) and your license will disappear from your car, giving you a rather clean but strangely lacking space on some cars.
Can I change the style of my license plate?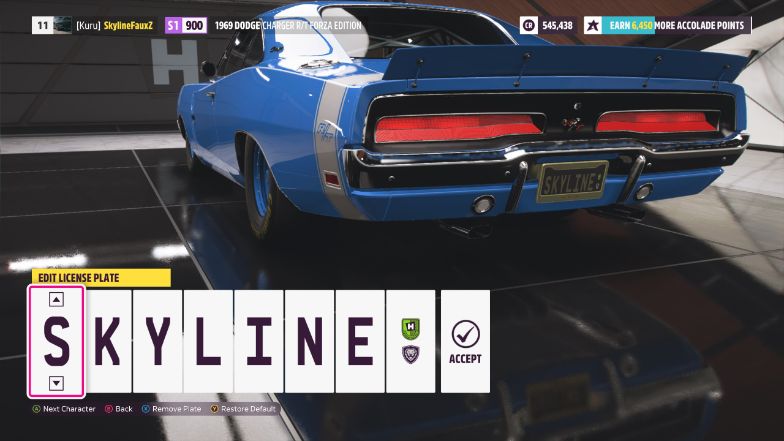 Unfortunately, you cannot change how your license plate (or license plate frame) looks. If you have a normal car, you will simply have the default black-on-white license plates.
However, if you find yourself owning a Forza Edition car, you will have a special license plate. Forza Edition cars are automatically equipped with a black license plate adorned in gold lettering as well as a gold license plate frame for good measure.
It is one of many ways to distinguish Forza Edition cars from the rest, making owners seem a bit more distinguished when parking beside the same type of car.
Final Thoughts
Although a bit minor in nature when it comes to customizing the looks of your car, changing your license plates to your very own customized one is always a fun little way of making things your own and giving them your own personality.
May it be by strewing your name across it, putting something funny, or flat-out removing the license plate, it is something to customize your car with, adding towards your own unique style.
Speaking of customization with your name, check out our guide on how to change your name in Forza Horizon 5 next.