To build sustainable success in either Franchise mode or Madden Ultimate Team, you need star players – that much is clear.
However, there are players that can have a similar effect at a fraction of the cost. They might not be big names or have incredible Overall Ratings but their production at that particular price/salary range can be unmatched.
In today's article, we'll cover some of the best sleeper players in Madden 22 that you should definitely consider.
Chuba Hubbard, HB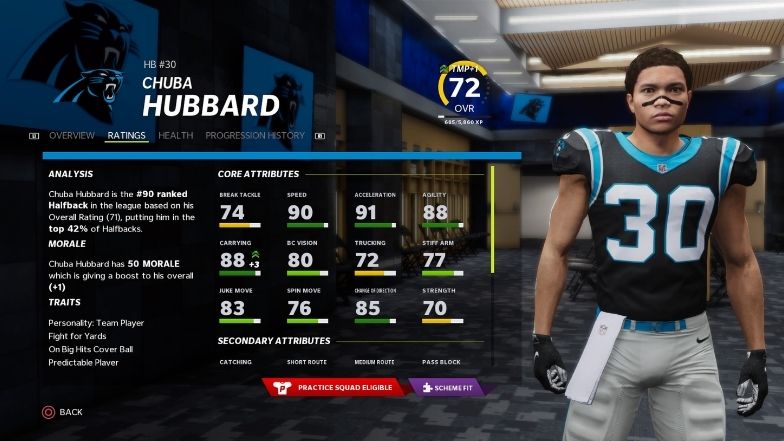 A rookie out of Oklahoma State, Hubbard will be playing running back in the Carolina Panthers this season.
Panthers' fans are excited to see what this young HB will be bringing to the team and we're definitely excited to see what his upside is in Franchise Mode. He's only 22 years old with a lot of potential so, if you play your cards right, you'll be able to take him to stardom in a few seasons. Hubbard is one of the reasons why the Carolina Panthers are one of the best teams to use in Madden 22 Franchise Mode.
He has awesome physical attributes for a rookie: 90 SPD, 91 ACC, and 88 AGI, along with a solid 85 Change of Direction. He also has the Elusive Back prototype which is what you want at the HB position.
Scotty Miller, WR
Another young speedster to consider is Scotty Miller, currently playing for the Tampa Bay Buccaneers.
His 94 SPD and 93 ACC put him in the upper echelon of wide receivers when it comes to speed. His 76 OVR isn't incredibly impressive but, at 24, he still has room to grow. He also has pretty solid Catching at 86 and 92 Change of Direction.
The only downside to Scotty Miller is his frame: at 5'9, 174 lbs, he isn't exactly a physically imposing player and may struggle against bigger defenders. Still, he's quick, agile, and easy to trade for.
Adam Trautman, TE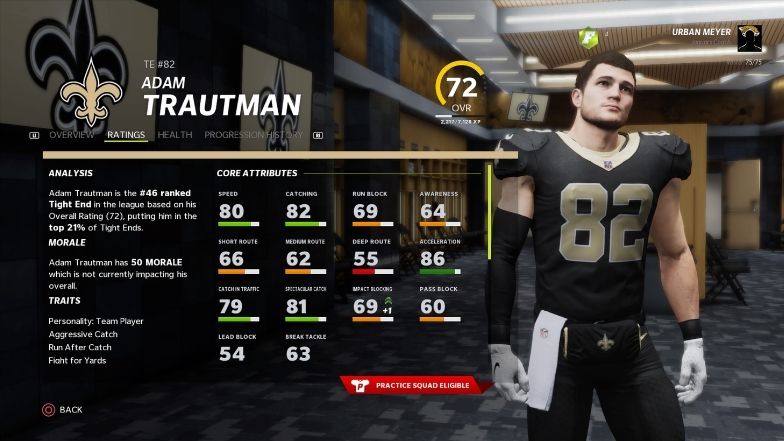 Adam Trautman, on the other hand, is an impressive physical presence at 6'5 and 255 lbs, exactly what you're looking for in your tight end.
His Speed (80), Acceleration (86), and Catching (82) are solid and there's definitely room to grow here. His Run Block is at 69, just enough for it not to be a problem. Since this is only his second season, he can become a powerful weapon if you give him some time and work on honing his skills.
At the moment, he's the 46th-ranked TE in the game but you can get him to the top 30.
Trey Sermon, HB
Another running back on the list, Sermon might not be as quick as Chuba Hubbard but he's still pretty nimble: 86 SPD, 93 ACC, and 89 AGI. His carrying is top-notch at 95 and he also has a pretty solid Juke Move rating at 86.
More importantly, Sermon is the third running back in the 49ers' pecking order so he might be easier to get. He also has the hidden development trait and the Elusive Back archetype so he's a great piece if you're building for the future.
Tommy Togiai, DT
One of the youngest players on our list, Togiai is only 21 but already has a 91 Strength rating and 90 Toughness.
His OVR is nothing to get excited about (70) but that might make it even easier to pry him out of the Browns' hands with a solid trade package. His Block Shedding (71) and Power Moves (64) definitely need some work, though.
On the other hand, his Hit Power (83) and Impact Blocking (83) show a lot of promise. Since he's so young, you should be able to turn him into a really good DT in a few seasons' time.
Andy Isabella, WR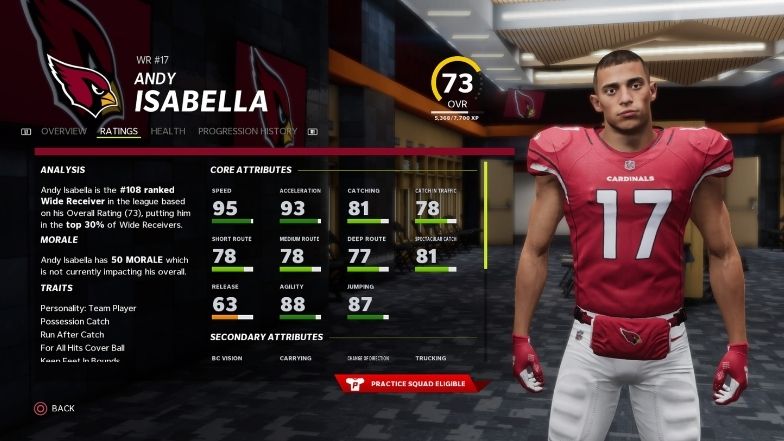 One of my favorite Madden 22 hidden gems is the wide receiver position is the Cardinals' Andy Isabella.
At 73 OVR he seems like nothing special but his Speed (95) and Acceleration (93) alone are enough to get him into the conversation. Add his Agility (88) and Change of Direction (89) into the mix and you're looking at a really good young player that can have a bright future in your franchise.
His route running attributes aren't great so there is definitely room for progress there but he's actually pretty solid across the board. However, like with Scotty Miller, height might be a problem. He's only 5'9 but his 87 Jumping might make up for it to a certain degree.
Jordan Love, QB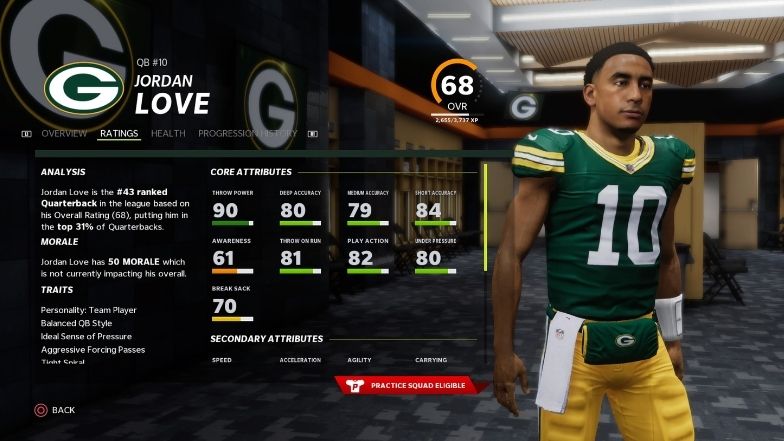 In my opinion, Jordan Love is one of the best young players to trade for if you need a talented QB to build your franchise around.
He won't be starting this season since Aaron Rodgers has buried the hatched with the Packers' head office so you might be able to get him without giving too much up. What you'll be getting with Love is 90 Throw Power and 84 Short Accuracy – a great core to build around. The best part about him is that he has the Star development trait so you'll be able to develop him more quickly.
If you want to run some option plays, you can do some work on his already solid Speed (81) and Acceleration (86), and turn him into a force to be reckoned with.
Micah Parsons, MLB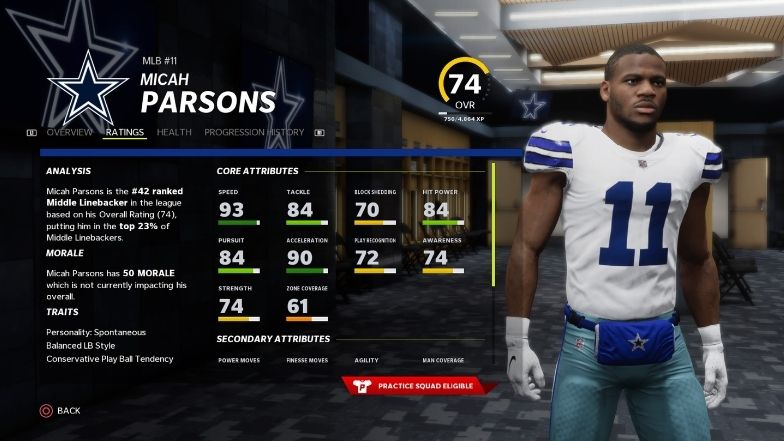 There's no doubt that the Cowboys' fans are excited to see their new 12th pick develop into a defensive beast in the next few seasons. At only 22 years old, there's a lot of encouraging things this young defender has already shown us.
Standing at 6'3, Parsons is a big middle linebacker that packs an impressive amount of speed (93 SPD, 90 ACC) for his build and position. His Hit Power (84) and Pursuit (84) are also quite solid but his Block Shedding (70) needs some work. He has a Hidden development trait but you can go to "Edit Player" and see that he has Star development.
The only potential issue here is that the Cowboys are pretty slim with linebackers so they might ask for a lot of assets to accept this trade.
Javelin Guidry, CB
Another young defender to consider is Javelin Guidry. Although his OVR is a little disappointing (69), his speed puts him among the quickest cornerbacks in the game.
He has 86 Speed and 93 Acceleration, along with 88 Agility. The reasons for his low overall rating are likely bad Coverage and Tackling ratings that need some improvement to reach operational levels.
Still, he'll be able to keep up with most wide receivers and he's still quite young so you can develop him into a valuable player. He shouldn't be as hard to get as some of the other options we covered so that's another big plus.
Conclusion
There are lots of Madden 22 sleeper players and hidden gems to find if you know what you're looking for.
My suggestion would be to really zero in on the 2-5 skills that are the most important for each particular position and find the players that have good ratings. The best Madden 22 Franchise sleepers will also have Star or Superstar development traits so be on the lookout for those!
If a player has the Hidden development trait, simply tap on Edit player, navigate to Player Traits, and you'll see his actual Development.