Starting a Madden 22 fantasy draft might be a little different when you are accustomed to other sports games. There are a lot of different options you can choose when playing franchise mode and starting with a fantasy draft changes things drastically.
Aside from all the teams and roles you can choose from, you will be on even grounds when you start a fantasy draft in Madden 22 since you will be picking each player on your team from top to bottom.
This guide will teach you how to start a fantasy draft franchise mode in Madden 22. You will learn about all the roles, settings, draft mechanics, and exclusive features involving a fantasy draft.
Different Ways to Play Franchise Mode
There are a variety of ways to play franchise mode in Madden 22. Each mode can actually be set up with a fantasy draft at the beginning, as it is just a setting you need to activate.
When you enter the franchise mode screen, you can the mode by pressing "Change Role". You can take over a franchise of your choice and play as the player, coach, or owner.
Each choice has a different and unique playthrough, as a lot of features are exclusive to each role you choose. It adds a lot of depths to the game, as you may want to experience all of them on different playthroughs.
How to Set Up a Fantasy Draft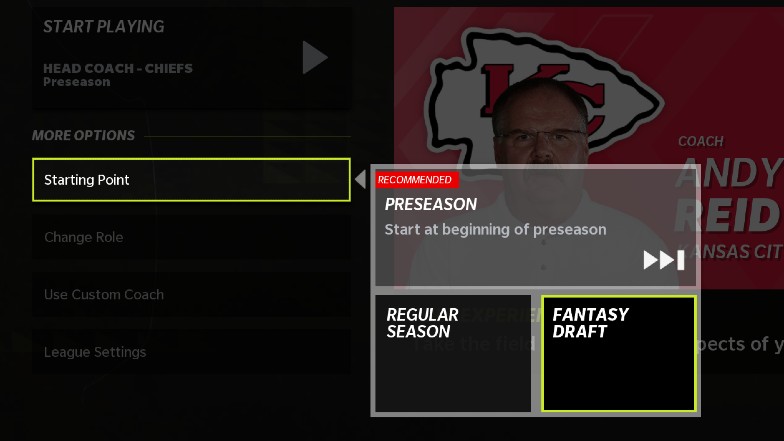 To set up a fantasy draft, choose the "Starting Point" option and pick the fantasy draft. This will automatically change the whole playthrough to start with a draft with the roster you selected before.
It could be the real-time NFL roster or an imported NFL roster for a more updated one. Since you can play this one in offline mode, you can also play the older versions of the roster.
After choosing the fantasy draft starting point, each role will start on a fantasy draft at the beginning. You can still choose the best teams to manage franchise mode with. This is for trade value reasons as some teams may have more valuable draft picks at the start.
However, if you are playing Madden 22 franchise fantasy draft mode as a player, it does not matter as much as you have no influence or power in your team's composition. More on this later on.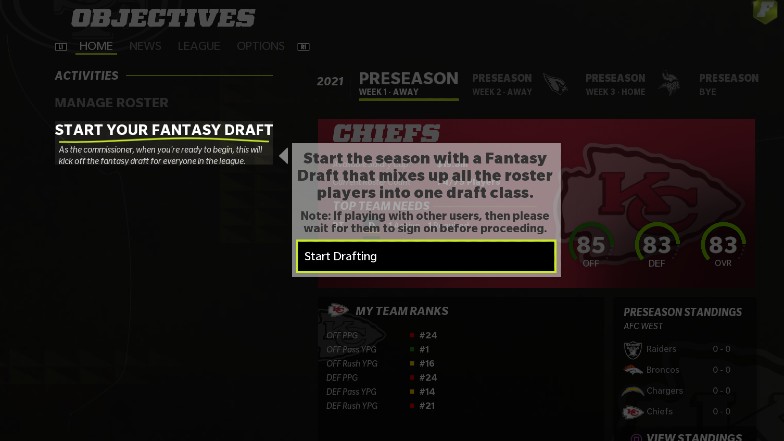 Once you start playing and enter the fantasy draft, the draft will immediately skip to your pick for the 1st round. It simulates instantly to your pick and you need to be fast because you only have a minute and 30 seconds to choose your pick.
There is no way to pause the timer which is a bummer for this type of mode. This means you just have to be prepared when you are starting the draft. The player you may be looking for might end up being selected already so you need to have other options as soon as possible.
Drafting the best young players will always be a good option if you cannot find the player you are looking for. They have a lot of trading power as potential and youth are huge factors when it comes to trade value.
You can even end up with a stronger player if you play this right. When it comes to the Madden 22 fantasy draft order, you will need to restart a new one if you do not get your desired draft order.
It is completely random and the settings do not have any options to manually organize the fantasy draft order. After a few testing, picking stronger and more established teams do not affect the draft order in any way.
You can choose any team you want to manage, play, and improve as every franchise starts fresh in a fantasy draft mode. The fantasy draft order also goes in a serpentine pattern.
You can end up with the last pick in the first round and immediately get the first pick in the second round. This makes things even for each franchise and it depends on how good you can choose your players.
The draft simulation for the other teams will always pick the best player available after factoring in potential, youth, and overall rating.
The simulation goes the same for your team if you choose to simulate the fantasy draft after choosing the top players you want on your team. The AI will choose the best fit for your team while factoring in the value and position of these players to fill your team.
After learning all the things you need to know about the fantasy draft, you can also adjust the franchise mode settings to your liking. If you want to automate some features you do not want to manage, you can set them to "Auto" as everything will be manual on default.
If you want the full experience, you can just leave it at default and change these settings during the season when you want to ignore them.
How to Play Coach Mode
When you choose to play the coach mode, the exclusive features involve setting up the team's playbook and improving the team in general.
You will have the option to sign, trade, scout, and develop players. Your other roles include managing the staff on your team and make sure you are doing all the jobs the coach is supposed to do.
You will do all the recon work and set up your team for success for each game as you will set up the weekly strategy before your upcoming match before playing the game yourself.
There are two coach types you can choose from. You can choose between a staff builder or a team builder. Their specialties are quite obvious as the first one focuses on having an eye for talent while the team builder focuses on development.
How to Play Owner Mode
For the owner mode, you will have three options to choose from. You can either be the owner who is a lifelong fan, a former player, or a financial mogul.
When it comes to the perks for each type of owner, the lifelong fan focuses more on the happiness of the fans and increasing the overall support for your team.
When playing as a former player, your roster will be happier and more loyal to your franchise in general. For the financial mogul, you will start with more money, and happiness is solely based on making more money.
As the owner, you have the power to adjust your team down from the player and all the way to the staff. The only difference is that you have little to no power over the development of your team.
You can adjust your roster however you want and you might have different goals when you are playing as the owner of a franchise. Winning might not mean as much as you have the financial side to worry about as well.
How to Play Player Mode
Sadly, the player mode will not allow you to import your Face of the Franchise player to this game mode. You will have to come up with a different player to start but, the customization will be different from the Face of the Franchise mode.
You can choose from a wide variety of positions and playstyles while mixing in new ability combinations. Unlocking abilities will be a little different as there will be no class rep to increase your level.
Your development solely relies on your play and experience as you grow with each game played. As a player, you do not have to worry about managing your team as you solely focus on your goal to become a legend.
It is an odd way to play franchise mode since you would want to have more control over the franchise when playing this mode, even as a player.