In Franchise Mode, it's all about building for the future – you want to establish a dynasty and have long-term success, making GM moves and developing players.
To do that, you need a good young core with talented players who are set up for bright futures. Make no mistake, getting them won't be easy. But once you do, they'll be more than worth it.
Some teams are better prepared from the get-go for this, so some of these players might already start on your team if you've picked one of the best teams to manage in Madden 22.
But if you're on the lookout for the biggest potential talent to add to your squad, here are some of the best young players to trade for in Madden 22 Franchise Mode.
WR Justin Jefferson, Minnesota Vikings
Talking about hard players to get – Justin Jefferson will be almost impossible to trade for. There's almost nothing you can put together that the Vikings will find worth their sophomore WR who was one of only two rookies to earn a Pro Bowl spot last year.
Jefferson also broke the NFL rookie record for receiving yards, as well as Randy Moss' Vikings catching record with 84 passes caught. As a result, he has an 87 overall rating this year with 91 Speed, 91 Catching, and 95 Change of Direction. He's a franchise changer for sure and, whatever you decide to give up for him, it'll likely be worth it.
So, if you're looking for the easiest players to trade for in Madden 22, Justin Jefferson isn't going to be the one.
TE Kyle Pitts, Atlanta Falcons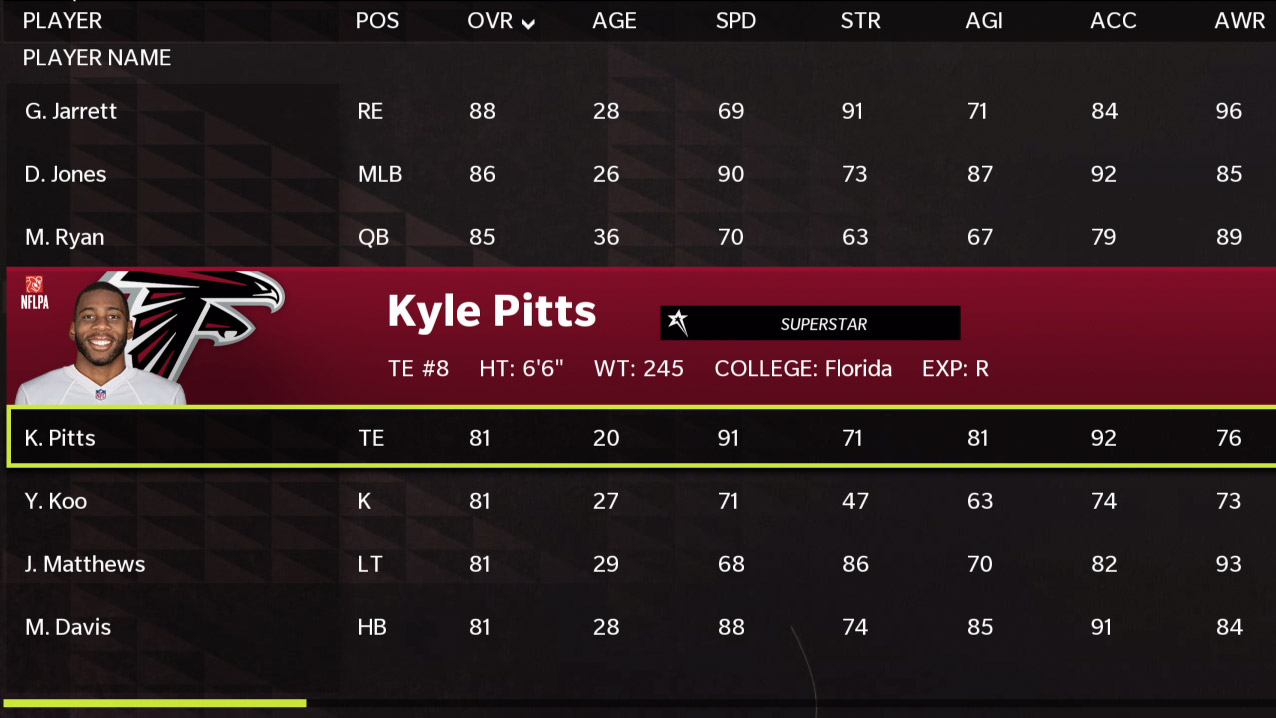 The best-rated rookie in Madden 22, Kyle Pitts is an exciting prospect at the tight end position that can be developed into a real powerhouse.
With an overall rating of 81 and impressive physical attributes (91 SPD, 92 ACC, 92 JMP), the 6'6 TE is one of the most promising young players this season. Getting him won't be easy but, if you want a player with a lot of upside, you'll have to give up something. A star TE, a solid player, and some picks might be enough to secure Kyle Pitts and sort out your TE position for a whole decade.
RE Chase Young, Washington Football Team
Another big name on his rookie contract, Chase Young (86 OVR) has had a great season last year and will be equally hard to lure away from Washington.
But that doesn't mean it's not worth a shot. While the real Washington Football Team might not give them up for anything, the AI isn't that forward-planning: make an enticing trade package with a star or two, a useful player, and some picks.
However, it's questionable whether all this is worth a future star defensive player in Madden. You might be better off trying to hunt him down come free agency time.
QB Trevor Lawrence, Jacksonville Jaguars
The 1st overall pick in the 2021 draft, Trevor Lawrence is seemingly the best QB to come into the league in almost 10 years. Which is exactly why the 78 overall rating in this year's Madden came as a surprise to many – he's not even the best-rated rookie.
Still, the Jags' QB has a 91 Throw Power to go with 88 Acceleration at only 21 years. Regardless of how he does in real life, he's a perfect young QB to build your franchise around in Madden NFL 22.
The Jags will also likely have a slow start in your campaign since the rest of the team doesn't look ready for big things just yet. This might make Lawrence easier to get early on.
WR Henry Ruggs, Las Vegas Raiders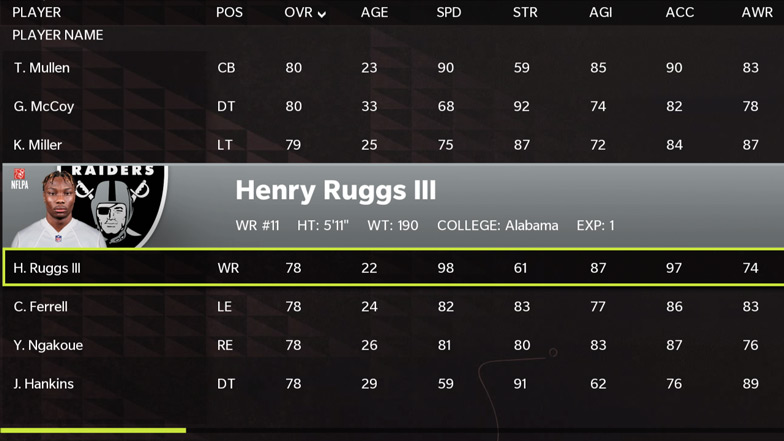 If you're on the hunt for a quick, young wide receiver, Henry Ruggs should be your absolute top target.
He's the second-fastest player in the game (98 SPD, 97 ACC), behind only Tyreek Hill. His Catching (83) and Catch in Traffic (80) ratings could use some work but, at only 22 years, there is a lot of room to grow.
Ruggs is one of our favorite prospects in Madden 22 with incredible upside. His 78 overall rating isn't too high so he'll be easier to get than all our previous entries, but is still one of the best young players in Madden 22.
HB Travis Etienne Jr., Jacksonville Jaguars
The Jags have so many young talents that they might be willing to move some of them. One of the more interesting young prospects on the team is the 22-year-old HB out of Clemson, Travis Etienne Jr (76 OVR).
In real life, the best-rated rookie running back in the game will be looking to form a strong offensive partnership with his Clemson teammate Trevor Lawrence. In Franchise Mode, though, there is no "friendship" or "we-went-to-college-together" stat so you can pry him out of the Jags' hands with a good offer.
What you'll be getting in return is an HB with a lot of perspective, 92 SPD and 93 ACC – perfect material for a star runner in a few years.
CB Greg Newsome, Cleveland Browns
Another speedy rookie, Greg Newsome will likely be a fun watch this year with the Cleveland Browns.
With a 76 OVR, 93 SPD, and 92 ACC, he's a future star cornerback definitely worth looking into. He led his team with nine pass break ups last year and, once you develop his defensive ratings such as Pursuit, Play Recognition, and Man Coverage (all in the 70s), you should have a real asset on your hands.
At only 21 years old, he's one of the youngest players on our list – which means a lot of potential!
The Browns also have Denzel Ward as their young star cornerback so they might entertain the idea of making some moves with Newsome.
CB Jaycee Horn, Carolina Panthers
Lastly, we have another cornerback – Jaycee Horn, the eighth pick in this year's draft for Carolina Panthers.
Again, there's a lot of potential here: he's only 21 but already quick enough (92 SPD, 91 ACC, 88 AGI) to guard just about anyone other than the real elite wide receivers or tight ends. Still, it shouldn't take you too much to take this 76 OVR cornerback to stardom.
You will need to work on his defensive skills, though. His Play Recognition and Hit Power in particular need some upgrading, and so does his Pursuit rating. But developing raw talent is one of the most enjoyable things to do in Franchise Mode, after all!
Final Word
Getting a young player with obvious potential through Madden 22 trades certainly won't be easy. The AI may not work like the real-life GMs but it's still smart enough to figure out its key assets.
This means a lot of trade combinations and, most likely, giving something up.
There are a lot of young and easy players to trade for in Madden 22, some easier to get than others. Remember to look at their age, ratings, and Superstar or X-Factor abilities – these will be the most important indicators of a player's stardom potential.