In every MyPlayer build in NBA 2K24, the badges make up most of the archetypes of a player.
Giving a set amount of attributes to your shooting ability doesn't necessarily make you the best shooter. Sometimes, it is the badges that turn you into the best player for your specific build.
In this guide, we'll list all the best badges for every type – Finishing, Shooting, Playmaking, and Defending/Rebounding.
Finishing Badges
Fast Twitch
Speeds up the ability to get standing layups or dunks off before the defense has time to contest
With the ability to shoot faster close to or under the rim, you'll have a higher chance of finishing at the basket.
There are a lot of crazy rim protectors that are so athletic that they can block your shot even if you are wide open.
Fast Twitch immediately prevents this from happening. It may not look flashy because you just lay it up fast, but it is much safer.
Fearless Finisher
Strengthens a player's ability to absorb contact and still finish. Also reduces the amount of energy lost from contact layups
For those slasher-type small forwards and guards, Fearless Finisher is almost mandatory.
You'll rarely get an open lane to the rim when you blow past your defender on the perimeter. Rim protectors will always help defend anyone who gets past the backcourt.
Fearless Finisher gives you more chance to finish cleanly, even if a defender is there to meet you in the air while finishing.
It doesn't always work, but this will help you get your FG% up from finishing with contact.
Giant Slayer
Boosts the shot percentage for a layup attempt when mismatched against a taller defender and reduces the possibility of getting blocked
Giant Slayer boosts your efficiency when finishing against taller defenders. Most of the time, you'll be finishing against taller defenders who are protecting the rim.
This is a staple for all slasher-type builds, whether you are a guard or even a tall small forward.
Masher
Improves a player's ability to finish well around the rim, especially over smaller defenders
Masher is mostly for versatile power forwards and centers who can get the ball close to the rim through a pass or from the post.
Once you get inside the paint, your shot efficiency will increase. In many situations, a big man receives contact over a small defender upon shooting under the rim and missing.
It doesn't make sense for these smaller defenders to affect your shot so much. Masher helps it become a bit more realistic.
Slithery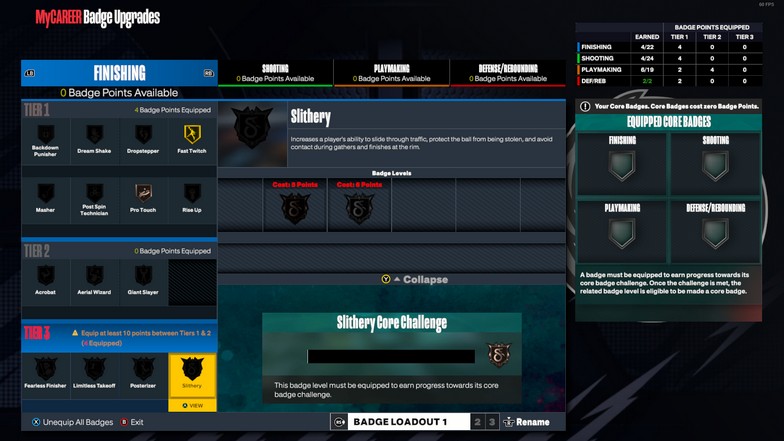 Increases a player's ability to slide through traffic, protect the ball from being stolen, and avoid contact during gathers and finishes at the rim
Slithery is another staple for slashing builds. Whenever you blow past a defender on the perimeter, you'll surely meet another help defender from the paint or the baseline.
This badge helps you get past these defenders and finish at the rim.
Shooting Badges
Blinders
Jump shots taken with a defender closing out in their peripheral vision will suffer a lower penalty
Blinders is one of the best badges for any player with shooting abilities. Any defenders who are slightly late contesting a shot from the sides will practically have no effect on the shot.
This badge is perfect for pick-and-roll plays for either the big or the guard. As long as you create space where the defenders are defending from the weak side because of the screen, Blinders will be used effectively most of the time.
Catch & Shoot
For a short time after receiving a pass, the receiver's ability to knock down jump shots gets a significant boost
For players who like to play off-the-ball, Catch & Shoot is helpful even for those with subpar shooting. Just like the example with the pick-and-roll from the Blinders badge, you'll be catching the ball as a big man setting the screen.
Once you get the ball, this badge will activate if you shoot once you catch the ball. If the defenders sag or play under the screen, you'll knock down mid-range jumpers at a high rate.
Note: there are some catch-and-shoot jump shot animations that can help you use this badge in higher succession.
Deadeye
Jump shots taken with a defender closing out receive less of a penalty from a shot contest
With the same reason as Blinders, Deadeye takes it to the next level. When defenders are closing out on you, you'll rarely get affected by the late contest.
This is one of the best shooting badges out there and is absolutely mandatory.
Limitless Range
Extends the range from which a player can shoot three-pointers effectively from deep
Limitless Range isn't mandatory, but it helps you hit shots from a very deep distance. There will be some occasions where you'll be far from the 3-point line, but you are wide open.
With Limitless Range, you can request for the ball and hit the shot from deep.
Spot Finder
Improves a player's ability to quickly get open off the ball and raises the chances of knocking down the shot off the catch
Spot Finder is the same as the Catch & Shoot badge. It doesn't hurt to have both so you can knock down shots off the ball at a higher rate.
Space Creator
Increases a player's to both hit shots after creating space from the defender, as well as cross up an opponent on step-back moves
Space Creator benefits both a finisher and a shooter. However, you must have some skill in dribbling before using the badge.
The ability to create shots comes from creating space through dribbling moves or just explosive speed.
Combining this badge with Blinders and Deadeye will make you an unstoppable off-the-dribble shooter.
Playmaking Badges
Handles For Days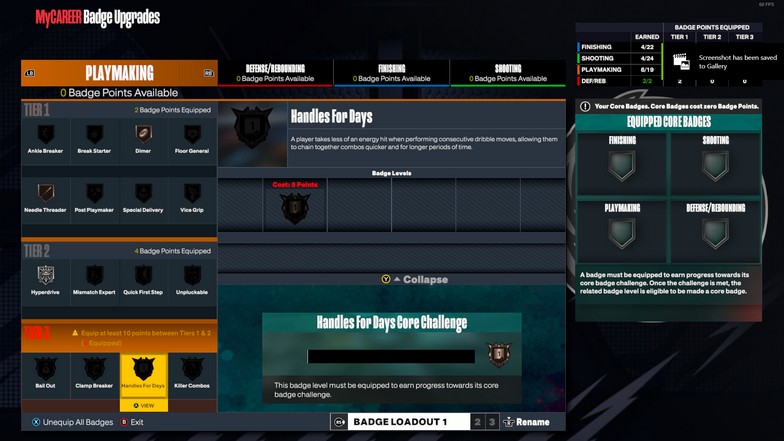 A player takes less of an energy hit when performing consecutive dribble moves, allowing them to chain together combos quicker and for longer periods of time
The energy buff from the badge is great, but the greatest asset would be the chaining dribbling moves quicker.
With a faster combination, you'll find yourself breaking free from the defender after a few dribbling chains, such as a hesitation to a quick spin.
While this badge is more for an iso-type player, you can still combine it with a lot of other offensive badges.
You'll be using Handles for Days to blow past defenders or space creation and let the other badges go to work.
Hyperdrive
Increases the speed at which a player can perform dribble moves as you attack down the court
Hyperdrive is a go-to badge for finishers and iso-players. The speed increase is probably the best boost you can get as a slasher.
The badge is hard to upgrade, but there is a big reason why. Since there are a lot of badges that improve your mobility, Hyperdrive takes it to the next level. It will take a lot of badge points to allocate Hyperdrive past the gold tier.
You might need to sacrifice some playmaking badges or improve your player's playmaking attributes.
Speed Booster
Speeds up the explosion or burst a player has when attacking from the perimeter
Another mandatory badge for slashers. Combining this with Hyperdrive makes you one of the fastest players in the league.
When increasing your speed and acceleration attributes are not enough, a combination of Speed Booster and Hyperdrive will surely help you blow by defenders.
Defense/Rebounding Badges
Anchor
Increases a player's ability to block shots and protect the rim at a high level
Anchor is the best defensive badge for rim protectors. Your goal as a power forward or center is to protect the rim at all costs.
With Anchor, you'll have a chance at stopping impeccable finishers at the rim.
Challenger
Improves the effectiveness of well-timed contests against perimeter shooters
Challenger is a great defensive badge for every position. While it is more efficient for guards and forwards, you'll most likely contest a ton of shots in a span of one game.
With Challenger, you'll shut down any shot attempts that are defended correctly. The main problem is just keeping up with the offensive player.
Clamps
Defenders are more successful when bumping or hip riding the ball handler
Clamps used to be the best defending badge in NBA 2K. However, it was nerfed pretty badly, but it is still good.
Clamps help pressure the ball handler by sticking with the defender as much as possible. When they bump and clash with your player as they drive to the basket, they'll immediately feel the effect of you as a defender.
Once the offensive player tries to finish with you on the side, you'll still slow down the player, giving your teammates a chance to rotate and help defend the shot.
Fast Feet
Boosts a player's ability to stay in front of dribblers while guarding on the perimeter
Fast Feet works well with Clamps and Challenger. The ability to improve your rate at staying on the toes of the ball handler will prevent them from getting open and driving the ball past you.
Rebound Chaser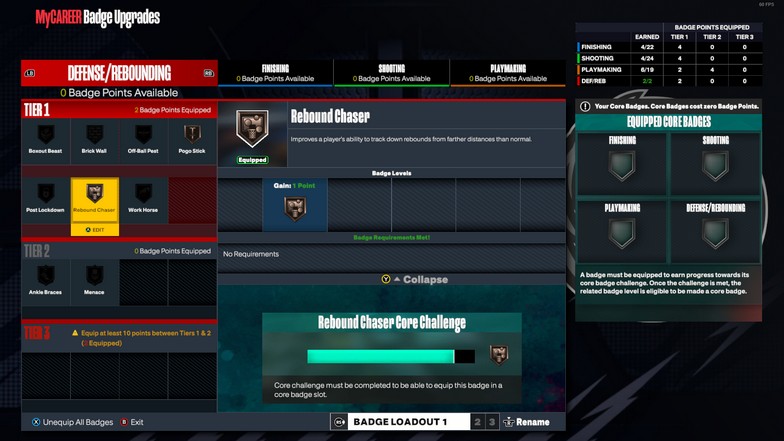 Improves a player's ability to track down rebounds from farther distances than normal
Rebound Chaser isn't mandatory, but it is a good one for players with a long wingspan and a high vertical jump.
Improving your rebounding ability isn't as crucial anymore with this badge. You can allocate more on the defensive stats like steals, rebounds, perimeter defense, and post defense.