In NBA 2K24's game modes such as MyLeague and MyGM you're able to take control over and manage an NBA Franchise to your heart's content.
It's up to you to build your roster, develop your players, and coach your team to make them the best team possible in order to lead them to the ultimate achievement of winning the Finals.
In order to eventually reach that goal of a Finals victory, your first step will be to build a squad that can actually get it done. There are multiple ways for an NBA team to build up their roster, be it through drafting and developing players or signing players in free agency.
But sometimes those methods don't work out for various reasons, and you find yourself still needing to find players to fill in important positions for you. When that's the case, completing a trade might be your best bet.
That's why today we'll go over NBA 2K24's best Point Guards to trade for.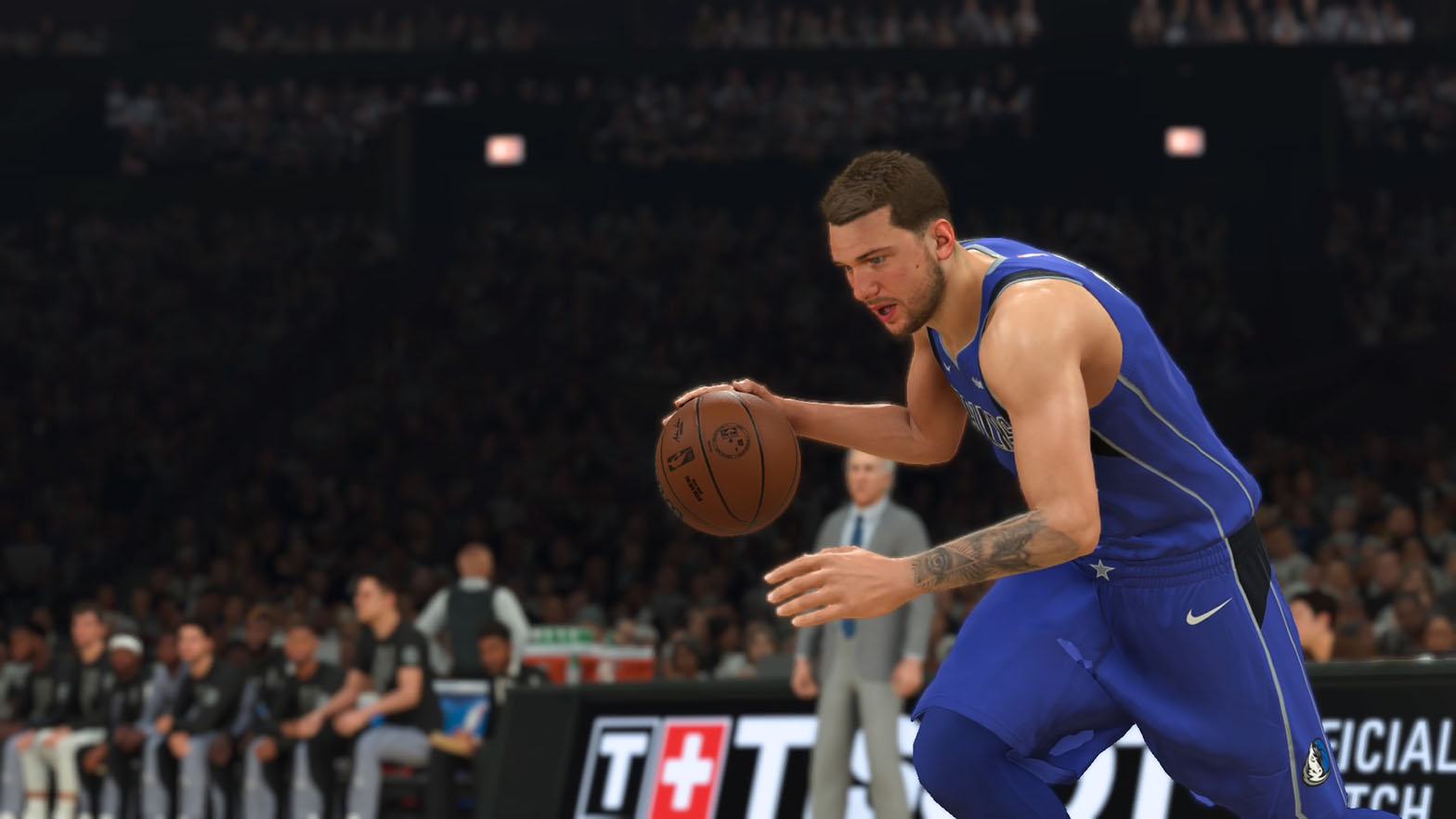 Superstars
Sometimes you may find yourself with a roster that has everything it needs to make a true championship run except for one starting player remaining as the missing puzzle piece.
Whether you just haven't been able to find and/or develop a point guard or your star point guard goes down with an injury, you may decide that trading for one is the best way to try and save your team's season and championship hopes.
If that's the case for you, the best move may be to take a big shot at acquiring an already established point guard. Since these players are top level superstars it'll take a lot of work and trade compensation to successfully get the move done, but these players are good enough to make it worth moving mountains for.
Steph Curry, Golden State Warriors
If you find yourself in a position where you believe that all it will take to push your team over the edge is a star point guard, there isn't a better option for the present than the Golden State Warriors' Steph Curry.
Steph is a truly transcendent talent on the court, said by some to have fundamentally changed the way basketball is played. Basketball courts all over the world have kids trying to shoot like they're Steph Curry.
At a staggering 96 overall, Curry is the highest rated point guard in the game. Steph will be able to dominate on the court from the moment you trade for him, as he has shooting abilities that can be matched by almost no one in the league.
Steph can make seemingly any shot, with a 96 driving layup rating, a 98 close shot rating, a 92 mid range shot rating, and a world class 99 in his bread and butter of a three point shot rating.
The only potential downside for Steph is that he is already 35 years old, but if you're trading with the intention to win in the present it's hard to do better.
Luka Doncic, Dallas Mavericks
However, sometimes you may want to try to ensure future success by not gambling it all on a player with few years left in the league no matter how good they already are. If you're looking for a player who's already at an elite level but also has plenty of years in front of them, look no further than the Dallas Mavericks' Luka Doncic.
Doncic clocks in at a 95 overall, just one point less than the previously mentioned Steph Curry, making him the second highest rated point guard in the game. This is all despite the fact that he's only 24 years old, giving him plenty of time to continue playing at a high level and getting even better.
Doncic is an incredibly talented shooter, as he comes in with a driving layup rating of 98, a close shot rating of 98, and a mid range shot rating of 94. However Luka is also a great creator on the court thanks to his 98 rating in shot IQ, pass accuracy, ball handling, and pass IQ.
Luka Doncic is a player that will score tons of points himself while also opening up opportunities for the other offensive players on your team.
Damian Lillard, Portland Trailblazers
Another great candidate as a trade target to fill the point guard shaped hole on your roster is the Portland Trailblazers' Damian Lillard.
Lillard comes in at a 94 overall, making him the third highest rated point guard in the game. This is reflected in his individual attributes such as his 96 driving layup rating, 97 mid range shot rating, 92 free throw rating, 98 shot IQ rating, 95 ball handling rating, and 93 pass IQ rating.
While these obviously make Dame both a great shooter as well as an amazing creator on the court, another incredibly valuable trait of his is his durability. Dame's 97 stamina rating and 96 hustle rating ensure that he'll always have the energy to play at the best of his abilities and find a way to be involved in the play
When you pair that with Lillard's 98 overall durability ratings, Dame is a player that's sure to make an impact on almost every play without tiring out or getting hurt very often in the process.
Lillard's only potential downside is that he is already 33 years old, but compared to the previously mentioned Steph Curry he has a few more years to help make your team a true championship contender.
Shai Gilgeous-Alexander, Oklahoma City Thunder
Moving back in the direction of players that are still closer to the beginning of their careers with plenty of years to contribute to your team we have the Oklahoma City Thunder's Shai Gilgeous-Alexander.
Shai comes in already at a 93 overall rating at only 25 years old. If you're looking for a point guard who can be an elite contributor to your team both in the present as well as for many years to come but don't quite have the resources to swing a trade for the previously mentioned Luka Doncic, Shai is also a great option that should be a bit cheaper to obtain.
That's not to suggest that trading for Shai would be settling, however, as just like Luka he's both a great shooter and a great creator on the court. Shai boasts a 91 close shot rating, 93 mid range shot rating, 98 shot IQ rating, 96 pass accuracy rating, and 97 pass IQ rating.
Shai Gilgeous-Alexander is a great option at point guard to push your team over the edge now as well as be a cornerstone to build your team around in the future.
Ja Morant, Memphis Grizzlies
We round out the "superstars" portion of our list with one of the league's brightest young stars in the Memphis Grizzlies' point guard Ja Morant.
Morant has similar pros to the previously mentioned Mavericks' Luka Doncic and Thunder's Shai Gilgeous-Alexander, as he possesses a unique combination of an already elite level overall rating paired with being a very young player, coming in at a 92 overall rating at only 24 years old.
Keeping up the similarities with the two previously mentioned young point guards, Ja is both a great shooter as well as a great creator on the court.
His shooting attributes such as a 97 driving layup rating, 97 driving dunk rating and 90 close shot rating paired with his creation attributes such as a 96 pass accuracy rating, 96 ball handling rating, and 95 pass IQ rating show both of those qualities off. Morant is also an incredibly fast player thanks to his 95 speed rating.
All these skills paired with his youth make him a great candidate to help contribute to your championship team both now as well as far into the future.
Sleepers
While already established superstars are obviously great players to have on your team, not every team has the resources available to actually be able to successfully pull of a trade for players that are so coveted, so you'd rather go with a good to great player than trying to snag a truly elite one.
Even if you do have plenty of resources to spare, you may not have a roster right now to put around them that's worth jeopardizing your future assets to go all in and acquire a superstar in order to try to win now, and maybe you'd rather try to use less resources to trade for a young player that you think has a ton of potential and develop them into a superstar yourself.
If either of these scenarios are the case for you, the following five sleeper point guards will be your best bet.
Marcus Smart, Memphis Grizzlies
We start the sleeper portion of our list off with a player that may already be fairly close to his max potential without the potential of becoming a truly elite player, but is still quality enough to be an important leading force in the success of your team with the Memphis Grizzlies' Marcus Smart.
The first thing you may notice is that Smart plays on the same team as the previously mentioned superstar Ja Morant. This is good news for you if you're looking to acquire Smart, as the fact that the Grizzlies already have a young franchise superstar at the same position may lead them to be more willing to trade Smart to you.
This isn't to say that Smart isn't worth the trade, however, far from it. Smart is an 83 overall, which while not at an elite level is enough to be a great starter for your team and a solid piece of a championship roster. He's also 29 years old, which isn't as fresh as some of the other players on this list but still leaves you with some time to help him further develop a bit.
If you find yourself looking for an impactful point guard for your roster while also working with a somewhat limited budget of resources to use to get one, Marcus Smart may be your guy.
Talen Horton-Tucker, Utah Jazz
Next on our list is a player that's not currently a true star, but is at a level to where they can still be a contributor to your team while you develop them into one with the Utah Jazz' Talen Horton-Tucker.
Talen comes in at a 78 overall at only 22 years of age. Talen already has some strengths as a shooter, such as his 87 driving layup rating, 80 driving dunk rating, and 85 close shot rating.
Talen also has a solid foundation for you to build upon when it comes to being a creator on the court thanks to his 84 pass accuracy rating, 82 ball handling rating, and 84 pass IQ rating.
Overall, Talen Horton-Tucker is a good choice to be a solid contributor in the now with hopes of becoming a great player for you in the future.
Anthony Black, Orlando Magic
The next sleeper pick is one that will take some time and effort into development, but is one with tons of potential in the Orlando Magic's Anthony Black.
Black comes in at a 73 overall at only 19 years old. Being a 19 year old rookie, Black is truly a blank slate that you can try to mold into a star point guard for you team for many years to come.
Black does have a solid foundation for your development to build upon in terms of both shooting as well as creation on the court. He boasts an 80 driving layup rating, 80 close shot rating, 75 driving dunk rating, 80 pass accuracy rating, and 86 ball handling rating.
Outside of actual basketball skills, Black also has incredibly unique size for the point guard position as he stands at 6'7″ tall and weighs 200 pounds.
It'll take some time, but if you're looking for a young player that you can mold into a star player for your team into the future, Anthony Black is a good candidate.
Scoot Henderson, Portland Trailblazers
The next sleeper player on our list is yet another incredibly young rookie with loads of potential in the Portland Trailblazer's Scoot Henderson.
Similar to the previously mentioned Marcus Smart, the first thing you may notice about Henderson's inclusion is that he's on the same team as one of the previously mentioned superstar players, in this case Dame Lillard.
Just like in the case of Smart, this is a good thing for you if you're looking to acquire Henderson, as the Trailblazers already having a star player above him on the depth chart may make them more willing to part ways with him if you offer the right trade compensation.
At a 79 overall and only 19 years old, Scoot already has some incredible attributes for shooting and creation given his age and inexperience. Henderson has an 86 driving layup rating, 94 driving dunk rating, 84 close shot rating, 88 ball handling rating, and 95 hands rating.
These are all very high for a 19 year old rookie and give you an incredible foundation to build upon to go very far into the future.
Keon Johnson, Portland Trailblazers
While it is true that Scoot Henderson being second on the depth chart behind a superstar in Dame Lillard may make it easier to trade for him, it's also true that the Trailblazers know they have a ridiculously young and talented rookie on their hands and that may counter act the fact that he's second on the depth chart when it comes to trade value.
However, luckily for you, the Trailblazers have a very unique roster in that there's three quality point guard trade options for them on their roster, with the third being Keon Johnson.
Johnson does have a lower overall at 70 and is older (21 years old) than the previously mentioned Scoot Henderson, but that doesn't mean he's not a talented player with potential in his own right.
While it is true that he's older than Scoot Henderson, 21 years old is still very young and gives him tons of future years of his career to develop as a player.
He's able to pair his youth with some solid attributes to give him a decent foundation in shooting and creation on the court for you to build upon in terms of development, such as his 85 driving dunk rating, 78 three point shot rating, 80 hands rating, and 74 pass accuracy rating.
Despite his youth and decent foundation, Johnson finds himself as the third point guard on the Portland Trailblazer's depth chart. This means that you're likely going to be able to acquire him for less resources than it would normally take to get a player of his age and overall rating thanks to him being stuck behind Lillard and Henderson for playing time.
Final Word
As you can see from the list above, the league has no shortage of guards that you can trade for to make in impact in building your championship roster.
Whether that's in the form of already established superstars such as Steph Curry and Luka Doncic or sleeper players that will be bigger contributors in the future than in the present such as Anthony Black and Scoot Henderson, there's players out there for you to acquire to fit into the plans of whatever your team's roster construction may currently be.
Don't let any unfortunate circumstances such as unforeseen draft busts or injuries to your star players get in the way of your master plan of an NBA Finals victory, if you play your cards wisely there are players out there that can be the solutions to your problems!
Already have a great guard but need a better center or forward? Check out these guides for which players to trade for at those positions as well!