In NBA 2K24's game modes such as MyLeague and MyGM you're able to take control over and manage an NBA Franchise to your heart's content.
It's up to you to build your roster, develop your players, and coach your team to make them the best team possible in order to lead them to the ultimate achievement of winning the Finals.
In order to eventually reach that goal of a Finals victory, your first step will be to build a squad that can actually get it done. There are multiple ways for an NBA team to build up their roster, be it through drafting and developing players or signing players in free agency.
But sometimes those methods don't work out for various reasons, and you find yourself still needing to find players to fill in important positions for you. When that's the case, completing a trade might be your best bet.
That's why today we'll go over NBA 2K24's best centers to trade for.
Superstars
Sometimes you may find yourself with a roster that has everything it needs to make a true championship run except for one starting player remaining as the missing puzzle piece.
Whether you just haven't been able to find and/or develop a center or your star center goes down with an injury, you may decide that trading for one is the best way to try and save your team's season and championship hopes.
If that's the case for you, the best move may be to take a big shot at acquiring an already established center. Since these players are top level superstars it'll take a lot of work and trade compensation to successfully get the move done, but these players are good enough to make it worth moving mountains for.
Nikola Jokic, Denver Nuggets
If you're looking for a superstar center to add to your team, look no farther than the Denver Nugget's Nikola Jokic.
The two time recipient of the MVP award comes in at a staggering 98 overall, making him the highest rated center in the game. Jokic will dominate in the paint thanks to his 90 standing dunk rating, 99 close shot rating, as well as score from outside it thanks to his 98 mid range shot rating.
Jokic is also a difference maker in the paint when playing defense, as his 93 strength rating and 93 defensive rebound rating ensure he'll always have a strong chance of coming down with the ball.
Nikola will also help the other players on your team get open looks, as whenever all the attention is focused on him his 93 pass accuracy rating, 98 pass IQ rating, and 96 pass vision rating will allow him to get the ball to the other playmakers on your team.
Nikola Jokic boasts all of these elite skills at the young age of only 28 years old giving you a decent amount of time left in his prime, making Jokic a great trade target to be the centerpiece of your team both now and into the future.
Joel Embiid, Philadelphia 76ers
If you're looking to acquire a center that can be an elite level defensive star for you, your best bet is likely the Philadelphia 76ers' Joel Embiid.
The three time defensive player of the year comes in at a 96 overall, making him the second best center in the game at only 29 years old. Just like the previously mentioned Nikola Jokic, this means that you can have Embiid in his prime contributing to your team for many years to come.
As was just mentioned, Embiid is a star on defense, especially in the paint. This is thanks to his 92 interior defense rating, 94 defensive rebound rating, 94 help defense IQ rating, and 90 defensive consistency rating.
Embiid is both a freak athlete and a player with elite technique as can be seen in his 95 strength rating, 95 stamina rating, and 98 intangibles rating. His elite level stamina is especially impressive when paired with the fact that he stands at an even seven feet tall and 280 pounds.
Embiid has a slightly lower overall and is slightly older than the previously mentioned Nikola Jokic, but he's also a notably better defender, which makes Embiid the better option if you're looking for a more well rounded center to add to your team.
Anthony Davis, Los Angeles Lakers
The next potential center trade acquisition on our list is the Los Angeles Lakers' Anthony Davis.
Coming in at a 90 overall at 30 years old, Davis is the third best center in the game while also being the oldest player on today's list. This means that if you were to acquire Davis you'll have less years of his prime as well as less of his career overall, but he may able to be traded for using less resources thanks to his older age.
This makes Davis a great option if you need a top level center but are a little bit tight on resources available to bring one in. That's not to say that Davis isn't a great option, however, far from it.
Davis is a great versatile shooter when playing in the paint, as is reflected in his 90 standing dunk rating, 88 driving dunk rating, 96 close shot rating, and 98 offensive consistency rating.
Davis can also more than hold his own on the defensive side of the ball thanks to his 94 interior defense rating, 85 block rating, 89 defensive rebound rating, 93 help defense IQ rating, and 95 defensive consistency rating.
Bam Adebayo, Miami Heat
If you're looking to land a center that's already an established star while also having plenty of years in front of them, your best bet is likely the Miami Heat's Bam Adebayo.
Adebayo comes in at an 87 overall, which makes him the fourth highest rated center in the game. While that is a somewhat notable drop from the previously mentioned trade candidates of Jokic, Embiid, and Davis, he makes up for it by already having attained that overall at only 26 years old.
This makes Adebayo the youngest of any of the players in the "superstar" tier of our list, giving him the most prime years remaining of them as well as the most time to continue getting better before any regression comes with age.
Adebayo also has plenty of room to grow thanks to his 'A' potential grade, meaning that while he's currently the fourth best center in the game it may not be long until he's the best in the league if you play your cards right.
All this talk isn't to suggest that he's not already able to play up to an elite level, however. Adebayo is indeed already a very well rounded player with standout skills as a shooter (93 close shot rating, 87 mid range shot rating) and defender (93 interior defense rating, 92 help defense rating, and 90 defensive consistency rating).
Domantas Sabonis, Sacramento Kings
Similar to the previously mentioned Bam Adebayo, another great contender if you're looking for a mixture of present ability is the Sacramento Kings' Domantas Sabonis.
Just like Abedayo, Sabonis comes in at an 87 overall, tying Abedayo as the fourth highest rated center in the game. Sabonis is also only a year older at 27, meaning that while he theoretically has one less year of his prime, it's still a good amount of time of playing at a top level for your team.
Sabonis also boasts an 'A' for his potential grade, which means that he also has plenty of ability to develop from being "one of the best" centers in the league to simply "the best" center in the league provided you develop him well.
Sabonis is already an abnormally great shooter for a center (88 driving layup rating, 97 close shot rating, 89 mid range shot rating, 81 three point shot rating, 91 shot IQ rating) while complementing that skill set with passable defense (70 interior defense rating, 91 defensive rebound rating).
One of the biggest ways that Sabonis stands out is his sheer size, as standing at 7'1″ makes him the tallest of any of the centers in our "superstar" tier. Sabonis' size paired with his absurdly high for his size 92 stamina rating makes him a true freak of nature that must be accounted for on the court.
Sleepers
While already established superstars are obviously great players to have on your team, not every team has the resources available to actually be able to successfully pull of a trade for players that are so coveted, so you'd rather go with a good to great player than trying to snag a truly elite one.
Even if you do have plenty of resources to spare, you may not have a roster right now to put around them that's worth jeopardizing your future assets to go all in and acquire a superstar in order to try to win now, and maybe you'd rather try to use less resources to trade for a young player that you think has a ton of potential and develop them into a superstar yourself.
If either of these scenarios are the case for you, the following five sleeper centers will be your best bet.
Victor Wembanyama, San Antonio Spurs
The first and number one trade candidate for the "sleepers" portion of our list is the San Antonio Spurs' Victor Wembanyama.
Wembanyama doesn't fit the typical definition of a "sleeper" player, but he does fit the definition for this list, in that he's an extremely young player with an insanely bright future of top level play ahead of him. At only 19 years old, Wembanyama likely has over a decade in which he can be an elite contributor to your team. He's not even close to having reached his prime yet, and he has plenty of years for you to use to develop him into the best center in the league.
Despite his young age, Wembanyama comes in at an 85 overall rating, which already puts him as the sixth highest rated center in the game. He's yet to even play a game in the league and he's already the sixth best at his position, meaning it shouldn't take too long before you're able to develop him into truly the best in the league.
He also stands at a towering 7'4″ giving him a unique size advantage, even compared to the already tall average NBA player. On top of his size he already has a great foundation for you to build upon with his 90 shot IQ rating, 98 hands rating, and 90 block rating.
The main potential downside is that trading for such an incredible prospect at such a young age is going to be very difficult and you'll have to part ways with a significant amount of resources to get it done, especially considering the Spurs just spent the first overall draft pick on him.
Moussa Diabate, Los Angeles Clippers
If Wembanyama does indeed prove to have too steep of a trade price for you, there's still some great young centers out there you can trade for and develop, with one of them being the Los Angeles Clippers' Moussa Diabate.
Diabate comes in at a 70 overall at only 21 years old. While a 70 overall obviously isn't in the realm of the elite players, it's still good enough that he can play solidly passable on the court while you develop the young player into something special.
Diabate does have a solid foundation to build upon, with his main strength currently being up close and personal in the paint as is reflected by his 80 driving dunk rating and 87 offensive rebound rating.
At the current moment Diabate does have some noticeable weaknesses in his game, but thanks to his 'B+' potential rating and youth there's plenty of room for you to develop him up into a great contributor and possibly even a top 5 center.
A big perk for Diabate is that he currently finds himself as the third center on the Clippers' depth chart behind Ivica Zubac and Mason Plumlee. This means that he'd be easier to trade for than some others considering he's not seeing a lot of time on the court at the moment for the Clippers.
Onyeka Okongwu, Atlanta Hawks
While the previously mentioned Diabate is a solid candidate to trade for and develop, maybe you're looking for a player that still has room for development while also already being a more solid contributor for you in the present.
If that's the situation you find yourself in, a great choice for you is the Atlanta Hawks' Onyeka Okongwu.
Okongwu is only 22 years old, meaning that like the other sleeper options already mentioned he has plenty of time ahead of him to develop his game. However despite his youth he already clocks in an 81 overall, allowing him to already be able to step onto the court and log some good to great performances for your team.
Okongwu's biggest strength is that he's already a well rounded shooter as you can can see in his 80 driving layup rating, 85 standing dunk rating, 80 driving dunk rating, 89 close shot rating, and 88 mid range shot rating.
Similar to Diabate, your ability to trade for Okongwu will be made easier by his current spot on the depth chart as Okongwu is sitting at the second center position on the depth chart behind Clint Capela.
Jericho Sims, New York Knicks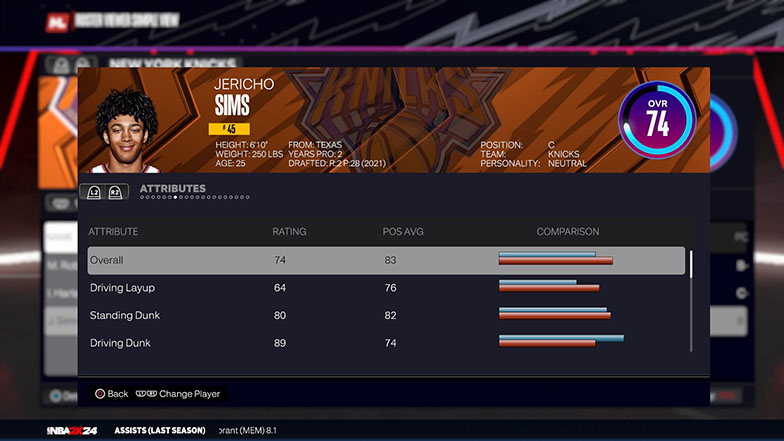 Another solid candidate if you're looking for a sleeper center to trade for can be found in the New York Knicks' Jericho Sims.
Sims clocks in at a 74 overall and only 25 years old. If you're specifically looking for a center who can hold his own and won't be bullied by others in the paint, or maybe even will be the one bullying opposing players, Sims may be your guy.
This is because Sims is the most well built of all the sleeper options on our list, standing at 6'10" tall and weighing 250 pounds (Wembanyama is obviously much taller at 7'4″, but weighing only 210 pounds means that Sims is more easily able to use his weight and size as a weapon on the court).
Sims' size being a strength of his is reflected in his attributes in the form of an 80 standing dunk rating, 89 driving dunk rating, 86 offensive rebound rating, and 74 defensive rebound rating.
Sims' size paired with his 'B' potential rating makes him an interesting candidate as a sleeper player to trade for and develop for the future, and the fact that he's behind Mitchell Robinson and Isaiah Hartenstein as the third center on the Knicks' depth chart will make him easier to actually complete a trade for.
Jaxson Hayes, Los Angeles Lakers
A similar sizable prospect to the previously mentioned Jericho Sims is the Los Angeles Lakers' Jaxson Hayes, who comes in as a 74 overall at 23 years old.
Like Sims, Hayes is able to use his size as a weapon thanks to the fact that he stands at 7'0″ tall and weighs 220 pounds. While this is closer to Wembanyama's weight than Sims', Hayes makes up for it by simply being stronger as is reflected by his 72 strength rating.
Outside of obviously being a good shooter when the court is congested in the paint (85 standing dunk rating, 80 driving dunk rating), Hayes is also ice cold when straight up shooting from close thanks to his 96 close shot rating.
Hayes size is also a factor on defense as can be seen in his 70 block rating, 78 interior defense rating, and 79 offense rating; his big hands also allow him to keep great control of the ball with his 90 hands rating.
Like many of the other sleeper players mentioned in our list, the fact that Hayes finds himself as the third center on the Knicks' depth chart behind Anthony Davis and Christian Wood will make him easier to successfully trade for.
All of Hayes' already listed traits paired with his 'B+' potential rating make him an interesting sleeper trade candidate.
Final Word
As you can see from the list above, the league has no shortage of centers that you can trade for to make in impact in building your championship roster.
Whether that's in the form of already established superstars such as Nikola Jokic and Joel Embiid or sleeper players that will be bigger contributors in the future than in the present such as Victor Wembanyama and Onyeka Okongwu, there's players out there for you to acquire to fit into the plans of whatever your team's roster construction may currently be.
Don't let any unfortunate circumstances such as unforeseen draft busts or injuries to your star players get in the way of your master plan of an NBA Finals victory, if you play your cards wisely there are players out there that can be the solutions to your problems!
Already have a great center but need a better guard or forward? Check out these guides for which players to trade for at those positions as well!