In NBA 2K, jump shots and jump shot creations are being refined for every season. NBA 2K24 is no different.
Creating a jump shot is not as simple as just copying an animation from a player. We have hundreds if not thousands, of combinations you can combine to create your own jump shot.
Each jump shot mechanic is customized to your liking – your shot base type, upper release, stroke, and timing.
If you start creating your jump shot, you might get overwhelmed by the many choices available. We'll help you get started with a few preset builds we have.
Jump Shot Animation Mechanics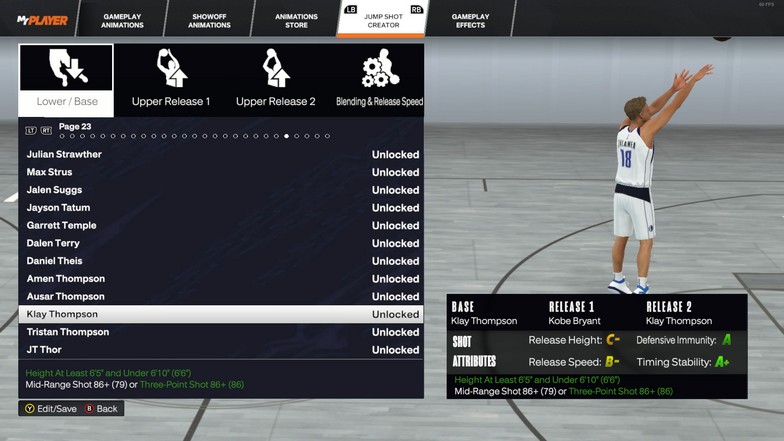 Lower / Base
The lower or base of the jump shot is the foundation of your whole jump shot animation. It determines how your player will position their foot when they attempt a jump shot. The whole motion differs for shooting off the dribble, catching and shooting, and fading away.
This affects your shot timing and your jump motion speed.
Upper Release 1 & 2
The upper release is how your player jumps up from your base position. Does your body curve when shooting off the dribble like Kobe? Do you jump extremely straight with your elbows locked straight to the rim?
These are all part of the upper-release motion. These affect your jump height and defensive immunity.
These two categories of upper releases give you the flexibility to adjust the release timing by blending the two upper release forms and adjusting them to your preference.
If you like Kobe's fluid motion but find the release too slow, you can combine a slower release from another release animation to quicken it.
Bending & Release Speed
Blending & release speeds determine how fluid your release or follow through is and how fast you can pull the shot. You can control how you blend both upper release 1 and upper release 2 together.
If you want your speed to be more like the 2nd stroke, you can adjust the bar. The effect depends on the percentage of which jump shot is more pronounced. If you have a quick-release shooter like Klay Thompson, you'll increase your release speed by increasing the percentage.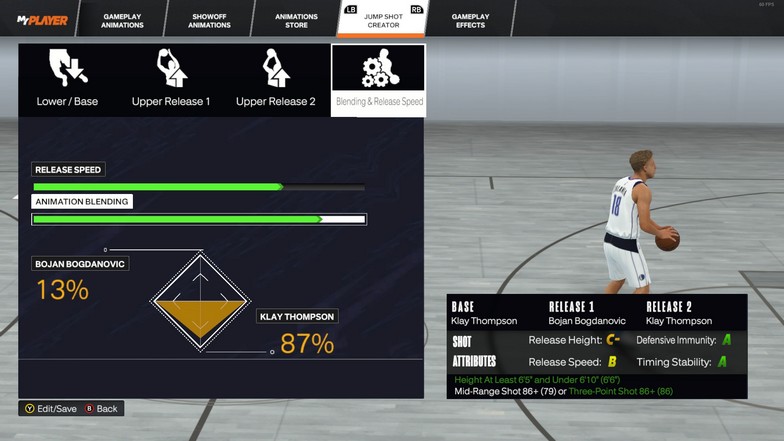 Jump Shot Animation Grades
Release Height – Determines the height at which the ball is released from the hand
Release Speed – Determines the rate or speed at which you must hit the shot meter to get a green shot
Defense Immunity – Determines how effective the jump shot will be despite being contested by opposing players
Timing Impact – Determines how much your shot is penalized for poor timing
You'll get a grade for four categories depending on how you mix and match all the animations. These categories are hard to objectify.
You might have an A+ on Release Speed, but you can find it hard to shoot greens because it is too fast.
The only good grades you should prioritize are defense immunity and timing impact. Most of the jump shots are all based on preference, but these grades could slightly help you shoot more greens.
Best Jumpers for Guards/Small Forward
Quick Release – Off the Ball Monster
Base: Klay Thompson
Release 1: Carmelo Anthony
Release 2: Carmelo Anthony
Blending & Release Speed: 40/60
For this quick-release jumper, we are pushing the release speed to A+. Klay Thompson has a good base shot as a quick catch-and-shoot sniper. Carmelo Anthony's insanely quick jumper made him impossible to guard as a scorer.
For these stats, the height is at a D+. Quick releases are usually common to taller scorers, so this jump shot is designed more for them.
The quick release gets smaller guards to get a shot off faster when playing off the ball. But if you are tall enough, you are unstoppable off the dribble after getting some space.
The shot has good defensive immunity and a quick release, so you have the ability to play isolations and create a shot 1-on-1.
With a speedy point guard build, you can capitalize on making pick-and-roll plays and hit open middys when they sag off the defense and clog the paint.
Set Shot – Catch and Shoot Sniper
Base: Joe Ingles
Release 1: Ray Allen
Release 2: Ray Allen
Blending & Release Speed: 50/50
This set jump shot is more of the same as the first one in terms of playstyle. This version, however, has a tighter base with Ingles' shot. You can find more bases and replace Ingles with the same slow and steady base.
Ray Allen's lightning-fast speed in his release gives you more defensive immunity and more time to get the green with every shot. It doesn't show on the grade, but it isn't that slow.
The goal for this jump shot is to move off the ball and catch the ball while open, and shoot a green-timed shot easily.
Shot Creator – Off the Dribble Offensive Juggernaut
Base: Zach Lavine
Release 1: Kobe Bryant
Release 2: Kobe Bryant
Blending & Release Speed: 50/50
You can never go wrong with Kobe's release when it comes to shot creation. Kobe has one of the most iconic jumpers in NBA history.
It is tough to guard because of you'll rarely get affected by the opponent's defense. It has a decent height with a slightly slow release speed.
However, when you shoot off the dribble, you want a slower release for better timing stability.
This is perfect for good small forward builds who are extremely mobile and like to play isolations instead of pick-and-rolls.
Best Jumpers for Power Forwards/Centers
No Jump – Pick and Pop Threat
Base: David West
Release 1: Lauri Markkanen
Release 2: Toni Kukoc
Blending & Release Speed: 83/17
It is sad that there isn't a base for a Tim Duncan shot, but David West's jumper is close to that. He is known as a mid-range assassin in his all-star days.
The height of the release isn't high, but we aren't improving on it since we are tall enough to get the shot off.
Defensive immunity is decent, and combining it with an above-average release speed, it is perfect for pick-and-pop situations.
You would experience a lot of defenses switching on the screen, but you can immediately punish them when they go over the screen with an easy mid-range pop.
Spot Up – Catch and Shoot Stretch Big
Base: Jayson Tatum
Release 1: Larry Bird
Release 2: Vince Carter
Blending & Release Speed: 24/76
This closely resembles the pick-and-pop jump shot but with more mobility. Since we are improving our shot and mobility on this power forward or center build, we can stretch out quickly and go for an open 3.
With our height and mobility, we have a jump shot suited for a fast and lethal sniper who can punish late defenders contesting the shot.
We'll never have a problem getting our shot blocked with the release height combined with the height of a power forward or center.