Trading for superstars like Giannis or Luka is one of the hardest things to pull off in NBA 2K24. Normally, you'll give out the whole house and damage your whole team for a single superstar.
Even then, it isn't even guaranteed that they would accept the trade. There are a few workarounds to seal the deal.
It might be through collecting assets or even through a simple change in the settings. We'll cover every single aspect and turn you into one of the best GMs in the league!
Trade Override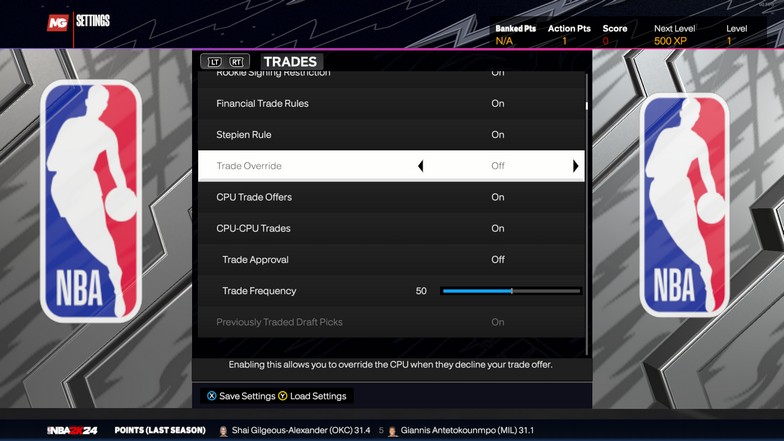 First, you can override every trade and force the AI to accept any deal if it meets the salary cap, number of players, and other rules (like the Stepien Rule).
You can override all the trade if the deal can be accepted or proposed.
You must go to the settings tab and look for the trade settings.
Under the trade settings, look for "Trade Override" and turn it on. You can also adjust some of the rules to have more flexibility.
However, this method isn't really realistic and simulates an unfair advantage.
For those who just want to trade better and follow the rules, continue reading.
Note: if you want to add more realism to your MyGM playthrough, you can follow these realistic sliders to simulate a better experience.
Accumulating Assets
Young prospects
There are a lot of young and rising stars in the league. New rookies get drafted every year as teams and the teams with the highest draft picks get the best prospects. 
With new players coming every year, some players will reach their prime as well. It is an endless cycle of players rising and declining.
We always want to have the players who are rising. In NBA 2K24, they are valued as highly as they can be compared to better-skilled players. For example, a player like Paolo Banchero will be valued more than a player like Jamal Murray. 
Jamal is an all-star worthy player who just won the championship and has a better overall rating than Paolo. However, Paolo is still valued a lot more. This is because Paolo has the possibility to pass Jamal's overall rating in just a year or two.
The best way to accumulate assets is by getting players like Paolo Banchero and developing them. While you may pay more to get these players, you'll get bigger returns in just a year or two.
Look for players on your team with high potential. They could grow to have a higher value if you give them playing time minutes.
Superstars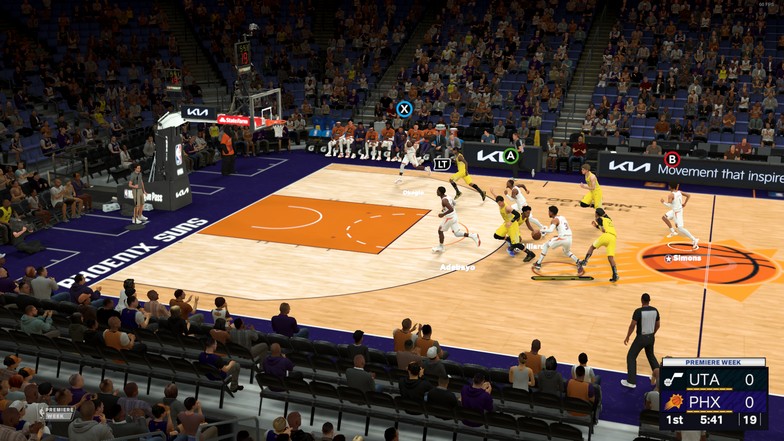 Superstars are players who are already above the overall rating of 90. Most of them have already hit their prime, while a select few still have room to grow.
These superstars have a high trade value, and most are already at their peak. Usually, you'll get stuck with these superstars because they might be high in value, but you cannot get a 1:1 trade with a superstar.
Teams always value their superstar and they expect more in return. In the NBA, a Kevin Durant trade for a piece like Zion Williamson or Stephen Curry would make sense, but in NBA 2K24, you need to "wow" the organization before they part with their superstar.
I've tried trading Kevin Durant and Devin Booker for Jayson Tatum and Kristaps Porzingis (not even Jaylen Brown). They didn't even accept the deal.
Before picking a team with a superstar, make sure you really want them to be on your team. It is extremely hard to get an equal-value trade unless you trade it for a young asset.
A Nikola Jokic trade for someone like Paolo Banchero would go through, but not for someone like Giannis or Curry. Is it really worth it? I don't think so.
Draft picks
Draft picks aren't as big as in the NBA. While they are still valuable, they are a bit consistent with their values.
In the NBA, there are prospects like Victor Wembanyama, Zion Williamson, and Andrew Wiggins (yeah, Andrew was extremely hyped up) where teams would give the farm for a chance at a #1 overall draft pick.
Even if they won't be as valuable, there is a trick in stocking up on draft picks.
The first thing you should do each season is to look at the strength of each team. If you feel like a team could tank a season, you should get their draft picks at the start of the season before their pick gets valuable.
In a fantasy draft league, their picks will be valued to their previous NBA season record. This means that if the Denver Nuggets, one of the best teams in the NBA, couldn't get a good player or team in the fantasy draft, you could trade for their pick, which will be valued where they were the top seed in the league.
Accumulate all the draft picks you can and trade them when their value goes up.
I suggest removing the Stepien Rule when playing MyLeague/MyGM. The rule disallows teams to trade 1st-round picks in consecutive years. This rule follows the current NBA trades, so if you are playing a team that just traded their picks, you can't trade your picks for the first season.
Signing Free Agents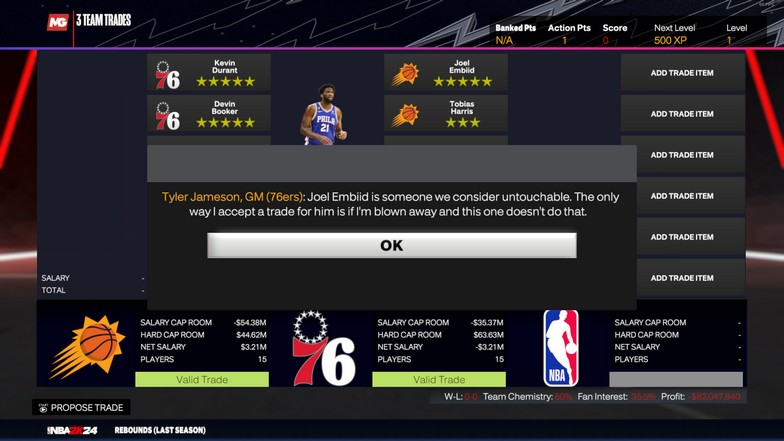 This is by far the best way to trade for a superstar. Imagine getting a superstar out of nowhere and flipping it for a superstar of your choice.
The trick is simple but hard to pull off. The first thing you need to check is your salary cap space for the next season.
If you don't have any expiring contracts, don't expect to have any cap space in the next season. The goal is to get some players on a 1-year deal without sacrificing any valuable asset in return.
Once you fill your team 1-year deal players, you'll have enough cap space to sign a free agent in the offseason.
You can sign players like Pascal Siakam, Klay Thompson, and James Harden after the first season.
If you ever get more cap space, you can even get another decent player like D'Angelo Russell or Talen Horton-Tucker to increase your trading power.
The only problem with this method is that you have to wait until the midseason before you can trade your newly signed player.
Trading for a Superstar
After accumulating assets, you can now choose your superstar. Look for a superstar and fill up your trade value.
Most of the trades would look like the following:
Your offer:
A young rising star with a low contract value (valued at 4 and 1/2 star)
A superstar with a big contract (valued at 4 and 1/2 star or 5 star)
Valuable draft picks (valued at 3+ star each)
Any player to equalize the contract values
Their offer:
A superstar (valued at 5 star)
Bad player with a contract to equalize the money value
The trade looks extremely one-sided, but this is the only way to get a superstar with the default trade sliders.
Some of the teams might not even accept a deal like this. But this is your best chance at trading for a superstar.