Getting your player in NBA 2K24's MyCareer mode to a 99 overall rating is by far the hardest grind you'll have to do in the game.
Some players don't even reach this milestone before the next game comes out.
However, there are some ways you can min-max your game to attain a 99 rating faster. Difficulty, minutes per quarter settings, overall performance, and practices are examples of what you need to look out for or learn.
These affect the virtual currency or VC you earn, which is then used to improve your player. We'll talk about all of these things below.
Virtual Currency or VC
First things first, if you want to get a 99 overall rating, the fastest way is by buying VC with real money. The VC prices are the following and it can vary among different regions:
5,000 VC – $1.99/£1.79
15,000 VC – $4.99/£4.49
35,000 VC – $9.99/£8.99
75,000 VC – $19.99/£17.99
200,000 VC – $49.99/£44.99
450,000 VC – $99.99/£89.99
700,000 VC – $149.99/$129.99
Simply buying the $149.99 for 700,000VC can catapult your player from a 60 to 99 (along with the pre-order and edition bonuses). However, you aren't reading this to spend more money so let's move on.
Increasing Your Maximum Overall Cap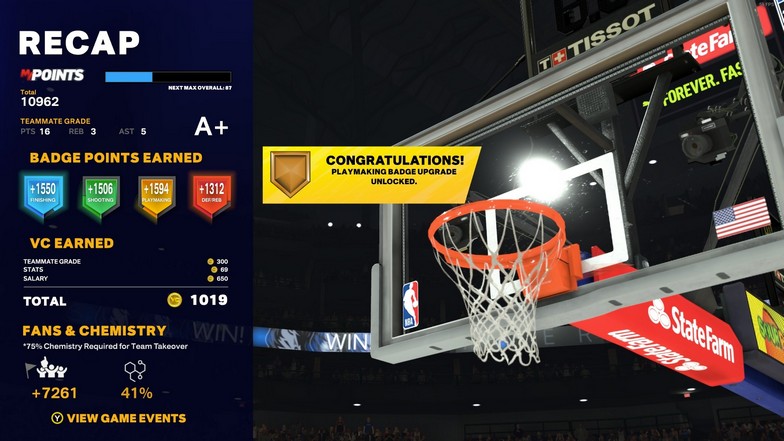 When you created your first player, you'll be adjusting its maximum potential.
You'll fill up the attributes to however you want. Once you hit the 99 overall rating, you can't increase your attributes any further. It is best that you allocate your potential attributes properly because you'll be spending more money on another character if you want to change these.
After creating your player in MyCareer, your maximum cap is at an 86 overall rating. It is a bit funny since even if you buy all the VCs in the store, you still can't reach 99 instantly.
To increase this maximum cap, you need to level up and increase your MyPoints. You can increase your MyPoints by playing games.
Don't worry, you'll never have this overall cap problem unless you bought around 400,000k+ worth of VC for a single player.
Keep playing games and you'll earn VC and MyPoints altogether. You'll never hit a wall where you can't increase your attributes because of the cap unless you grind for hundreds of hours in a different game mode and use that VC in MyCareer.
How to Maximize VC Earnings in MyCareer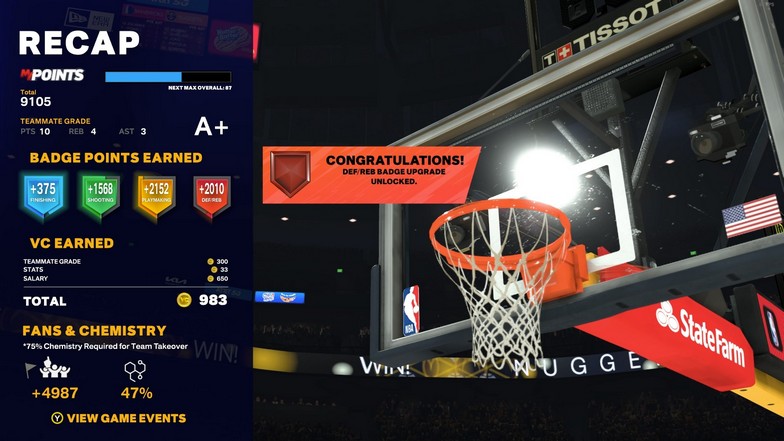 Without any endorsements and incentives, I tried playing 5-minute, 8-minute, 10-minute, and 12-minute per quarter games. Initially, they were all in pro difficulty.
You'll earn the most VCs in 12-minute per quarter games, but you'll be playing a lot more per game.
Comparing the 5-minute to the 10-minute per quarter setting doesn't even double your earnings. However, you do have to have a teammate grade of A+ to maximize the earnings.
In short, the best way to maximize VC earnings in MyCareer is by playing on the lowest minutes per quarter setting where you can achieve a teammate grade of A+ consistently.
Now, we have to factor in the difficulty. Since you do earn more VCs on higher difficulty, we can quickly add this to the mix.
Play the lowest minute per quarter setting on the highest difficulty you can play where you can get a teammate grade of A+ consistently.
Tip: It is a lot easier to get a teammate grade of A+ by playing on a good team or playing with a superstar player.