As a manager in any sports team, winning silverware is one of the most significant achievements that one can boast of. Something else that comes pretty close is unearthing young talent that goes on to become a dominant force and a household name in the game.
Franchise Mode in NHL games allows you to do these two things. As the General Manager, you have quite a bit of control over the scouting network whose job is discovering new talent.
If you know what you're doing, these scouts will find the best young players in NHL 23, and you can mold them to become the best players in the game a few years down the line.
First, you need to familiarize yourself with how potential works in NHL 23 Franchise Mode. Luckily, that's exactly what this guide is about. Let's get into it!
What Does Potential Indicate?
The potential of a player in NHL 23 indicates how much the player can grow compared to their current ability.
For young players, it is very common to see them start out with relatively average stats, but the indicated potential tells you if the player is worth drafting.
Picking them up while they're still young and relatively easy to acquire is seen as an investment, whether you plan to keep them with the team for a long time or trade them.
The Player Potential Hierarchy in NHL 23 Franchise Mode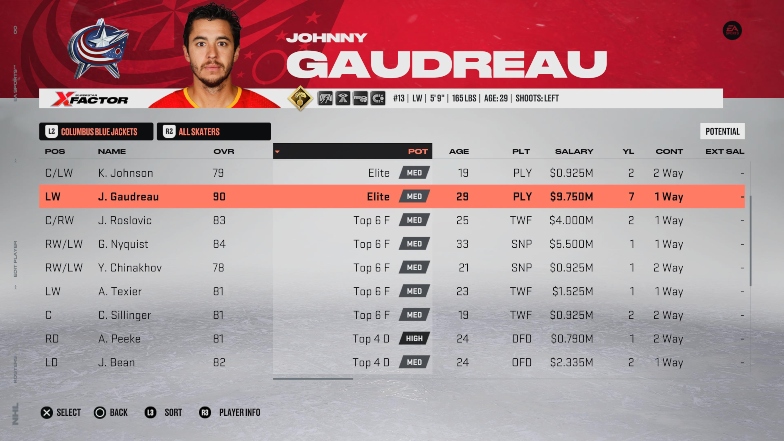 There are up to ten standard tiers that indicate the potential of a player in NHL 23 Franchise Mode.
Next to each player's potential rating, you'll also see a "Low" "Medium, or "High" tag that is supposed to indicate the chances of that player reaching the stated potential. Some might even surpass it, and others might never get there.
The ten tiers are:
Franchise: generational talent that you can build a franchise on
Elite: one of the best players in the league in their position
Top 6 F: a forward to be used in your 1st or 2nd line
Top 9 F: a forward to be used in the 1st, 2nd, or 3rd line
Top 4 D: a defender to be used in your 1st or 2nd line
Top 6 D: a defender to be used in the 1st, 2nd, or 3rd line
Bottom 6 F: a forward to be used in your 3rd or 4th line
7th D: A defender to be used in the 4th line
AHL top 6: a 1st or 2nd line player in the AHL
AHL bottom 6: a 3rd or 4th-line player in the AHL
After the Franchise and Elite levels, goalies in NHL 23 are also classified as "Starter", "Fringe Starter", "Backup", and "AHL Starter".
If you manage to nab a young player with Franchise potential, then you have a gem on your hands. Heck, some of the best superstars with x-factor zone abilities in NHL 23 don't have that much potential!
It should be noted that scout reports only really indicate the quality and depth of the report that is submitted to you. The true development potential of a player becomes clear when they actually join your team.
How to Spot Potential in NHL 23 Franchise Mode
When you're setting up a new Franchise Mode game in NHL 23, you will see the option to turn on a feature called "Fog of War".
This feature necessitates the use of scouting to get full and accurate information about the players in the league.
If it is turned on, you'll see that the attributes of NHL and AHL players are hidden and you have to scout them to reveal the information.
Scouting is a fairly straightforward process though; it just takes longer. To put your scouts to work, simply go to "Team Management" and click on the option to assign scouts.
From "Team Management", you will be presented with a number of filters to specify search parameters such as age, team, position, potential, duration of scouting, etc. for the type of player or group of players that you want.
Adjust the filters according to your requirements and wait for the scouts to deliver.
Note that the accuracy of your scouts' reports will also vary based on the quality of the scout. Each scout has a rating for attributes such as region accuracy, efficiency, team fit, and team assessment.
That brings us to the "Scout accuracy" feature that changes the more you scout a player. There are four levels of accuracy: Low, Medium, High, and Exact. If your team has no information on a player at all, the spot for potential will be marked as "Unknown".
These accuracy levels are indicated with lines stacked on top of each other, illustrated in the screenshot attached below.
If Fog of War is turned off, then you can pretty accurate information most of the time by simply visiting the team's roster and opening up the player's details. However, you'll still have to put your scouts to work to find the best young talent.
Young Players with Franchise and Elite (High) Potential in NHL 23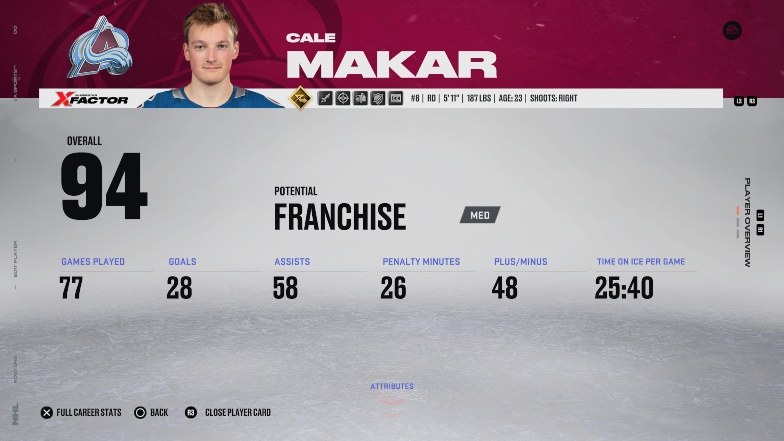 The average age in the NHL is 28, so I'd say any player aged 25 and under should be considered young. The following young players have Franchise or Elite (High) potential in NHL 23.
| | | | | | |
| --- | --- | --- | --- | --- | --- |
| Position | Name | Age | Current Team | Overall Score | Potential |
| LD | Owen Power | 19 | Buffalo Sabres | 82 | Elite |
| RD | Cale Makar | 23 | Colorado Avalanche | 94 | Franchise |
| C | Connor McDavid | 25 | Edmonton Oilers | 95 | Franchise |
| C | Jack Hughes | 21 | New Jersey Devils | 87 | Elite |
| LW | Alexis Lafreniere | 20 | New York Rangers | 83 | Elite |
| RW/LW | Timo Meier | 25 | San Jose Sharks | 87 | Elite |
| RW | Jordan Kyrou | 24 | St. Louis Blues | 87 | Elite |
| C | Auston Matthews | 25 | Toronto Maple Leafs | 94 | Franchise |
| C/LW | Elias Pettersson | 23 | Vancouver Canucks | 87 | Elite |
| C/RW | Nolan Patrick | 24 | Vegas Golden Knights | 79 | Elite |
Judging by this list, Colorado Avalanche's Cale Makar is arguably the most exciting young player in NHL 23 Franchise Mode.
You probably noticed that there are no goalies aged 25 or under here with minimum Elite (High) potential.
This is because the best goaltender in the game, Andrei Vasilevskiy (Tampa Bay Lightning with 94 OVR), is 28 years old and has Elite (High) potential.
On the other hand, the best U25 goaltender, Jake Oettinger (Dallas Stars with 86 OVR), is 23 years old but "only" has Elite (Medium) potential.
Final Words
One important takeaway from this guide when it comes to player potential is that, while a scouting report gives you a good idea of how much a player can grow, it's okay to follow your gut in some cases.
It may be rare, but players can develop to be better or worse than their initial reported potential, and there are situations where you have little control over the outcome.
Regardless, learning how potential works in NHL 23 Franchise Mode gives you a good head start when it comes to drafting and developing players.