EA took a leaf from Madden NFL's books when they introduced X-Factors in NHL 22. These X-Factors provide boosts – subtle or significant – to the abilities and skill levels of players on the ice in certain game situations.
Generally, there are six categories of skills for each skater or goalie in the game, including skating, shooting, passing, defending, goaltending, and hockey IQ.
There were up to 54 X-Factors cutting across these categories in NHL 22, and these were divided further into two categories.
The first is "zone abilities" which suggests that the attribute boost for the player is significant, while regular "superstar ability" X-Factors suggest a subtle boost to the specified skill/attribute (within the specified context).
In NHL 23, three new X-Factors have been added, bringing the new total to 57. It's a lot to take in, and it can be hard to decide which ones to give priority to when you're building a team. So, in this guide, I have detailed the best superstar x-factors in NHL 23. But first, let's look at the new additions.
New X-Factors in NHL 23
Key: C – Center, LD – Left Defense; RD – Right Defense; LW – Left Wing; RW – Right Wing; G – Goaltender.
Relentless
One of the most-hyped features by EA in the gameplay deep dive trailer for NHL 23 was the addition of a tweak to the gameplay that improved realism. This tweak improved the ability of the skaters to make desperate last moves even when knocked off-balance by contact.
This allows you to make a last-ditch pass or shot, but the accuracy would depend on specific attributes.
More than any others, the most important attribute here is the relentless X-Factor and its in-game description reads, "Phenomenal at performing off-balance and desperation plays on the puck. Greatly increases the shot and pass accuracy when performing passes or shots after contact".
At the time of release, no players in NHL 23 have Relentless zone ability, but there is a handful that can activate the skill at the superstar ability level. This includes Minnesota Wild's Kirill Kaprizov who is one of the best young players to sign in NHL 23 Franchise Mode.
Other players with superstar ability are Colorado Avalanche's left winger, Gabriel Landeskog, and Jack Hughes, New Jersey Devils' center.
Skilled Up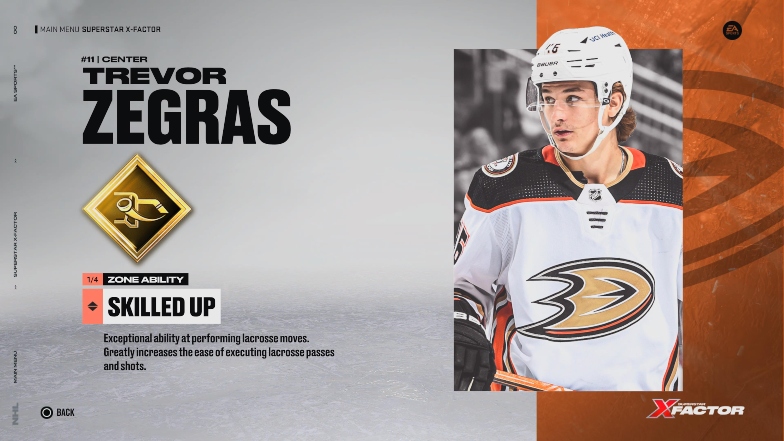 Skilled-Up is another new X-Factor for skaters in NHL 23. Its in-game description reads, "Exceptional ability at performing lacrosse moves. Greatly increases the ease of executing lacrosse passes and shots".
We've seen Anaheim Ducks' rookie center and NHL 23 cover star Trevor Zegras do wonders with lacrosse passes and shots in real life, so it is no real surprise that he's the only one with Skilled Up zone ability in the game.
Again, there are others that get the boost with superstar ability, but you have to remember not to expect the same levels of success using the skill with them compared to Zegras.
No-Timer
This one is for the goaltenders, and its description reads, "Exceptional save ability and reaction time when facing one-timers".
Now, it appears that the efficiency of one-timers has been nerfed a bit in NHL 23 compared to the previous year's game, so you're likely to struggle a bit more than usual to score them anyway. However, there is no goalie in the game that has this X-Factor.
The Best Offensive X-Factors in NHL 23
Moving on to the offensive X-Factors. The five best options in no particular order are as follows:
Relentless
Make It Snappy
One Tee
Wheels
Tape to Tape
Relentless
I already discussed Relentless earlier on. I'll admit that maybe this is just the excitement of getting something that's shiny and brand new, but the thought behind EA's execution of making the game more realistic with last-ditch efforts is pretty interesting.
Whether it's for good or bad, I have a feeling that there will be a lot of conversation around this addition over the course of the year.
Make It Snappy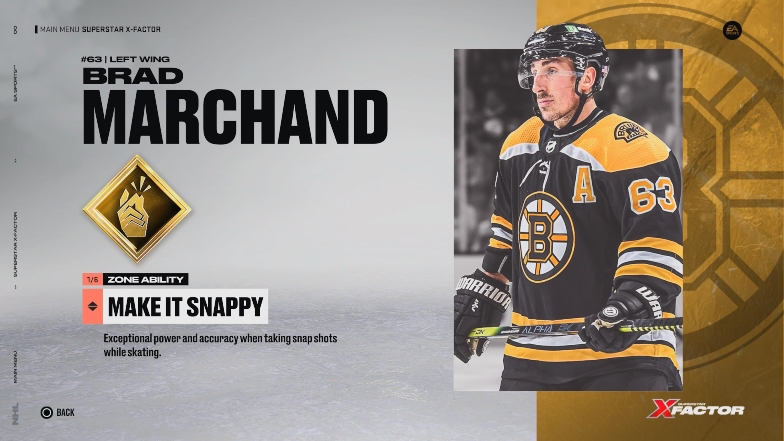 Description: Exceptional power and accuracy when taking snap shots while skating.
Make it Snappy is a boost for your snap-shooting ability when skating, so this is clearly targeted at scorers. It should be particularly useful in 1v1 situations
Notable players with Make It Snappy: Brad Marchand (LW, Boston Bruins); Artemi Panarin (LW, New York Rangers); Alex Debrincat (RW/LW, Ottawa Senators); Nikita Kucherov (RW, Tampa Bay Lightning).
One Tee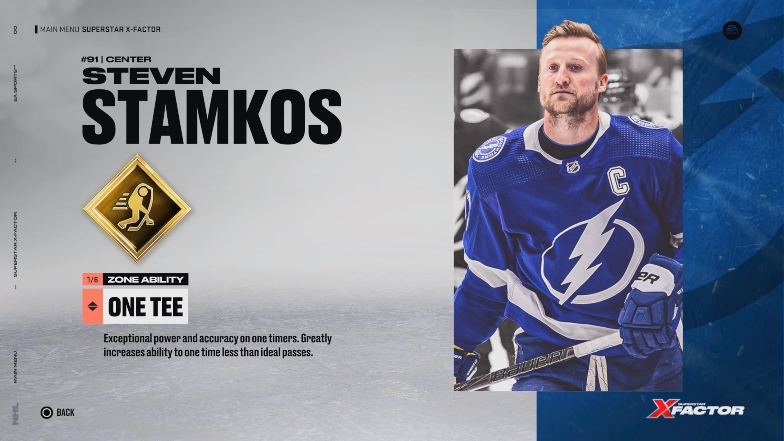 Description: Exceptional power and accuracy on one-timers; greatly increases ability to one-time less-than-ideal passes.
I mentioned that one-timers have been nerfed in NHL 23, so the use for One Tee is immediately obvious. One-timers are not the easiest to score in real life, so it is probably a good thing that EA has reduced how accurate they are in the game.
Providing this boost to players that are particularly good at it seems a more realistic approach going forward. If you take a lot of one-timers, then you absolutely need a player who has this X-Factor as a superstar ability minimum.
Notable players with One Tee: Steven Stamkos (C/RW, Tampa Bay Lightning); Alex Ovechkin (LW, Washington Capitals).
Wheels
Description: Exceptional agility, speed, and acceleration when skating with the puck; it's always active, and the indicator is triggered when a defender is burned.
The most basic skill in the NHL is skating, and it really gives you an advantage if you're better at it than the players around you.
It is more difficult to breeze past people when you're with the puck, so getting the Wheels X-Factor boost to improve your ability in that area is a really positive bonus.
Anyone on the ice should have a good use for Wheels, but I imagine you can have a lot of fun with it particularly with the wingers depending on the way you set up the team.
Notable players with Wheels: Dylan Larkin (C/LW, Detroit Red Wings); Connor McDavid (C, Edmonton Oilers); Kirill Kaprizov (LW/RW, Minnesota Wild); Kyle Connor (LW, Winnipeg Jets).
Tape to Tape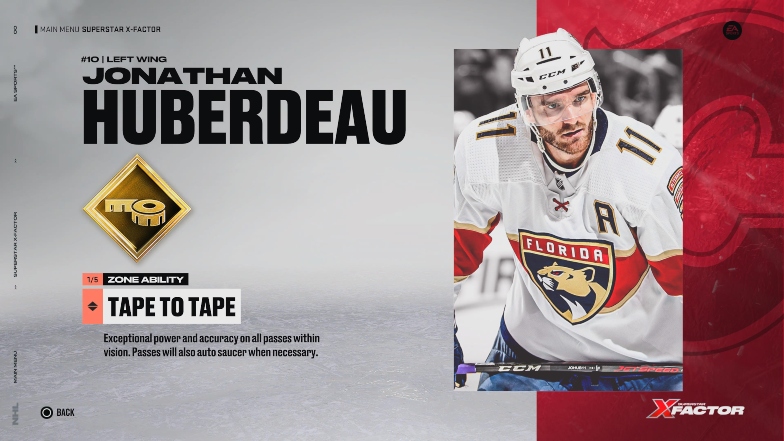 Description: Exceptional power and accuracy on all passes within vision passes will also auto-saucer when necessary.
This one is for the playmakers whose best work is done distributing the puck around the ice. It gives you the benefit of a longer passing range, which automatically means you have more passing options frequently when using that skater.
Notable players with Tape to Tape: Jonathan Huberdeau (LW, Calgary Flames); Leon Draisaitl (C/LW, Edmonton Oilers); Adam Fox (RD, New York Rangers).
The Best Defensive X-Factors in NHL 23
The five best defensive X-Factors in NHL 23 are as follows:
Contortionist
Stick 'em up
Quick Draw
Quick Pick
Yoink!
Contortionist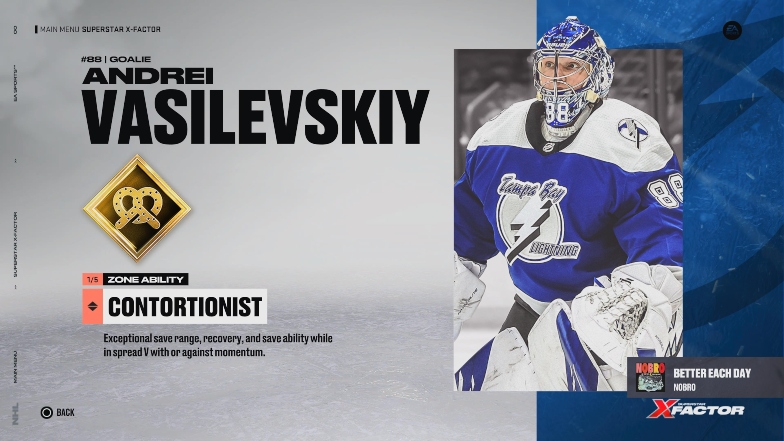 Description: Exceptional save range, recovery, and save ability while in spread-V with or against momentum.
Although there are several good goalies in NHL 23, Andrei is the only one that offers you zone ability Contortionist. The boost provides better save performance overall, and you should see some pretty fancy television saves.
It's a no-brainer if you're building a pro that plays as a goaltender.
Notable players with Contortionist: Andrei Vasilevskiy (G, Tampa Bay Lightning).
Stick 'em up
Description: Phenomenal defensive stick speed; exceptional accuracy when poke checking against momentum or at speed; greatly reduces the chance of a penalty.
The improved accuracy of poke checking with the Stick 'em up X-Factor is particularly crucial. A missed or ill-timed poke-check can be disastrous in many ways, so it helps to gain some accuracy and speed of timing in defensive phases.
The appearance of another Tampa Bay Lightning skater, Victor Hedman, among the players that have this zone ability strengthens the point that they are one of the best teams to manage in NHL Franchise Mode.
There is a lot of depth in the squad with excellent quality in every position, evidenced by the fact that they were runners-up in the Stanley Cup last year and had 5 players named in the NHL Top 50.
But I digress.
Notable players with Stick 'em up: Charlie McAvoy (RD, Boston Bruins); Adam Pelech (LD, New York Islanders); Victor Hedman (LD, Tampa Bay Lightning).
Quick Draw
Description: Exceptional quickness on faceoff draws; greatly increases effectiveness on tie-up wins; great at defensive zone draws.
Quick Draw is a Hockey IQ X-Factor, and its most apparent use is for winning face-offs more often. When you win these face-offs, the impact on the game is also more than it would typically be.
You're instantly granted an advantage when you're going into faceoffs in defensive zones, and starting attacks at the other end produces positive results more often too.
Ryan O'Reilly was the only player in NHL 22 with this X-Factor as a zone ability, and the same is the case in NHL 23.
Notable players with Quick Draw: Ryan O'Reilly (C, St. Louis Blues).
Quick Pick
Description: Exceptional at intercepting pucks; also significantly increases a player's range when intercepting pucks.
Quick Pick is also a Hockey IQ ability. Although the boost that it offers can be useful for any player on the ice, I think it is most useful for defenders.
Excellent puck interception is crucial to building an impregnable defense, and if you're using a player that combines this X-Factor with a couple more defensive ones, you'll have a true beast on your hands.
Notable players with Quick Pick: There is no player with Quick Pick zone ability, but there are several with superstar ability.
Some of them are Sebastian Aho (C/LW, Carolina Hurricanes); Jaccob Slavin (LD, Carolina Hurricanes); Seth Jones (RD, Florida Panthers); Anze Kopitar (C, Los Angeles Kings); Kris Letang (RD, Pittsburgh Penguins).
Yoink!
Description: Exceptional accuracy when stick lifting against momentum or at speed; opposing players take much longer to recover from stick lifts.
I think Yoink! deserves more credit and love than it gets. It is one of the more underrated defensive X-Factor abilities.
Speed is the name of the game in NHL and this year will be no different. The boosted ability to stick-lift against momentum, and the extra moment that it grants you when that player is briefly taken out of the game can be a difference-maker.
Notable players with Yoink!: Aleksander Barkov (C, Florida Panthers); Mark Stone (RW, Vegas Golden Knights).
Honorable Mentions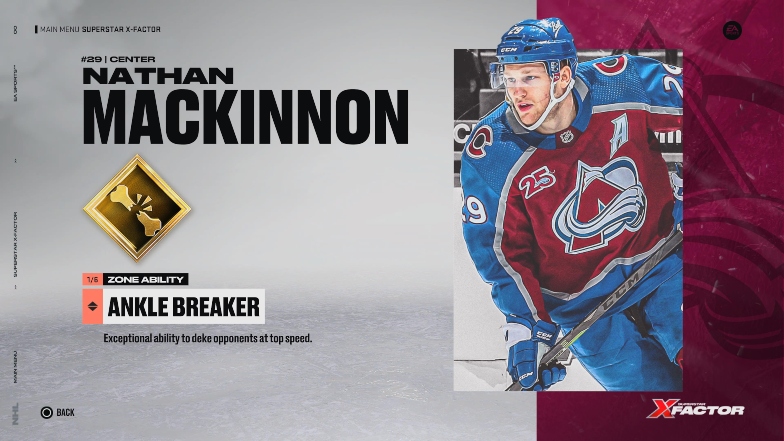 Honorable mentions that would have made one of the lists if I was extending each category to include more than five options are:
Thunderclap: Exceptional power and accuracy when taking slap shots from the point.
Washington Capitals' right defender, John Carlson, is a notable player with Thunderclap zone ability.
All or Nothing: Exceptional range, accuracy, and recovery when poke-checking.
Notable players with All or Nothing superstar ability include Calgary Flames' goaltender, Jacob Markstrom, and Winnipeg Jets' goaltender, Connor Hellebuyck.
Unstoppable Force: Exceptional strength with the puck and a greatly increased ability to hold onto the puck when off balance.
There is no player in the game with Unstoppable Force zone ability, but there are several with superstar ability.
Some of them are Boston Bruins center, Patrice Bergeron; Calgary Flames' left defender, MacKenzie Weegar; Detroit Red Wings' right defender, Moritz Seider; and Edmonton Oilers' center/left winger, Leon Draisaitl.
Ankle Breaker: Exceptional ability to deke opponents at top speed.
Colorado Avalanche's center/right winger, Nathan MacKinnon is the only player in the game with Ankle Breaker zone ability.
Big Tipper: Advanced speed, accuracy, and range when deflecting shots.
Dallas Stars' center/right winger, Joe Pavelski is the only player in the game with Big Tipper zone ability.
Final Words
One of the important things to note when it comes to X-Factors in NHL 23 is learning the difference between zone ability and superstar ability, especially when you're building your own player. Zone ability is the main difference-maker, even though superstar abilities also offer small skill boosts.
Understanding the difference also helps you to use existing players more efficiently and effectively once you really get familiar with their zone abilities.
You know which players promise a better chance of success in certain phases of gameplay, even though you're not directly in control of triggering the boosts.
Anyway, it helps a lot that you can view all the X-Factor players for each team straight from the main menu. Take full advantage of that and get familiar from the start!