When it comes to drafting players in the NHL 23 fantasy draft, you want to make sure you put your best foot forward by making an excellent first pick.
You should identify areas of your team that you feel are particularly important and try to find players that fill those gaps.
This article will discuss the best first-round draft picks in the NHL 23 fantasy draft for you to pick from, giving you the best possible chance of success.
Each of these players has its own benefits and will add value to any team, and may influence which team you choose to manage in Franchise Mode.
Connor McDavid
As you might expect, Connor McDavid is the first name on this list, as he is the best player in NHL 23. With a 95 overall rating, McDavid is an unbelievably well-rounded defender and is guaranteed to take any team to the next level.
One of the great benefits that McDavid has had in the NHL is his lack of injuries, which has allowed him to score over 97 points and 30 goals every season for the last six campaigns.
He was also the leading points-per-game player in the NHL for those six campaigns, making him a must-have for any team that wants to compete for the Stanley Cup.
One of the best things about McDavid is that he is still just 25 years old, so he has plenty of years left to play at the top level in the NH, and is easily one of the best young players in NHL 23.
Leon Draisaitl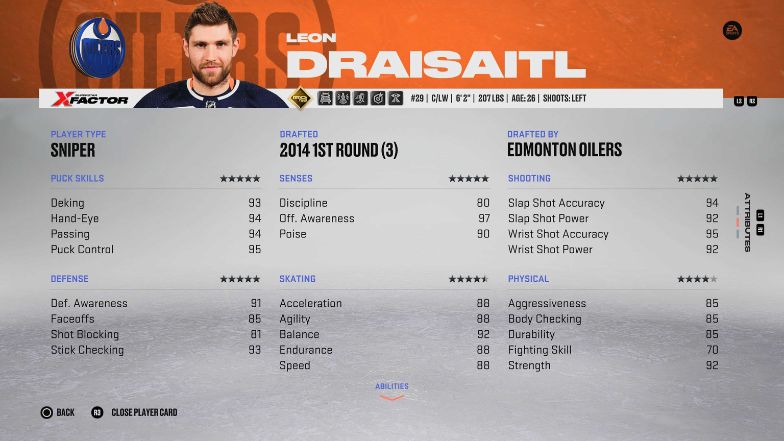 Another excellent draft picks you could opt for is Leon Draisaitl, the German center who also plays for the Edmonton Oilers. While he does not quite have the longevity of track record that McDavid can boast, he isn't far off. He also has an impressive points-per-game tally of 1.42 and is slightly more of a goal threat.
As well as playing center, he can also operate on the left wing, making him a reliable player across several positions.
His offensive awareness sits at 97, which is very impressive, and he also has outstanding puck control at 95.
Austin Matthews
When it comes to first-round picks, Austin Mathews may seem like the most obvious choice for this list, as he scored 51 goals in 50 matches last year. However, just because someone is an obvious choice doesn't mean that it is a bad one.
In total, Matthews finished with 60 goals last year and won the Rocket Richard trophy for the second year running.
As you can tell, Matthews is a serious goal threat in NHL 23, and his finishing statistics reflect that.
He has 96 slapshot accuracy, 97 wrist shot accuracy, 92 slapshot power, and 94 wrist shot power.
Cale Makar
If you want to make shoring up your defenses a priority, Cale Makar should be at the top of your list. Not only is Makar a fantastic defensive option, but he also has the ability to score goals, which sets him apart from many other defensive players.
With a 94 overall rating, Makar has fantastic offensive and defensive statistics, with 95 defensive awareness and 96 offensive awareness.
After helping the Avalanche to the Stanley Cup, he could be the missing piece your team needs to achieve the feat two years in a row.
Nathan MacKinnon
MacKinnon soared into the superstar conversation during the 17-18 season, and since then, he has continued to get better and better. Since that season, he has averaged over 1.30 points per game without having one outstanding year in that time.
Because of his continued top-level performances for the Colorado Avalanches and the team's success last year, MacKinnon has a 94 overall rating in NHL 23 and is a fantastic draft pick for any team. He is 27 years old, which means he has plenty of years left at the peak of his game, so you will get lots of use out of him if you decide to sign him.
With 96 offensive awareness and 95 puck control, MacKinnon will play a big part in your team's scoring opportunities and is sure to add value to any team he plays for.
He also has some fantastic traits you can call on, including Ankle Breaker, Magnetic, and Make It Snappy.
Kirill Kaprizov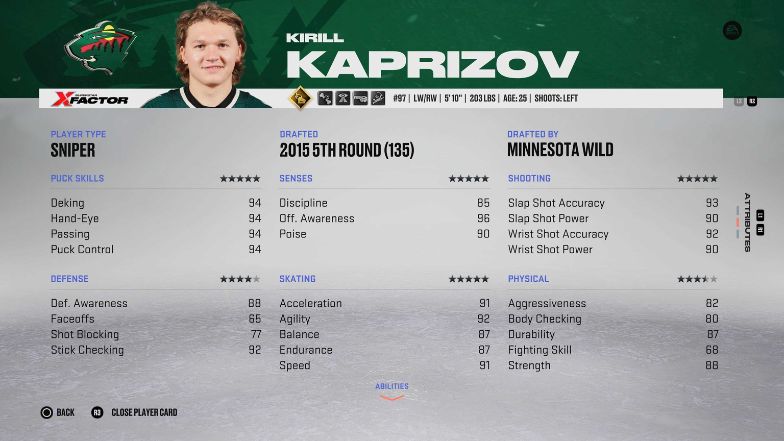 Kaprizov has long been regarded as a player that is going to be a superstar, and last year he proved that the hype was valid after an outstanding season for the Wild last season.
It has been a long time since the Wild has had such a prolific striker, and with 108 points last season, and 47 goals, it is no surprise that his NHL 23 ratings reflect the quality player that he has become.
At just 25, Kaprizov is sure to be a superstar player for your franchise for many seasons to come.
Andrei Vasilevskiy
It is quite rare for teams to select a goalie as their first-round draft pick, but Vasilevskiy is so good that he deserves mention on this list.
He is one of the best NHL goalkeepers of the modern era, and his stats reflect that in NHL 23. At 28 years old and with an overall rating of 94, Vasilevskiy is a smart option for any team that wants to build a strong defense for many seasons to come.
Final Thoughts
Now you have a range of first-round draft picks to choose from in your NHL 23 Fantasy Draft! Any of these players will add value to your team and help you on your journey to achieving glory and success.
A lot of the players on this list will bring much-needed firepower and skill to your team, which will help you break down your opposition in tighter games.
Whoever you choose as your first draft pick in the NHL 23 Fantasy Draft pick, make sure you are savvy with your other picks and select players that suit their style of play.