There are several ways to enjoy NHL 23 and create your own fantasy storylines. One of the most popular game modes is Franchise Mode, where you can take your favorite NHL team to victory and write them into the NHL record books.
But not many people know how to play franchise mode with a custom team in NHL 23. In recent NHL game iterations, the Expansion Draft has been available for players to use, helping them create their own custom team and develop a roster that will tackle some of the best franchises in the game.
However, there is also a new way to play franchise mode with a custom team in NHL 23 through Custom Leagues.
This article will teach you how to play franchise mode with a custom team in NHL 23 and talk you through the various steps along the way to help you set up the perfect franchise.
Option 1: Begin an Expansion Draft
In NHL 23, the first option you have to play franchise mode with a custom team is to create a 33-team expansion draft game.
To get set up with a custom team, choose this option, and on the next page, choose Create Team.
Create Your Custom NHL 23 Team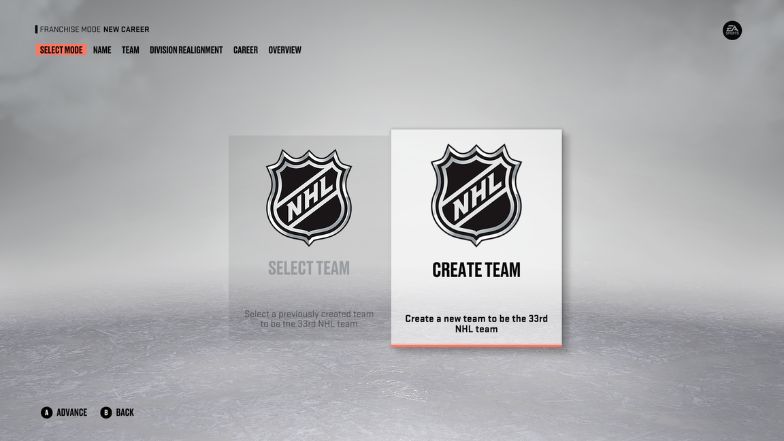 Once you have started your expansion draft, you can start creating your ideal NHL 23, franchise team. In total, there are five main aspects you need to consider:
Key Franchise Details
Logos and branding
Team Uniform
Arena
Mascot
Team Details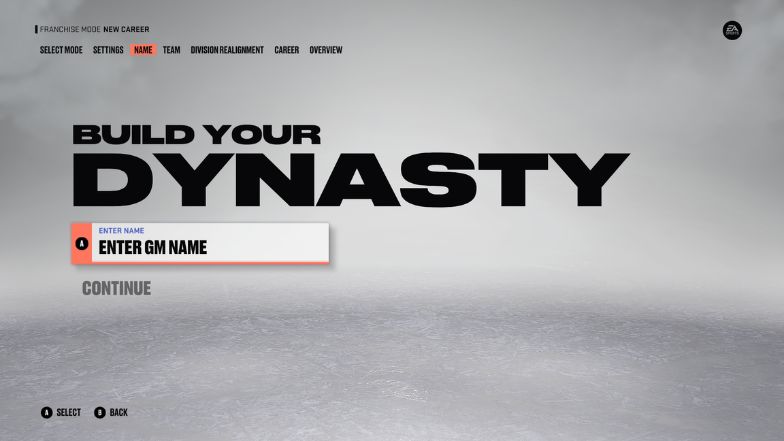 As with any game where you create a custom team, you need to add a team name to establish your team identity. Be aware that the entire team name will be your location and team name, so you only need to input the second part.
For example, if you call your team the Louisiana Gladiators, the game will then refer to your team as the Louisiana Louisiana Gladiators.
Within this section, you can also set your Market Size, how big the local fan base is, and your Team Prestige.
What you set these features as will vary from player to player. Some players select a low-prestige number and work their way up, while others like to start immediately with high prestige.
If you want to put yourself under a bit of pressure, you should set the local fanbase to hardcore or devoted for a slightly less pressured experience.
Logo and Branding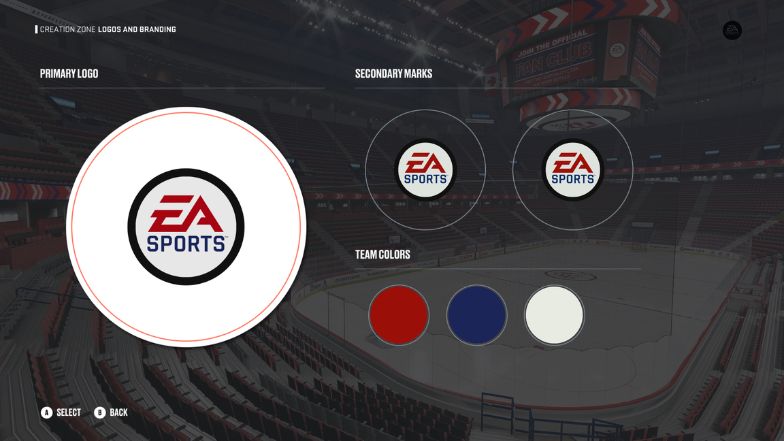 When creating your logo, there are plenty of options to pick from for a Primary Logo Style. You can choose from vintage old-school NHL logos to current NHL logos and plenty of font options to match your style.
If you create your team from scratch, you can discover the best logos via the Custom Logos category.
Search for something that matches your team name, and then set your team colors.
From there, the game will create a mock uniform for you using the colors you selected. You can use that as a baseline to change things you want to alter manually to make the perfect uniform for your team.
Mascot and Arena
The final aspect you need to consider is the design of your home arena and what your franchise mascot looks like. These two things shouldn't take too long to complete before you can start taking on the rest of the league.
Creating a mascot is an excellent and fun aspect of NHL 23, but unfortunately, there are still only a few options available you can pick from. This lack of options limits how innovative and creative you can be with your mascot creation, which will likely mean you move on pretty quickly from this step.
On the flip side, there are plenty of options with regard to arena design. You have the power to amend the color of the building, the seating, and other key aspects. While the arena design will not give you a competitive edge in NHL 23, it can be fun to design your dream arena and turn it into your team's fortress.
When you are happy with the changes you have made, hit send and move on to the franchise mode settings.
How the Expansion Draft in NHL 23 Works
The last step is easily one of the most important ones. Within the Expansion Draft in NHL 23, you must draft a player from every single NHL team. You can let the game auto-pick players for you, but there's no fun in that, and you are guaranteed to be less invested in the success of your team if you haven't selected it yourself.
Therefore it is important for you to work through each team and select players you want to add to your roster.
It might be tempting to just try and get the top-rated player from every team, but that trap can leave you scratching your head when the first couple of rounds of the draft is completed.
Ensure you have a couple of the best players as team leaders and starters for your team. The best thing to do is identify and make a note of these players before making any selections.
The next thing to consider is selecting players that have solid contracts in place, that have plenty of years on them, and are not resulting in players getting massively overpaid.
If you pick too many overpaid top players, you will quickly realize you have reached your salary cap too quickly.
One way to do this is by signing some of the best young players in NHL 23 and building your team around them.
You will struggle to get players like Connor McDavid and Auston Matthews, but there are plenty of fantastic young players to pick from.
At the bottom of the screen, you will notice your roster spots fill up as the draft goes on. Ensure you have at least three goalies, nine defenders, and 15 forwards.
Fortunately, you also have the power to get rid of a pick if you don't like it, so long as you do it before you press "Finish Draft."
Option 2: Custom League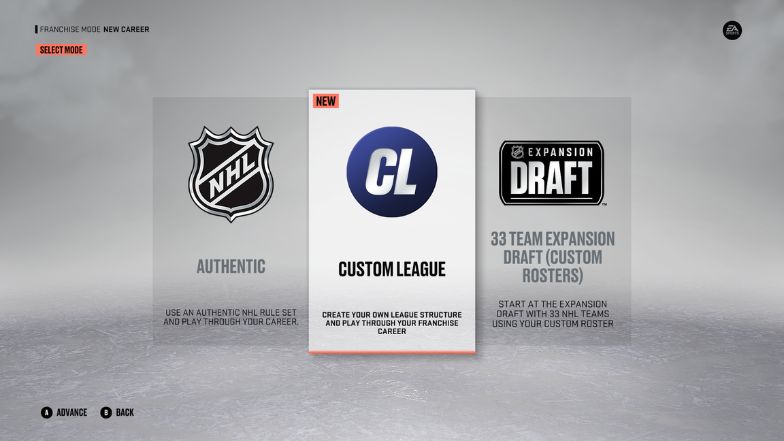 The other option available to you is to create a Custom League, a new feature in NHL 23. This mode allows you to build a league with as little as six or as many as 48 franchises in it. You can split that across two conferences and eight divisions.
Within the Custom Leagues game mode, you can change the Standings Format, NHL Schedule, Playoffs Format, Playoffs Qualification Type, and many other aspects.
Relocation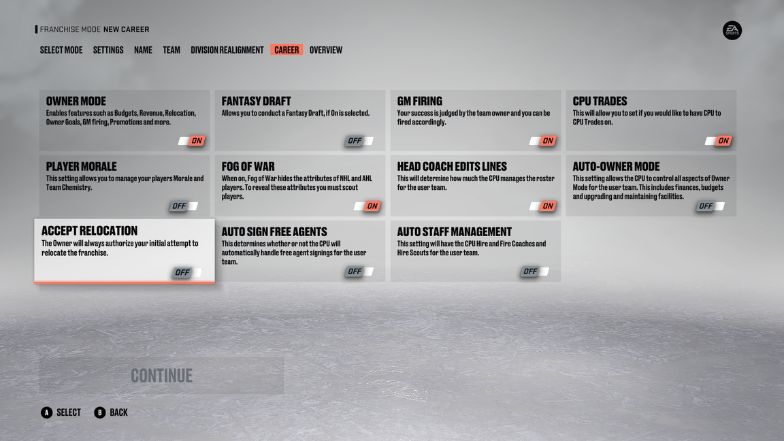 If you choose to create a Custom League, one aspect you need to consider is relocation. You have the power to start fresh in your desired location and build your new franchise base there.
You can opt to relocate a current team and take the entire roster with you. Perhaps you were jealous of the success the Colorado Avalanche experienced last year, and so this year, you want to see that roster perform well in Buffalo instead.
If you want to test yourself with relocation, you need to ensure you set Accept Relocation on under the Career tab when building a new Franchise game mode.
Relocation also forces you to enter negotiations with your chosen city before you can move. From there, you have the power to customize everything about your team apart from the city name.
Final Word
Beginning a Franchise Mode game with your unique custom team in NHL 23 can be one of the most immersive and exciting game modes you can play.
You have the power to build your dream team and take your local team to glory or become well-known for developing young talent. Whatever it may be, you are in complete control of your franchise's narrative.
Make sure you are smart with your draft and check out our list of the best first-round picks to consider for your roster. Once your roster is compiled, you can start building your NHL dynasty.