To keep DiamondLobby free to read, this post may contain affiliate links. Learn more
The first time I saw the Corsair Sabre Pro Champions Series mouse, there was not much going on with the design that made me want to take a second look.
However, knowing the track record that Corsair has with flashy, gimmicky, "transformers-type" designs, it was interesting that they built this relatively mute model.
Before I proceed with my review of the Corsair Sabre Pro Champion Series Mouse, I should warn that you're not ready for the numbers you're about to read with the specs that Corsair has packed into this beast.
With that disclaimer out of the way, let's get into the review.
Specs
The key specs of the mouse are as follows:
| Size (mm) | Weight | Polling Rate | Sensor | DPI | Cable Type |
| --- | --- | --- | --- | --- | --- |
| 129 × 60-70 × 43 | 69 grams (minus cable) | up to 8000 Hz | PMW 3392 | Up to 16000 | Paracord |
Yes, 8000hz. The polling rate on this Sabre Pro absolutely leaves the regular standard in the dust and indicates that Corsair is focusing on performance here.
A rate that high has been made possible with the Corsair Azon hyper-processing technology, and it means that the mouse will send 8 reports per ms instead of the standard 1 per ms.
There's a catch though. The processing power required for the mouse to take full advantage of the maximum polling rate is Intel® i7 9th generation, an AMD Ryzen™ 7 2nd generation processor, or an equivalent of either. I can almost hear the groans from all of you using PCs with older or lower specs, but that's the price you pay.
In the package, you get a 2.1m long paracord cable which is really good quality. It is made of a similar material to the nylon that's used in suspension lines for parachutes, so it is pretty light, strong, and flexible.
Also, that near-7-feet length is great for gamers that need to be some distance away from their PC while using the mouse. I guess it helps you miss wireless…less. I'll show myself out.
Design
Build Quality
The mouse feels solid and reliable – at least most of it does. The paracord cable manages to stay out of the way in its bungee, and it is slightly raised from the base of the mouse to reduce drag.
I did notice something that was very odd though. Despite the ruggedness of the body, a slight drop would trigger the mouse one button.
I'm not talking about a one-time thing either – it happened pretty much every time I tried. It also happens sometimes when I lift the mouse several times within a short timespan.
I'm putting this down to a possibly defective unit, so we'll let it slide. But, if this is the case with most of the units released, then it's a real issue that Corsair needs to look into.
Shape
Corsair's approach to an ergonomic design here is a right-handed mouse with a hump that keeps my hand in a natural position when using my favored palm grip. I tried the claw grip too and it felt comfortable.
I've seen some manufacturers try to cater to more left-handed gamers by producing ambidextrous mice like the Logitech G305 Lightspeed, and it's a nice thought – it really is. However, I think the Sabre Pro's unapologetically right-handed design has helped Corsair to create a product with great hand support.
Coating
There's a matte black coating here that feels really nice to the touch, even though it's more coarse than smooth.
It's a bit reminiscent of Razer mice, even though they've also produced some soft-touch coating in the past – the DeathAdder Essential mouse, in particular, comes to mind.
As usual, I checked for sticky areas or any form of irritation, but I found none with the Sabre Pro's coating. No complaints in this department at all.
Feet
The underside of the mouse features the industry-standard PTFE feet. They are four in number here, and there's a little ring around the sensor that provides extra balance and distribution.
They don't feel as fast as some of the mice that I've tested, but I think that has something to do with size. The mice with bigger feet tend to feel faster.
Buttons and Switches
The mouse one and two buttons use Omron switches that have been rated for 50 million clicks. They're pretty consistent, which is no surprise as Corsair has used springs and metal hinges to balance the keys, leaving no gaps between the buttons and their switches.
It's nice to see the standard is at the same level with the other buttons too. They are well-placed and easy to reach with a roll of the thumb, well separated so you don't mix them up when clicking blind, and they're a good size too.
The scroll wheel is also great. The notches feel nice and consistent, and the switch is solid with no wobble in any instance.
Software
Corsair's ICue is the software supported here. Personally, it feels like bloatware because of how much content is on it. Apart from serving the mouse, ICue also serves as a hub for Corsair's products, so it all looks pretty cluttered in there.
The mouse options section by itself is pretty basic though. You can adjust DPI, set button assignments, surface calibration and some other neat stuff I'm pretty sure would break my mouse if I touched them.
You can also set your preferred polling rate in ICue.
Performance
Speaking of the polling rate, it's pretty much the standout feature in the Sabre Pro Champion Series mouse. However, I was not able to test the full force of it because I've only got an AMD Ryzen 5 5600X PC.
I did test it at 4000hz max though, and it felt pretty good. I'd say the difference from the standard 1000hz is not significant enough to notice immediately you go back, but maybe it would've been if I'd used the mouse for much longer than I did. Also, it's a nice future-proof feature.
Regardless, if hyperpolling is the only reason you're considering buying this mouse, then you may not get the difference you're expecting.
Cost
With a recommended retail price of $54.95, £44.99, or €59.99, the Corsair Sabre Pro Champion Series mouse is a sweet deal. It's not the cheapest mouse on the market, but it has features that are normally associated with higher-priced mice.
As this mouse has been out for a while, you might be able to find a better price on the official site or on Amazon.
Verdict
A simple, minimalist design with powerful, future-proof internals is a solid combination any day.
Add to that a two-year warranty that covers any defects such as the one I noticed with triggering the mouse one button.
If you're looking for a mouse that attracts attention the moment anyone sets eyes on it, then this is not for you. Corsair has other aesthetically-intriguing-bordering-on-outrageous-looking mice that you may consider.
However, if you just want something that handles everything you throw at it and does it well, then I'd highly recommend the Sabre Pro Champions Series mouse. This one was built for the esports market and serious gamers.
Corsair Sabre Pro Champion Series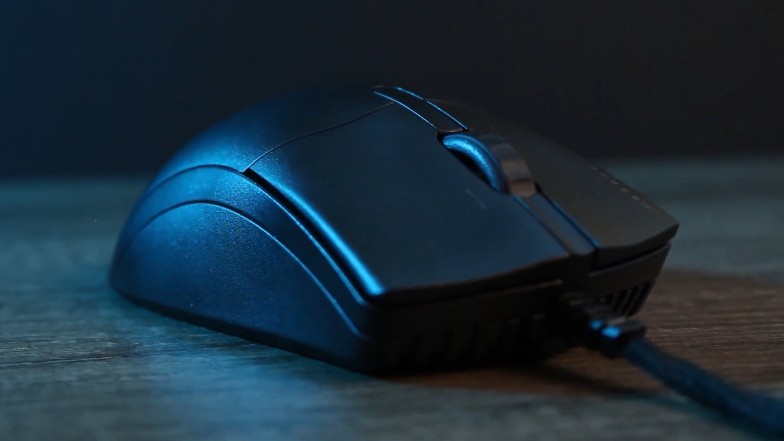 The Corsair Sabre Pro Champion Series is a surprisingly good mouse with great internals. It focuses on performance over style.
Pros
Focuses on performance (no RGB)
High polling rate
Good warranty
Fairly light
Great value for money
Cons
My first product was faulty