It should come as no surprise that Assassin's Creed Mirage has a Deluxe Edition.
Not only is this common for games released in this era, but it's also a standard practice for Ubisoft.
However, Deluxe Editions aren't necessarily a bad thing. Some games offer special editions with intriguing bonuses.
So, is the Assassin's Creed Mirage Deluxe Edition worth the investment?
What is in the Deluxe Edition?
The Assassin's Creed Mirage Deluxe Edition offers the following bonuses:
Pre-order bonus (a bonus quest called "The Forty Thieves") if eligible
An outfit inspired by the Prince of Persia
A skin for your eagle
A skin for your mount
A pack of weapons
A digital art book
The digital soudtrack of Asassin's Creed Mirage
As you can see, it's not anything mind-blowing, the cost is also not a lot. You get some extra weapons, skins, an art book and the soundtrack.
If you only care about in-game stuff, it depends on how much you value skins or weapons that will probably give you an edge in the early game.
If you care about anything but what alters gameplay, you still get some cosmetics and some songs to listen to.
How Much Does Each Edition Cost?
Interestingly, there's no price difference across platforms when purchasing the game. The major variations stem from your region and the chosen version.
What's truly remarkable is the pricing of the game's standard edition, as it falls below the typical $60 USD price point commonly set by AAA game studios.
It's also worth noting that Assassin's Creed Mirage will be available to subscribers of the Ubisoft+ service on Day 1.
So, in case you just want to quickly beat the game and move on, that might be the cheapest way of doing it.
| Edition | Platform | Price in USD | Price in GBP | Price in Euros |
| --- | --- | --- | --- | --- |
| Regular | PlayStation 5 | $49.99 | £44.99 | € 49,99 |
| Regular | PC | $49.99 | £44.99 | € 49,99 |
| Regular | Xbox Series S/X | $49.99 | £44.99 | € 49,99 |
| Deluxe | PlayStation 5 | $59.99 | £49.99 | € 59,99 |
| Deluxe | PC | $59.99 | £49.99 | € 59,99 |
| Deluxe | Xbox Series S/X | $59.99 | £49.99 | € 59,99 |
So, Is it Worth it?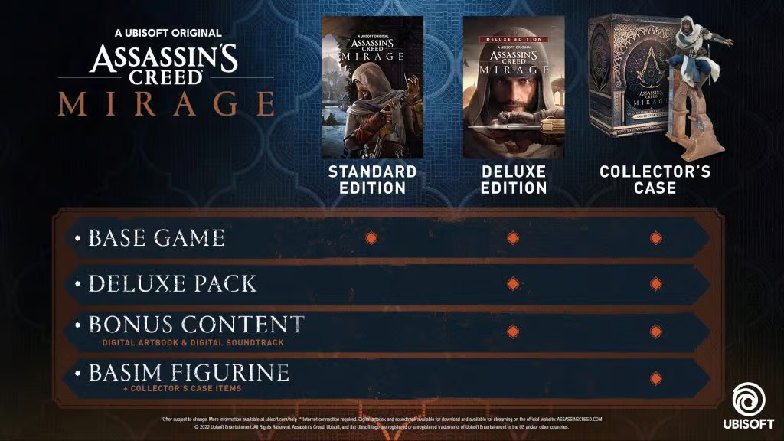 To my own surprise, I believe that the Assassin's Creed Mirage Deluxe Edition is, indeed, worth considering.
While personal preferences always play a significant role, you receive a substantial amount for a relatively small price increase.
Moreover, this optional choice doesn't significantly impact your core gaming experience.
Whether you value in-game advantages, cosmetic enhancements, or bonus content like the digital art book and soundtrack, the Deluxe Edition of Assassin's Creed Mirage provides a well-rounded package.
It's an option worth considering for those who want a bit more from their gaming experience without breaking the bank.
Before making your decision, take a moment to assess what aspects of the Deluxe Edition seem appealing to you and then, consider whether that's worth 10 bucks or not. It's that simple.
The Deluxe Edition offers a well-balanced mix of extras for a reasonable investment, but, ultimately, the choice is yours.