Jomsvikings are the number two (literally) companion you have in the game. They will be the ones that support you through all the raids and help you overcome them. This short guide will teach you how to recruit Jomsviking in AC Valhalla.
Building the Barracks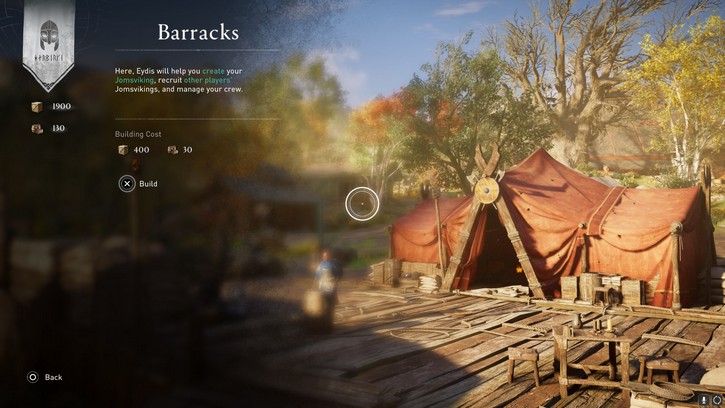 To recruit Jomsvikings, you need to build a barracks first. It will be located just near the river of your settlement. There will be a signboard near the area where you can interact with it to build the Barracks. You can also find Eydis, who is in charge of the barracks, even before building it and she will tell you the benefits of building a barracks in your settlement.
It will cost 400 supplies and 30 raw materials to build which is basically as much as all the important buildings in the settlement.
Talking to Eydis in Your Settlement
To unlock and recruit Jomsvikings, you have to unlock the barracks in your settlement and you have to find Eydis. Once you have found her, interact with her and she will tell you that there are high potential vikings who want to be recruited by you. She will ask you that some of them want to be your number two.
Recruiting a Jomsviking
After talking to Eydis, you can now choose and recruit the Jomsvikings as your number two in command. You will get to choose among a bevy of game generated players. There are many to choose from and even if you find the one that you are looking for, you can click the character in the middle to change their appearance.
You can also choose and customize the gear they will carry and you will unlock more of these once you progress. All of the generated Jomsvikings will be uploaded to the game's cloud and other players can also check and even copy what other players have customized.
Remember that you cannot change the appearance or the gender of your created Jomsviking for the rest of the playthrough.
Benefits of Recruiting Jomsvikings
Earning more coins or money
You will get coins or money from bringing the Jomsvikings to your raids and other tasks. While bringing them might lessen the experience points you gain because you do not gain experience points from enemies who die to the Jomsvikings, they will give you coins for bringing them into events like these in the end.
You should also check out our guide on how to level up faster in AC Valhalla.
Opening large treasures
In some of the raids, especially the high power level ones, there will be a big treasure chest that you can find and open. The problem is that you cannot open this treasure alone and you will need an ally to support you in opening the large treasure. Your ally needs to be idle and is not fighting any enemies at the moment to have the ally help you open the large chest.
Helping with combat
Their main goal is to help you on raids to finish. Raids usually have strong "named mob" enemies and they will be extremely hard to kill alone. Raids also involve a lot of enemies and it can get chaotic where everyone in the area is fighting someone.
Going for a ranged-type build on your skill tree might make it hard for you to fight a huge crowd of enemies. This is where the Jomsvikings will come in and support you while you shoot enemies from a distance.
Conclusion
Being able to recruit allies is one of the best features in AC Valhalla. With this kind of setting, it gets more immersive and authentic. There are more builds you can experiment with every time you are with your Jomsvikings. You can freely reset your skill points and play a different playstyle while raiding with your allies.