Diablo 4's endgame content revolves around the sigil mechanic. These sigils alter dungeons to become extremely hard but infinitely more rewarding.
Players should learn how to grind these dungeons and reap the rewards, and everyone will get better with more experience.
You'll end up with a surplus of sigils when you start grinding nightmare dungeons, but should you run them all?
The short answer is not quite, but it is only because you have the ability to craft sigils in the game. Here is how you should be running them.
Unlocking Sigil Crafting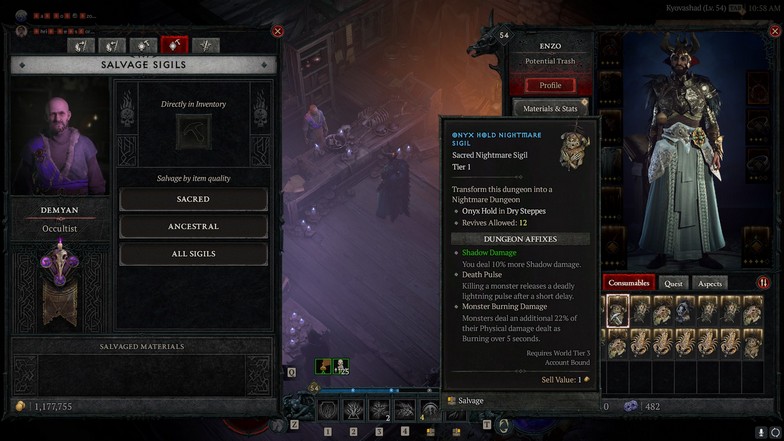 Crafting sigils will be unlocked after finishing the first capstone dungeon, Cathedral of Light, which unlocks Tier 3 or Nightmare difficulty.
Once you acquire a sigil from a random drop or in a dungeon, you'll get a quest that takes you to the local occultist. The occultist will unlock its craft sigils and salvage sigils tabs.
You can choose between sacred or ancestral sigils and the appropriate tiers. You cannot craft ancestral sigils if you haven't unlocked Torment difficulty yet.
What to Do With Extra Sigils?
When you start grinding nightmare dungeons, you should be more picky with the sigils you run. If you can run tiers 15-20 smoothly, there is no point in running tiers 1-14.
You can salvage all these to get enough sigil powders to craft a more specific one. All extra sigils should be salvaged. These sigils take inventory space in your consumables tab.
It is very limited, so you should salvage every now and then. You'll get around 1-5 sigils per nightmare dungeon you run.
You'll always get a surplus.
These sigils are the fastest way to level up after finishing the campaign. You should learn these layouts to make them more efficient.
Crafting Your Sigils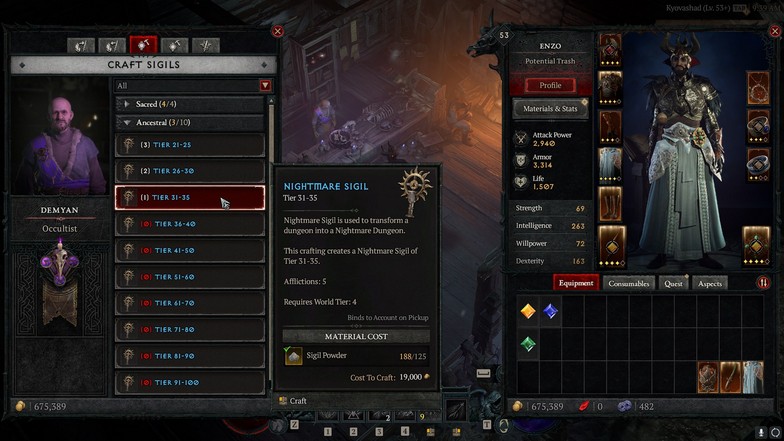 The ratio for salvaging and crafting sigils is around 2.5:1. If you salvage 2.5 sigils of the same tier, you get enough sigil powders to craft a sigil of the same tier.
You'll only be crafting sigils when you mistakenly salvage all your sigils or if you want to jump up in difficulty.
Remember, if you try a very difficult nightmare dungeon and fail, you'll waste the dungeon. If you spend all your sigil powders on testing these out, you'll just end up setting yourself back.
You might need to run dungeons and farm for grim favors again until you get a random sigil and work your way up farming sigils and sigil powders again.
Always have a surplus of sigil powders.
List of Sigil Affixes
Positive Affixes
| Affix Name | Effect |
| --- | --- |
| Quick Killer | Magic: Killing a monster grants 1.0% Attack and Move Speed. Stacking up to 10%. |
| | Rare: Killing a monster grants 1.5% Attack and Move Speed. Stacking up to 15%. |
| | Legendary: Killing a monster grants 2.0% Attack and Move Speed. Stacking up to 20%. |
| Reduce Cooldowns on Kill | Magic: Killing a monster reduces your cooldowns by 0.15 seconds. |
| | Rare: Killing a monster reduces your cooldowns by 0.2 seconds. |
| | Legendary: Killing a monster reduces your cooldowns by 0.25 seconds. |
| Battle Hardened | Magic: Gain 4% damage reduction for every 10% Health you are missing. |
| | Rare: Gain 5% damage reduction for every 10% Health you are missing. |
| | Legendary: Gain 6% damage reduction for every 10% Health you are missing. |
| Poisonous Evade | Using Evade leaves a pool of Poison behind that damages enemies. |
| Nudging Evade | Using Evade pushes enemies back. |
| Fire Damage | Magic: You deal 5% more Fire damage. |
| | Rare: You deal 10% more Fire damage. |
| | Legendary: You deal 15% more Fire damage. |
| Frost Damage | Magic: You deal 5% more Frost damage. |
| | Rare: You deal 10% more Frost damage. |
| | Legendary: You deal 15% more Frost damage. |
| Gold Find | Magic: You find 10% more gold. |
| | Rare: You find 20% more gold. |
| | Legendary: You find 30% more gold. |
| Increased Critical Strike | Magic: Your Critical Strike chance is increased by 3%. |
| | Rare: Your Critical Strike chance is increased by 6%. |
| | Legendary: Your Critical Strike chance is increased by 9%. |
| Increased Healing | Magic: Your Healing Received is increased by 5%. |
| | Rare: Your Healing Received is increased by 10%. |
| | Legendary: Your Healing Received is increased by 15%. |
| Lightning Damage | Magic: You deal 5% more Lightning damage. |
| | Rare: You deal 10% more Lightning damage. |
| | Legendary: You deal 15% more Lightning damage. |
| Magic Find | You find more items from enemies. |
| Lightning Caller | You occasionally call down lightning strikes that damage nearby enemies. |
| Physical Damage | Magic: You deal 5% more Physical damage. |
| | Rare: You deal 10% more Physical damage. |
| | Legendary: You deal 15% more Physical damage. |
| Poison Damage | Magic: You deal 5% more Poison damage. |
| | Rare: You deal 10% more Poison damage. |
| | Legendary: You deal 15% more Poison damage. |
| Shadow Damage | Magic: You deal 5% more Shadow damage. |
| | Rare: You deal 10% more Shadow damage. |
| | Legendary: You deal 15% more Shadow damage. |
| Control Impaired Explosions | Being hit by Control Impairing Effects creates an explosion around you. |
| Thorns | Magic: Your Thorns are increased by 112. |
| | Rare: Your Thorns are increased by 249. |
| | Legendary: Your Thorns are increased by 491. |
Negative Affixes
| Affix Name | Effect |
| --- | --- |
| Avenger | Killing a monster enrages monsters near it, making them deal more damage. |
| Blood Blister | Killing a monster has a chance to spawn a Blood Blister. After a short time, it explodes, dealing heavy area damage. |
| Death Pulse | Killing a monster releases a deadly lightning pulse after a short delay. |
| Drifting Shade | Drifting Shade chases players. Upon reaching them, it explodes for heavy damage and creates a Nightmare Field that Dazes victims. |
| Empowered Elites (Shock Lance) | Elites always have the "Electric Lance" affix. |
| Empowered Elites (Cold Enchanted) | Elites always have the "Cold Enchanted" affix. |
| Empowered Elites (Poison Enchanted) | Elites always have the "Poison Enchanted" affix. |
| Empowered Elites (Shadow Enchanted) | Elites always have the "Shadow Enchanted" affix. |
| Empowered Elites (Suppressor) | Elites always have the "Suppressor" affix. |
| Empowered Elites (Teleporter) | Elites always have the "Teleporter" affix. |
| Lightning Storm | Lightning gathers above the player. Get into the protection dome to avoid severe outcomes. |
| Nightmare Portal | While in combat, Nightmare Portals open randomly near players, pouring out dangerous monsters. |
| Stormbane's Wrath | Stormbane's Wrath chases players around, releasing deadly pulses when reaching a player. |
| Volcanic | While in combat, gouts of flame periodically erupt near players. |
| Monster Crowd Control Resist | Magic: Crowd Control duration vs monsters is reduced by 20%. |
| | Rare: Crowd Control duration vs monsters is reduced by 30%. |
| | Legendary: Crowd Control duration vs monsters is reduced by 40%. |
| Monster Critical Resist | Magic: Monsters take 30% less damage from Critical Strikes. |
| | Rare: Monsters take 45% less damage from Critical Strikes. |
| | Legendary: Monsters take 60% less damage from Critical Strikes. |
| Monster Overpower Resist | Magic: Monsters take 30% less damage from Overpower attacks. |
| | Rare: Monsters take 45% less damage from Overpower attacks. |
| | Legendary: Monsters take 60% less damage from Overpower attacks. |
| Monster Vulnerable Resist | Magic: Duration of Vulnerable Effects vs monsters is reduced by 30%. |
| | Rare: Duration of Vulnerable Effects vs monsters is reduced by 45%. |
| | Legendary: Duration of Vulnerable Effects vs monsters is reduced by 60%. |
| Backstabbers | Magic: Monsters near the player deal 50% more damage when attacking from behind. |
| | Rare: Monsters near the player deal 100% more damage when attacking from behind. |
| | Legendary: Monsters near the player deal 150% more damage when attacking from behind. |
| Monster Attack Speed | Magic: Monsters attack 15% faster. |
| | Rare: Monsters attack 20% faster. |
| | Legendary: Monsters attack 25% faster. |
| Monster Barrier | Magic: Monsters gain 20% of their Maximum Life as a Barrier. |
| | Rare: Monsters gain 25% of their Maximum Life as a Barrier. |
| | Legendary: Monsters gain 30% of their Maximum Life as a Barrier. |
| Barrier Breakers | Magic: Monsters deal 50% more damage to Barriers. |
| | Rare: Monsters deal 75% more damage to Barriers. |
| | Legendary: Monsters deal 100% more damage to Barriers. |
| Slowing Projectiles | Magic: Monster attacks from a distance have a 30% chance to slow targets. |
| | Rare: Monster attacks from a distance have a 40% chance to slow targets. |
| | Legendary: Monster attacks from a distance have a 50% chance to slow targets. |
| Resource Burn | Magic: Monster attacks from a distance burn 8% of your Primary Resource. |
| | Rare: Monster attacks from a distance burn 12% of your Primary Resource. |
| | Legendary: Monster attacks from a distance burn 16% of your Primary Resource. |
| Monster Bleeding Damage | Magic: Monsters deal an additional 15% of their Physical damage dealt as Bleeding over 5 seconds. |
| | Rare: Monsters deal an additional 22% of their Physical damage dealt as Bleeding over 5 seconds. |
| | Legendary: Monsters deal an additional 30% of their Physical damage dealt as Bleeding over 5 seconds. |
| Monster Burning Damage | Magic: Monsters deal an additional 15% of their Physical damage dealt as Burning over 5 seconds. |
| | Rare: Monsters deal an additional 22% of their Physical damage dealt as Burning over 5 seconds. |
| | Legendary: Monsters deal an additional 30% of their Physical damage dealt as Burning over 5 seconds. |
| Monster Cold Damage | Magic: Monsters deal an additional 10% of their Physical damage dealt as Cold. |
| | Rare: Monsters deal an additional 15% of their Physical damage dealt as Cold. |
| | Legendary: Monsters deal an additional 20% of their Physical damage dealt as Cold. |
| Monster Shadow Damage Over Time | Magic: Monsters deal an additional 15% of their Physical damage dealt as Shadow over 5 seconds. |
| | Rare: Monsters deal an additional 22% of their Physical damage dealt as Shadow over 5 seconds. |
| | Legendary: Monsters deal an additional 30% of their Physical damage dealt as Shadow over 5 seconds. |
| Monster Fire Damage | Magic: Monsters deal an additional 10% of their Physical damage dealt as Fire. |
| | Rare: Monsters deal an additional 15% of their Physical damage dealt as Fire. |
| | Legendary: Monsters deal an additional 20% of their Physical damage dealt as Fire. |
| Monster Lightning Damage | Magic: Monsters deal an additional 10% of their Physical damage dealt as Lightning. |
| | Rare: Monsters deal an additional 15% of their Physical damage dealt as Lightning. |
| | Legendary: Monsters deal an additional 20% of their Physical damage dealt as Lightning. |
| Monster Poison Damage | Magic: Monsters deal an additional 15% of their Physical damage dealt as Poison over 5 seconds. |
| | Rare: Monsters deal an additional 22% of their Physical damage dealt as Poison over 5 seconds. |
| | Legendary: Monsters deal an additional 30% of their Physical damage dealt as Poison over 5 seconds. |
| Monster Shadow Damage | Magic: Monsters deal an additional 10% of their Physical damage dealt as Shadow. |
| | Rare: Monsters deal an additional 15% of their Physical damage dealt as Shadow. |
| | Legendary: Monsters deal an additional 20% of their Physical damage dealt as Shadow. |
| Monster Life | Magic: Monsters gain 20% extra life. |
| | Rare: Monsters gain 25% extra life. |
| | Legendary: Monsters gain 30% extra life. |
| Monster Regen | Magic: Non-boss monsters regen 1.5% Maximum Life per second. |
| | Rare: Non-boss monsters regen 1.5% Maximum Life per second. |
| | Legendary: Non-boss monsters regen 1.5% Maximum Life per second. |
| Monster Bleed Resist | Magic: Monsters take 30% less Bleeding damage. |
| | Rare: Monsters take 45% less Bleeding damage. |
| | Legendary: Monsters take 60% less Bleeding damage. |
| Monster Burning Resist | Magic: Monsters take 30% less Burning damage. |
| | Rare: Monsters take 45% less Burning damage. |
| | Legendary: Monsters take 60% less Burning damage. |
| Monster Cold Resist | Magic: Monsters take 20% less Cold damage. |
| | Rare: Monsters take 30% less Cold damage. |
| | Legendary: Monsters take 40% less Cold damage. |
| Monster Shadow Damage Over Time Resist | Magic: Monsters take 60% reduced damage from your Shadow damage over time effects. |
| | Rare: Monsters take 60% reduced damage from your Shadow damage over time effects. |
| | Legendary: Monsters take 60% reduced damage from your Shadow damage over time effects. |
| Monster Fire Resist | Magic: Monsters take 20% less Lightning damage. |
| | Rare: Monsters take 30% less Lightning damage. |
| | Legendary: Monsters take 40% less Lightning damage. |
| Melee Defenders | Magic: Monsters take 20% less damage from close targets. |
| | Rare: Monsters take 30% less damage from close targets. |
| | Legendary: Monsters take 40% less damage from close targets. |
| Monster Physical Resist | Magic: Monsters take 15% less Physical damage. |
| | Rare: Monsters take 22% less Physical damage. |
| | Legendary: Monsters take 30% less Physical damage. |
| Monster Poison Resist | Magic: Monsters take 30% less Poison damage. |
| | Rare: Monsters take 45% less Poison damage. |
| | Legendary: Monsters take 60% less Poison damage. |
| Ranged Defenders | Magic: Monsters take 30% less damage from distant targets. |
| | Rare: Monsters take 45% less damage from distant targets. |
| | Legendary: Monsters take 60% less damage from distant targets. |
| Monster Shadow Resist | Magic: Monsters take 20% less Shadow damage. |
| | Rare: Monsters take 30% less Shadow damage. |
| | Legendary: Monsters take 40% less Shadow damage. |
| Monster Life Steal | Magic: Non-boss monsters gain 10% Life Steal. |
| | Rare: Non-boss monsters gain 12% Life Steal. |
| | Legendary: Non-boss monsters gain 14% Life Steal. |
| Monster Missile Reflect | Magic: Monsters have a 10% chance to reflect projectiles. |
| | Rare: Monsters have a 20% chance to reflect projectiles. |
| | Legendary: Monsters have a 30% chance to reflect projectiles. |
| Missile Dampening | Magic: Missiles slow down for 30% when traveling through the air. |
| | Rare: Missiles slow down for 40% when traveling through the air. |
| | Legendary: Missiles slow down for 50% when traveling through the air. |
| Juggernaut | Magic: Monsters cannot be interrupted while attacking. |
| | Rare: Monsters cannot be interrupted while attacking. |
| | Legendary: Monsters cannot be interrupted while attacking. |
| Illusionist | Magic: Some monsters create illusions of themselves when they get hit. |
| | Rare: Some monsters create illusions of themselves when they get hit. |
| | Legendary: Some monsters create illusions of themselves when they get hit. |
| Extra Health | Magic: Monsters have 50% extra health. |
| | Rare: Monsters have 100% extra health. |
| | Legendary: Monsters have 150% extra health. |
| Horde | Magic: Twice the amount of monsters spawn. |
| | Rare: Three times the amount of monsters spawn. |
| | Legendary: Four times the amount of monsters spawn. |
| Plagued | Magic: Monsters create pools of poison at their location. |
| | Rare: Monsters create larger pools of poison at their location. |
| | Legendary: Monsters create even larger pools of poison at their location. |
| Reflect Damage | Magic: Monsters reflect 10% of damage taken back to the attacker. |
| | Rare: Monsters reflect 20% of damage taken back to the attacker. |
| | Legendary: Monsters reflect 30% of damage taken back to the attacker. |
| Shielding | Magic: Monsters periodically gain a Shield that makes them immune to damage. |
| | Rare: Monsters periodically gain a stronger Shield that makes them immune to damage. |
| | Legendary: Monsters periodically gain a powerful Shield that makes them immune to damage. |
| Teleporter | Magic: Monsters teleport to a new location when they get hit. |
| | Rare: Monsters teleport to a new location when they get hit. |
| | Legendary: Monsters teleport to a new location when they get hit. |
| Thunderstorm | Magic: Lightning strikes randomly hit targets near the player. |
| | Rare: Lightning strikes randomly hit targets near the player more frequently. |
| | Legendary: Lightning strikes randomly hit targets near the player most frequently. |
| Vortex | Magic: Monsters pull players towards them. |
| | Rare: Monsters pull players towards them more aggressively. |
| | Legendary: Monsters pull players towards them most aggressively. |
| Waller | Magic: Monsters create walls that block player movement. |
| | Rare: Monsters create larger walls that block player movement. |
| | Legendary: Monsters create even larger walls that block player movement. |