The most expensive items in Ultimate Team are often meta-attackers.
In previous FIFAs, players such as Mbappe were extremely overpowered and expensive from the beginning of the game to the end (including special cards) due to the fact that his cards possess pretty much all the key requirements of what defines the META in this game.
With the inclusion of female footballers in FC 24 Ultimate Team, there is a wider pool of players to choose from. This guide reviews some of the best meta strikers from that pool to help you decide who to shortlist or sign for your dream team in FC 24.
Kylian Mbappe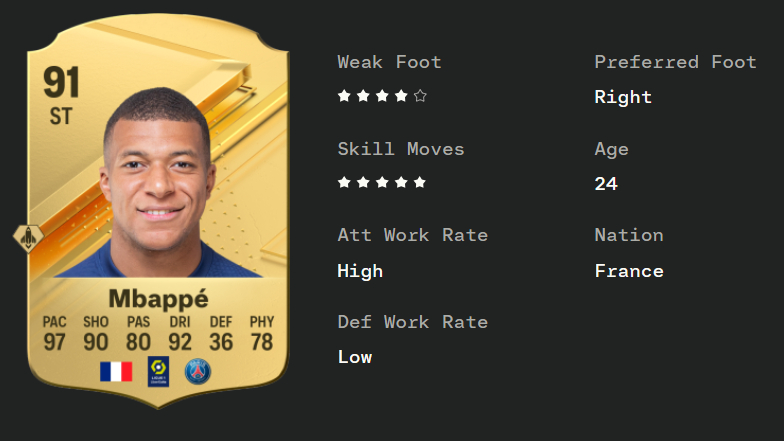 Is there a need to explain this selection? Mbappe was the cover star of FIFA 23 and the best gold card in the game.
FC 24 has a new cover star in Erling Haaland, but that won't make a difference to how meta Mbappe is this year. He remains a 91-rated player but his face card stats have improved with a +1 for shooting and +2 for physicality.
As in FIFA 23, the best chemistry style for this card is the Marksman.
Erling Haaland
Step aside, Mbappe, we have a new cover star! Haaland's body type makes him an unstoppable force in-game. He was overpowered in the early months of FIFA 23, and the same will be the case in FC 24.
If you want a target man that you can use as a focal point for long balls up top, this is your guy. At the same time, the fact that he's Lengthy and has 89 speed also means that you can get a lot of goals by using him as a "Get in Behind" striker.
However, this card's biggest strength is his shooting. He has 93 shooting which goes up to 97 if you apply the Hawk chemistry style.
Victor Osimhen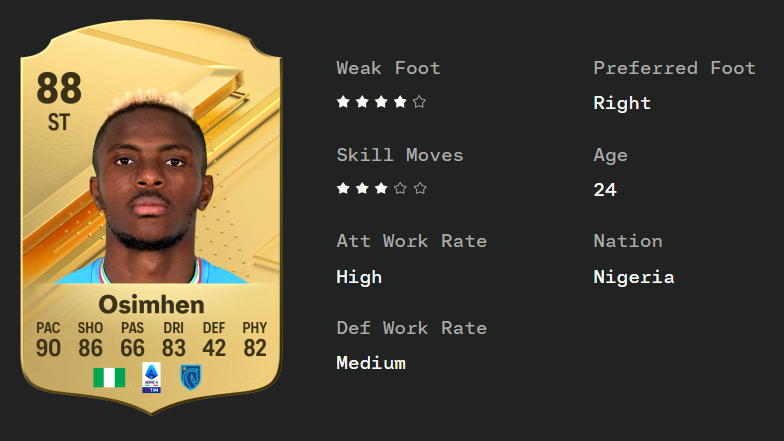 On the back of a brilliant 2022/23 season, Napoli's Victor Osimhen has earned a significant boost to his FC 24 card that makes him one of the best meta strikers in the game.
He is now an 88-rated striker with key stats of 90 pace, 86 shooting, and 82 physical. Like Haaland, he is a great option if you need a target man who can also run in behind and beat defenders with electric pace.
Despite his low aggression stat, I recommend the Hunter chemistry style to boost that pace as much as possible while also getting his shooting numbers up into a fantastic area.
I should warn you that dribbling with players like Osimhen will not be the smoothest experience, so don't try to be too fancy with him on the ball.
Another drawback to the card is its links. Unless you're running a full/hybrid Serie A team, there are not many great links to get Osimhen on full chem due to the unpopular Nigerian link.
Randall Kolo Muani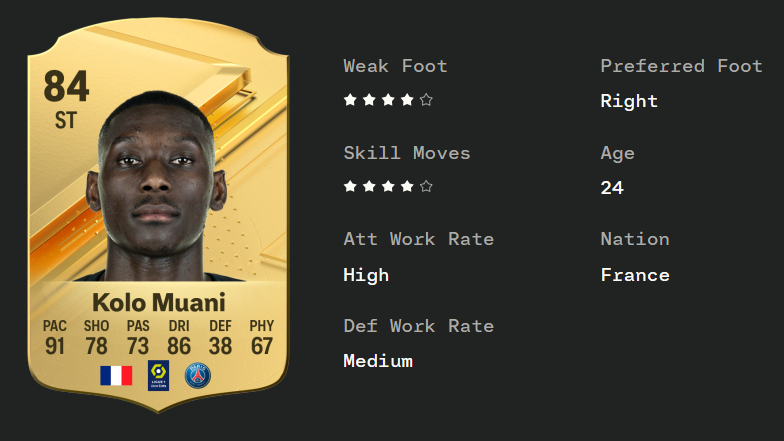 Kolo Muani is another player who is reaping the rewards of a great season with a significant overall boost to his FC 24 card. Even better is the fact that he now plays for PSG, so he's a French player in the Ligue 1. For chemistry links, that is fantastic news.
His new 84-rated card has 91 pace (up from 84 in FIFA 23), 78 shooting (up from 72), 86 dribbling (up from 80), and 67 physicality (up from 62).
That shooting leaves much to be desired, but that's what chemistry styles are for. The pace and dribbling clearly carry this card, making him a good hybrid striker who can play almost any role up top.
The main weaknesses of this card are shooting and aggression, so I recommend using the Hawk chemistry style. His aggression is still very low despite the +8 when you apply the Hawk, but the extra strength boost improves the situation further.
Marcus Rashford
I cheated a little bit to add this card to the list because ST is actually an alternate position for him, but realistically, that's where most people will be using Rashford in FC 24.
He scored 30 goals for Manchester United last year and has fully earned this card upgrade. He now has an 85-rated card with 90 pace, 86 shooting, and 84 dribbling. With 5-star skill moves and a unique body type, this card is as meta as it gets!
English and Premier League links are great, so getting him on full chem should be no issue. Slap a Hunter chem style on him and you'll be able to maximize that pace with fantastic shooting to boot.
However, if you're playing him on the flanks, an Engine chemistry style would be more effective to boost his agility and balance as well as passing.
Carlos Tevez
Only a small number of people will be able to afford cards like this, especially in the early stages of the game. Apart from the fact that the card is overpowered, special cards generally get more love from the player base.
It's not the design of the card that makes the Carlos Tevez hero meta though. He is rated 88 overall with 85 pace, 89 shooting, 80 passing, 86 dribbling, and 89 physical – as well-rounded as it gets.
With a Hunter chemistry style, this card has almost no weaknesses. You can play him alone upfront or as part of a two-striker partnership and he'd be world-class in either role.
Gianluca Vialli
Like Tevez, Vialli is one of the special cards that everyone would be ecstatic to get in FC 24. He is 89-rated with 86 pace, 89 shooting, 82 dribbling, and 79 physicality.
He is similar to Tevez in the sense that he's quick and has a great shot in him. However, he's not quite as good on the ball when it comes to dribbling or passing.
For this reason and the fact that his links are not quite as great as Tevez's, Vialli could offer a slightly cheaper alternative if Tevez is just too expensive for you. That does not mean he's going to be cheap though, so be prepared to splash the coins.
A Hunter chemistry style would work great for him as well, but you could also go with the Hawk if you don't mind sacrificing a bit of extra pace for more physicality.
Sophia Smith
Next on the list is a player that's completely new to Ultimate Team. Sophia Smith is one of the female footballers that you can use in your squad this year, and her card looks absolutely cracked.
The stat that stands out the most is obviously her 93 pace, but 85 shooting and 88 dribbling are both fantastic as well. She also has 4-star skill moves and a 5-star weak foot which is great at any stage of the game.
With the Hawk chemistry style, Smith is a 90-rated striker in-game with 97 pace, 90 shooting, and 86 physicality. The main downside to using this card is that getting her on full chemistry will be tricky. Her nationality is the United States and she plays for the Portland Thorns in the NWSL.
This will probably drive her price down a bit, but she's still worth a punt especially if you somehow manage to get her on chem.
Asisat Oshoala
I already discussed a Nigerian striker earlier on, and we have a female version of him in Asisat Oshoala. To be fair, both cards are very different in multiple ways, but they're also similar in others.
Oshoala, like Osimhen, is rapid, and she also has very good shooting and physical stats. Her key stats are 91 pace, 84 shooting, 85 dribbling, and 85 physicality. She has the 4-star combo so there's no real weakness in that area.
If you have Osimhen on your team, you should definitely consider a partnership with Oshoala since they both give each other that extra chemistry point for nation links.
Even if you don't pair them up, the fact that Oshoala plays for Barcelona in Liga F (the female version of La Liga) means that there are other options for getting her on chem.
With a Hunter chemistry style, she is an 88-rated striker in-game with a maxed-out 99 pace and 90 shooting. Her composure sits pretty low at 72, but the pros of using this card far outweigh those cons.
Antoine Griezmann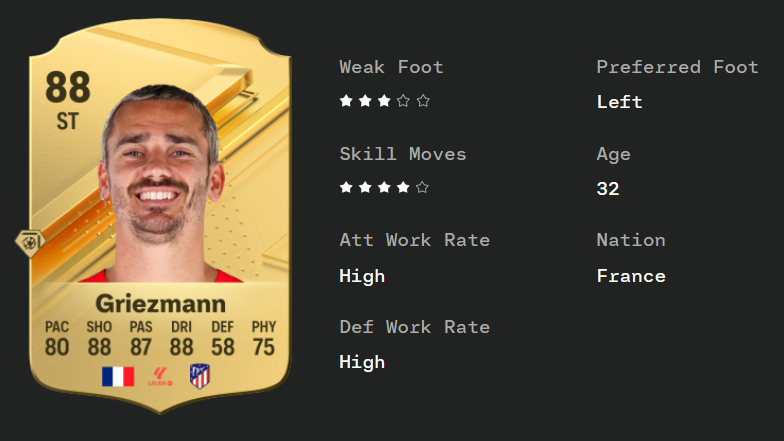 Compared to the direction I've been following so far, adding Griezmann to this list of the best meta strikers in FC 24 Ultimate Team is going against the grain a bit because he's not the quickest off the mark.
He only has 80 base pace on his new 88-rated card, but the other stats stand out too much to leave him out of any conversation about the best strikers at the start of the game. I'm referring to the 88 shooting, 87 passing, and 88 dribbling combo.
I wouldn't use him as an out-and-out lone striker because of that pace, but he can do extremely well in a two-striker partnership, creating chances as well as getting on the end of them.
You do need to get him on that Hunter chem style to boost his pace to 88 and shooting to 93. In the early months of the game, his pace won't be a problem at all.
What's more, he has the Finesse Shot playstyle+, so you can bend shots into the corner from a distance without relying on beating defenders with speed too often.
Lois Openda
Openda had a few popular special cards in FIFA 23. In line with the meta, pace is his biggest strength and now, he has a usable base card in FC 24 with bags of it.
His 82-rated card in the game has 93 pace, 79 shooting, 80 dribbling, and 78 physicality. You can boost those shooting stats with a Hunter or Hawk chemistry style if you want more pace as well, but I strongly recommend trying out the Finisher.
With the Finisher chem style, his shooting goes up to 88 overall (98 for the actual finishing stat) and his dribbling improves massively to 89 as well. He becomes an 87-rated striker in-game which is an improvement compared to the 85 and 84 that the Hunter or Hawk respectively offer.
He now plays in the Bundesliga, so this is a great option for people building Bundesliga teams. It would otherwise be a bit tricky to get him on full chem since he's Belgian and his club, RB Leipzig, doesn't have a lot of options to choose from either.
Even if you can't get him on chem, having Openda as an option off the bench can be devastatingly effective when there are tired legs in the opponent's defense.
Cheaper Alternatives
To be clear, "cheaper" in this context is relative to the costs of the other players discussed so far. After all, we are talking about meta players and they don't come cheap in Ultimate Team, especially not in the early months of the game.
Racheal Kundananji
Like Openda, Kundananji is a great option to have coming off the bench. I say this because she won't be the easiest player to link in a starting eleven. Her nationality is Zambian, and she plays in the Liga F with the female Real Madrid team.
Kundananji's 83-rated card has 91 pace, 82 shooting, 83 dribbling, and 87 physicality. With a Hunter chem style, she has 99 pace and 87 shooting which can compete with the stats of the best strikers in the game.
However, as I said, it's hard to get her on full chem, so that 91 pace is what you will be relying on getting her to come off the bench. She's pretty strong as well (91 base strength and 80 aggression), so she can be a handful for tired defenders.
Darwin Nunez
Nunez's card in FC 24 is nearly identical to the one he had in FIFA 23. He's 82-rated with 90 pace, 81 shooting, and 85 physicality. As far as quick and powerful finishers go, this is one of the better options on the market at the start of the game.
He also offers an easy route into your starting eleven if you're building a hybrid English Premier League team, so you can maximize the boosts of any chemistry style that you choose.
I would recommend using the Hunter chemistry style to boost his shooting as much as possible while improving his pace to near-maximum levels as well.
Timo Werner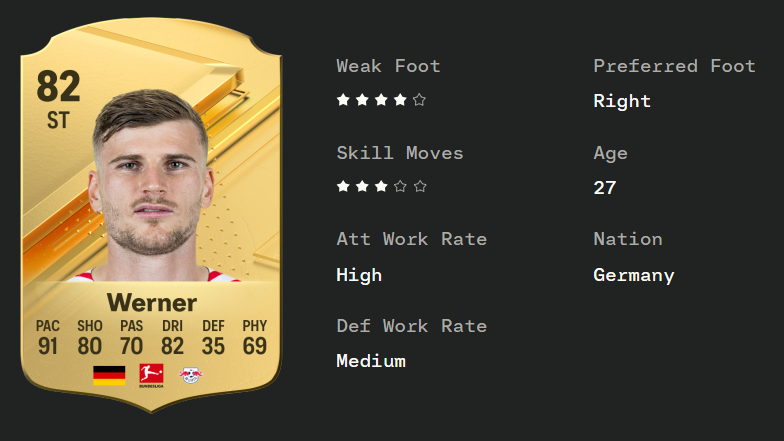 If you're going for quick and agile instead of quick and powerful, Timo Werner is a nice alternative to Darwin Nunez.
He's also 82-rated, but he's got 91 pace, 80 shooting, 82 dribbling, and 69 physicality. His actual finishing stat is only 78 though, so that needs a massive boost with a chemistry style.
If you want more pace, Hunter is the way to go. However, like Openda, I think it might be worth sacrificing more pace for the best finishing boost you can get as well as better dribbling. The finishing boost is particularly important because Werner only has a 3-star weak foot.
The Finisher chem style improves his finishing stat to 93 and overall shooting to 88 while also boosting his dribbling to 90. If you're planning to get him into your starting eleven, a striker partnership with Openda would be fantastic for quality and chemistry.
Angel Correa
Correa is an Ultimate Team favorite. He simply just seems to defy the rules of the meta.
He's quick but not rapid, and he has an average body type which is generally not the most agile. However, in-game, he plays way above his stats and is much better on the ball than his body type should typically allow.
Even though his overall has been downgraded to 82 in FC 24, his face card stats are still identical to the FIFA 23 card. Key stats are 85 pace, 84 shooting, and 86 dribbling. He has great links for chemistry, and with a Hunter chemistry style, he's a fantastic option for medium-budget players.
If you're interested in more meta players, check out our guide to the best meta centrebacks in FC 24.