First XI is the fourth and final SBC in the Hybrid Leagues SBC group in FC 24 Ultimate Team. The reward for completing this SBC is an untradeable Rare Players Pack, which contains 12 rare gold players, including one 83+ OVR player guaranteed.
This guide shows a working solution that you can copy for the SBC, and it also discusses how you can use your untradeable items within the club to complete if you don't have enough coins.
I recommend completing the three SBCs in the group before this one, called "Give Me Five", "Seven-League Boots", and "The Whole Nine Yards" respectively. This will help you to claim the group reward of a Jumbo Rare Players Pack when you complete this First XI SBC.
Requirements
Exactly 11 leagues in the squad
All players must be gold
A minimum of 7 players must be rare
A minimum of 2 chemistry points for every player
A minimum of 27 total squad chemistry
Based on the league and chemistry restrictions in these requirements, It's clear what we need to do here. We need to use players from one nation across 11 leagues.
The only way to find these players is to use one of the top nations. Brazil, France, and Spain are all good options, but we'll go for French players as they generally seem to be the cheapest rare gold cards of the three.
Brazilian cards are cheap as well, but they don't have as much supply as the French so it might be harder to get them on the market.
Solution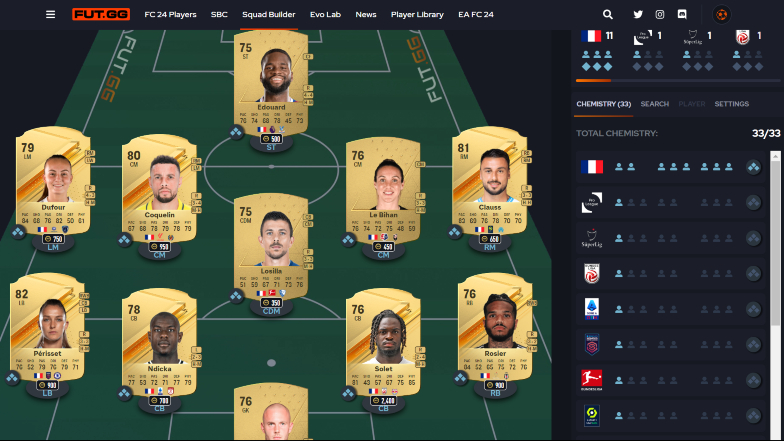 GK: Maxime Dupe (RSC Anderlecht)
LB: Eve Perisset (Chelsea Women)
CB: Evan Ndicka (Roma)
CB: Oumar Solet (RB Salzburg)
RB: Valentin Rosier (Besiktas)
CDM: Anthony Losilla (VfL Bochum)
LM: Julie Dufour (Paris FC)
CM: Francis Coquelin (Villarreal)
CM: Clarisse Le Bihan (Angel City FC)
RM: Jonathan Clauss (Marseille)
ST: Odsonne Edouard (Crystal Palace)
The supply of all of these players should be fairly high, so this SBC should be pretty straightforward to complete. In FIFA 23, it would have been much harder due to the need for position modifiers to put players into their alternate positions, but removing that requirement is one of the best changes that EA made to FC 24.
We've got 11 French players from 11 different leagues – 4 of them common golds and 7 rare golds. The team is on full chemistry as well, so every single requirement is ticked off.
Alternative Solution
Although there are a few variations that you can build by yourself instead of this recommended team, it would be much easier to simply copy and apply my solution.
If you want to build yours, the most important filters to note are:
only four common golds are allowed, the rest of the team must be rare golds
use a popular nation. Brazil and Spain are strong alternatives
only one player from each league can be added
Once the team is assembled, you can submit and claim the SBC reward and the group reward as well (if you've completed the previous three SBCs in the group) which is a Jumbo Rare Players Pack. The pack is worth 100,000 coins and has 24 rare players in it.